Travelling by bike is not new to us, but riding a motorbike in the dark night – definitely it was a new and scary experience. This was my first ever "well – planned bike trip" on Shivaratri night from Bangalore to Tiruvannamalai temple. 
Bangalore to Tiruvannamalai Temple: Bike ride at night
Little Intro on Our regular Trips from Bangalore to Tiruvannamalai temple
Tiruvannamalai temple has been our favourite destination for bike rides for 5 years since our marriage in 2015. We have always enjoyed the ride, riding amongst the never ending mango farms were our favourite. 
After a couple of times from Bangalore to Tiruvannamalai temple, there was no need to look at google maps for directions, literally our bike took us there. It stopped in all our favourite pit stops, it stopped when we needed to click pics and it stopped whenever we crossed village fruit stalls.
We usually start our journey by 7 to 8am, stop at Krishna Inn in Bangalore -Salem highways around 9.30 for a long break for breakfast and coffee. Spend some time in the parking area checking on the other bikers, their gears and small chat with them possibly.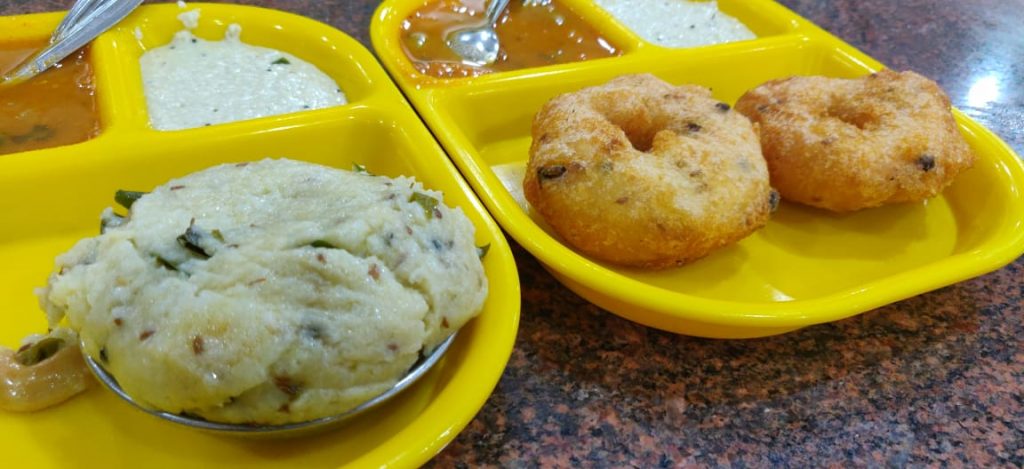 Then we set out on a carefree ride in Salem National Highways until we take a turn towards Chennai highways which are relatively narrow roads.
We put on music from our Boat mini speaker, listen to songs to beat the boredom riding in the hot sun, all the while enjoying the countryside view and agrilands.
After a couple of pit stops, and lunch, we reach our destination by 2 to 3 pm, check-in the room to freshen up, preferably a short bath.
We would reach Tiruvannamalai temple by late evening for darshan, if possible (and lucky) we would stay back to watch 10pm Thiruoonjal sevai before calling it a day. Usually the next day, we always – mostly always went to Tirukoilur temples, situated about 1hr ride from Tiruvannamalai town towards Pondicherry. 
Bangalore to Tiruvannamalai Distance – 200kms (little varies based on the location you start).
Tiruvannamalai to tirukoilur temples – 37 kms
*Distances mentioned only for just onward journey
It is another countryside ride we love riding for the love of Tirukoilur Ulagalantha Perumal temple. We usually reach by noon, attend the noon pooja just before the temple closes.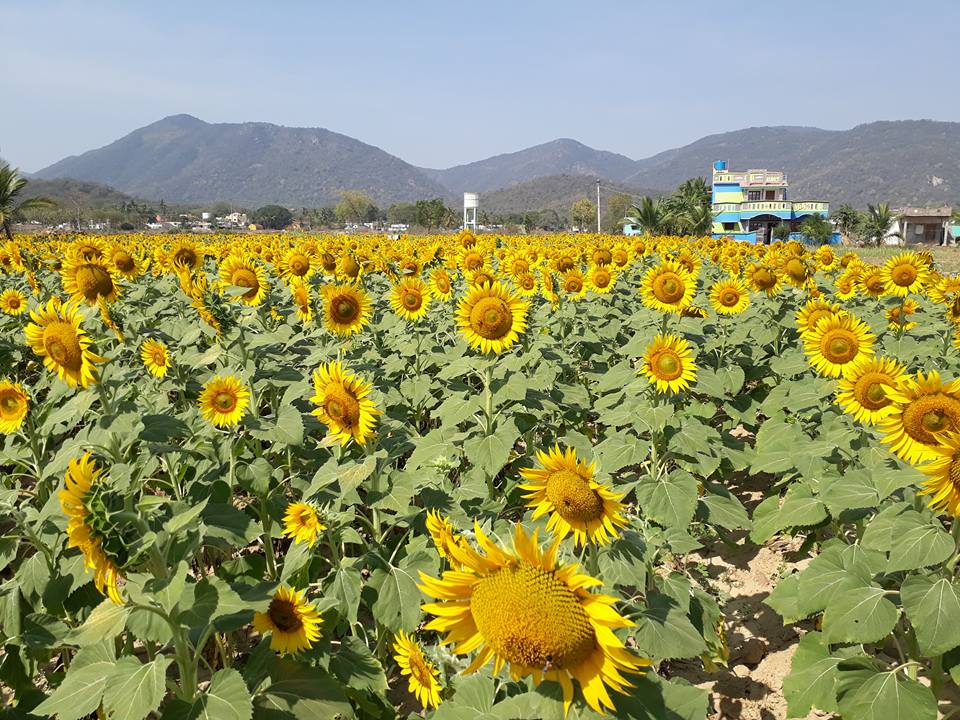 Before we return back to Tiruvannamalai town we lunch at Arya Bhavan, the only possible good vegetarian restaurant in the Tirukoilur town. 
Then we collect our packed bags from the hotel reception (usually the saddle bags so we can ride stress free), stop at our favourite french coffee shop before we take the Bangalore road.
(Update: This coffee shop is permanently closed as on our recent trip to Tiruvannamalai on 8th Feb 2020).
The next day, Rajesh would go to office as if nothing happened in the past 2 days. He would resume his work in office as if he didn't ride 470 kms by bike with just one night rest inbetween in 2 days.
I too force myself to go to the office on Mondays, to avoid binge eating – Netflix day.
That's the reason, I prefer to take off on Tuesdays – to maintain work -life balance. Probably it is the only day I get to rest properly, as most weekends are reserved for travel.
This has been our routine so far, until one day we decided to break the routine.
Night Bike Trip to Tiruvannamalai Temple
This time, on 24th Feb 2017, at 5pm, we started our night journey from Bangalore to Tiruvannamalai temple. 
We rode our bike for 7 long hrs, reached the Tiruvannamalai Arunachaleswarar temple around 1 am. Had we not delayed in Krishnagiri, we would have reached about an hour early to the destination (explained in detail below).
The main reason behind this night trip plan was to attend the 'Shivratri' pooja in the most significant Lord Shiva temple.
Since it was going to be a night bike ride on the highways and country side, we had to make sure everything was 100% perfect.
Just a week before our journey, Rajesh had got the bike from the service station, spent about 15k on the bike fixing all the issues, adding some fancy headlights and tail lights.
As a travel partner, I double checked on the travel essentials and packaging for the much expected Bangalore to Tiruvannamalai temple trip.
I have been always asking Rajesh –
"Will this workout?"
"Are we taking a blind risk?"
"Should we think again?"
"Will we reach safe?"
"What if anything happens along the way, how would we ensure our safety and road safety?"
It was Rajesh – who by nature never deviated from any set out goals, pressed me on to continue planning for the journey.
So, I went on to do what I do best for the travel plans. Write down all to-dos, things to pack, buying all the necessary stuff and packing the bags a day before the journey.
Rajesh would cross check the itineraries ensuring I have not left out anything in the overwhelming of planning.
Always expect the Unexpected – Delay in our well thought plan
– In Our Bangalore to Tiruvannamalai Temple Night trip
Since we had planned to go straight to the temple for darshan, we packed light and carried just one backpack for the trip.
Our bike is ready, bags are packed, mobile phone chargers, bluetooth speakers are cross checked. We all set to go from Bangalore to Tiruvannamalai temple.
We started our bike at 5pm.
I never thought our journey would be delayed more than the usual travel time.
Though I kept the extra buffer time since we were starting on weekend evening, and very well aware of the volvo bus traffic until we crossed Hosur.
But this is how we got delayed.
Since both Sivarathiri and pradosham are falling on the same day making the day super special, I had a plan to stop at the Krishnagiri Lord Shiva temple for a quick darshan on Pradosham. 
So, we diverted from the actual route from the national highways, entered the Krishnagiri town, found the temple I marked in the google map a week before.
To our shock, we found the entire town was gathered in that temple, we could not even walk past the main gate. Thinking that the crowd will clear like they usually do on the auspicious days, we kept waiting in expectation for about an hour only to realise we took a bad decision of stopping here.
And as the time went by, riding in the dark in the dark was becoming challenging as we were slowed down by the heavy beam of the opposite vehicles.
Not to mention the annoying tiny insects hitting on our helmets, some even crawling up under the helmets giving a tough time to focus and ride the bike.
Finally we reached the Tiruvannamalai temple on the next day i.e. 25th Feb, around 1 am. We then found a place in the temple, listened to the Navrathri songs until we waited for the early morning darshan. 
Around 4am, we joined the early morning queue for darshan and by the time we came out, it was around 6am.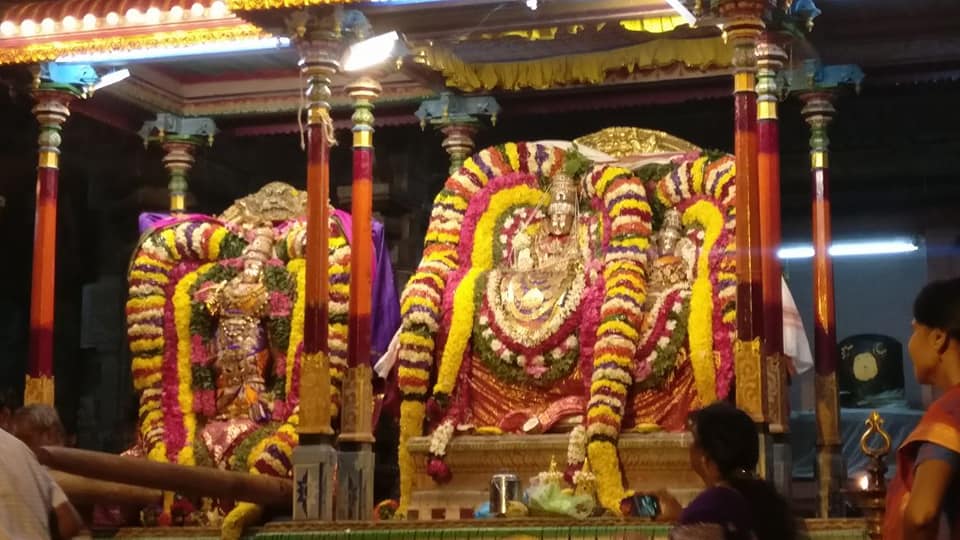 Then around evening we went to our next favourite destination – Tirukoilur.
Since we needed to take a good rest from the previous night long journey, I didn't plan any other destinations except Tirukoilur.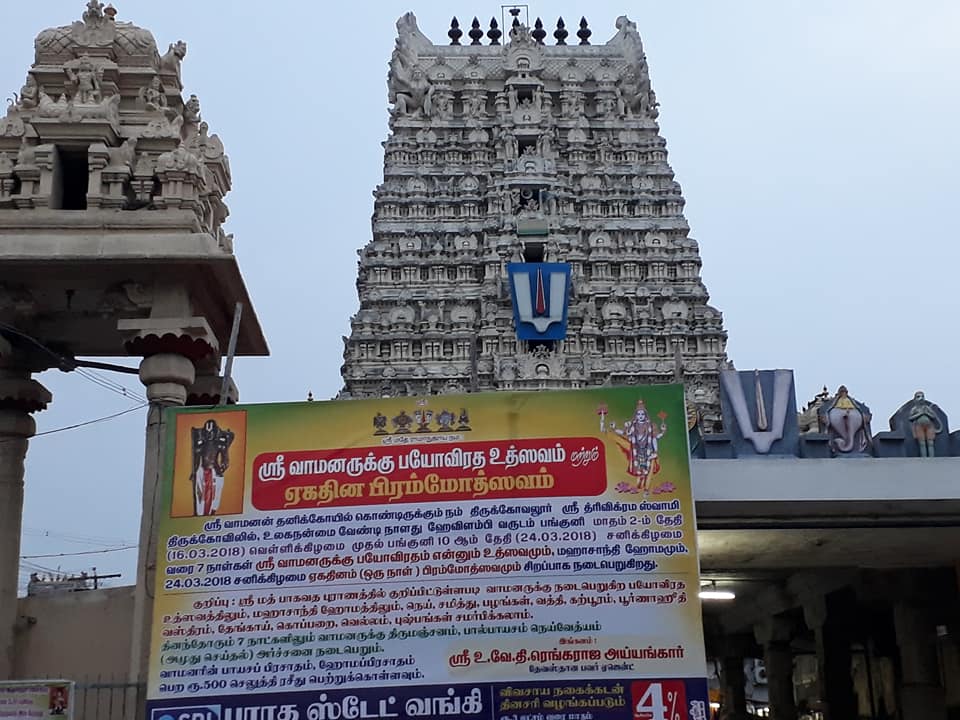 What followed the Night Ride was Unimaginable day
On our 3rd day, on 26th Feb 2017, Theerthamalai in Dharmapuri, a hill temple which was crowded beyond my imagination on the day we went.
Since it was "no-moon" day, devotees gathered in huge numbers to darshan Lord Theerthagirishwarar on the top of the hill.
As usual, Rajesh did not back off from the plan, so with no other choice, I decided to trek the hill on a hot summer. We dropped our backpack at a shop near the bike parking area and went on to climb 1km uphill with just 1 litre bottle in hand.
What seemed like easy to climb 1km in the google map, it took us more than 1hr with just 10 min break in between.
After standing in the long queue for the Lord Siva darshan, and Parvathi devi, Rajesh managed to get some of the holy water from the multiple tiny waterfalls (they say it never dry out).
Overall, it was more than we could take.
All the experience was new and it was too much to handle at once.
First ever experience riding 200kms in the dark.
As if that was not enough, going on a trek for an hour to the hill temple on the next day, cursed my guts while planning this trip, we suffered indefinitely.
But looking back now, I could not believe that we took all that risk, we have stretched our boundaries and achieved something great.
That's all it matters now.
We did it.