2 Less Popular, Historically Important Places to Visit from Bangalore to Belur (Train Trip)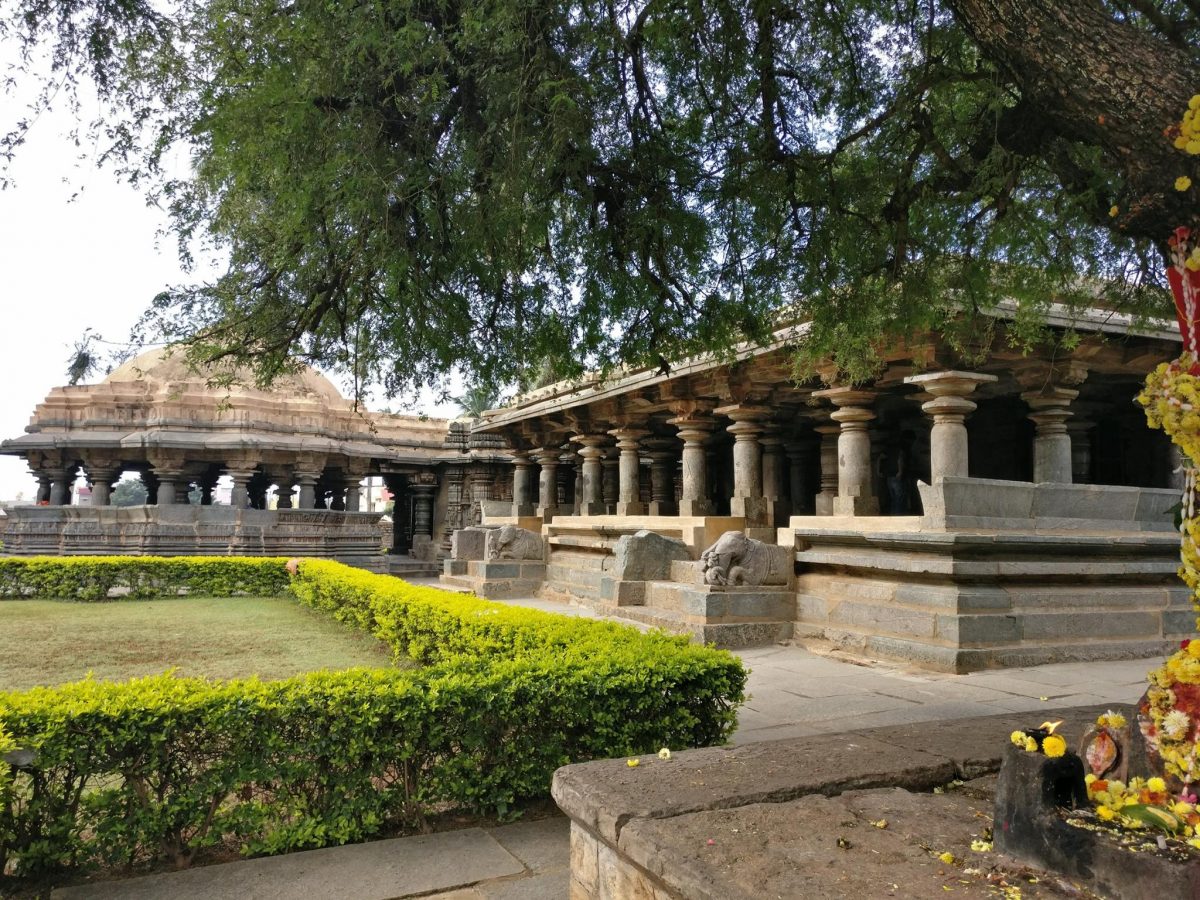 This is our travel story of visiting Halebidu and Belur in our one day trip from Bangalore by Train, along with the 2 other less popular destinations. This is the travel guide to the places to visit from Bangalore to Belur.
Bangalore to Belur distance is 222kms, an easy distance to cover by road for one or two day trip from Bangalore. Even though this was a train trip, you could use this guide to plan your Bangalore to Belur Road trip.
Places to Visit from Bangalore to Belur
When I searched for the places to visit from Bangalore to Belur – Here is what I found. Almost all the travel websites suggested the most popular places like Halebidu, Belur Chennakesava temple, Yagachi dam, Chikmagalur and Shravanabelagola.
I wanted to explore the less popular. I wanted to go to a place where not many show any interest. Not any particular reason, when it comes to visiting Historical places, I am kinda nuts.
So these are the two places I have got digging into the google maps after researching my brains out.
Both are beautiful places to visit from Bangalore to Belur, both are very beautiful and unique Hoysala Architectures.
Arasikere – Beautiful Hoysala Architecture (For Lord Shiva)
Javagal – Beautiful Hoysala Architecture (For Lord Vishnu)
When it comes to ancient popular Hoysala architecture in Karnataka, people always prefer visiting Somnathpur Keshava Temple in Mysore or Halebidu – Belur temples.
Whereas these two – Araskiere and Javangal are less popular among the tourists for unknown reason. And here is the detailed itinerary of how to visit these two temples.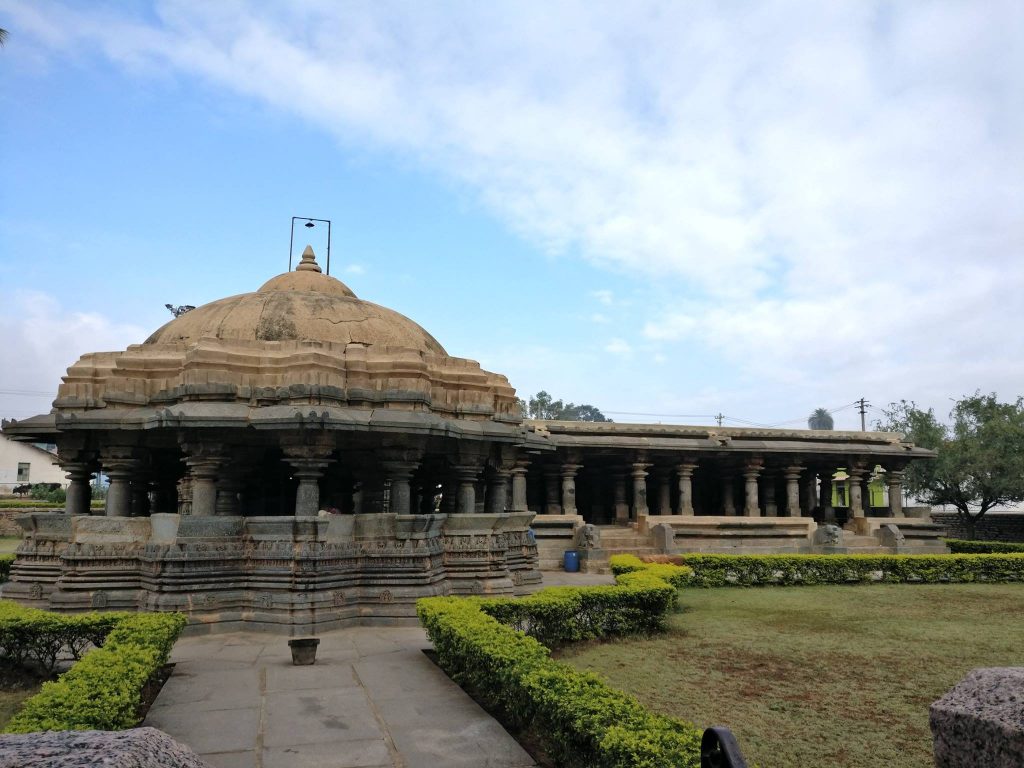 How We Started Our One day trip to Belur Halebid from Bangalore
In the year 2016, on 2nd October, we went on a one day trip to Belur Halebid from Bangalore.
This was a one day trip from Bangalore by Train. You could use the same guide for the places to visit from Bangalore to Belur.
We reached Arsikere Railway junction from Bangalore in the early morning.
And We knew nothing about this place, no clue of the places to eat our breakfast.
After eating some home bought biscuits to go with cup of tea in a local bakery, we hired an auto to reach the Arasikere Ishwara temple.
From there, after about an hour of Bus journey we have reached yet another less popular temple – situated in a vast area, called Lord Lakshmi Narasimha temple.
After visiting those 2 less popular places, we were on a straight route to Halebidu and Belur.
The distance between Halebid and Belur is about 17kms, and there are bus and taxi options to travel between these two destinations.
We returned back by train to Bangalore around midnight.
Arasikere and Javagal should be in your bucket list if you are planning any one day trip from Bangalore or from Mysore.
And it is a must see places – one of the Hoysala places to visit from Bangalore to Belur.
Arasikere – The Less known Place to Visit One day trip from Bangalore
A very beautiful Hoysala architecture in Arsikere, dedicated to Lord Shiva, called Ishwara temple. It also has two other shiva linga sanctums, called Kattameshwara and Chandramouleshwara respectively.
There was no one in the temple premises except for us and the priest. He said that as a ritual he keeps an open temple every morning and evening.
We have time leisurely looking around the architecture, and our talks were around how our ancestors would have celebrated the occasions here.
We clicked pics to our heart's content before we left the temple to the Arsikere bus station.
Javagal – Lord lakshmi Narasimha temple
Yet another beautiful Hoysala architecture in Javangal in Hassan district of Karnataka.
This Lord Vishnu temple is situated in a vast area in the middle of the village (guess later people have built the houses surrounding the temple).
We went inside opening the gate, there was no sign of the priest or any devotees.
We have waited in the pillar mandap for sometime after exploring the temple and clicking pics – but no one turned out.
Happy to have visited this place, we left for the javagal bus station to catch a bus to Halebidu.
Temple of Belur and Halebidu : Our Final Destination
Our final destination was the temple of Belur and Halebid.
First we reached the Halebidu (or Halebeedu), a small town in Hassan district. It is one of the popular tourists places in Karnataka.
By the time we reached by bus to Halebidu from Javagal, our mobile battery almost ran out and so was our energy.
We entered a local eatery situated close to the Halebidu temple with rumbling stomach. But only to find they serve tomato bath (tomato flavoured rice) with a dal vada. Something to feed our crying bellies, we had each one plate of rice and vada combo.
Meanwhile we charged our phones, and relaxed ourselves from the never ending travel from Bangalore.
It was a non stop travel since the time we left early from our home.
After a well deserved rest, we went to the very famous Halebidu temple – a Lord Shiva temple called Hoysaleshwara temple.
The temple campus very much resembled Somanathapura Temple in Mysore. We had to walk about 200 – 300 meters between the well paved decorated grass compound.
There stands a majestic Hoysala architecture – one of a kind in India, a signature style by the Hoysala empire only seen in Karnataka state.
The two huge bulls guarding the two respective Shivalinga is a major attraction here.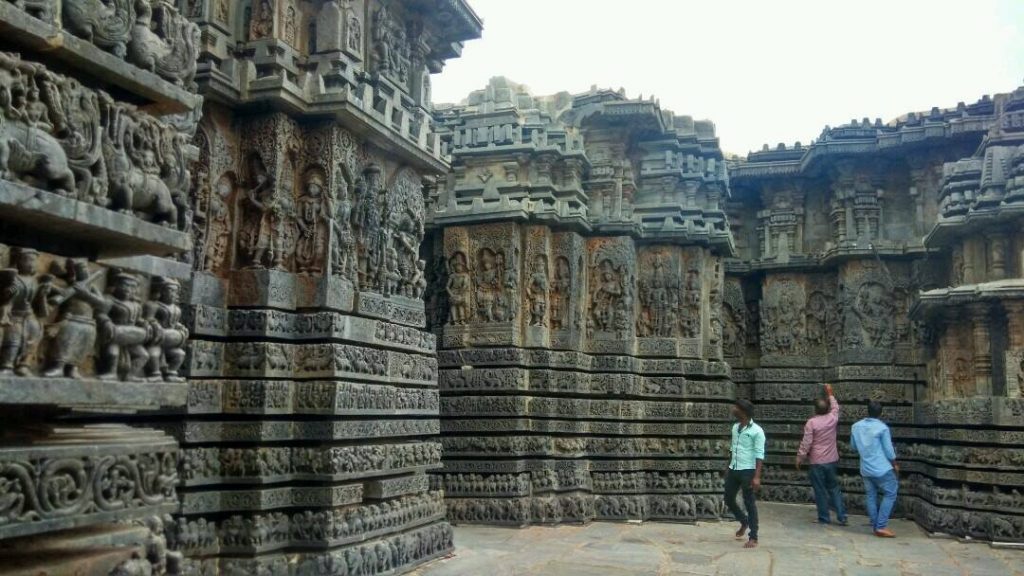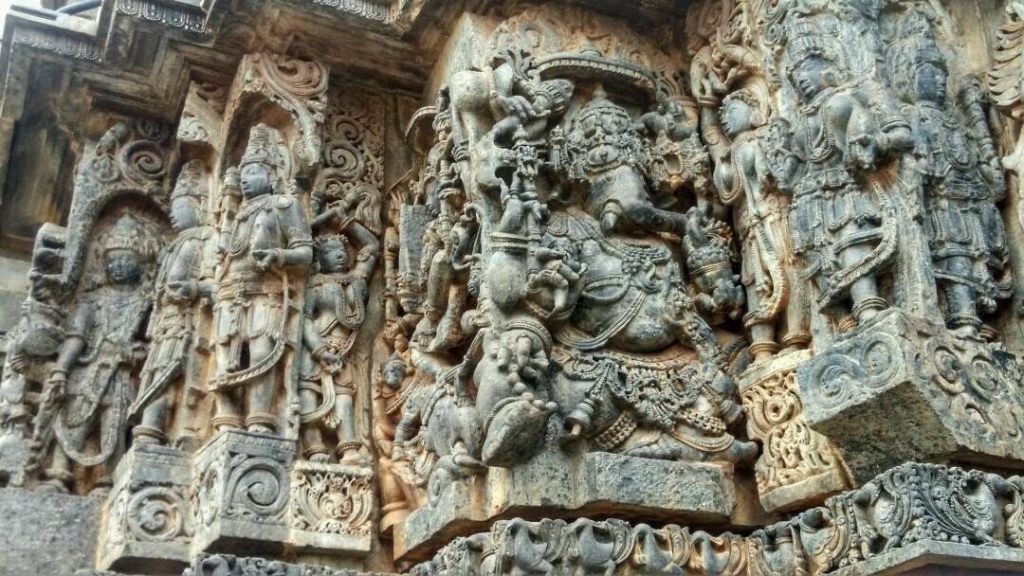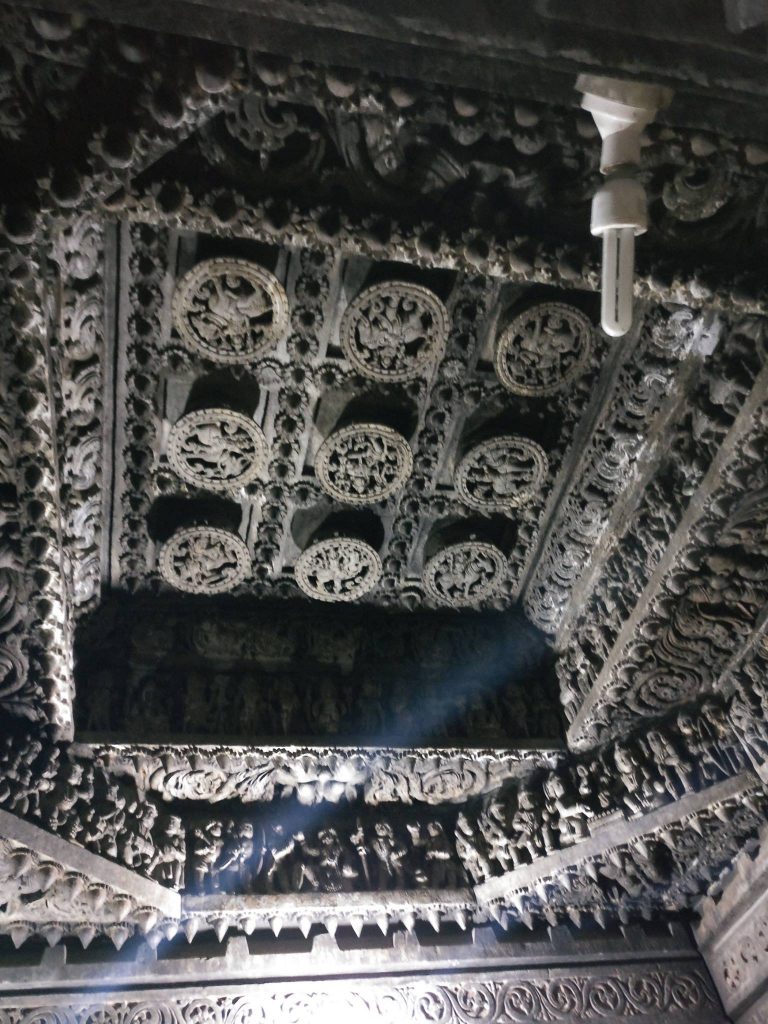 Just like the first Arasikere Lord Shiva temple, this temple also has two other Shivalinga sanctum. Except it is majestic, artistic and beautiful bull statues.
Unlike the first two (unpopular temples), this temple was hugely crowded and we were not able to click even one selfie in isolation.
After spending a relatively long time here, we headed to the final destination – Belur, the last places to visit from Bangalore to Belur train trip.
Places to Visit in Belur
There are many sightseeing places to visit in Belur, including the Yagachi dam and river rafting – our only intention was to visit the famous Chennakesava temple.
The Hoysala architecture temple is dedicated to Lord Vishnu, the second Lord Vishnu temple in our one day trip from Bangalore.
Just like the Javagal temple, this temple compound has a decorative Gopuram – only much better than Javagal.
Again this temple was also too crowded, majority of them are the school students who came on an excursion.
One of a kind Hoysala architecture, situated in a vast area and covered by never ending pillar mandap is sight to the eyes.
We never got enough of this temple even though we have visited 3 of its kinds in the same day.
Clicked enough pics and captured lots of memories before we headed to the bus station. Where we had our last meal, before boarding the train to Bangalore.
Sum- up
Hope you are impressed with our list of places to visit from Bangalore to Belur in one day. Since the first two places are less popular, they don't appear in the travel websites. If you are going by road, distance from Bangalore to Belur is just 222 kms. You could very well visit all the places I have listed in this travel story. Hope you enjoyed it.