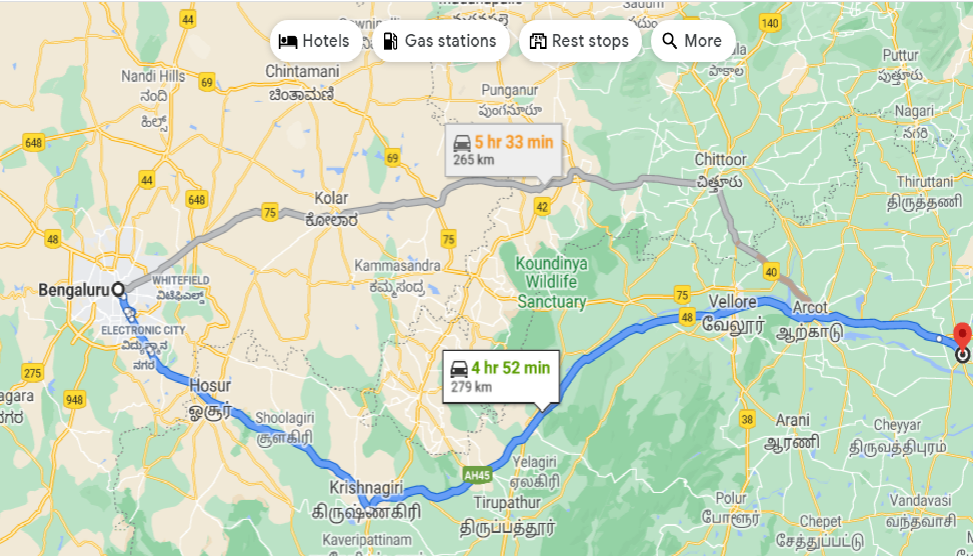 Just two days back we returned from 'Bangalore to Kanchipuram road trip' by our #AllNewCreta 2020. This one day road trip from Bangalore was on 14th November 2020 for the occasion of Diwali celebrations.
We went to Kanchipuram from Bangalore, and it was a total of 570 kms drive in just One day.
Here is the route map to reach Kanchipuram by Car
Bangalore to Kanchipuram Road trip – Overview
Unlike our last week's one day trip to Tiruvannamalai, we didn't start our trip as early as 5am.
We took it slow this time, we leisurely started by 7.30 am.
Distance : The Bangalore to Kanchipuram distance is 280 Kms and we had plans to reach the destination only post lunch at Vellore.
Since we had plans to eat breakfast in our all time favourite restaurant in Bangalore highways called Krishna Inn, we each had half croissants with a cup of black tea just before we started. We had packed this butter croissant and a few baked buns for the trip a day before itself from our favourite baker.
Where we ate:
So Breakfast cum pitstop at Shoolagiri – Krishna Inn, followed by Lunch pit stop at Vellore – Khanna Fiesta. 
The food quality of Khanna fiesta has come down and we felt guilty about driving all the way inside the city for this food diverting from the Highways.
So while returning to Bangalore from Kanchipuram, we made a wise decision of eating on the highways, a restaurant with a good rating called Darling Namma veedu in Vellore.
(This restaurant is right across Hotel Aryaas on the highways, also you have many other restaurant choices like Vellore kitchen, Saravana bhavan atc., But all are overpriced food items but scores okay in quality, thankfully).
We never ate anything in Kanchipuram because we don't like to eat or stay here in the over hyped commercial town.
That's the reason we chose to stay in Vellore, in our last 2 days trip to Kanchipuram for Athi varadar Raise once in 40 years.
Where we went:
Post lunch in Vellore, after a leisure drive to Kanchipuram, headed straight to Varadaraja Perumal temple for darshan (Must see golden and silver lizard).
Route Map – Why We Loved this Chennai Highways
Here is the route map for both 2 ways journey for Bangalore to Kanchipuram road trip.
Bangalore to Kanchipuram Road trip route map
For the onward journey, we had seamless driving experience in NH 48 Chennai Highways, the only best road that beats all the other highways from Bangalore.
Though Tirupati and Hyderabad highways are also best, we personally like Chennai highways because of the tight barricade on both the sides blocking the localities criss crossing on highways.
If you are a regular rider / road tripper, you would know how important this barricade is for better driving experience. Since these days its most common sight in the highways to see the vehicles come in one way (facing you) giving you a heart attack. As if people criss crossing on the highways are not enough.
From where we stay in Bangalore, google maps automatically highlighted the Vellore route on the Chennai Highways. It also happens to be the best route to reach Kanchipuram by Car.
Related – From Bangalore to Kanchipuram Road trip or Train trip?
Click the above link to know about our train trip experience and to know famous temples in Kanchipuram.
Route map – Return Journey
We were profoundly delayed by choosing auto suggestions from google maps.
It is not necessarily to choose the auto-suggestion (highlighted route) in google maps. You should analyse and choose the best route for your choice.
Sometimes google suggests bad roads since it's the fastest and most people use it.
So, it is wise to choose better roads (yellow roads with NH mark) rather than just any roads (white roads) google suggests.
Again when you are suggested 2 yellow roads, choose the NH with better numbers (NH 77 are country side narrow roads – So its a NO- NO).
Even Though we knew these safety rules all along being regular road trippers, we were careless this time. Because of that, we were delayed by 45 mins before we diverted us back to Vellore highways from a small route google maps auto-suggested.
So for the return journey, choose the same onward route map. But gotta be careful to notice that the route takes you via Kanchipuram bus stand.
Road trip Destination
Why did we choose Kanchipuram for one day road trip from bangalore?. Why go all the way to Kanchipuram instead of stopping at Vellore?.
I for one strongly believe that there has to be a purpose in going on any road trip. That's called a road trip theme or a goal. You choose your destination based on that theme.
For example, if your theme is 'leisure' you would choose places like Coorg or Wayanad or Goa.
I design my travel plans based on that theme.
Well, this time we just wanted to stretch our boundaries. Since it was our new car, we wanted to push ourselves to maximum kms in one day.
Last weekend, when we went on a One Day Road Trip To Tiruvannamalai from Bangalore. In that one day road trip, we covered a total of 400 kms in one day. And before that we went on just 300 kms of total in one day's long drive to Mysore.
This time, in our Bangalore to Kanchipuram road trip, we covered a total of 570 kms in a day.
Speaking of which, this is not the first time we have touched 500 kms mark in one day. We rode 570 kms in day – 1 of our Tirunelveli for a 5 days trip. And 405 kms in day -1 by bike trip to Kumbakonam in the year 2017.
Successful Road trip to Kanchipuram
So, this time, we were successful in stretching our boundaries in our new car – Creta 2020. We will continue to do the same until we become comfortable doing great numbers in one day.
Read Related – Two Day Trip From Bangalore to Vellore and Kanchipuram (Best 2 Day Trip by Car)
And yes, we did visit the very famous Varada Raja Perumal Temple while we were there. Though we did not have plans to visit any temples initially, since the time matched and we just made it happen. After spending about an hr of blessed darshan in the temple, we returned Bangalore in the late night.
Overall happy with our One day road trip from Bangalore, covering total of 570 kms.