Talakad Temples (Our One Day Bike Trip -260 Kms)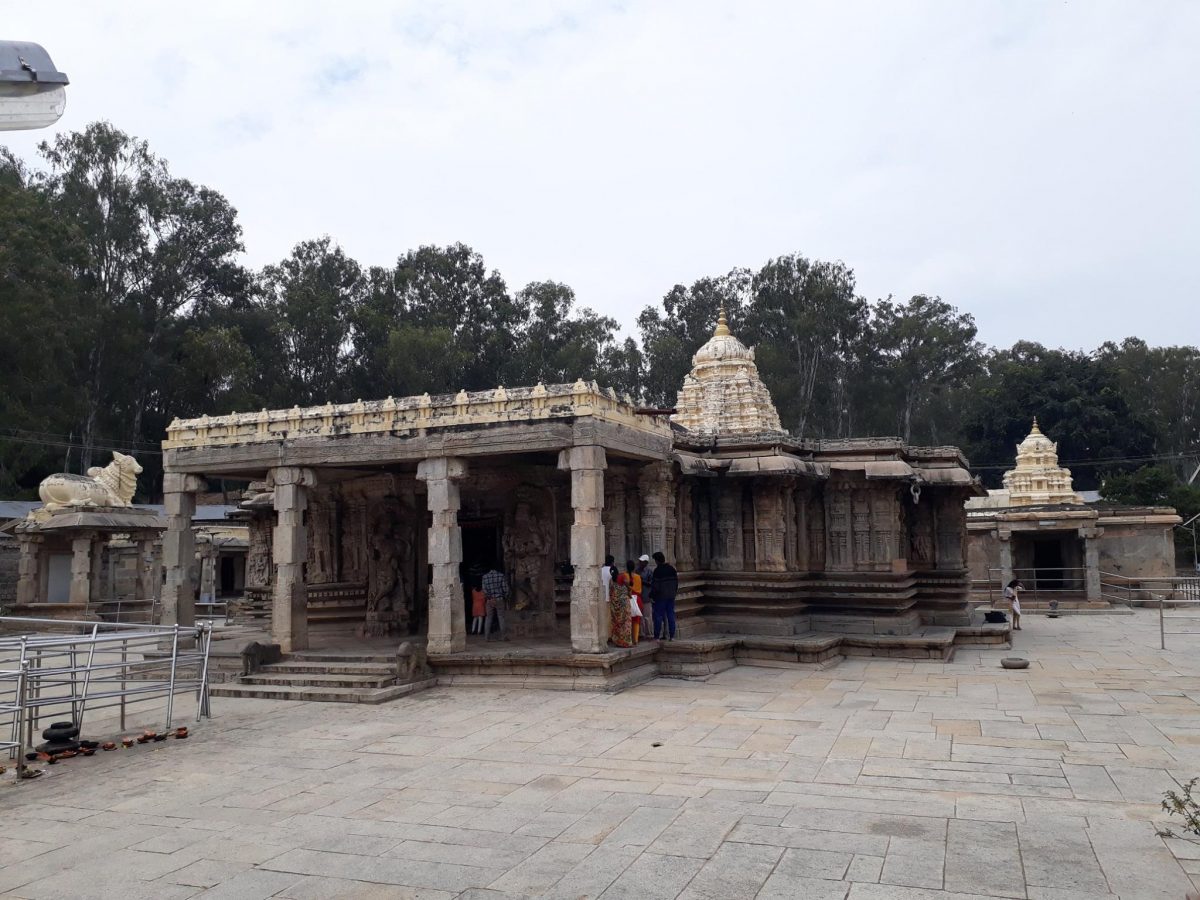 We are frequent bike travelers to – Talakad temples and Talakad beach (TalaKaveri River) in Karnataka. Here you will be presented 3 different routes to reach Talakad by road, with many options for sightseeing near Talakad.
On 4th November 2017, we went on a one day trip from Bangalore to Talakadu temples, one of the famous tourist destinations in Karnataka. We spent a day playing in TalaKaveri (Talakadu river / beach), later we spent time visiting all the temples situated near the river. We rode about 260 Kms in a day trip travelling up and down to Talakadu, Karnataka.
This is a travel guide for road trip looking to visit Talakadu temples from Bangalore or from Mysore.
Also, I have outlined the route map with different options for sightseeing places near Talakadu.
Talakad Temples – Location and List of Places for Sightseeing
Talakad (Talakadu), is a small town with a group of temples, a famous pilgrimage centre for Hindus, situated 43 kms from Mysore and 133 kms from Bangalore.
We travelled from our home in Bangalore. So it was total of 260 Km bike ride both ways.
We visited just Keerthi Narayana temple and pancha linga temples except mallikarjuna temple, because it is located quite far away. 
After spending some time around Kaveri river came by walk to the parking location.
We then had lunch in one of the many Brahmin lunch houses before visiting all the temples detailed below. 
You could skip going to Talakadu Kaveri river altogether, and go straight to darshan temples.
Or, you could go only Talakadu River, eat in the one of the stalls near beach or eat your home cooked meals, before you return home.
In the later section I have detailed on how to reach Talakadu temples and river you for your guidance.
Pancha Lingas Temple – Famous in Talakad
Today, most of the magnificent temples of this ancient town are submerged in sand. All the stone pillars (square at the base and fitted into a wheel below the abacus) lie scattered throughout the town.
Among the temples of Talakad, the Pathaleshwara, Maruleshwara, Arkeshwara, Vaidyanathee-shwara (vaidyeshwara) and Mallikarjuna temples form the pancha lingas. In honour of these five Shiva temples, a fair is held once in 12 years called Pancha Linga Darshana, on a new moon day. ( Source )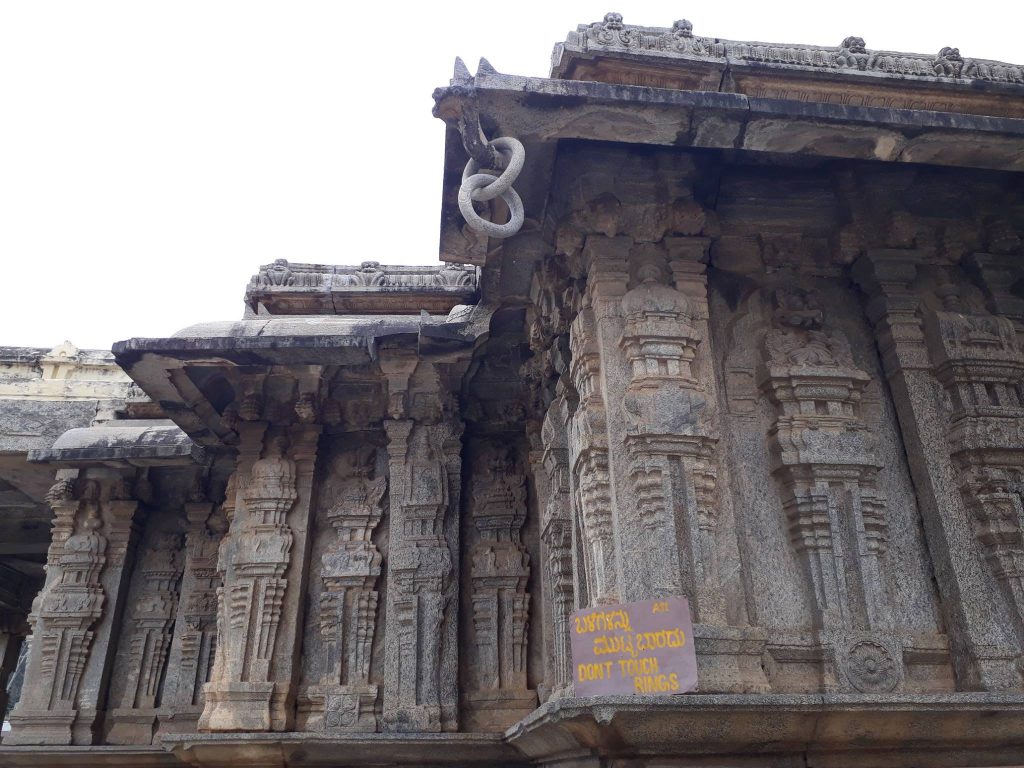 Keerthi Narayana Temple – Lord Vishnu Temple
Besides the Pancha Lingas, another magnificent structure is the Keerthinarayana temple, which is the only temple in Talakad to have been constructed in the Hoysala style of architecture.
A greater part of this temple is buried in sand. Other than the sanctum sanctorum, there is a sukanasi and a navaranga in this temple.
Inside the sanctum sanctorum stands an eight-foot-tall statue of Keerthinarayana. Recent excavations in the temple complex have brought to light remains of earlier centuries. ( Source )
How to Reach Talakadu Temples From Bangalore – Our Trip Plan
Talakadu temples and Talakadu river are the two different picnic spots which attracts thousands of pilgrims and tourists to this destination. River is located about 1km walkable distance from the temples. Many travel Talakadu just to spend time in the River, or to offer puja on the banks of the river, many visit temples after a dip in the Holy River Kaveri.
We, duo travellers, rode bike to Talakadu by taking the following route.
Our Bike trip Plan (Plan -1)
Bangalore – Bidadi – Ramanagara – Channapatna -Halagur – Talakadu
This time saving the fastest NH route with good pit stop options.
(Read our experience when we went on a one day bike trip from Bangalore to T Narasipura via Srirangapatna and Somanathapura).
Talakadu One Day Trip Plan -2
You can follow our trip plan -1 mentioned above or add a few more sightseeing places along the way.
Bangalore – Srirangapatna – Somnathpur Keshava Temple -T.Narasipura (optional) – Talakad temples
Start early from Bangalore, take NH and reach straight to the Srirangapatna Ranganathar temple.
After darshan around 11 to 11.30 am, travel to Somanathapura. A beautiful, one of a kind Hoysala architecture temple is open from 9 am to 5 pm.
You would need a minimum 1 to 2 hrs to spend at this beauty of the architecture, hire a guide if you must.
Then after lunch (preferably home packed as no eatery If you have missed NH near Srirangapatna), drive about 30 mins to reach Talakadu.
Here you will have some Brahmin lunch houses for home cooked vegetarian food if you would like.
Otherwise there are some options available for non veg lovers near Talakadu river. If you had any time, you could stop at T. Narasipura Narasimha temple on the Banks of Kaveri River before reaching Talakadu.
Now, in Talakadu, take a dip in the Kaveri river, spend some time, change clothes if you would like before you head to Talakadu temples. 
Note Talakadu temple timings: All temples of Talakadu are closed after noon pooja and are only open after 4 pm. You would want to darshan the temples before 12 noon or after 4pm, according you could plan visiting other temples mentioned in the above route.
Trip Plan -3 with Kollegal and Shivanasamudra
Okay, the above route will not interest you if you have fun travel planned, and if you are not much fond of just temple visits.
I have different travel plans for you.
Bangalore – Talakadu temples – Kollegal – Shivanasamudra
(or)
Bangalore – Shivanasamudra – Kollegal – Talakadu Temples
I would prefer the 2nd route if you like riding in the road among lush green fields. You are in for a treat by the time you reach Shivanasamudra. The entire ride to the falls, the trip to Kollegal and Talakadu river would be so mesmerizing (not much in summer though).

Starting from Bangalore, ride to Shivanasamudra after taking a diversion from Malavalli on Mysore NH road. Play in the Shivanasamudra falls to your heart's content, place a visit to the very famous Lord Vishnu temple (Ranganathar temple popular next to Srirangapatna) for the interested.

Next ride to Kollegal, about 20 kms en route from Shivanasamudra, the most beautiful ride you will ever have among the paddy fields and sugarcane farms. Spend some time in Gaganachukki waterfalls – one of the biggest and Barachukki waterfalls. Compared to Shivanasamudra, you would love it more in Kollegal..

Next stop would be Talakadu temples – darshan the temples or head straight to the River. Enjoy the sunset view, spend some time before you return home.
For returning back to Bangalore, take the Mysuru NH road via Somanathapura, that would be safest and fastest for the evening drive.
(Read our one day Bike trip from Bangalore to Shivanasamudra falls and MadyaRang temple).
Other Sightseeing Places Near Talakadu
These are the following sightseeing places you could pay a visit along the way to Talakadu temples. Feel free to use google maps to calculate the time and distances, so you will have a fun filled, peaceful travel.
Shivanasamudra (Ranganathaswamy temple)
Kollegal
Nanjangud
Somanathapura temple
Mandya
Mysore
Bike ride to Talakad temples was one of a memorable, 12th one day Bike trip from Bangalore.
We traveled back to Bangalore by late evening from Talakadu temples on the same day. For sure we loved every bit of the trip, clicked many pics. Looking forward to visit this place again.
Bangalore to Talakadu by bike, How to reach talakadu from bangalore, how to reach Talakadu from Mysore, Kollegal, shivanasamudra falls, Shivanasamudra Talakadu, Somanathapura temple, t.narasipura, talakad beach, talakad temples, talakad trip plan, talakadu beach timings, talakadu to mysore, talakadu vaibhava information