Melkote From Bangalore (335KM in One Day Bike Trip)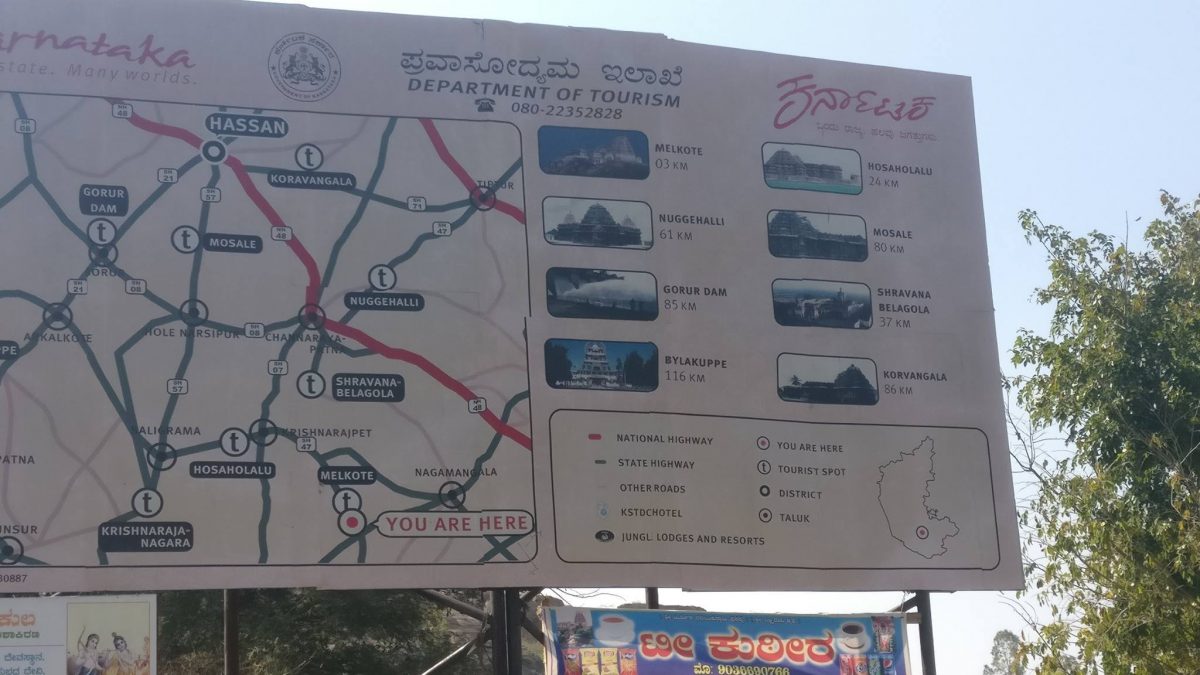 In our One day bike trip to Melkote From Bangalore, we have visited CheluvaNarayanaSwamy temple and Lord Yoga Narasimha Swamy temple on the Melkote hill.
On our way back we have visited the very famous Srirangapatna temple, near Mysore.
We have traveled a total of 335 kms just in one day trip from Bangalore and here is our travel story.
How to Reach Melkote From Bangalore by Road – 2 Routes
On an early morning on 11th Feb 2017, we started our bike journey to Melkote from Bangalore, coincidentally it was our 11th one day bike trip from Bangalore :).
Never we have ever been to Melkote on our previous bike trips to Mysore or Srirangapatna. 
You know we always make it a point to visit a famous temple / historic place during all our bike trips.
Read Related – In all our Bike trip From Bangalore – Why Did We Choose to Visit Temples?
Knowing that Melkote is famous for a historically important Lord Vishnu temple called Cheluvanarayana Swamy temple and the other Yoga Narasimha Swamy on the hill, we have decided to ride exclusively to Melkote.
This was our first exclusive trip to Melkote from Bangalore.
There are 2 routes to reach Melkote from Bangalore. One is Kunigal Mangalore Highway and the other Mysore Highways.
We took Kunigal highways to reach Melkote (I explained the reason in next section). If you are taking Mysore NH, the distance is almost the same as above, you will be taking a diversion from Mandya to reach Melkote.
The following is the route we took to reach Melkote by Bike.
Melkote route from Bangalore (Kunigal Highways)
Bangalore-Nelamangala-(Kunigal Mangalore highway)-Bellur cross- Nagamangala-Melukote (temple visit) -return via Srirangapatna (temple visit) mysore highway road
Read Related – Best Bike Ride Places near Bangalore With Google map link
Melkote Distance From Bangalore
Melkote distance from Bangalore is 167 kms (from my home) via Kunigal route and 140 kms from my home via Mysore NH.
The reason I mentioned "My home" as a starting point is because the distance might vary a little based on the location you start in Bangalore.
Both the routes now have plenty of options for restaurants, cafes and fast food joints.
Since we never experienced Kunigal route ( with 167 kms) we decided to take that route.
Note: Both the routes have plenty of pitstop options for the travellers.
In Kunigal route, we had breakfast at tiffanys in Nelamangala. And we stopped at Hotel Mayura at Bellur cross for lunch.
Read Related – One Day Trip From Bangalore to Kolar By Bike
2 Must See Temples of Melkote
Melkote is famous for two temples namely Cheluvanarayana temple and Yoga Narasimha temple on the hills.
We spent some time in the CheluvaNarayana Temple pushkarini until the temple opened for evening darshan. As soon as we had darshan, we headed to the Melkote hill temple.
We had to wait a long time in the queue to darshan Lord Yoganarasimha and headed as fast as we could to Srirangapatna temple.
Again standing in queue for quite sometime in Srirangapatna temple, we had darshan only at 7.15pm.
Well, we knew for sure made mistake of coming all the way to Srirangapatna instead of returning to Bangalore from Melkote itself.
We then started our bike around 7.30 pm, with a prepared mind for a thrilling bike ride in the NH.
Riding in dark is not new to us, once we rode about 500kms in Hassan trip, the highlight was riding in pitch dark among tall trees.
Sightseeing Places Around Melkote
From our experience, know that it's better to stick to just sightseeing in Melkote on your trip.
Here is the list of places to go nearby Melkote.
Feel free to click on the name to get google map location, explore more about the places in google before you decide to go sightseeing these places around Melkote.
We have fallen in love with the beauty of this Nuggehalli temple. Consider this place to add to your bucket list on your trip to Melkote from Bangalore.
Here Is the Sample Road Trip Plan for you
If you are not sure of trip plan, here is a sample road trip plan to help you started with.
Start From Bangalore -Darshan Melkote temple – on return journey from Melkote – visit in order – Shravanabelagola -Nuggehalli – Adichunchanagiri hills.
You could even plan the other way around, like you can visit all famous places first, later in the evening visit Melkote before reaching home.
Moreover it gets too dark and scary in Adichuchanagiri hills temple (from our Hassan bike trip experience).
Read Related – 4 Routes: Best Route from Bangalore to Wayanad
Did We Return Home Safe?
Following what seemed to be a never ending ride among the super crazy vehicles in the National Highways, we reached home safe sometime past midnight.
Yet another memorable one day bike trip to cherish, to Melkote from Bangalore, of total un-freaking-believable 335 kms in Pulsar bike.
Anything around 200 to 250 kms, we are good to go by motorbike in a day.
But on that day, we pushed past our comfort zone and rode about 335 km in just one day.
Looking back we are now so proud of the risks we took in our early days of bike trip. So later we were able to go on an 11 days long bike trip.
After almost 4 long years of bike ride to places, now we are settled to travel by car.
So these bike rides definitely hold a special place in our life. All credit goes to Rajesh, who was never afraid to set new milestones. 
Read Related Our Bike Ride Stories here:
From Bangalore to Hassan Road Trip: A tale of New Bikers Riding at Night, 500KM trip
Bangalore to Tiruvannamalai Temple Thrilling Night Bike Ride Of 200 Kms
4 days Road Trip To Coorg From Bangalore (Bangalore to Coorg Bike Trip)
Is it Safe to Drive From Bangalore to Coorg by Bike?
Renu's Solo Trip To Kumbakonam – How I roamed Kumbakonam for 5 days in a Rented Bike