Renu's Solo Trip To Kumbakonam – How I Roamed 5 days in a Rented Bike
I went on a 5 days Solo trip to Kumbakonam, one of the best vacations ever in my life. Thanks to Rajesh for arranging my travel and accommodations. To roam around my favorite places in Kumbakonam, I have arranged for a 2-wheeler rental bike through my Kumbakonam native friend.
Trip To Kumbakonam – Decision on Solo trip
I (we) fell in love with this place on our first trip to Kumbakonam for the Masi Magam festival for 3 days.
So went on 11 days long bike trip to Kumbakonam in 2017, since then place is close to my heart. In the following year 2018, again we went to Kumbakonam on a 12 days bike trip.
I didn't want to miss going there in 2019 too.
But my hubby was busy in organizing the "Cloud Summit" event. And he made it a hit, that's a different story. Since it was a big deal finding speakers and organizing the event, I let him be.
So I have decided to go chill out in my favourite place, for 5 days, all alone.
I started my trip on 8th December 2019 from Bangalore, boarded a train from Bangalore Central and reached Kumbakonam on 9th December, 6am.
This is the story of my 5 days solo trip, from 9th December to 13th December 2019.
Solo trip is NOT new to me
Travelling alone is not new for me. I have been travelling to places since I was 18, traveled for studies, traveled for jobs, traveled to new cities for interviews. And finally I lived in London for more than a year, for my Management studies just before I got married.
I never had any fear or any concern on travelling alone. But since my marriage in the year 2015, I kinda fell in a comfort zone of being in a company all the time.
Any time I step out of my home, I am always accompanied by my hubby. Apart from weekly groceries and yoga classes, ofcourse.
Just like the years 2017 and 2018, I looked forward for this trip to Kumbakonam too. But, you know, unfortunately Rajesh had his own plans.
So rolled up my bachelor sleeves, and decided to go on a solo trip to Kumbakonam.
Yeeeyyyyyy!!!!!!!!!
Why Kumbakonam?
Kumbakonam – A small, very beautiful mesmerizing town, well connected with roads to Trichy, Chidambaram, Tiruvannamalai, Thanjavur etc., is always beaming with history and ancient temples.
A beautiful town surrounded by numerous ponds filled with lilies, lakes and dams, agri fields and ancient temples. I can never find the right words to fit the beauty of this simple town. And I never get bored of visiting this place over and over again in my life.
When I am in Kumbakonam, I feel connected to my ancestors (no kidding). Every temple has a story to tell, and it compels your undivided attention for long hours. The hardship behind each temple's architecture makes you humble and fall in love with it forever.
Yes, that's my connection with Kumbakonam and its temples – bond forever.
Long list of Famous temples in Kumbakonam with Google Map
Probably this is the longest list of temples in Kumbakonam you will get in internet, it took me 1 full week to compile this list with google map link. Click here.
I chose Kumbakonam because I would not want to be anywhere else on my solo trip, because it's like my second home.
What did I do in those 5 days?
How I Spent 5 days in Kumbakonam – Overview
What I Did
I did exactly the same of what we both would do on a duo trip – i.e. roaming Kumbakonam and visiting our favourite ancient temples.
Read – Kumbakonam Famous Temples
Yes I visited my favourite temples in and outside of Kumbakonam, spent time hanging out near Mahamaham tank, watched the sunset sitting in UNESCO Darasuram, ate food in my favourite restaurants in Kumbakonam.
Sometimes, I went over and over again to some of the favorite temples in the late evening, which are close to my heart. They are Sarangapani temple, Adi Kumbeswarar temple and Ramar temple which are located within short distances in the centre town.
Late evening poojas are very special in those big ancient temples, and since it was an auspicious month, luckily I got to watch elephants parading with the idols in the streets – every single day.
Not all the time you get to watch these special parades and poojas.
It was a blissful moment when I spent long evenings in those favourite temples, my soul was at peace.
Where I ate
Everyday, I wake up, get ready with a pair of water bottles in my day bag. Then start my rented bike to go nearby "ayya kadai" (written all about my favourite famous food items in Kumbakonam), to have a hearty southindian, pocket friendly breakfast.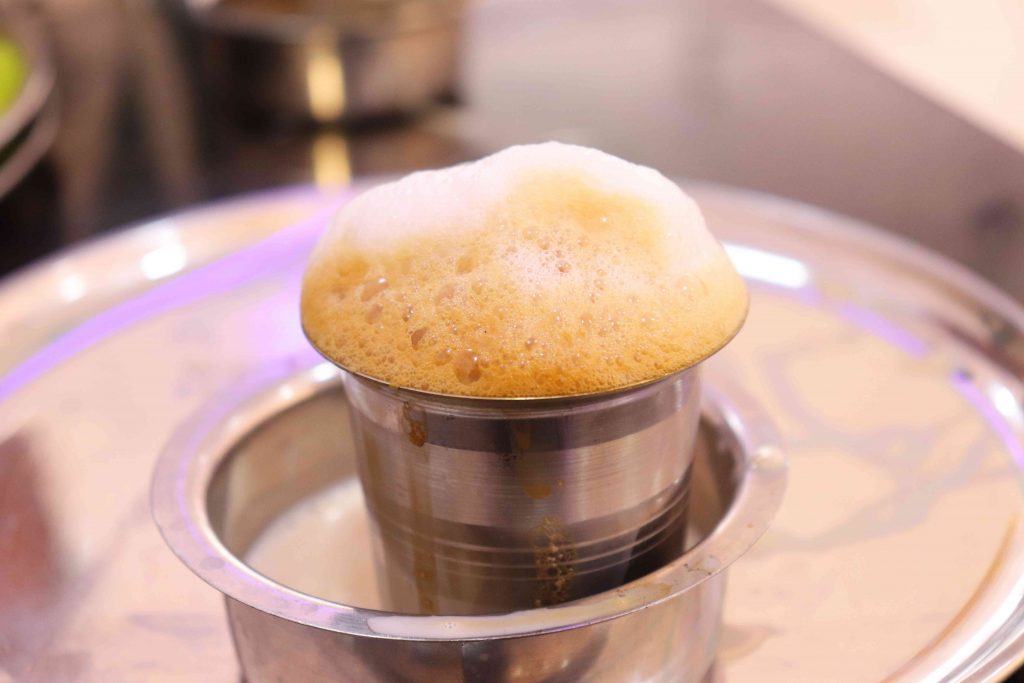 Thanks to 'ayya kadai' brothers for all the yummy quality – budget priced food, otherwise it would have been difficult on budget on such a long trip.
It is one stop for all breakfast, snacks and lunch items, except for dinner. I would return back to this shop after a short trip to pack snacks (a couple of vada made fresh every day) and also lunch (variety rice ready by 12 noon itself ) if I have plan to go on a long bike trip away from Kumbakonam. Like the days I went to places like Thirukannapuram, Thiruvalanjuli and Alangudi.
Where I Went
Since it was a solo trip to Kumbakonam, I wasn't too serious about visiting all my favourite famous temples in Kumbakonam.
I was not dead serious about going to all possible temples in and around Kumbakonam, that is not even practically feasible.
So in the 5 days of itinerary metioned below, you could see me visiting temples aggressively in the first 2 days. And the last 3 days, I slowed down, spent more time in any of the favorite temples leisurely. Unlike my past road trips to Kumbakonam, this time I took it real slow.
There has to be one special occasion in the solo trip right?
I could name many, but just one occassion holds strong place in my heart.
On day-2 of my solo trip to Kumbakonam, I traveled all the way to Tirukannapuram Lord Vishnu temple only to find the main sanctum closed at hardly 11 am. Since there was no anticipated devotees at that time, the temple panditji decided to close it for the day.
I was utterly disappointed to only to see the closed doors, sitting in front of the main sanctum cursing my luck as I couldn't darshan him even in this trip. Because in our last couple of trips to Kumbakonam, we couldn't even make it to this temple.
Just when I thought I will leave the place saying good bye to the care taker, a preist came hurridly saying he forgot to pick something from the temple. Soon after I introduced myself, before I could even ask that is there any possibility of darshan, he opened the main sanctum door, and in 30 secs he was showing me aarti (oil lamp plate) to the Perumal.
I stood there marveled at the height of Lord Vishnu, taller than 35 feet idol in Tirukoilur Ulagalantha Perumal temple. And humbled at the luck I have got that day to darshan the most beautiful, tallest Perumal (tallest among all 108 divya desams) in my life.
The best and most memorable moment in all my life.
What People Miss to See in Kumbakonam
Most people (devotees) visit Kumbakonam, for any of the following reasons.
Navagraha temples Trip

108 Divya desam Trip (Exclusive Lord Vishnu trip)

Lord Shiva padal petra stalam trip (exclusive Lord Shiva temples)
But what they don't see (I assume) is this. Look at the beauty of Kumbakonam. Only for this reason, I will be keep coming again and again to this beautiful place on the first opportunity I am getting to travel after #coronalockdown.
Trip to Kumbakonam –

5 Days Detailed Itinerary

The first thing I did after checking in the room was to visit my most favorite and beautiful temple in Thirubuvanam (see pic above), 5kms from Kumbakonam town. Next step was to Mahalingaswamy temple, enquired for Pradosa pooja and returned back to the same temple with all pooja items in the evening and did the ritual.

On the 2nd day, I enjoyed riding all the way to Thirukannapuram, among the green fields. Again, traveled long distance on the 4th day to Alangudi.

On the 3rd day, I took a break in the morning, just chill near mahamaham tank after breakfast and a cup of ginger tea.

Then packed lunch from my favorite ayya kadai, went to Darasuram with a book in hand. Spent the entire afternoon in the darasuram temple.

On the last day, I spent most of the day in the room reading books. Went out in the evening to spend time near Mahamaham tank after a cup of ginger tea.
Here is the Detailed Itinerary of 5 Days Solo Trip to Kumbakonam
Day 1 – 9th December Monday:
Thirubhuvanam Lord Shiva temple
Thirukadaiyur Mahalinga swamy temple -Lord Shiva temple
Adhi Kumbheswar temple -Lord Shiva temple
Lunch Break
Again Thirukadaiyur Mahalinga swamy temple -Lord Shiva temple
Day 2 – 10th December Tuesday:
Thirucherrai Saranatha perumal temple – Lord vishnu temple
Thirukudavasal Koneswaran temple -Lord Shiva temple
Engan Perumal temple – Lord Vishnu temple (due to the crowd I couldn't see next door Engan Murugan temple).
Thirukannapuram -Lord Vishnu temple
Nachiyar kovil – Lord Vishnu Temple
Lunch Break
Kasi Viswanathar temple, near mahamaham tank in Kumbakonam
Sarangapani temple, Ranganathar temple in Kumbakonam
Ramar temple – oorvalam darshan
Day 3 – 11th December Wednesday:
Morning – Break
Evening –
Darasuram – Lunch, book read and darshan
Garbarakshambigai temple, Thirukaragavoor
Thiruvalanjuli – White Lord Ganesha in Lord Shiva temple
Ramar temple
Adhi Kumbeswarar – oorvalam darshan
Day 4 – 12th December Thursday
Morning – Break
Evening –
Alangudi guru temple – Lord Shiva temple
Uppiliappan temple – Lord Vishnu temple
Sarangapani temple – oorvalam darshan
Day 5 – 13th December Friday
Morning – Break
Evening – Adhi Kumbeswarar – oorvalam darshan
The Happy Ending – Weekend with Hubby in Kumbakonam
Whole 5 days of solo trip to Kumbakonam came to an end and I was ready to leave Kumbakonam.
But, at the last minute my Hubby announced that he would be coming to Kumbakonam to spend the weekend.
Since it was last minute decision, he had a very long journey by changing multiple private buses to reach Kumbakonam.
He arrived on 14th December, Saturday around noon, spent 2 days with me in Kumbakonam before we returned to Bangalore by Volvo.
Again we both went to darshan the most important and favorite temples in Kumbakonam town, he too personally loved Kumbakonam temples.
He made it all the way more special trip to Kumbakonam and till date this trip is very close to my heart.