We have been to Ambarnath temple Mumbai during one of our official trips to Mumbai for 6 days at the end of March 2017. We have stayed in The Kohinoor Continental hotel, absolutely enjoyed staying there and roamed less places due to our work commitment. Just like we always do.
Somehow we squeezed in time to visit the famous Lord Shiva temple called Ambarneshwar temple a.k.a Ambarnath temple, one of a kind experience travelling in the metro to visit this temple.
Ambarnath Temple Mumbai – Beautiful Zig Zag pattern Architecture
Trip to Ambarnath Temple Mumbai :
With the busy schedule we had, we somehow planned a trip to this magnificent temple, and travelled by metro reach the destination.
After an auto ride from the nearest metro station, we reached the temple location, walked past a narrow bridge leading to the flower vendors in front of the temple.
The temple was moderately crowded and had no queue or any counter to reach the main sanctum.
There were three entrances leading to the center hall, which has an array of pillars, all intricately carved with minute details.
Main entrance with Nandhi is captured here. (See pic). If you could look closer, you can also see the mini elephant heads carved on the walls, which are mostly are damaged.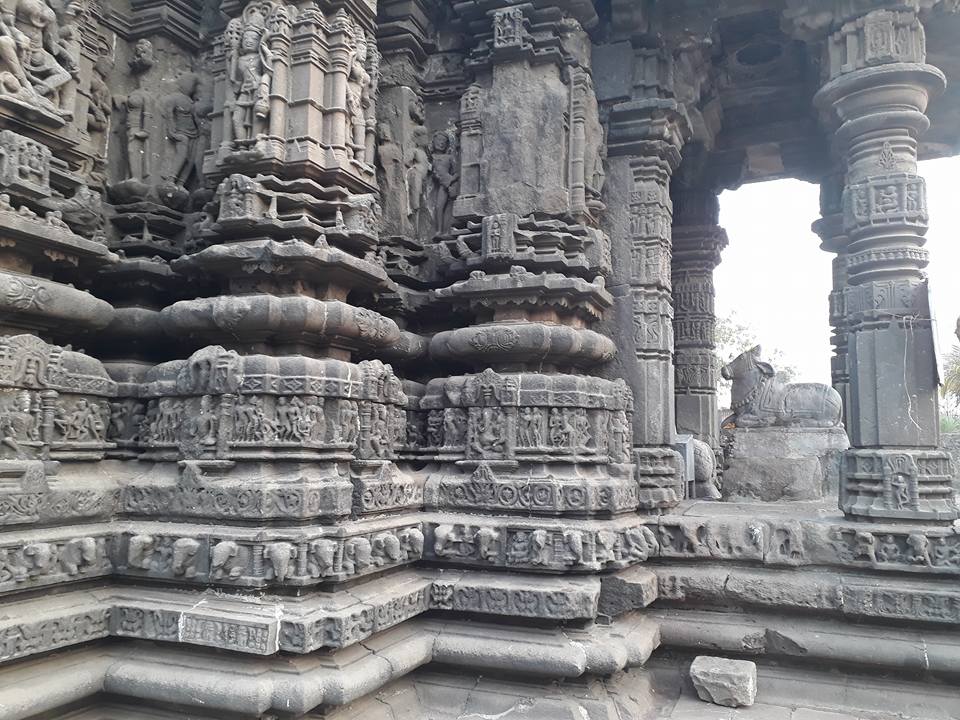 From the centre hall, one has to climb down several narrow stairs, to darshan "Swayambhu" moorthy, hardly 4 inches height off the floor.
One can also see another lingam (not sure of the history, couldn't find much detail anyways) just behind swayambu lingam, which is a little taller than the previous one.
And unique sight to watch the lingam's abhishekam theertham leading to a single "gomuki".
This temple is under "UNESCO", painful to see all the sculptures on the walls are damaged beyond repair.
Having visited many temples so far, this 11th Century Heritage has peculiar architecture having closely carved discs unlike dravidian architecture.
Not so peculiar, because this temple's infrastructure reminded me of something closer to my heart. That is Hoysala architecture temples from Karnataka.
Since Hoysala architectures are found exclusively only in the Karnataka state of India, was totally amazed and surprised to the major resemblance in architecture here.
(Read our trips to Hoysala Architecture and Pics here).
So I couldn't help marvel at the beauty of this temple architecture and compare that with the Hoysala architecture.
Just like Hoysala architecture, in Ambarnath Temple Mumbai, you can also find reliefs (carved sculptures of various avatars of gods and goddesses) on the outer wall of the temple, that too with the same zig-zag pattern.
The zig- zag pattern of the walls, continuous pattern of reliefs carved on the walls, minute work of disc pattern on the pillars are all exactly matching with the Hoysala architecture of Karnataka.
Hoysalas built the temples between their ruling period of 11th century to 14th century. Guess there are possibilities of their influence here in Ambarnath Temple Mumbai.
The only major difference was that there was no star shaped mandap on which Hoysalas usually built their temple.
What was more amazing beyond the imagination was to find lord Vishnu reliefs carved on the Lord Shiva temple.
(Just like how I was amazed to see tiny shiva lingas around the main sanctum of Lord Vishnu temple in our recent trip to Wayanad).
There is an unproved story that five pandava brothers have built this temple overnight from a huge mass of stone. Not having enough evidence to back up this history here.
However, I am blessed and grateful to have visited this temple – Ambarnath temple Mumbai.