List Of Ancient Temples in Madurai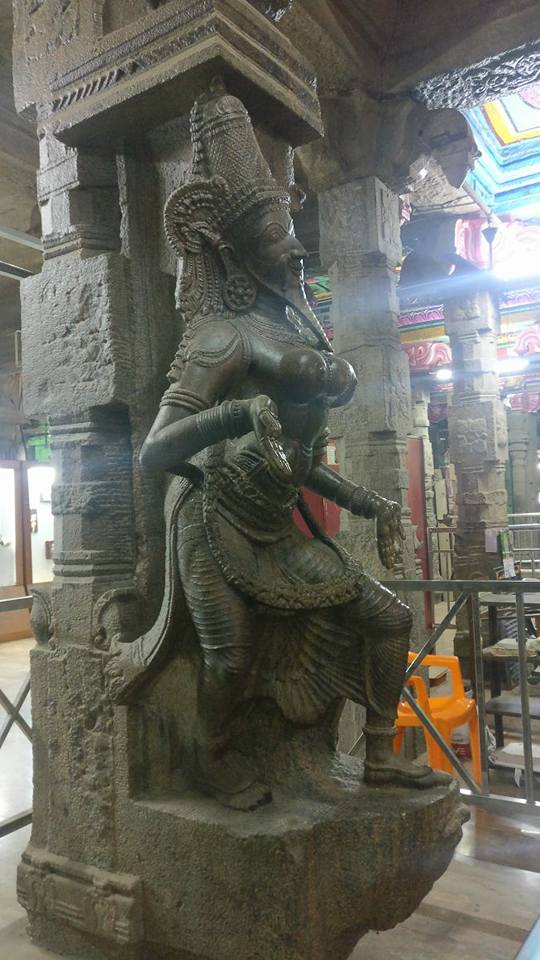 In July 2017, we went on a 3 days trip from Bangalore to Visit temples in Madurai city. We traveled by train to Madurai, where we rented a motorbike to roam the city. This was purely a temple trip, as we are always fond of exploring the less explored. 
Here I have written a great deal about the reason behind visiting famous temples in our bike trips.
So, this was one such trip, where we wanted to see beyond the great Meenakshi temple. Because it is the only popular temple in Madurai among the tourists.
We dedicated 3 full days just to explore the temples in Madurai city, and we were not disappointed, thankfully.
In Fact we could not cover all the ancient temples you see. We picked the most historic and popular, and filtered those were within the feasibility of our travel distances.
(You scope is limited especially when you have rented a rotten bike).
Having said that, feel free to copy this list for your next spiritual trip to Madurai, a list filtered with only most ancient and important temples. A short and sweet list of temples in Madurai, closer to the city. You can thank me later.
List of Ancient Temples in Madurai
Even Though Madurai is significantly famous for just one temple – The Meenakshi Amman temple, there are many other temples in Madurai which are not widely popular. I have taken a list of those temples, selected the most ancient and important; and are also closely located ones to visit as much as possible in one day.  
Since we have planned this trip to visit Madurai from Bangalore on auspicious days; Friday and Sunday being most auspicious, I kept flexible timings keeping the waiting period for darshan in each temple in the list.
Why We did not Visit Madurai Meenakshi Temple on Day -1 : Two Reasons
The entire Madurai tourism is weaved around the great Meenakshi Amman temple. Yet, I have planned to visit them on the 2nd day for the following 2 reasons.
First, we will become more tired of visiting this enormous temple on the very first day itself.
Second, this temple is always crowded on regular days, and extremely crowded on auspicious days. On the day we arrived it was auspicious Friday falling on the auspicious month for Hindu religion – Aadi month (Some call it Aashada). 
So it's decided to visit the temple on the next day – Saturday, that too early in the morning to avoid a long queue. Yet we could not completely avoid the crowd, we had to be in the queue for 30 mins before we darshan Lord Shiva and Goddess Meenakshi.
Day Wise List of Ancient Temples in Madurai
I have carefully planned our 3 days travel fitting all the famous temples possible in the map, also being careful not to overburden Rajesh like how did in Kumbakonam visiting 24 temples in 3 days.
Temples in Madurai – Day 1 (21 July 2017) Itinerary:
Morning trip:
1. Aapudaiyar Kovil, Madurai
2. Thirumohoor Kalameha Perumal temple
Evening trip:
3. Thiruparankundram
Day 2 (22 July 2017) Itinerary:
Morning trip:
1. Sri Meenakshi Sundareswarar temple
2. Koodal Alagar, Madurai
3. Thiruvedagam Edaganatheswarar Temple
Evening trip:
4. Thirupuvanam Sri Pushpavaneswarar temple, Sivagangai district
5. Inmayil nanmai tharuvar temple, Madurai
Day 3 (23 July 2017) Itinerary:
1. Palamuthircholai and Rakkayi hill temple with waterfalls
2. Aaru padai murugan temple
3. Alagar temple
Short Note on the List of Temples in Madurai
If you are planning a trip to Madurai from Bangalore by road or any transport, feel free to copy my 3 days trip plan mentioned above. 
For example, Thiruparankundram (see day 1) and Palamuthircholai & Arupadai Murugan temples (see day -3) are notable temples for Lord Muruga. 
We absolutely loved riding to the Palamuthircholai located in the outskirts of Madurai City, riding among the trees, watching the atrocity of the monkeys was one of an experience. 
Also, to add thrill to our trip, we have coupled a trek to a Rakayi temple with waterfalls on the hills near to Palamuthircholai. Since we had planned it on an auspicious day, we ended up in a long queue but otherwise it was overall a good experience. If we had planned to go to this hill temple on the normal days, we were not sure of the safety of the travelers given the location and ambiance of this temple.
And the final temple in the list, is Alagar temple, a sight to the sore eyes. Just as the name depicts, the Lord Vishnu is such a charm and beauty to darshan.
On day -3, we returned back to Bangalore with plenty of memories. We really did have a good time. Infact we watched a movie named 'vikram veda' at Vishal De mall, Madurai just before leaving the town.