This is our recent road trip from Bangalore to Madikeri for our 5th wedding anniversary celebration. We went on 3 days holidays to celebrate in Madikeri and totally loved the weather and the stay. I have given here the best route to reach Madikeri, the place we stayed, and the best cafe to hangout in Madikeri.
And this was our first long road trip post covid -19 lockdown, and first long road trip by our #AllNewCreta2020.
Road Trip From Bangalore to Madikeri
Onward Journey: Road trip from Bangalore to Madikeri (Day -1)
We started from our home leisurely around 8am, on Friday 11th Sep, 2020, after having breakfast at one of our favourite restaurants nearby our home.
(For those who think 8 am is too early, usually we start our bike trips / car trips by 5am).
As Usual we have packed our lunch boxes and snacks from home. But, when we found our favourite restaurant's branch, called Aashirvaad grand, we were happy and couldn't resist our temptation to eat here.
Anytime you are on road trip from Bangalore to Madikeri, do look up for this restaurant near Mysore.
(Camera bag in the pic above – Canon SLR Cam 800D)
After we had brunch in Aashirvaad grand, we then headed straight towards Madikeri.
We are so used to the madikeri roads from our previous bike trip to Coorg and Car trip to Wayanad.
(All these 3 road trips are entirely different, we stayed in different places each time and did various activities altogether. Click on the 2 links above to know all about sightseeing in Coorg and Wayanad including wildlife safari.)
Surprisingly, thanks to Our comfortable SUV, we reached Madikeri by 2pm itself.
Checked ourselves in a room at Woodstock villas, stretched our legs and rested for some time.
By evening, we took our Creta for a ride to look around our favourite sightseeing place – Raja's seat, where we made many memories on our last trip.
All the sightseeing places in Madikeri were closed for the pandemic. We found only a couple of shops and restaurants here and there. But we chose not to go any places for shopping.
Came back to our resort, spent some time hanging out in Big Cup Cafe nearby our resort. Sipped tea enjoying beautiful weather and freshly brewed coffee aroma which filled the entire cafe.
We had to cancel our short walk plan since it started raining heavily.
So, we had ala carte non veg food items at the resort early, and tried local cuisines before we retired for the day.
The next day, we checked out of the room and headed to another breathtaking destination.
Drive to Cliff Resorts on Day -2
On our day 2 of our road trip from bangalore to Madikeri, we drove for about 2 hrs to reach our next stay, called Cliff resorts.
What was supposed to be 1.30hrs travel via Arekadu – Siddhapura route, we took 2 hrs, since we stopped at many places to click nature's pic. We travel to enjoy every bit of travel, right?.
So we took our time, clicked lots of pics, and by the time we reached Cliff resorts after driving through some scary hairpins, it was already lunch time.
We had a buffet menu (not that great food for 700 bucks per head) before we retired to the room.
After the usual routine of relaxing for some time, we booked ourselves a nature's guide who took us for an hr walk through the Resort's coffee estate. The 100s of acres of coffee plantation was under the property of the cliff resorts' four brothers and they kept it open for their guests.
It was a much needed walkthrough to get some good sleep in that chill weather.
Otherwise also we had an enormous super comfortable room with a spacious balcony open to the woods.
We skipped dinner as we were feeling heavy from grand lunch and evening sandwiches and tea.
Return to Bangalore Via Bavali route
Rajesh had kept this 2nd stay as secret as he wanted to impress me with this resort's forest view. Definitely it was an amazing view even better than Raja seat's view in Madikeri.
Although it was an entirely different experience, for the price we paid here we could have stayed in Woodstock villas for another 2 days comfortably including food costs.
But the best part of this resort is closer to the city, that is Gonikoppala and virajpet. Needless to say I love Gonikoppal for its good restaurant and even better roads to reach Bangalore.
Related – The Spice Rack Restaurant in Gonikoppal near Coorg (For the Tasty Food with Fast Service).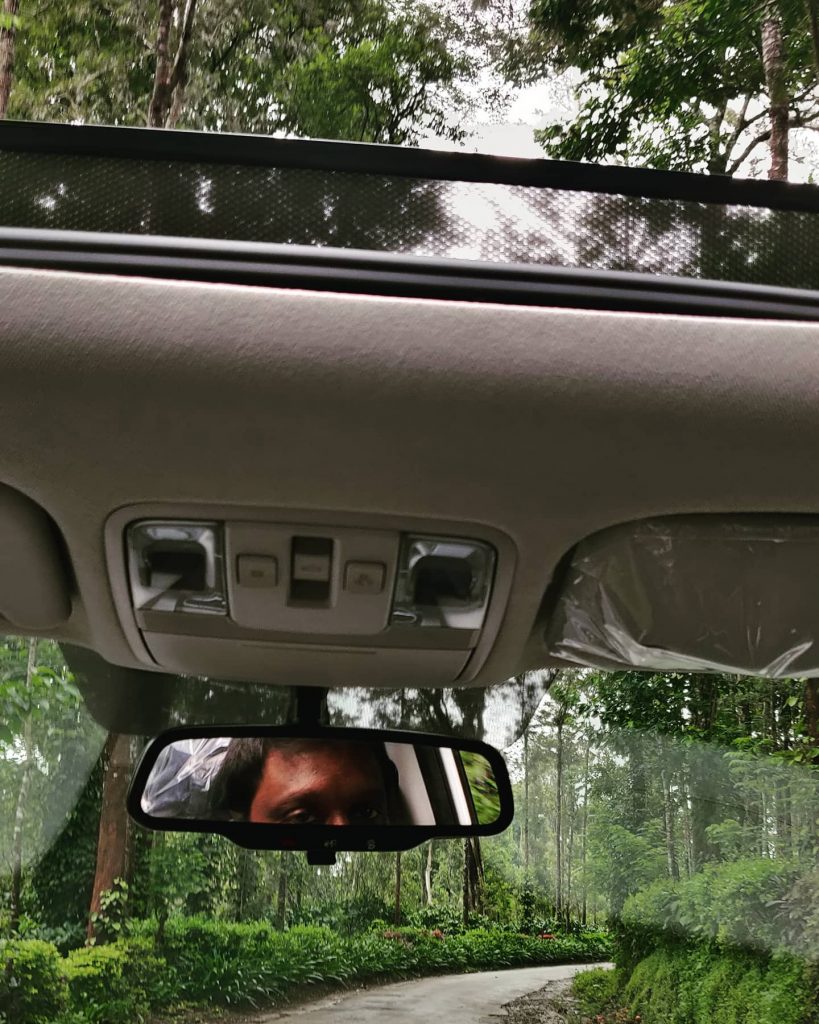 And we stopped at a couple other shops to fill our snacks bag for the return journey.
Just like how well we know the places in Mysore and Kumbakonam, so well we know about madikeri and Wayanad now. Especially the drive through the forest via Kutta – bavali route to reach Bangalore.
I have written all about different routes (and forest rules) to help you plan the road trip from bangalore to Madikeri, click here. Have fun.