This is How to Prepare for a Long Bike ride in India- Free Guide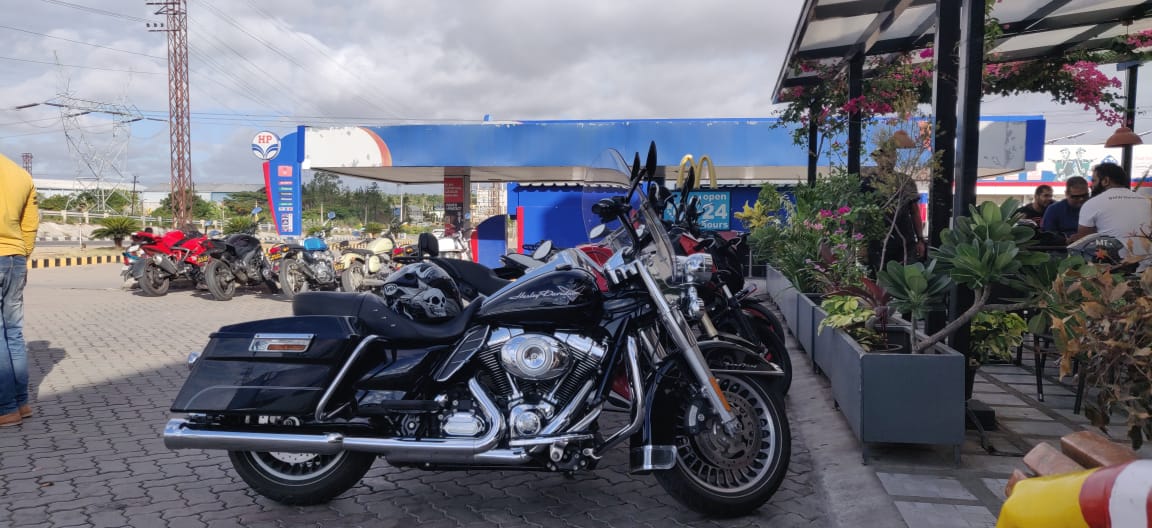 How to Prepare for a long bike ride? Be it 2000 kms or 10k kms long bike ride, how do you prepare yourselves for that long journey on the road?
Here are some 5 practical questions that will help you prepare for a long bike ride.
Under each question, I have given our real life example of how we prepared ourselves for the long road trips. And some useful tips on long bike preparation, what to carry on a long bike trip and how to choose a travel partner.
How to Prepare for a Long Bike Ride
How Confident Are you?
We went on a couple of long bike rides in India in the year 2017 and 2018, after numerous one day and two days trips from our home in Bangalore.
This is how we grew confident over the period –
Success!!!.
Rest is history.
In the year 2017, we were able to go on 11 days long bike trip from Bangalore and in the following year 2018, we went on 12 days long bike trip from Bangalore.
Had we not gone those first 50 bike trips to the nearby places in Bangalore, we could not have definitely gone those long bike trips.
Pro Tip
If you are not confident yet, you need to take a couple of 2 days bike rides, aiming to cover atleast 150 kms in a day. Then slowly increase to 300 kms a day.
If you are entirely new to bike trips, if you have never even taken the bike out except schools or the office, then plan for a 50 to 80 km bike ride.
How to prepare for a long bike ride?.
Start Small and improvise.
Related – How to prepare for a 100 km bike ride.
How Energetic are you?
It may look easy to read that we went 335 kms in a day in the initial days. That will be 670 kms in 2 days, with just one night's rest.
For those who think many bikers ride more than 500 kms in a day, those riders have also gained the experience just like us – taking slow steps at a time.
Note that we ride motorbikes with a theme. On every trip we visit famous places in our travel destinations. That gave us purpose in starting bikes.
We needed energy to not just bike ride, but also do a lot of sightseeing in our destinations.
Like in our 2 days Yercaud bike trip, after riding in never ending hair pin bends, we went trekking to Kiliyur falls.
On our 2 days Madanapalli bike trip, we went trekking to Talakona forest and waterfalls.
On our 3 days Coorg bike trip, we went trekking to Abbey falls and sightseeing many other places.
In one of our Tiruvannamalai trip, we trekked on a steep hills for 1 hr to a Hindu temple with special waterfalls on the hill top.
Imagine the energy you would require to do bike riding and trekking – all in 2 days trip?. Above all riding bike in the nights?.
All the above were examples of 2 days and 1 night bike trips from Bangalore.
It requires lots of energy, to both ride a bike under the sun and moon, and to also to go on sports. And to do pradakshina in all those enormous Hindu temples – it requires more than just energy to drive bikes.
Tip
Initially you don't have to go by any travel theme. You could just pick a destination, be it any resort or meeting any long distance friend, and aim to cover 150 to 200 kms in a day.
Once you have made it to the destination, rest well only at night. Do not extend your rest period. Start immediately next morning. Check your energy level after completing the trip.
For myself its first half of the day and for Rajesh its second half of the day.
So, How to prepare for a long bike ride?.
Plan your trip timings based on your energy levels.
Aware – Even Though you are physically fit, if you face any problems like nausea, fatigue and loss of appetite, then it's a red flag.
How Well Are You Prepared to Face Challenges in Roads?
Lets address the elephant in the room. You will not get to choose the roads to your destination – atleast most of the time.
How prepared are you to go long bike ride in –
Countryside roads?
No roads but a bumpy path?
Mountain – side?
Action packed highways?
Adventurous hill stations?
And unexpected turns of events riding motorbike at night in all the above roads?
I didn't mean to scare you. You need to be there riding the bike to understand road rules and road safety. You cannot blindly follow the book, because there is nothing like in the book.
In our early stages of bike riding, we choose the countryside routes from google maps. We didn't always stick to comfortable 4 ways highways.
Like in our regular one day trips to Talakad, Somanathapura, Melkote – we always choose the Kanakapura route rather than taking comfortable Mysore highways.
(Note : Since the end of the year 2019, Kanakapura highways road has been extensively extended. Now its almost as good as the Mysore highways ).
And on our regular trip to Tiruvannamalai, we always took the countryside route from Darmapuri rather than comfortable Chennai highways (via Vellore route).
Like in our 11 days long bike trip in the year 2017 and 2018, we chose countryside destinations. To reach those destinations, every single day we rode in highways, crowded cities, and rural area agri fields. That too with our fully packed saddlebags and tank bags.
So, How to prepare for a long bike ride?.
By riding bike on all kinds of roads.
Related – What you need to carry on the road trip
How Good are You in Planning a trip?
It is easy to tag along any long bike ride groups (most trending is Leh ladak and Manali trips in North India and Kanyakumari trips in South India).
So, you need nothing to worry about.
But if you are just like us, prepare for a long bike ride with your partner, then you need to be good at planning and executing.
This is another most important quality in a bike rider – planning and executing.
Every single trip we went in our life required careful planning of time calculation to reach the destination, book an accommodation (again sort the best from hundreds of options in booking sites), budget planning, shortlisting sightseeing places, pit stops based on your driving speed etc.,
We are married couples and we share equal responsibilities on-road and off- road. Here is the list of what those responsibilities look like.
Some on – road responsibilities:
Checking google maps often to ensure riding on the right route
Finding pit stops while on the go
Take turn to go washrooms to keep an eye on the luggages
Confirm room bookings
Look for gas stations on the map
Fill water bottles at pit stops
Some off- Road responsibilities:
Plan the holiday and budget
Detailed itinerary for each day of the long road trip with clear destinations, nearby restaurants, sightseeing places with phone numbers etc.,
Getting bike service done 2 days before bike trip
Book accomodations at all destinations
Pack toiletries
Pack first aids
Fit clothes in saddle bags
Keep all the expensive and ready to use essentials, bike ride accessories on the tank bag
Keep all the mobile phones', power bank's and SLR camera's batteries charged night before the trip
Keep the water bottles filled
Again cross check everything on the day of starting the trip
Check the house safes' and doors are secured (if you are couples like us).
Related – 7 good qualities of a bike ride partner
How Well You Know Your bike?
This is not so important but an essential question to ask to prepare for a long bike ride.
But this question has nothing to do with the first question – How confident are you?.
Because you may be confident to ride bike for 500 kms straight, but imagine riding a bike which breaks down in mid and screws that dream trip?.
Your bike is your first companion on the road, next is your bike ride partner.
That's why it is always advised to ride your own bike, which you have been riding for quite some time.
Not the rented bike – the bike you have no connection with.
(That's why when people talk about sentiments with their bikes, I totally agree with them).
Its only best if you could fix minor issues on your own.
Also, it is essential to get your bike service done a week before your long bike trip, to ensure smooth journey.
We never carried bike tools with us nor got ditched by our bike, because we always took care of it well before every single bike trips.
This is how to prepare for a long bike ride.
Now you are good to go!
Go or No-Go?
These are the facts you need to know on how to prepare for a long bike ride.
I could have just advised you to get a Royal Enfield bike, buy all the travel gears and essentials, find a partner or a group and just go.
But that's not it.
It is how much you trust yourself and enjoy the ride, how much your body and mind come together to experience the best time of your life.