5 Best Places To Visit in Yercaud for 2 days (Bike trip From Bangalore)
We went on 2 days bike trip from Bangalore to this beautiful hillstation – Yercaud at the end of year 2017. Here is 5 best places to visit in Yercaud in our 2 days road trip expereince.
This was our first adventurous 2 days bike trip from Bangalore.
5 Best Places to Visit in Yercaud for 2 days
We went on 2 days bike trip to Yercaud from Bangalore, a distance of 230kms in one way. This was our first adventurous bike trip to the hill station by bike.
Here are the places to visit in yercaud for 2 days. All the places mentioned below are the sightseeing places near Yercaud lake, so you could finish sightseeing in just 1 day.
1. Anna park – The best place to visit n Yercaud with family
One of the most visited places in Yercaud is Anna park, also a central destination for tourist buses.
You could plan fun activities in Anna park with kids located in center Yercaud. Even though your kids make you run behind them the whole day, it is for sure fun playing here. Take advantage of that pure oxygen-rich air in entire Yercaud situated a few thousand feet above the ground.
Note – You would also enjoy flower show in Yercaud Botanical garden and Rose garden in summer. Also, Deer Park is another tourist destination for fun activities with kids and for nature photography.
2. Go Boating in Emerald Lake
Emerald lake or Yercaud lake is the major tourist attraction in this mountain clad vacation spot. Boating in Yercaud lake is not only refreshing and also great way to have fun with your loved ones. You will enjoy the picturesque water body surrounded by gardens and teak woods.
Emerald Lake is one of the top places to visit at yercaud, infact many people visit Yercaud just for boating in the lake and playing in the Kiliyur falls.
3. Go trekking to lady's seat, Servarayan Hills, and many other choices
Yercaud has developed recently as one of the major trekking destinations. Yercaud lake is surrounded by mountains with dense woods.
Tourists are spoilt with choices for sightseeing and trekking in the mountains. Tourists can choose any of these mountain viewpoints to go trekking.
Or could register with Yercaud trekking club for your safety. You would absolutely love the view from lady's seat, and also try out the telescope mounted on watchtower to enjoy the serene view of the plains.
If you on a long vacation, on alternate days you could try other trekking destinations like Shevaroy Hills (Highest hill with a breathtaking view and a Hindu temple), Bear Cave, Karadiyur viewpoint, Arthur's seat, Manjakuttai viewpoint and Pagoda point.
Note: Visit Silk farm located nearby lady's seat to get a tour of silkworm farming and cultivation of mulberries in Yercaud.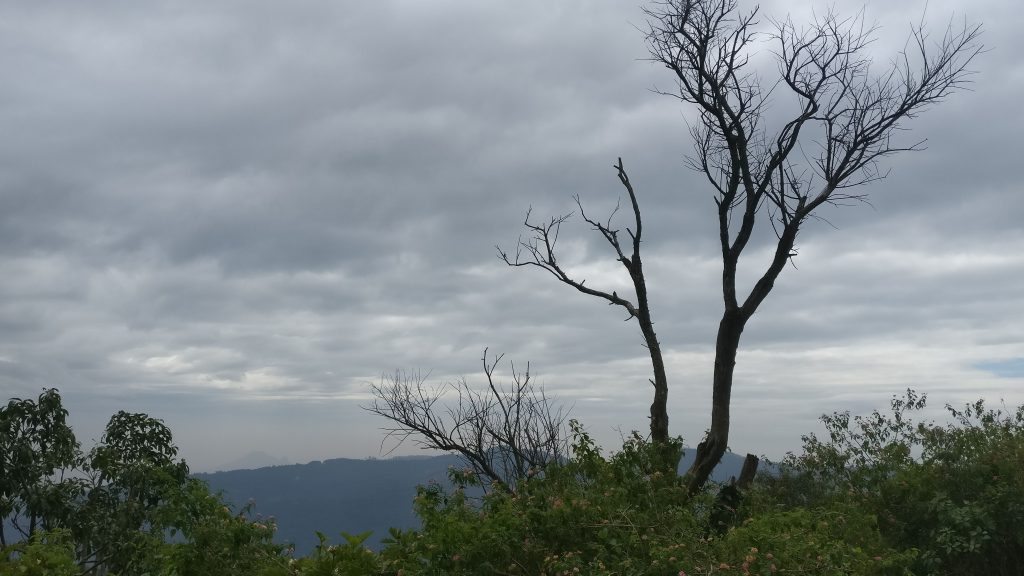 4. Go Cycling in "loop road" in Yercaud
It is definitely crazy and super fun activity to go cycling in 32 km loop road in Yercaud. It would be absolute fun for both nature lovers and fitness lovers. Enjoy the nature's beauty, Yercaud versatile plantation, take a pit stop to eat organic and homegrown fruits sold by local kids.
5. Go Walk through twisted steep foothills to reach Kiliyur falls
Kiliyur Falls is situated 3km from the Yercaud lake, once you reach the parking area, you need to walk through the twisted steep foothills to reach the Kiliyur falls. This was our absolute favourite fitness activity and needless to say the view was worth the pain. We played in the falls for sometime, clicked pics, retured as it was getting dark. Kiliyur falls is yet another top places to visit at Yercaud, it is must see sightseeing too. Am sure you will love it.
Our Travel Story – Bike ride From Bangalore to Yercaud
We Travel Duo, Myself Renuga and My Hubby Rajesh – rode the bike from Bangalore to reach Yercaud hill on a weekend.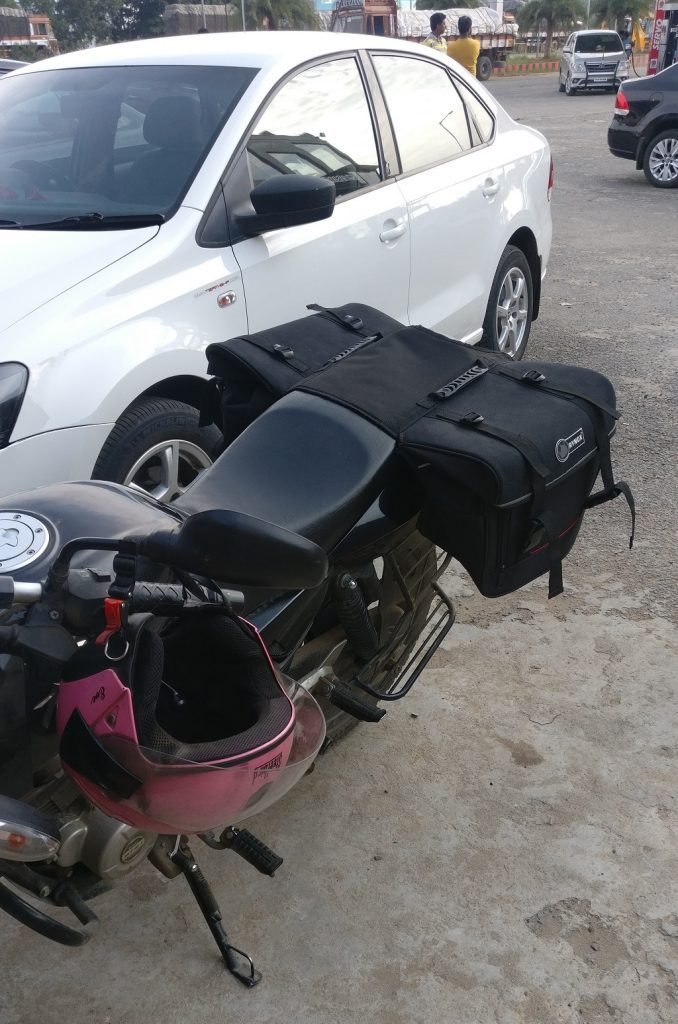 We chose the adventurous wildlife forest road on the way to Yercaud while coming back we chose 20 hairpin road connecting to the main Salem city.
We stayed in TGI resorts, absolutely enjoyed the food, weather and mountain view from this hotel.
For 2 days we explored almost all tourists destinations, some by bike and some by walk.
It was one of the best and memorable weekend trip we ever had.
How We Planned Our Trip To Yercaud
As usual, we have done research on places to visit at Yercaud, just like how we do for other bike trips.
Distance from Bangalore to Yercaud is 230Kms, i.e. almost the same distance as Bangalore to Tiruvannamalai, which we have covered by bike plenty of times. But travelling to Hill Station by bike is new, so we added an additional 1 hr to plan our travel time.
You can read our other hillstation travel experiences to Talakona Forest and Coorg.
So, if you are planning to visit Yercaud from Chennai or Bangalore or Coimbatore or even the nearest Salem calculate extra time for riding up the hill.
It is always essential to consider the time required to ride up the hill station higher than the time taken to ride in plains.
How We Packed For Our 2 days Bike Trip
We started in Bangalore on an early morning at the weekend, with our saddlebags packed just one day before our travel. We filled our water bottles and packed some healthy snacks. Once again checked for mobile phone chargers, power banks, hand sanitizer, coolers, scarfs to protect from pollution and dust are kept in our fuel tank bag for easy access.
Why Yercaud is Best Place For Fitness Travellers
Sitting whole day and riding the bike usually leaves us with numbness in fingers, muscle stiffness, shoulder pain and back pain. Thankfully Yercaud gave us many choices to stretch our legs, forget the pain and enjoy the nature.
Yercaud is one of the best places for fitness travelers, with plenty of options for trekking, mountain climbing, kayaking, biking, jogging and walking.
Travel alone or with family, finding time for fitness is one of the hardest things to do on vacation. Especially when your body begs you to stay in a hotel bed after that long journey, or rejuvenate in an exfoliating spa, or relax in a lounge chair under the warm sun, or enjoy a cocktail looking at the sunset far from the cottage – we always end our day guilty of not being active.
Not to mention the unlimited buffet breakfast awaiting you to wake up the next morning. Another way to enjoy the vacation is to put on the shoes and grab a waterbottle – go for bike riding or hiking in the mountains. So, whichever you aim is, here is the list of places for sightseeing in Yercaud.
FAQs About Travelling To Yercaud
How to reach Yercaud from Chennai?

Yercaud to Chennai distance is 380 Kms, the best route is via Krishnagiri for both bike and car riders. You have many options to come to Yercaud by bus from Chennai or by train from Chennai.
What is Yercaud distance from Bangalore?

Compared to Chennai, travelling from Bangalore is 100kms less the distance and the time. Onward journey we took short route near thoppur, which was fun and adventurous riding amongst forest and unexpected hairpins (see pic above). While coming back we took the route via Salem, with proper roads and it was another way of fun when we saw many riders like us. Overall it is safe to journey both the routes. Salem route is better for restaurant and washroom options.
How to travel from Coimbatore to Yercaud?

From Coimbatore, it is 195 km distance, much lesser distance than from Chennai and Bangalore. Also, you have plenty of options for food and restrooms.
How to travel from Trichy to Yercaud?

Trichy to Yercaud distance is less than 200 Km, via Tiruchengode. You don't have train options from Trichy, but you can travel by road or by bus.
Where is Yercaud fall located?

Kiliyur Falls also called as Yercaud falls, situated 2.5kms across Yercaud lake. Its just 10min walk from the boating place, also good hiking spot for fitness travellers.
Yercaud weather, stay and restaurants review?

Weather is too good even in summer, the best time to visit is from April to June. But if you like to enjoy hill station winter, travel after June with an overcoat or jumper or sweater.

About restaurants, I don't recommend eating anywhere outside the resort you stay. Around Anna park and Yercaud lake we did not see any decent eateries, it is ok to have a snack and tea there.

We enjoyed eating hot hot mirchi bajji and tea for yercaud awesome weather, just across Yercaud lake. You should try too.

For stay, we have not tried any homestay, anyways homestays and resorts are equally priced, so we chose resort to stay.
What to wear and what to pack for Bike ride to Hill station?

Roaming in the Yercaud hill station demands good physical energy and I suggest you wear comfortable loose clothes because you would be sweating a lot from hiking and climbing activities. Also, it is essential to carry a hiking backpack which is not as big as your regular travel bag, but small enough to wear it for a long time, also a good size to fit in your water bottles and snacks.

We always make sure to wear comfortable clothes (also good looking for taking pics) for long hour bike ride – he wears sweat pants , I wear very comfortable jeggings almost on all rides.

This Fratini Jeggings– Color Black is super comfortable to climb on the bike and to ride the bike. This is what I have worn most for more than 2 yrs bike travel, it still stays brand new. It is always on demand in Amazon, you could buy directly from the store or any other shopping websites.

Since it doesn't have pocket, I always carry this sling bag -good size to keep mobile phones (very essential for google maps), coolers (need them for sunny ride), and Money (you know its very essential).
Next time make sure to visit all the places in Yercaud, a beautiful hill station to cherish.