4 Days Road Trip To Coorg From Bangalore (Bangalore to Coorg Bike Trip)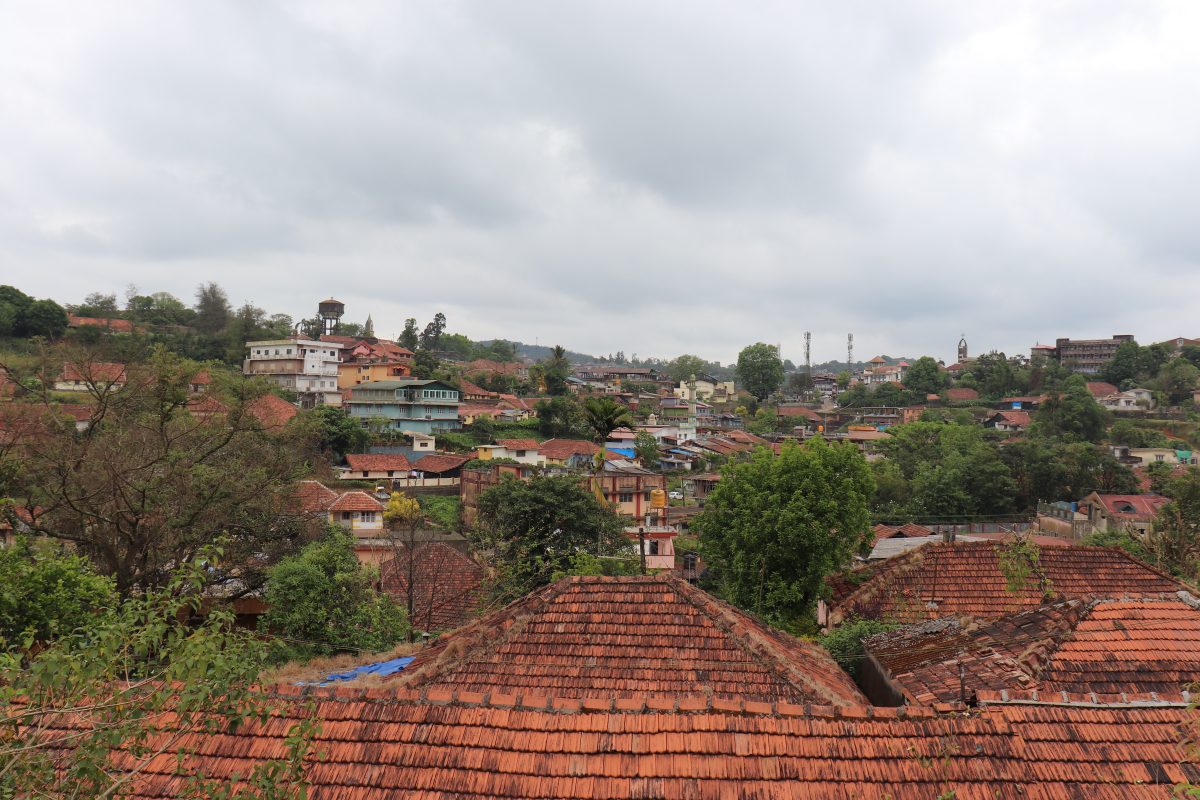 We went on a 4 days road trip to Coorg from Bangalore, by Bike.
Since 2016, travelling to Coorg from Bangalore has been in our travel bucket list. We were hesitant to ride that long bike for being new rides. But, by 2017, we were super confident after numerous bike trips, therefore decided to ride to Coorg, but with enough rest stops.
That's the reason it was a well planned 4 days long bike trip to Coorg from Bangalore.
From our experience you will get info on the following.
Bangalore to Coorg road trip travel guide
Popular routes with best alternatives
Best pitstops
Sightseeing guidance to Tibetian temple
Dubare elephant camp timings and procedure
Places to see in Coorg.
Road Trip To Coorg From Bangalore – 4 days Travel Itinerary
On 1st November 2018, hardly 2 full weeks before our 12 days long bike trip, we went on road trip to Coorg From Bangalore.
Throughout the journey we traveled by our bike, with the help of google maps we enjoyed going to all the places discussed below.
This is how we spent our 4 days of a bike ride to Madikeri, Coorg.
Day 1: Bangalore to Musuru (150 kms)
Stay – Oyo rooms
Day 2: From Mysuru to Madikeri, Coorg (157 Kms)
Sightseeing places: Dubare elephant camp, Tibetian temple (Nisargadama).
Stay at Coorg International Hotel.
Day 3: Sightseeing and Explore Coorg
Day 4: Finally Return Coorg to Bangalore (270 kms)
We enjoyed eating in a small – family run restaurant, during our stay in Madikeri.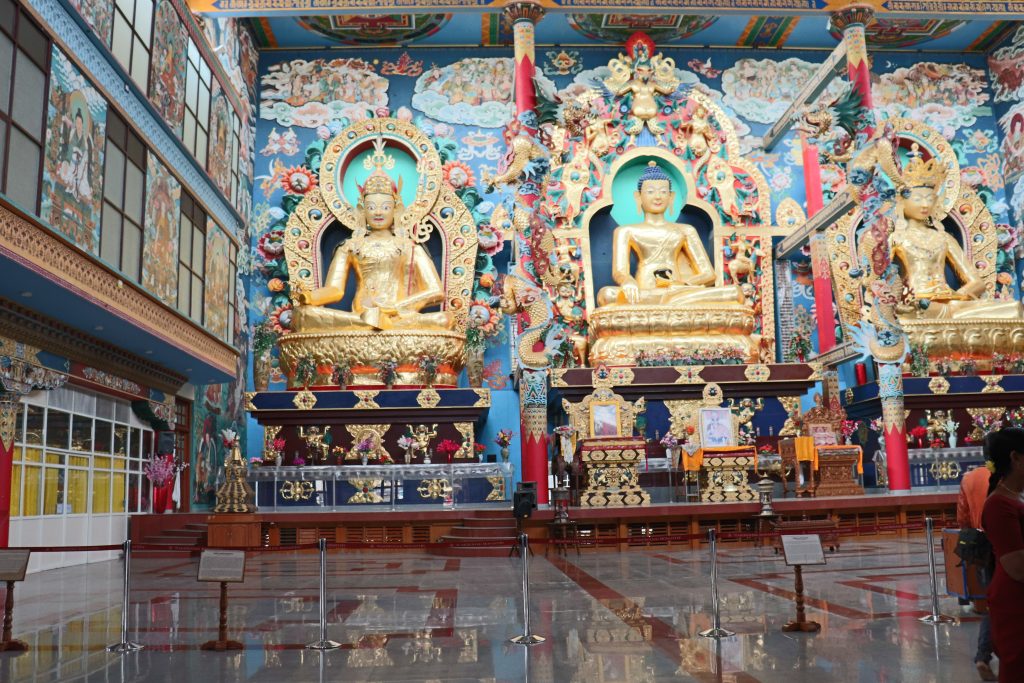 Best Places To See in Coorg
Here is the list of best Places to see in Coorg Abbey Falls, Madikeri.
Iruppu Waterfalls, Bramagiri
White River Rafting, Barapole river
Tadiandamole Peak
Iruppu Falls
Omkareswara Temple
Madikere Fort
Honey Valley – Nilakandi Falls
Bird Watching
Spice and Coffee plantations
My 2 days Sightseeing in Coorg And Why Didn't We Go Trekking
Of our 4 days road trip to Coorg from Bangalore via Mysore, we have spent 2 days in Coorg.
Here is the reason why we did not plan to go trekking in coorg even though I have done all the research.
Some people travel for adventure, some travel to experience the place and culture, some travel for passion and make living, some travel to relax and get away from regular life, some travel for creating memories and experiences.
We traveled so we could ride the motorbike to the destinations and cherish the whole experience.
So our prime aim is to ride a bike and enjoy the experience on different roads riding to different places.
Also, a disadvantage with riding a bike for such long hours is that we cannot do any sports activities or any physical activities which demand more energy (unless we choose to stay in one place for a very long time).
All we do is relax at the end of a bike ride, and explore the city where we stay.
That's the reason even though I read all the articles and collated all the info, we did not plan to go trekking in Coorg.
7 Articles on Trekking in Coorg I found Useful for Travelers 
Where we went Local sightseeing in Coorg Madikeri
Mostly we go sightseeing the famous places in our destinations and chill in restaurants, eat the local cuisine and enjoy the vacation.
While we were there in Madikeri, we chose 2 destinations apart from hanging out in cafes and restaurants.
On day 3 of our road trip to Coorg from Bangalore, we went to Raja's seat and Abbey falls (mini trekking experience).
Raja's seat
One of the well maintained tourist places to see in Coorg Madikeri is Raja's seat.
It is a family vacation spot in Madikeri, with minimum entrance fee for adults.
After a hearty complimentary breakfast at Coorg International Hotel, we went to Raja's seat, about 5 mins ride from our hotel.
We spent great time hanging around the park, clicking pics on the cliff of Raja's seat.
The view was awesome and we clicked many pics before we left the place to hang out in a nearby small cafe.
Abbey Falls Madikeri
Even Though we didn't go on a trek in Coorg during our stay, the trip to Abbey falls gave us a mini trekking experience.
After about a 15 mins bike ride from the hotel to Abbey falls checkpost, we walked down the stairs for about 20 mins to reach the falls.
But it was worth the sweat, spent time clicking pics, amazed at the falling river standing behind the barricade.
The crowd was moderate and a security guard was there to stop any trespassers from playing in the river.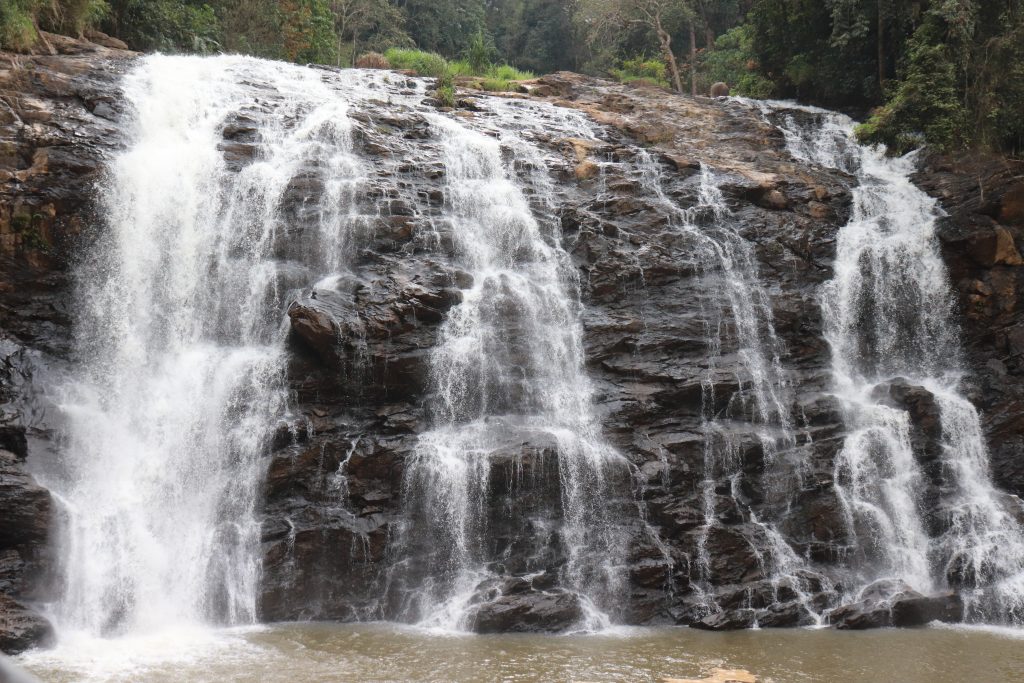 Places To see Near Coorg
Dubare Elephant Camp – Elephant Safari and Elephant bathing, wildlife photography, River rafting
Nisargadhama Golden Temple (Namdroling Monastery)
Nagarhole National Park (Wildlife safari at 6am to 8am, so you need to be there by 5.45 am atleast)
Wayanad Hill station
Kabini River (River view and plenty of resorts for stay)
Talakadu (Origin of Talakaveri, Play in the river, Visit famous ancient temples being buried under sand)
Somanathapura – Chennakesava temple (Ancient Hoysala Architecture under Archaeology department)
Mysore (Famous Tourist destination – Mysore Zoo, Palace, Sri Chamundeswari hills, Brindavan garden, Tippu Sultan Fort etc.,)
Srirangapatna – Sri Ranganathar Temple.
Ranganathittu Bird Sanctuary
In our 4 days road trip to Coorg from Bangalore, we visited Mysore, Dubare and Nisargadama golden temple, before reaching coorg.
My Disappointment story in Dubare Elephant camp
We have been to Mysore more than a dozen times in the past years, and explored all the places. And we have been to Talakadu, Srirangapatna and Somanathapura on our various one day bike trips from Bangalore.
We went to Wildlife safari to Nagarhole national park and visited Kabini river when we were on a 3 days car trip to Wayanad from Bangalore.
Is it Safe to Travel From Bangalore to Coorg Bike trip?
Now the most important question everyone asks -How safe it is to go on road trip to Coorg from Bangalore?.
Going to a hill station like Coorg arises this common question, especially with the wildlife starting from Nagerhole.
Here are few things to know about road safety in your Bangalore to Coorg Bike trip or car trip:
From Bangalore to Mysore, you would be enjoying 4 ways road with divided roads on Mysore Highways.
If you are taking you Kanakapura road to reach Mysore, then you will have undiveded road but with far less traffic. A peaceful and greenary road compared to Mysore highways.
Now both the routes have many pit-stop options.
This is the most popular route: Bangalore – Mysore – Hunsur – Kaushal Nagar – Madikeri
From Mysore to Madikeri, it is one straight route with undiveded roads.
Traffic from Mysore to Hunsur and Kaushal Nagar is no less than traffic from Bangalore to Mysore via Mysore Highways. So careful with the unbelievable traffic even in the early morning drive.
Traffic is less from Kaushal Nagar to Madikeri, you can absolutely enjoy the peaceful ride.
Nagerhole Wildlife roads are mostly closed, for both safari and drive-through after 8am, better to reach Madikeri Via Kaushal Nagar. For the interested, you need to be there at gate by 5.45 am to buy tickets for safari.
Throughout the journey you will experience seamless drive on well paved roads until Madikeri. (Even beyond till Wayanad as well).
In our bike trip journey, we did not encounter any wildlife on both ways.
Only in our car trip to Wayanad, we saw raindeers and monkeys couple of times. Anyhow, it is always safe not to stop the vehicles until you reach the destination.
Now you can also plan for a 4 days road trip to Coorg From Bangalore. You could also add many sightseeing places near Coorg from the list above. Also plan for trekking in Coorg.
Or you could spend just a day or two only in Coorg, because there are many local sightseeing places in Coorg Madikeri.
If you are planning road trip from Mysore, you could cover more places beyond Coorg – like Wayanad, Kabini River, Nagarhole National Park etc.,
Bangalore to Coorg Bike trip – Overall Experience
This was a successful 4 days road trip experience to Coorg.
Overall we had a good time –
– visiting Namdroling Monastery Golden Temple (also Cauvery Nisargadama)
– riding around the places near Madikeri (mainly Raja's seat and Abbey falls),
-enjoying local food and coffee, clicking lots of pics and making memories.
We didn't buy any Coorg spices nor Coorg coffee because we were limited by luggage space. But would love to buy some on our next road trip to Coorg from Bangalore.
So overall it was very memorable and pleasant road trip from Coorg to Bangalore.