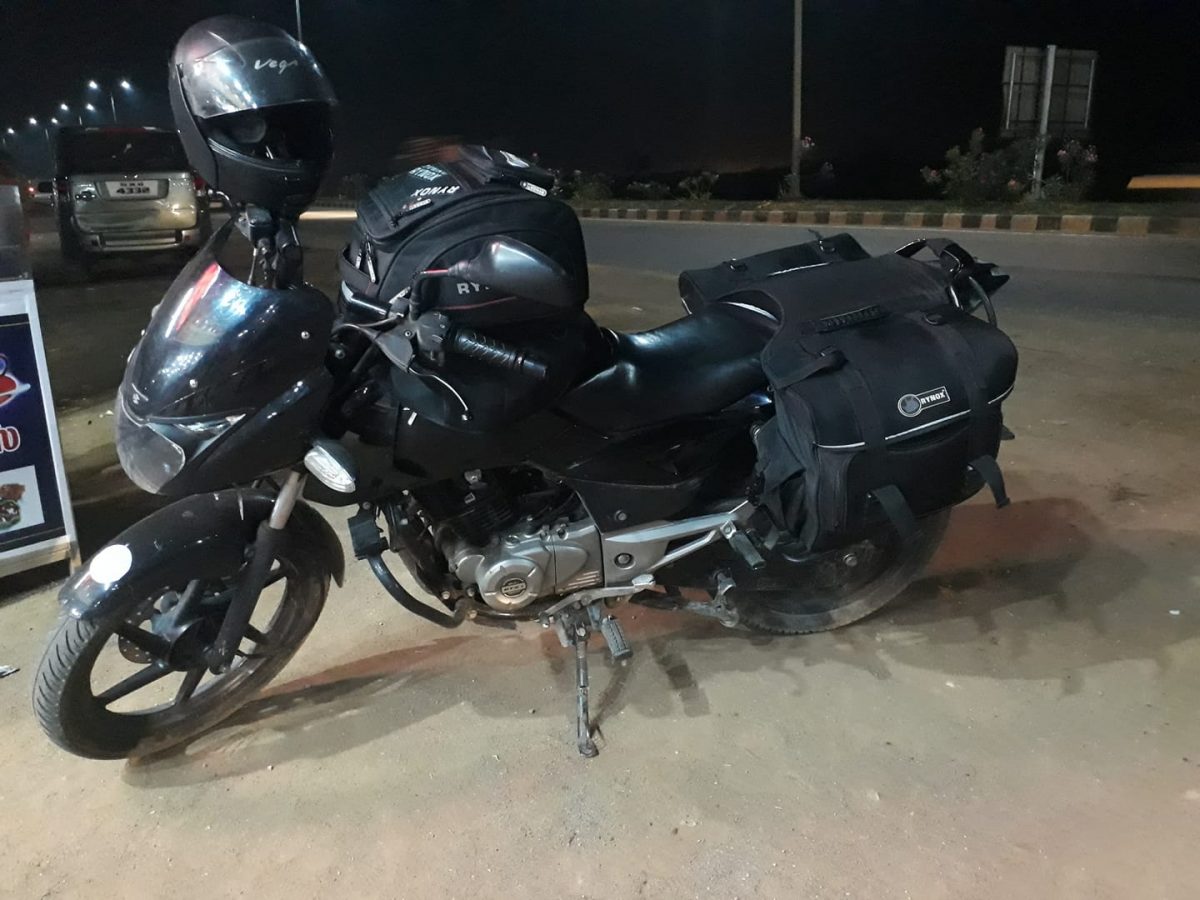 We are travel duo couples, went on numerous long bike trips from Bangalore to many places in South India. Here are 7 Most Useful Long Bike Ride Tips In India.
It is nothing about road safety or any boring tips you see commonly in the internet.
Be it Leh ladak or Kanyakumari trip, these practical bike ride tips will come in handy from our constant travelling day and night.
Our experience will let you prepare for a long motorcycle trip in India, be it solo or couples trip.
Long Bike Ride Tips In India
No rental or Loaned from Friend – Ride your Own Bike
Am sure you didn't expect me to start with this suggestion when you were looking for some cool long bike ride tips in India. Believe it or not, we rode Pulsar bike on all those numerous trips from Bangalore and never had any trouble so far, touchwood.
Many days the bike got us home, when we were super tired and no longer had energy to focus. You can call it sentiment or bond, but sure there was something special having your own ride for a very long time.
People expected us to buy a luxury motorbike like Harley Davidson or at least Royal Enfield anytime soon, when they started seeing us all the time on the road. I mean from our regular Facebook posts.
But we didn't, why would we when we were super comfortable with this one.
It was our regular office ride too.
And you know, your bike doesn't not just run on just gas. You also need to make sure everything alright by getting a regular service done and add some accessories like a mobile holder and extra blink headlights if you want. It would be super helpful for a long bike ride at night time too.
So get your bike serviced, change oil, check the suspension, fix those breaks, change the tires if you want to, add the extra headlights and tail lights. It's all just basics, am sure you knew that already.
Super -bike or any regular bike, since you are going on a long ride, ride your own bike which you know very well.
Plan well – Keep an Itinerary for All the Days of Your Trip
However long a bike trip you are planning for, it is important to have a well planned itinerary for all the days.
In our case, we went on an 11 days long bike trip in the year 2017 and 12 days long bike trips in the year 2018.
Both the trips were planned by me and executed by my partner Rajesh. We went as per the plan, sticking to the time schedule and resting well during nights.
Keep a handbook or mini note pad that fits in your jacket, write down your day's plan page by page. Don't make it clumsy, assign each page for consecutive days of your trip.
Note – If you prefer making a note in mobile itself, thats fine. Personally I prefer pocket notes for the ease of scribbling.
If you are a blogger like me or if you want to log your trips somewhere for future use, this notebook will come in handy.
For me, not just blogging, I also have a habit of sorting pics day wise in a harddisk, and save important pics in facebook albums to share with friends.
So, keep your day's plan in a short note book for all time reference.
Read Related – This is How to Prepare for a Long Bike ride in India – Free Guide
Plan Well For Long Ride But Pack Only For Four Days
Yes you heard me right.
This one advice we followed strictly on all our long bike trips.
When you are going on a long bike trip, you are going to live life like a nomad.
If you fill all the luggage space in saddle bags with clothes, then you would have to carry an extra carry – on bag or a day bag to fit in all other travel essentials. Like a bike rain cover, pair of slippers, SLR camera, power banks, jackets, riding accessories, Laptop (Rajesh carried in all the bike travels no matter the length of the trip), etc.,
Well, you are going to be on the wheels most of the time. Yet you would need clothes which will be comfortable for riding, right?
So Here are few Practical & Smart Long Bike Ride Tips In India
Carry a jumper or a jacket based on the season you are planning your travel. We always keep both during winters – jumper for the day time ride and Jacket for the night time ride.
If you plan on carrying just one jacket, then pack long sleeved clothes for day rides. Since you are looking for long bike ride tips riding in India, keeping our humidity in mind, it is advisable to ride wearing long sleeved clothes for protection.
Rajesh had invested in an expensive padded jacket, but he found it too hot to wear it all the time. So, it was the long sleeved t-shirts that helped him protect from the sun.
Pack not more than 2 good pairs of jeans or formals to wear for the restaurants or any visiting places.
For all time bike riding, pack a couple of travel pants – a soft and comfortable textile for both day and night rides. I wore jeggings from the Fratini brand, which was super comfortable for long bike rides. My hubby wore comfortable sweatpants all the time.
So, going to Leh Ladakh or Manali, Kumbakonam or Kanyakumari, invest in a good pair of comfortable clothes and saddle bags. Also don't forget comfortable shoes and sandals. Since it's all part of travel essentials for Long bike travel, it's important to make a list of them beforehand and buy quality stuff for the repeated wear.
Why Saddlebags? Why not just throw on a backpack? The Reason Why I Call it a Best Long Bike Ride Tips In India?. Lets see.
Invest in Saddle bags – Best Long Bike Ride Tips in India You Will Hear from The Regular Bikers
Many of us, riders in India, still have the habit of riding with a heavy backpack on our shoulders. Some prefer to tie it with a rope at the back of the bike, some prefer carrying it – mostly the pillion riders are taking the burden.
I did too for many one day trips and two days trips from Bangalore until we bought a saddle bag and a tank bag.
A tank bag – a multipurpose day bag which has a magnet grip to hold on to the both sides of the bike tank has been indispensable in all the bike trips. It doesn't cause any inconvenience to the rider. Infact rider can keep his valuables inside the bag and can access it any time with ease. When you are not riding, it can be converted to a day-bag with the detachable shoulder belts.
A Saddle bag – which hangs on both the sides of a pillion ride bike seat with a good amount of space to keep your travel essentials. And it doesn't cause any inconvenience to the pillion rider.
One of the basic essentials for that long bike trip is to invest in a good quality saddle bag. The most important long bike ride tips in India you would hear from any bikers if you ask. If not a tank bag, buy a good quality saddle bag – let it sit on your bike at the back. It is easy to remove unlike the bags tied with rope, and it comes with double layered rain protection (again depends on the brand you buy).
It also offers a comfortable cushion and good support for the thighs for the pillion riders, for that long ride.
This is definitely the most neglected long bike ride tips in India, because we also invested in these bags too late.
Until we bought this saddle bag, we were riding with our individual backpacks and sure it was painful to carry them all the way to our destinations.
Note – You need to be all the time aware of those saddle bags especially when you are on highways and overtaking any vehicles.
Now that your bike is ready, you have a proper plan in hand, know what to carry on a long bike ride. Well, who is going to ride with you?.
Read Related – Best Earphones Under 500 In India (List from a Daily traveler).
Ride with a Partner with Common Interest and Complimenting Energy
The one thing that kept us going strong as duo bike couples was our complimenting energy.
I mean any day or even late evenings, we are always ready to go on a bike trip.
You would not believe that once we have started our bike journey in the evening, rode 200kms to reach the destination by midnight.
If there is any never ending conflict between us (obvious as a newlywed), we just start the bike. Argument stops, mind relaxes and soon the craziness wades out.
Bike rides connected us. Strong.
But we both are two different personalities. For starters, he is a night owl and I am an early riser.
On all our bike trips, I usually kick start the day, continuously nagging him to get ready so as to stick to the schedule. As the day goes by, you would be amazed at the energy transcending from him. He ends the trip with the same energy as I started it. While, myself just hanging in the bike, barely holding onto google maps with only half opened eyes. 
So you need to choose a partner with the same passion you have for bike riding. And who has a positive mindset at all times.
This is how your partner's qualities should be and very well should be yours too – Read here.
Are you a regular traveler like us?. Or Are you a city crawler?. Here are the list of best shampoos for daily use.
Don't Blindly follow Google Maps – Question the route
This happened when we went on a 2 days trip from Bangalore to Yercaud in the year 2017.
There are two routes from Bangalore to reach Yercaud hills – one is shortest but rides among the dense trees, whereas the second is via Salem NH with proper paved roads with hairpin bends.
We unintentionally chose the shortest route – the one which was used by locals and the forest department. For very long time we were unaware that we had chosen a dense forest route.  It gave us chills when we realised it was just us riding the bike, except for the few locals rarely passed by us. 
We were able to breathe free only when we reached a local village.
On returning back, we readily took the longest but seamless route via Salem.
Gaining wisdom from this trip, later when we faced the same situation on our 4 days bike trip to Coorg (Madikeri), we investigated the route and chose the best way to reach the destination safely.
When in doubt, compare the 2 or 3 different routes suggested by google maps. Because google maps suggests routes which are used by locals, which may not be safe for the travellers.
Lets see an example.
To reach your destination, if you are suggested 2 routes with following directions: One with 32 kms showing 50 mins to reach and the other one is 49 kms taking 1 hr to reach. Also the first is showing a white road on the map and the second is showing a combination of white and yellow road on the map.
Which route will you choose? A or B?.
If I were you, I would choose the yellow road with more distance, because it is a National highways route, with proper paved roads and safer to ride.
Why route B?.
When compared to the white road which indicates a rural road / state road, are more bumpy n less safe comparatively. And probably it takes more time than it is mentioned in the map.
Trust me, many times when we had no choice but to take the white road, it took us more time than it was mentioned in the map.
Also, let's not forget the road safety. Not just on highways, even riding on the rural, always expect the unexpected.
Do Not Mass Book the Rooms
This is another most important long bike ride tips in India.
Now think about it for a second, is bike riding is all about just riding the bike for day and night long, non-stop?.
At one point of time, will you not call it a day and rest someplace?.
Because many think that bike riding is all about riding long hours, covering 500 kms a day. Some do it for pride and some for saving money.
If you are a couple like us, you probably need to think of pre-booking the rooms at your destination for your own safety.
Here is the advice from our regular long road trips experience. Do not mass book the rooms even if you have plans to stay in a place for more than one day.
Though it is always advisable to book the rooms before you reach the destinations. And we always make sure to book it atleast 2 days prior to our trips -long or short bike trip.
Only if you like the room, feel that it's worth the money and service, then it is wise to extend the stay.
Also, there are stories revolving about the bikers / tourists being cheated or taken advantage. Though it is much cheaper to mass book the rooms, to have an upper hand, it is best to book the room for just a day.
We have never stayed in any of our acquaintances' houses, so absolutely no experience on that.
And finally, it is absolutely necessary to wear a helmet and protective gear at all times. And be a good guy, follow the road safety rules.
Enjoy the ride. And wish you to have many more adventures in your life.
Read – Long Drive From Bangalore to Mysore in Our #AllNewCreta