Shivanasamudra Falls From Bangalore: Gaganachukki Waterfalls, Nearby places
Shivanasamudra falls from Bangalore – This was one of a memorable One day Bike trip from Bangalore in the Year 2016.
This is a travel guide to famous Shivanasamudra falls nearby places by road.
Shivanasamudra Falls: Location and Distance From Bangalore
Bangalore to Shivanasamudra falls distance is 126 kms. There will be short variation in the distances from your starting point location. 
You could take Mysore highways, take a diversion from Malavalli to reach Shivanasamudra falls. Or take Kanakapura – Malavalli road to reach the destination. 
Since we were riding bike in the open sun, we preferred going by Kanakapura – Malavalli road to ride under tree shades. 
If you are travelling from Mysore, Shivanasamudra to Mysore distance is 75kms, the best shortest route being via Somanathapura. 
Clarity on Two Falls and its Location
The Kaveri river falls into twin waterfalls in a small town called Shivanasamudra in Karnataka, near Mandya district, hence the name Shivanasamudra waterfalls or falls.
The actual name of this waterfall in Gaganachukki waterfalls. The common misconception of this twin falls is that the left one is Ganagachukki falls and the right one is Barachukki falls.
The fact is, Barachukki falls, which has been naturally split a few kilometers south- west of the Barachukki falls.
So now that it is clear that the name of Shivanasamudra waterfalls is Gananachukki waterfalls, lets see how to reach by road.
Travel Guide to Reach Gaganachukki Waterfalls by Road
We started on 24th December 2016 morning to Shivanasamudra falls on our motorbike, taking the Kanakapura Malavalli road.
Alert to the fellow travelers – there were no good restaurants in the Kanakapura road until Shivanasamudra falls.
Now that the Kanakapura route is gaining popularity, you could see few restaurants here and there. Feel free to check for their restaurant ratings before you decide to dine-in.
But in the year 2016, not that long ago, we could not find a single eatery except for a small shop selling poori sabji, near Mandya. Definitely I would not suggest, so not giving google map link fellas :).
It was definitely not a good start for a beautiful morning ride, yet without any complaints we had that breakfast. Soon we headed towards the destination.
By the time we reached the Shivanasamudram, it was almost noon, and we did not want to play in the falls as we had plans to darshan Ranganathaswamy temple before it closes. 
We spent 5 mins excursions on the river view, eating home bought snacks and hurriedly clicked some pics before we left for the temple.
Sri RanganathaSwamy temple – On the River bank
It is one of the popular Lord Vishnu temples, known as Madya ranga or Mohana ranga, associated with Ranganathar in Srirangapatna and Trichy.
This bike trip was an attempt to visit these 3 Ranga temples in the three consecutive Ekadasi days.
That was the reason we hurried from the Shivanasamudra falls to darshan Lord Ranganathar.
The temple was moderately crowded and we were able to have a peaceful darshan and spend some time before we left to Bangalore.
There is also another ancient temple dedicated to Lord Shiva, called Someswara temple. We decided to visit this temple on our next visit to Sivanasamudram.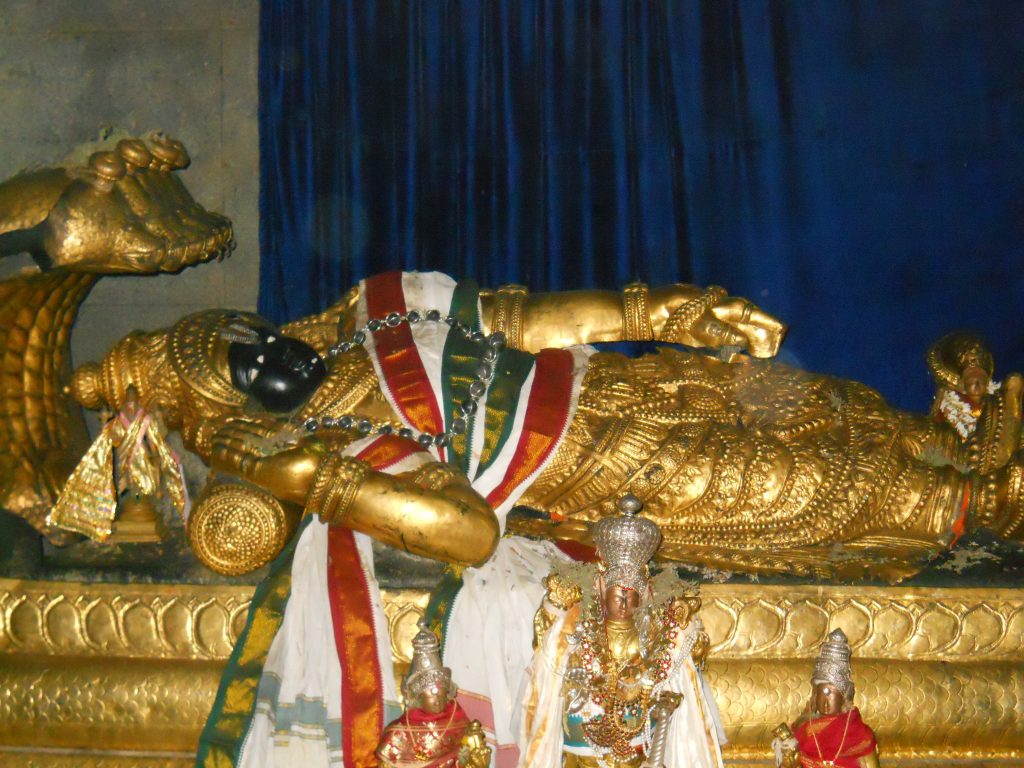 Shivanasamudra Nearby Places – Where to Go from Here
Apart from the couple of temples and this twin river, there is nothing much to spend time near Shivanasamudram.
If you want to extend your trip, I have a few suggestions for you to explore Shivanasamudra falls nearby places.
Talakadu – famous for Kaveri river (beach) and sand soaked 5 temples
Hogenakkal Waterfalls
Somanathapura – For Hoysala architecture
Melkote – Cave temple on the hill
Mysore – For Palace, Museum, Zoo, Botanical garden.
While coming back from Shivanasamudra falls, we took Mysore highways Via Malavalli, to find a good restaurant as we were starving from Morning.
Now there are good choices in Malavalli – Kanakapura road, no need to worry about anything.
You could absolutely enjoy your trip to Shivanasamudra falls from Bangalore, via both Kanakapura and Mysore Highways.