Hampi Trip from Bangalore (A Complete Travel Guide with Itinerary)
After our numerous bike trips to nearby places in Bangalore, We have decided to take Hampi trip from Bangalore by train and explore maximum sightseeing places in one day.
Not just sightseeing in Hampi, but also some nearby places in Hampi which are less popular like Kukanoor and Itagi.
Did you know Mahadeva temple in Itagi is protected as a national mounument under Archealogical survey of India?. "Art historian Henry Cousens called this monument the "finest in Kannada country after Halebidu"". (Source : Wikipedia)
Here is the complete guide for one day trip from Bangalore to Hampi, Hampi places to visit and the trip costs for couples.
Hampi Trip From Bangalore By Train – Distance, Weather and Sightseeing
I have always wanted to go Hampi –a World Heritage site, it has been in my top priority list since we both started our weekend trips.
We live in Bangalore, we were just starting out bike trips to nearby places in Bangalore.
Read – How Our Love For Bike Rides Started in 2016?
The Distance from Bangalore to Hampi by road is 345 kms.
Since we were just beginners in bike trips, its quite not possible to cover such long distance by bike.
So, we have decided to go Hampi trip From Bangalore by train and spend one full day sightseeing.
Since the Hampi weather is too good in September (infact all over Karnataka), travelling and sightseeing would not be any problem.
To surprise hubby, I did all the research and planning. That is when I came across unique places in Kukanoor & Itagi and added those places to the Hampi trip itenarary.
Since it was a one day trip, there was no hotel booking required. We just packed some snacks and water bottle in our backpack for this trip.
If you are planning on road trip to Hampi from Bangalore, you could very well explore all the places mentioned below.
Since we went by train, we hired autos for short distances and traveled by buses for long distances.
Here is the complete guide on places to visit in Hampi and the good places to eat etc.,
Hampi Express to Kukanoor and Itagi
On 24th Sep 2016, We boarded Hampi express at 10 pm at KSR railway station, reached Koppal stations next day at 8.35am.
(Since we decided to explore Kukanoor and Itagi, we got down at Koppal railway station, otherwise Hosapet would be the nearest station for Hampi.)
There was a Karnataka bus pick up at station entrance otherwise also KSRTC bus depot is 3 min by walk.
At 8.50am we boarded KSRTC bus to Kukanoor, travelled for about 40 min. There were no direct buses to Itagi, from Koppal one has to re-route from Kukanoor.
After refreshing up, we had planned to visit Kukanoor Mahamaya Temple and Navalinga temples before visiting ITAGI Mahadeva Temple.
I wouldn't suggest eating at Kukanoor, not even for coffee.
Local people guided us to the Mahamaya temple, 15min by walk from the bus station.
1.a. Mahamaya Temple, Kukanoor
Outside view of the temple doesn't give an image of being a famous temple mentioned in Mahabaratha. But to understand its great historical value, One has to enter the low roof entrance directly to the main deity, Shatrabala. There are 3 deities in the garbhagudi.
Two female deities:-Laxmi & Parvathi/MahaMaya, and One male Deity-Harihara. Harihara means Half-Shiva and Half-Vishnu. All the 3 idols are south facing, which is a rare thing, as most idols in temples face the north. South-facing deities are considered to be more powerful (source -Wikipedia).
The reference to this temple in Mahabharata suggests it was built before 8-9th century BC. There are rumors that there is a hidden underground temple below the current existing temple. The underground temple is dedicated to the Indian Goddess Kali.
b. Navagraha Temple, Kukanoor
The ancient Navagraha temple is present at the back of the Mahamaya temple. It is so painful to see the carelessness in the maintenance of such epic architecture.
This temple architecture cannot be described in words, one has to see and feel it.
Anywhere you see is Lord Sivalinga guarded by individual Nandhi.
I have never seen such alignment of 9 Sivalingas under one roof.
I'm glad we have visited this place on our hampi trip from Bangalore. Not sure when again we will get chances to visit here again.
2. Mahadeva Temple, ITAGI
We left from Kukanoor to Itagi by auto, we bargained for INR 100/- fare for 15 min travel to the temple and drop back to a bus stop.
Mahadeva temple was such a feast to sight. One cannot stop marveling at the decorative sculptures, art in pillars and roofs, also on the mandapa of this temple.
The temple was open for visitors, but the main sanctum was closed with a view.
The main deity, Lord Siva, can be seen and worshipped behind the closed bars.
Since it has been recently taken under Archaeological Survey of India, lots of repair work was going on around the temple.
There was a full-time security guard who guided us around the temple (also took our pics).
We spent some time there, exploring the temple and chatting with temple committee members who were in charge of that ongoing renovation.
On the way back, the Autowala dropped us in the main road 2km away from Mahadeva temple, where we boarded a bus to Koppala.
We didn't go back all the way to Kukanoor bus station to catch the same bus to koppala. After 40 min long journey, we reached Koppala at 1.10pm.
Had satisfying lunch at Krishna Sagar veg restaurant, then boarded bus to Hosapet, 40 min journey towards the Hampi, Karnataka.
Itagi to Hampi: Sightseeing in Hampi
3.a. Virupaksha Temple
From Hosapet bus depot, we boarded a bus to Hampi, a UNESCO world heritage site, which was the last stop, paid 26/-fare for 15 min journey.
All the greenery on both the sides showed that it is a flourishing town in Thungabadra river. We ignored all the tourist guide swarming us, went to the great monumental Virupaksha temple, a breathtaking Lord Siva temple built on a vast area.
Totally we spent about 40 mins before we picked a travel guide (autowala) to see other sightseeing places in Hampi. We negotiated for INR 400/- for dropping us at few places by auto – Narashima Temple and Badavalinga temple, Queen's palace, Elephants castle, and finally Vittala Temple.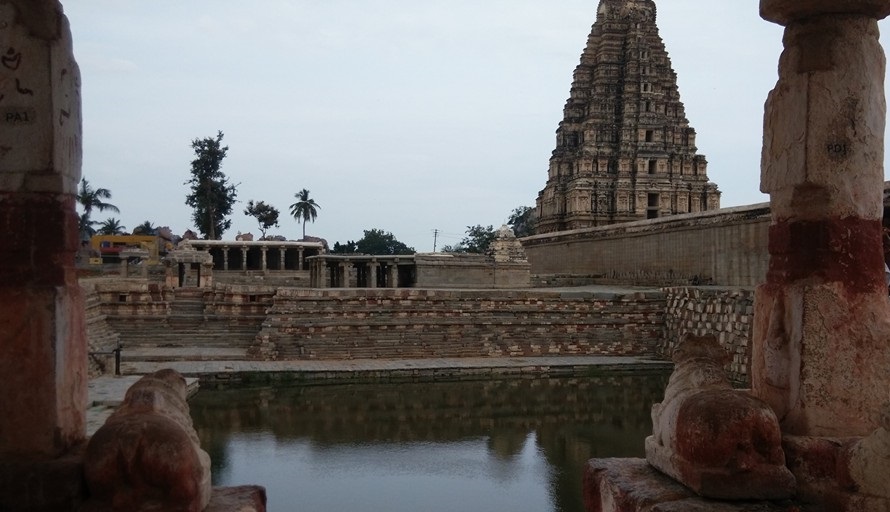 b. Vittala Temple
Same tourist guide dropped us at a nearby bus stop from Vittala temple, where we took a share auto to Hosapet bus depot which saved us time. Hosapet is big township compared to Koppala.
Had dinner at Udupi restaurant just opposite to the bus depot, then went by walk to board the return train at 9 pm to Bangalore.
This How To Reach Hampi Directly From Bangalore – 1 day Travel Itinerary in Hampi
Well we wanted to see places as much as we could in the trip planned, so we have covered Kukanoor and Itagi Mahamaya Temple in our last trip.
One can skip travelling to Kukanoor and Itagi, instead, go directly to Hampi (get down at Hosapet railway station) so that you can spend more time in Hampi itself.
If we would plan a Hampi trip from Bangalore again (by train or road), this is how our 1 day travel itinerary in Hampi would be-
Board Hampi express (Train No. 16592) from Bangalore City junction at 9.50 pm or Bangalore cantonment at 10.10 pm or Yelhanka Junction at 10.35 pm
Get down at Hosapet next morning aroung 7 am, take local bus / cab to Hosapet main bus stand
Have breakfast at Udupi restaurant in the Hosaper bus stand
Take a bus / cab to look around Hampi before you go to much visited tourist place Vittala Temple
Look around all the Hampi tourist places
Come back, board the return train from Hosapet to Bangalore by 9pm.
Next day you are in Bangalore.
Explore our categories for all our one day trips and two day trips from Bangalore.
bangalore to hampi road trip, budget weekend getaways from bangalore, hampi travel guide from bangalore, itagi lord shiva temple, itagi mahadeva temple, itagi to hampi, nearby bangalore visiting places, road trip from Bangalore, Road trip from Bangalore within 200kms, road trip to hampi, sightseeing in hampi, train trip to hampi, virupaksha temple, vittala temple