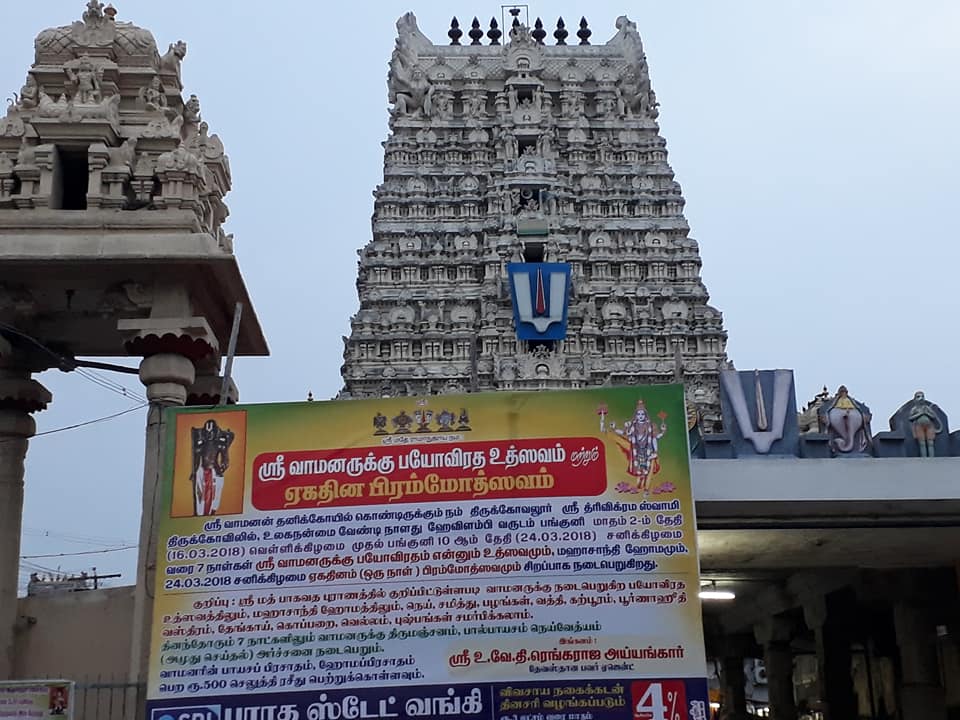 About Tirukoilur Temple – Tirukoilur is famous for 2 Hindu Temples. They are Lord Vishnu temple named Ulagalantha Perumal and Lord Shiva Temple named Veeratteswarar.
Tirukoilur is very small town with good road and bus facilities for travel with decent restaurant options. Bangalore to Tirukoilur distance is 237 Kms (Tiruvannamalai to Tirukoilur is 37 Kms), whereas Chennai to Tirukoilur distance is 205 kms.
From our frequent trip to Tirukoilur temple from the year 2015, we have enough information to share to the readers.
Hope this guide is useful to the the readers looking for Tirukoilur temple darshan timings, entry ticket, specialty about the temple, best place to eat etc.,
Tirukoilur Temple: Specialty and Darshan Timing
The famous Lord Vishnu Tirukoilur temple is called Ulagalantha Perumal Temple, also called as Thiruvikrama Perumal Temple.
The Specialty of  Ulagalantha Perumal Temple Tirukoyilur
One of the 108 Divya Desams
Thiruvikrama Perumal Holds Chakkaram in the right hand instead of the usual left and conch (sangu) in the left hand instead of the usual right hand.
This is temple is one of the "Pancha Krishna Kshetram". You could see Lord Krishna shrine on your right as soon as you enter the temple. It is also said that we pray to Lord Krishna first before we enter the main sanctum.
The extreme divine beauty of Lord Vishnu with one his left leg on the ground and right leg on the sky. Inside the sanctum you could see Ambal kneeled at his feet on his right side. There is another Ulagalantha Perumal Temple in Kancheepuram, but this idol's beauty is beyond comparison.
Facts You Need to Know about Ulagalantha Perumal Temple Timings, Ticket fare and Darshan
After so many times of visiting Perumal temple, we know clearly what time we needed to be there for immediate Darshan.
Be wise to visit the temple only at the "Darshan timings": The temple name board says temple opening timing is from 6.30 am to 12 noon and 4.00 pm to 8.30pm. Notice that it is the temple open time not the darshan timing.
We have not been to this temple as early as 6.30 am. But usually we enter temple by 11.45am, so we are first to darshan Lord Perumal soon after "uchi kala pooja" at 12 noon. Soon after this darshan, the temple closes.
And in the evening, if you reach the temple by 4.30, you are allowed to enter the temple but not the point beyond Kodi Kambam. There will be some guy sitting at this point restricting the entry of devotees until the evening pooja is complete.
Then devotees are allowed for evening darshan around 6.30 pm. So if you are early then you will be waiting until the pooja is complete.
Since this is a famous temple and Just an hr away from Aathi Annamalaiyar Temple – it is always crowded on all auspicious days. It is best to take 10 rupees special darshan ticket (more on auspicious days) when crowded.
You need to allocate 1 hr to 2 hrs for visiting this temple on crowded auspicious days. Otherwise 30 min sufficient on normal days like Sundays.
There is a point where the general que and the ticket que meets just before the main sanctum. This is where you can find "urchavar" idol on the right hand side – where you can do "archanai" (pooja ). Check in ticket counter for archanai tickets beforehand.
From this point devotees are allowed in batch of 10 -15 people inside main sanctum for Ulagalantha Perumal darisanam. You then exit the temple and head to Ambal Sanniti. Some people first pray to Ambal before visiting the main idol (not sure of the actual procedure). There are no special tickets to Ambal sanniti, you will be waiting in the general que however crowded it is.
Other deities in this temple are always remain locked (but sure can see them) except during brief pooja timings. Like Sri Lakshmi Varagan, Sri Lakshmi Narasiman, Sri Lakshmi Narayan, Sri Ramar sannithi etc.,
Lord Hanuman shrine is open on most of the peak timings.
You can make a donation or contribution to the temple welfare at the counter near the entrance.
There is good parking facility for 2-wheeler near both the gopurams of the Tirukoilur temple. But since there are lots of small shops, flower market and bus stand in the vicinity it is quite difficult for the 4 wheeler parking.
Other Tourist Places to Visit in and Around Tirukoilur Temples
In Tirukoilur: Veeratteswarar temple and Athulyanatheswarar Temple
Then Pennai River Bridge / Ponnaiyar river
Thiru Annamalaiyar temple, Tiruvannamalai town – from tirukoilur distance of 35kms
Aadi Thiruvarangam Temple – located 10 kms away from Tirukoilur on the way towards Tiruvannamalai town.
Villupuram
Pondicherry
Chennai
Above are the list of tourist spot near Tirukoilur, both short and long distances. Feel free to use google maps as a guide.
How We Reach Tirukoilur From Bangalore
Tirukoilur temples are well connected by roads from Bangalore, Chennai, Pondicherry, Krishnagiri etc.,
We take Krishnagiri – Chengam route to reach Tiruvannamalai from Bangalore.
Road trip:
Bangalore To Tiruvannamalai
We start our bike trip from Bangalore on any Saturday morning around 7 to 8am. Stop to eat breakfast in Shoolagiri Krishna Inn right next to McDonald's, the best restaurant in Bangalore -Salem highways.
We always stop at the same restaurant in all our bike trips, because we love the quality of food here. Also there is a McDonald's and CCD for good morning coffee and neat toilet facilities.
Then we ride bike leisurely to Tiruvannamalai, reach around late noon after having lunch at Apoorva's 50kms before Tiruvannamalai town.
Check in at the hotel, freshen up, ride to Annamalaiyar temple around 5pm for Darshan, then return back room around 8pm. Sometimes if we were not too tired we would stay back for the "Thiru oonjal sevai" darshan, just before the temple closes.
Road Trip: Tiruvannamalai to Tirukoilur
Following day, after long good night's sleep we head to Tirukoilur temple, taking Tiruvannamalai to Pondicherry road.
We love to see the blossoms in the agri field and riding bike among the countryside is our all time favorite.
If we are on a time constraint, we skip visiting Adi thiruvarangam and Veeratteswarar temples. We head straight to noon darshan in Tirukoilur Perumal temple, followed by eating good quality South Indian meals at Hotel Aarya's for just 60 rupees (located just opposite to the bus stand where all the buses exit).
You can also find some NV eateries – we never stepped there, our all time favourite is Veg restaurant Aarya's. Must try "chukku kaapi" here. All kinds of South Indian breakfast items, lunch meals, chapati and parotta and in the evening chinese foods available here. So no worries fellas.
Next to Hotel Arya's you can find medical shop and ATMs – just in case.
We love so much coming to Tirukoilur for Perumal temple, so we never missed coming here even on our 11-days long bike trip in the year 2017 and 2018.
This Is Where We Stay
Usually
We usually stay in Sparsa Resort or Hotel Himalaya or Shree Sai residency in Tiruvannamalai. Eventhough little expensive on special days, I would rate Sparsa 5/5 for the room, food and ambiance. Shree sai is worth for the price with the inhouse Veg restaurant. Food and service is good here. We prefer Hotel Himalaya only when we run out of options.
There used to be a french style bakery in Tiruvannamalai for good quality baked goods and for coffee.
Our bad that they are closed since 2019. 🙁
We came to know about this bakery when we stayed once (just once, we will never ever go back here) in Bose compound. Since then we were frequent visitors to this bakery in all our Bangalore to Tiruvannamalai bike trips.
Also there is little shopping area near and around Tiruvannamalai temple for clothes, jewels etc., And plenty of restaurants for veg, nonveg food and snacks choices.
Here sharing some pics from our trip Bangalore – Tiruvannamalai – Tirukoilur trip.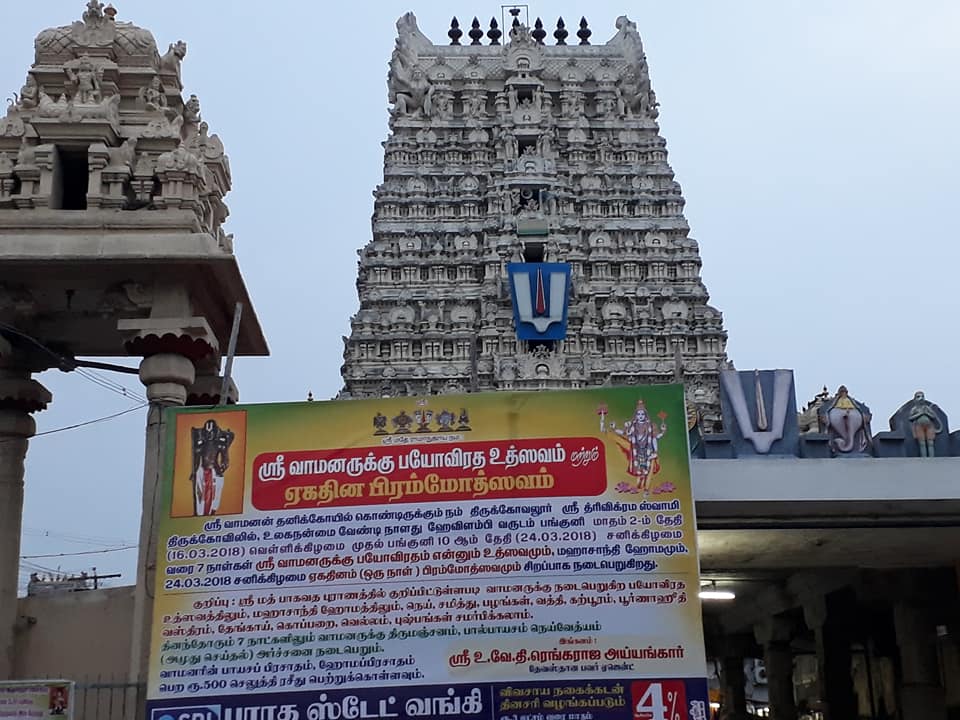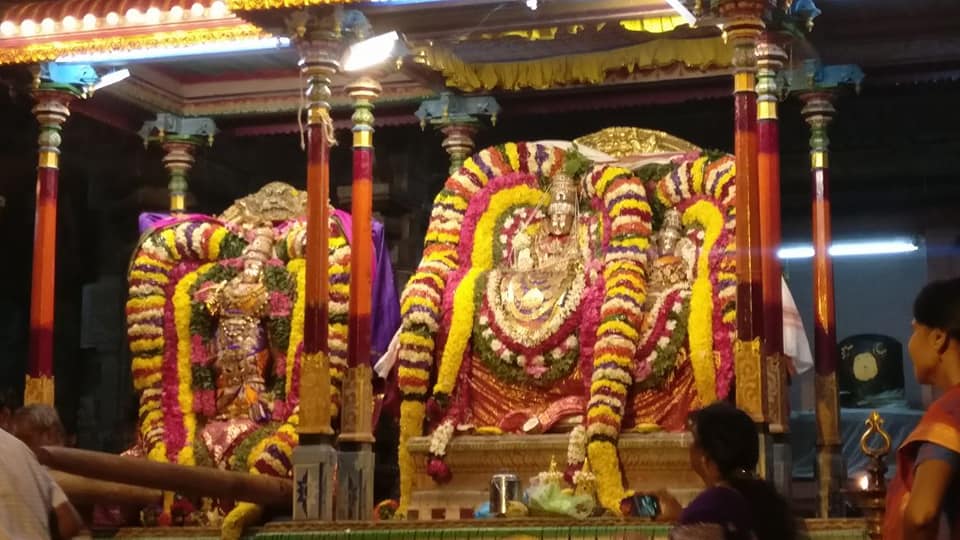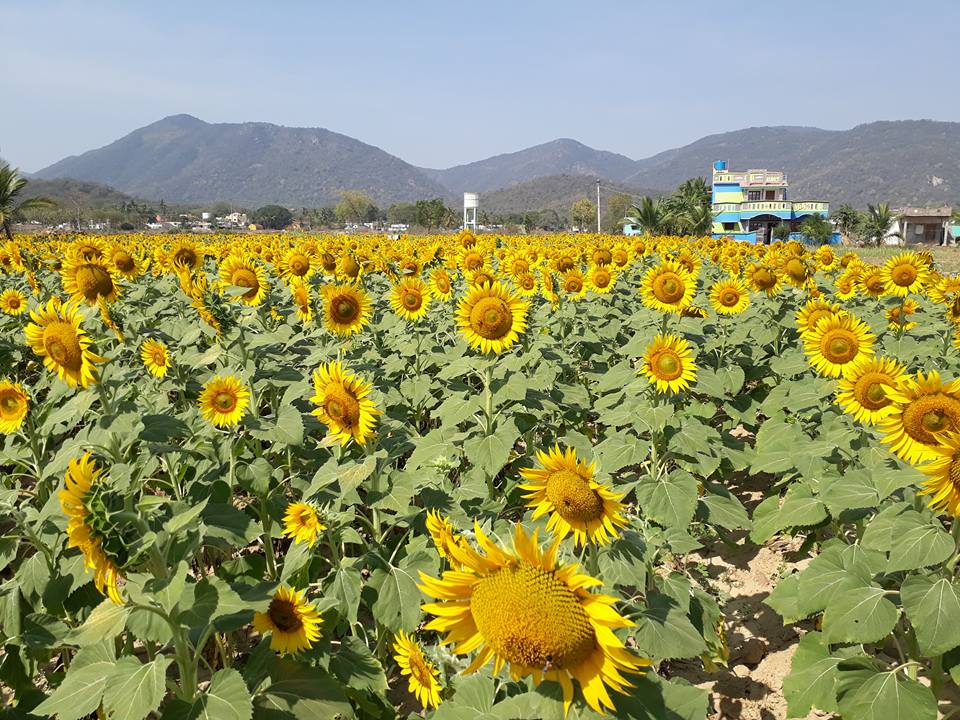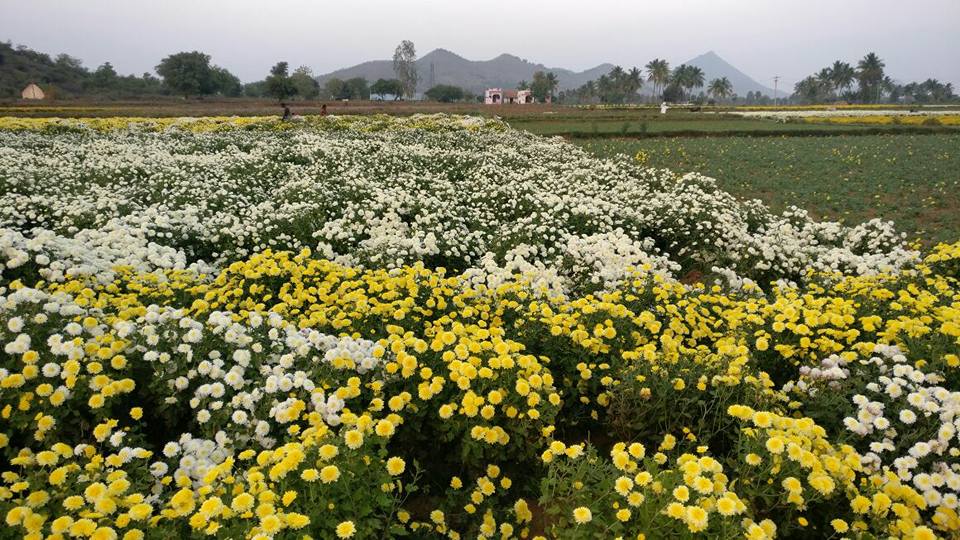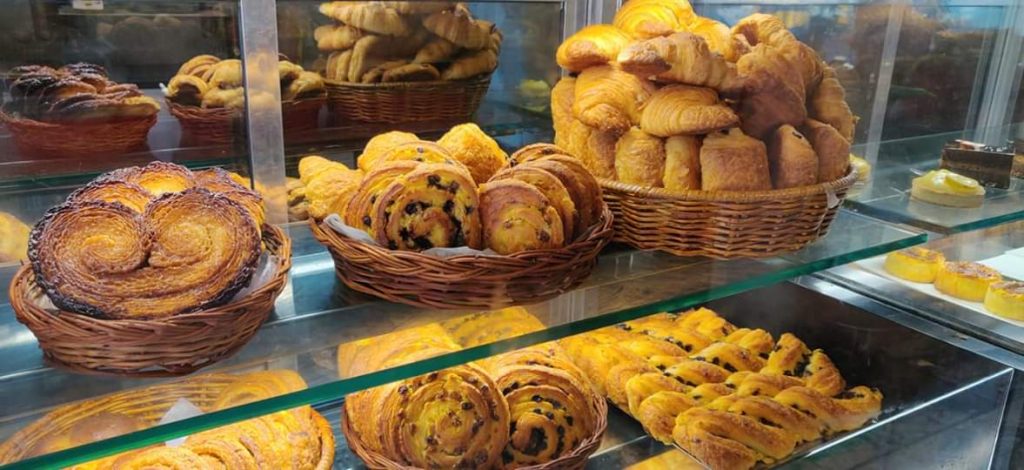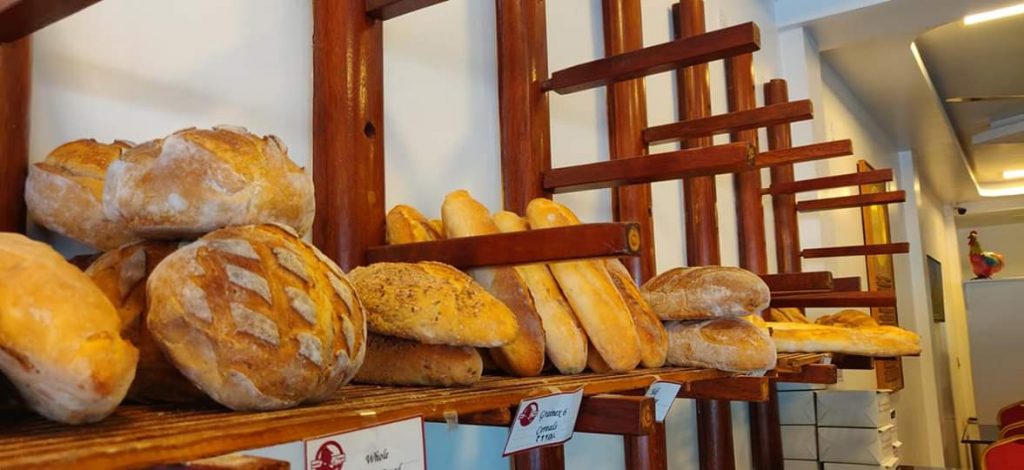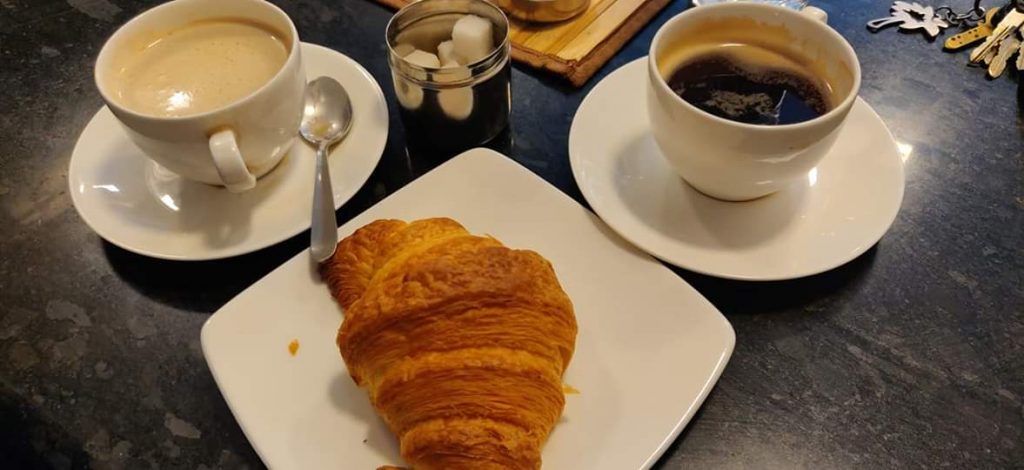 Just in case if you are wondering how we travel in bike such far distance with the luggages, here is the pic. This is how we pack our stuffs in the saddlebags to ride carefree. We also have a fuel tank bag for keeping mobile phone chargers, power banks, hand sanitizer, coolers, DSLR and scarfs to protect from pollution and dust.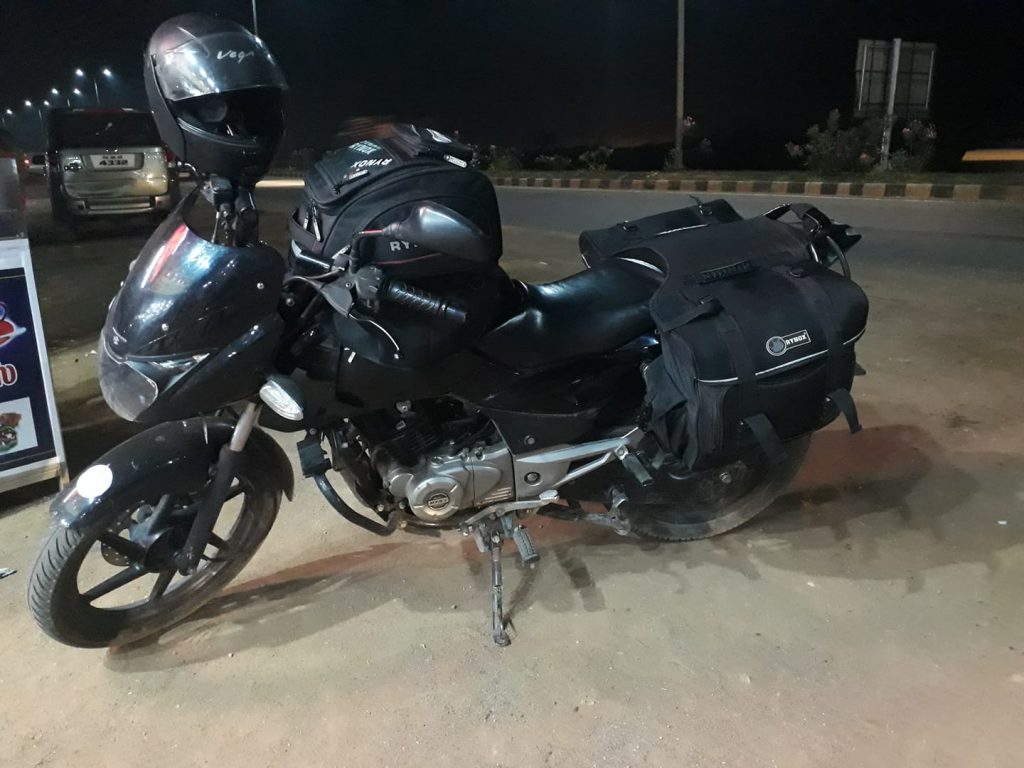 We love visiting to Ulagalantha Perumal Temple whenever we go on road trip to Tiruvannamalai. Feel free to comment your experience in the comment box below.
FAQs
How to reach Tirukoilur From Chennai

If you are planning to come from Chennai to Tirukoilur, you can either travel by road or bus or train. There are frequent buses from Chennai, Katpadi, Vilupuram and Puducherry. If you are taking train train from Chennai, then take any train from Chennai to Katpadi, then take Puducherry express (train No. 11005, leaves at 2.50 noon), reach Tirukoilur by 5pm. Take a local bus or auto to Ulagalantha Perumal Temple or to Veeratteawarar temple to attend evening pooja at either of the temples.

Bus station is located very close to Ulagalantha Perumal temple, where as Veeratteswarar Sivan Temple is located on Theni Pennai river shore. It is about 5 min ride from Perumal temple by bike.
How to reach Tirukoilur From Bangalore

Whenever we plan 2-day trip from Bangalore to Tiruvannamalai, we always plan such a way to visit Tirukoilur temples.

We start on Saturday morning from Bangalore to reach Tiruvannamali in the evening and visit Tirukoilur temples the next day before returning back to Bangalore.

Again there are plenty of bus facilities from Bangalore central bus station and any major bus stops in the Bangalore city and also from Hosur to reach Tirukoilur via Tiruvannamalai. If you are taking any private volvo bus or KSRTC or TNSTC, board buses to Pondicherry, so you can get down at Tirukoilur.