Hoysala Architecture: How we visited 4 Different Temples Just in One Day
I am sure less introduction needed for the Hoysala Architecture Hindu temples in Karnataka.
These are unique architecture temples found only in Karnataka, majorly in Hassan district. All of them built by the Hoysala Empire, ruled between 10th and 14th centuries.
This is our story of "Hoysala Trip", how we have visited 4 of such famous temples just in one day.
We went to this trip on 2nd October 2016 by train.
Hoysala Architecture – Overview and My Personal Observation
The "Hoysalas" who ruled between 11th and 14th centuries have built this unique – never can be seen anywhere in the world kind of architecture only in Karnataka.
They have built small to large temples in Karnataka, dedicating to either Lord Vishnu or Lord Shiva.
The Hoysala architecture style is described as Karnata Dravida which is distinguished from the traditional Dravida, and is considered an independent architectural tradition with many unique features (Source Wikipedia). 
Hoysala architecture is popular for its attention to detail in their craftsmanship. Unlike the other Hindu temples, the outer walls surrounding the main sanctum are beautifully carved with the gods and goddess statues (called reliefs).
They also depict the life and culture of people who lived in the 12th century, and also tell stories about Ramayana, Mahabharata and Bhagavata purana. 
The other unique feature of these temples are the zig zag patterns (star shaped look) of the entire complex. Including the platform on which the temple is built with 4 to 7 layers of star pattern, leading up the same zig – zag pattern until vimana (roof) of the temple.
While the temple is star shaped, the pillars supporting the temple are all disc shaped.
Sometimes, the combination of star and disc shaped are observed.
Depending on the size of the temple, the pillars (and the disc) sizes vary. For example, the disc in the Somanathapura, Belur and Halebid are larger than the other Hoysala temples in Arasikere, Javagal and Nuggehalli.
Although the Itagi Mahadeshwara temple is not under the category of Hoysala architecture in Karnataka, we have observed the touch of their art in their disc pillars. You can see pics here- link article.
Once what would have been a place for daily prayers and religious celebrations, is now standing still with the notable damages. All the Hoysala temples stand proud amidst all the damages on the statues and vimana; and also being enormously patient to the callous nature of the daily visiting tourists.
The List of Hoysala temples we have visited in One day
On 2nd October 2016, we started our one day trip from Bangalore to Belur.
Now, to visit 4 different Hoysala architecture temples, we started boarding the train from Bangalore central railway station to Arasikere.
First, get down at Arsikere Junction to Visit Ishwara temple, dedicated to Lord Shiva.
Second, after about 50 mins of bus journey to the Javagal Lord Lakshmi Narasimha temple, dedicated to Lord Vishnu.
These two are less popular temples among the Hoysala Architecture (link) situated close to the very popular UNESCO archaeological site of Halebidu and Belur.
Third, boarded the bus from Javagal to Halebidu, and finally, from Halebidu to Belur.
We returned home from Belur to Bangalore on the same day by train around midnight.
Here is the name of the temples we have visited
Arasikere – Beautiful Hoysala Architecture For Lord Shiva
Javagal – Beautiful Hoysala Architecture For Lord Vishnu
Halebidu – Hoysaleswara temple (UNESCO site) For Lord Shiva
Belur – ChennaKesava temple (UNESCO site) For Lord Vishnu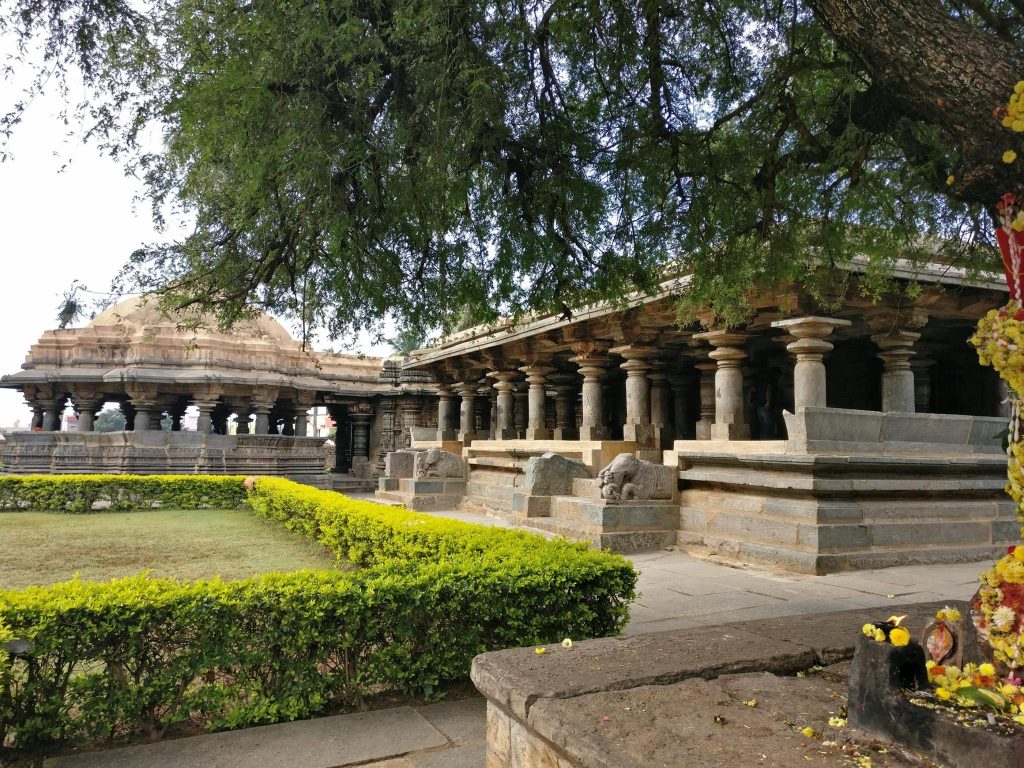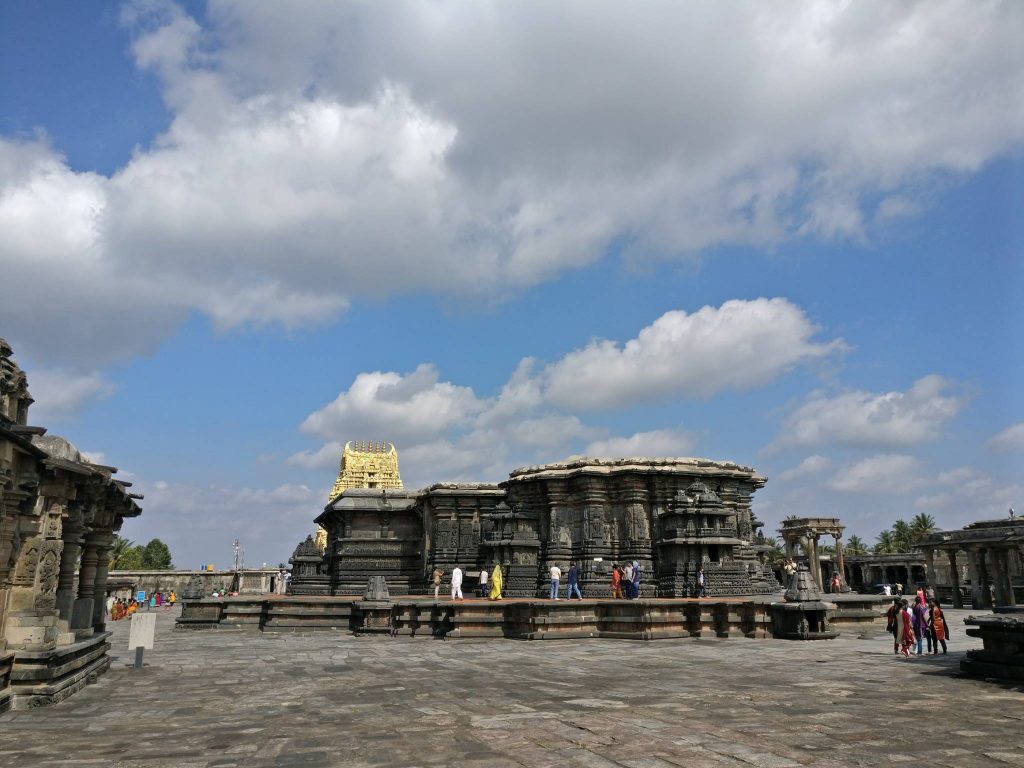 How We Planned this Hoysala Trip
This trip was well planned by me – the travel planner, about a week before we started the journey.
Even though we were just "new-bees" just started testing the waters of travelling to the new places, I can proudly say that I did good job.
(Except for this one trip where we miscalculated the timing when we went on a one day bike trip to Hassan from Bangalore. We ended up riding motorbike in the dark night, read here to know more about our first ever adventurous night trip).
My hubby, Rajesh – the best companion, the best bike rider, sensible and sweetest person to travel with.
Mostly he never said no to any trips planned by me – and that is how we ended up making a long bike trip of 11 days in South India consecutively for two years in 2017 and 2018.
Like in other trips to TamilNadu temples, this time we didn't have to consider the temple open and closing timings before we laid out an itinerary. Since all of these are tourist places, they are open from 9 am to 6pm (depends on the popularity of the temple).
Halebidu and Belur temples are under UNESCO, open even during afternoon timings until 5 pm everyday for tourists.
So, we first decided to visit the less famous, small Hoysala architecture in Arasikere and Javagal in the mornings, and the two UNESCO temples later in the noon.
I considered several factors for planning this trip
I used google maps to calculate the distances between each stop,
the time needed to travel by public transport,
the minimum time needed to spend in each stop and
the time needed for relaxation.
We just carried one backpack with water bottles, snacks, and toiletries enough for one day trip from Bangalore.
Though we didn't plan this trip exclusively for the "Hoysala architecture" but it turned out to be one exclusive trip.
Conclusion
Hoysala Architecture, which was built by the Hoysala empire, is found only in the state Karnataka, India. When it comes to visiting famous tourist destinations, many people prefer going to Halebidu, Belur.
Mostly they are popular among tourists for its marvellous architecture, and they are closely located, so both the temples are easily covered in one trip. Next to these two temples, many prefer going to Hampi – yet another cultural Heritage of Karnataka.
For those who don't know, there are plenty of tourist places in Karnataka which are not made popular among tourists.
My personal request to the audience is to see all the other Hoysala temples in Karnataka, they too, are no less in Architecture and Beauty.
I was surprised to see the resemblance of Hoysala architecture when we visited Trimbakeshwar temple in Mumbai. Major resemblance was the star shaped platform on which the temple is built and similar statue carvings on the outer wall –  a wall with a zigzag pattern – everything resembling the Hoysala architecture. Click here to see pics.