Long Drive From Bangalore to Mysore in Our #AllNewCreta
Yesterday, we went on a long drive from Bangalore to Mysore in our #AllNewCreta, in our new Car bought in June 2020.
Long Drive From Bangalore to Mysore
We wanted to take our new Creta on a long drive since 2 months.
Since its a new car and that too an SUV, we were more than cautious all these days. All we did was to take our 'Milo' – that is the name our car :), on a very short one day road trips in highways. Not more than 80 kms in one day trip.
We did go once in Hassan road, and couple of times in Mysore road and several times to Kanakapura road to our regular cafe coffee day.
Well, its time we took the beast for a long drive from Bangalore to Mysore.
Why We Chose Mysore for Our First Long Drive
The main reason being, we are very much familiar with just 2 roads / highways starting from Bangalore.
One is Hosur road, leading to Chennai and Salem, where we have been on multiple bike trips and road trips to Tiruvannamalai, Vellore, Kanchipuram, Yercaud, Kumbakonam, Trichy, Tirunelveli, Madurai, etc.,
And Second, Mysore highways, leading to Mysore, further to places like Coorg, Wayanad, Bandhipur, Ooty, Chikmagalur, Mangalore etc.,
Due to pandemic – interstate highways lock-down, we were left with just one familiar road, that is Mysore highways.
Very soon we will be exploring many other roads such as Kunigal Highways and Hyderabad highways. We have covered Nandhi hills and Lepakshi in one day bike trip in Hyderabad highways, yet to explore further once this pandemic is over.
Many Other Good Reasons for Choosing Mysore Highways:
Well Paved Roads – A very popular highways (NH 275), now under construction for 6 ways road is a treat for anyone looking for long drive from Bangalore to Mysore, or Coorg or Wayanad.
Numerous Restaurant Choices – Throughout the highways, you have numerous choices of restaurants and coffee shops. Our new favorite is Drive thru McDonalds in Channapatna, where you get hot meals at all times. And the best part? It is a drive through. No time waste in dine – in.
Toll Fare of Just 65/- rupees – We all need a weekend getaway that doesn't burn our pockets, isn't it?. Trust me, Mysore highways doesn't cost you much like Salem and Kunigal highways where you would be easily spending minimum of 250 rupees for a one way drive. Whereas, here, for a long drive from Bangalore to Mysore, you would be spending just 65 rupees. And if you choose Kanakapura road (NH 948) for the return journey, you would be spending only half of that money. Very gooood.
Best Drive in Restaurant in Kunigal highways
From our recent short raod trip from Bangalore, the best drive -in restaurant in Kunkgal Highways is Swathi Delicacy. Here is google map link – https://goo.gl/maps/TLXDeUxjxEFF3M678.
Taste their coffee alteast, its the best :).
Travel Time from Bangalore to Mysore by Road
Bangalore to Mysore distance is 150 kms from each other. The travel time from Bangalore to Mysore by road, was just 3 hrs. Fair good time with just pit stop of 10 mins (that too at McD's drive thru) in a moderate traffic.
Ideally it would take about 4 hrs of drive for a skillful driver in an ususal weekend traffic. Whereas, it would take just 3 hrs of drive for a skillful driver in a weekday traffic. The toughest one is from Nice road until Ramanagara, after that it is usually a smooth drive.
We started by 8 am on a Sunday morning, after having a cup of black coffee at home.
(This is how to make best coffee at home, my all time favorite drink).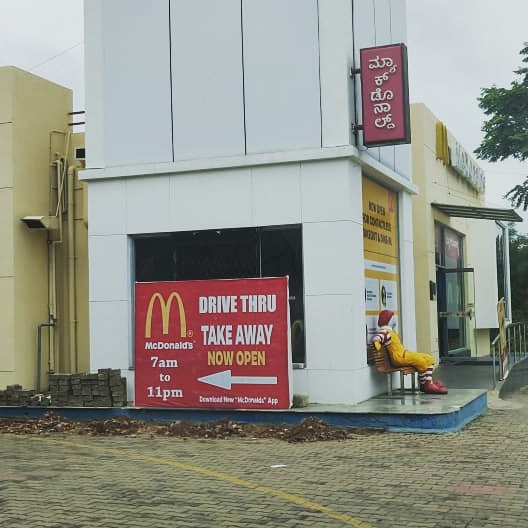 By the time we reached "the frosting" cafe, it was 11am. Strectched legs, quenched thirst, ate pizza, clicked pics and chilled out for some time. After all the chillax, roamed the city until 2.30pm.
Meantime had coffee at Ashirvaad grand pure veg situated across Grand Mercure hotel.
If you are wondering, we came to know this restaurant when we stayed in 'Grand Mercure', just a week before outburst of Covid-19. While we stayed there, we came to this veg restaurant for the evening meal. We liked this veg restaurant in Mysore since then. And their best mysuru coffee too.
Instead of "frosting cafe", last time we went to "The Old House" cafe. Love both their ambiance and food.
In fact we wanted to go to our all time favorite Green hotel with Malgudi cafe. It is one of the best cafe in Mysore. Unfortunately it was temporarily closed for the pandemic. Otherwise we would never miss their coffee and dessert for anything in the world.
Around 2.30, we had lunch at yet another famous restaurant in Mysore for Biryani, called Hanumanthu Mess. It is rated one of the best non veg restaurant in Mysuru. And it is true. A small mess serving delicious non veg biryani could be your favorite too.
We then leisurely started our Milo, to return back to Bangalore.
Returning Back – Long Drive Via Malavalli / Kanakapura Road
It is our thing, we always choose Malavalli – Kanakapura road (NH 948) for the return journey.
Ideally it is a parallel highways to Mysore highways, with less fancy road and far less traffic.
Not only that, we love that road for the greenery and agri land.
We were on this route couple of times when went on bike trip to Shivanasamudra falls, T Narasipura, Talakadu Tala Kaveri river and Somanathapura (Hoysala architecture) and Srirangapatna.
With our favorite music playing at the back, the return journey took us 4 hrs of time. Because, we stopped at many places to click pics, the most notable one was the thriving Kaveri river after monsoon (top most pic in this story).
We never had any interest to go sightseeing in Mysore. If you are travelling with kids, and planning to go sightseeing Mysore palace, zoo and botanical garden – then you need to be arriving Mysore at 10am. So that you would have sufficient time to look around places in Mysore in one day.
But, we always love to hangout in cafe's instead of sightseeing in Mysore.
This time too, in our long drive from Bangalore to Mysore in our #AllNewCreta, we did nothing but chill out in cafes.
Glad we took our Milo for a long drive.