Lepakshi Temple From Bangalore: Two States, One Day, 300 Kms Bike Trip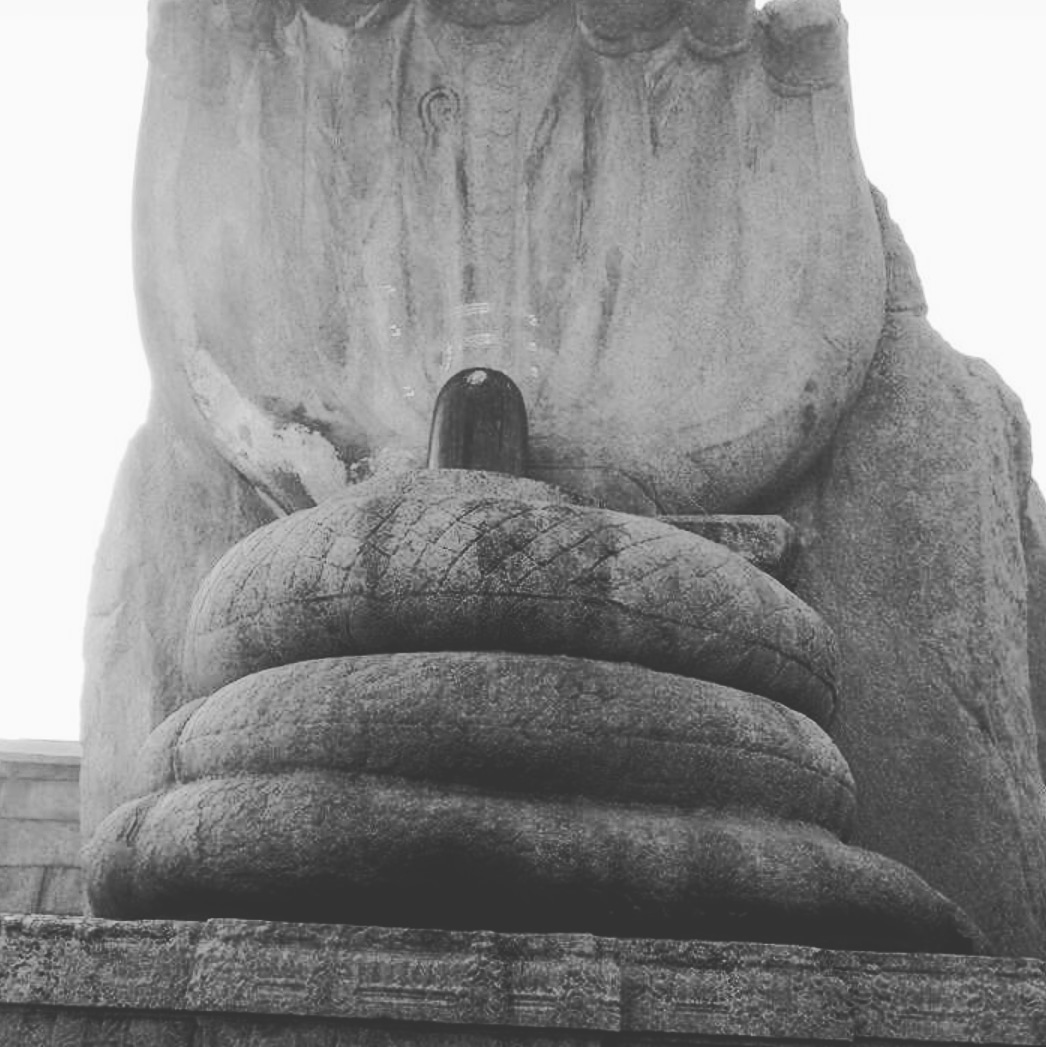 We went on One day Bike trip to Lepakshi Temple from Bangalore. Our friends called us crazy to cover a total of 300 Kms by bike in just one day.
Lepakshi Temple From Bangalore – Distance and Route
On 5th November 2016, We went on One day bike trip to the very famous Lepakshi Temple in Anantapur District in Andra Pradesh district. After visiting Boga Nandeeshwara temple in Nandi Hills along the way.
Lepakshi temple is a Hindu temple dedicated to God Veerabhadra, widely popular by the name "Lepakshi" – a village located in Karnataka, 15 kms from Hindupur and 122 kms from Bangalore. The distance may vary a little based on the location you start from Bangalore. Lepakshi temple gained popularity for its historic importance and archaeological significance (especially for its floating pillars).
We have travelled 165 kms from our home to Anantapur district in Andra Pradesh state, a long ride on just one way.
This is how we went to Lepakshi Veerabhadra Temple from Bangalore, one of the most memorable one day bike trip in our life.
Lepakshi Temple from Bangalore: Two States By Bike in One day
On our one day trip to Lepakshi temple from Bangalore, we first visited Nandi hills temple at Doddaballapur. Since we were frequent visitors this Nandhi hills – Boganandeeswara temple, and it is located on the way to Lepakshi, we stopped for a quick darshan here.
Soon after lunch we then rode for about 80 kms to reach Lepakshi village, parked our bike, across the small shopping street.
Well, at 3 pm, after a long bike ride in the sun, travelled across a state, to witness the beauty of the Vijayanagar empire's architecture.
We spent about 2 hrs hours around the temple, clicking pics and hanging out, cherishing every moment possible.
The main sanctum, was a small cave with many hindu idols, along with the Veerabhadra idol, there was a notable MahaKali statue, each idol speaking a history of its own. 
After a calm and quiet darshan, we headed back to Bangalore, reached home by 8 PM.
Overall it was a smooth ride in Bangalore – Hyderabad Highways.
Read – Kolar is another best place for one day road trip from Bangalore.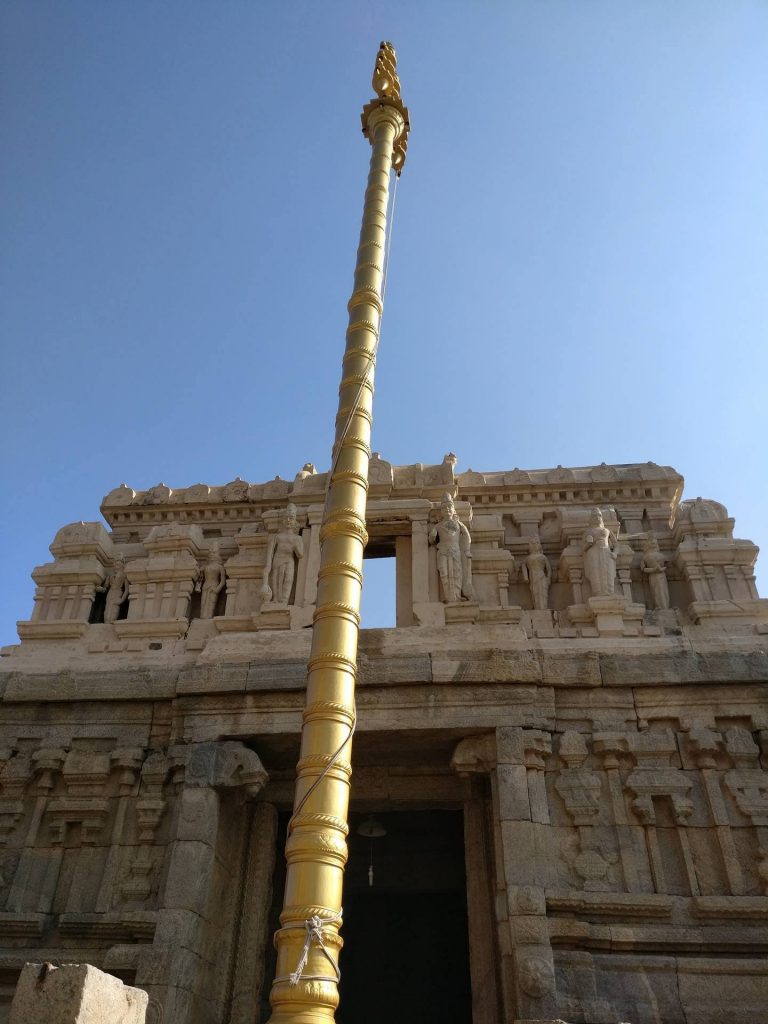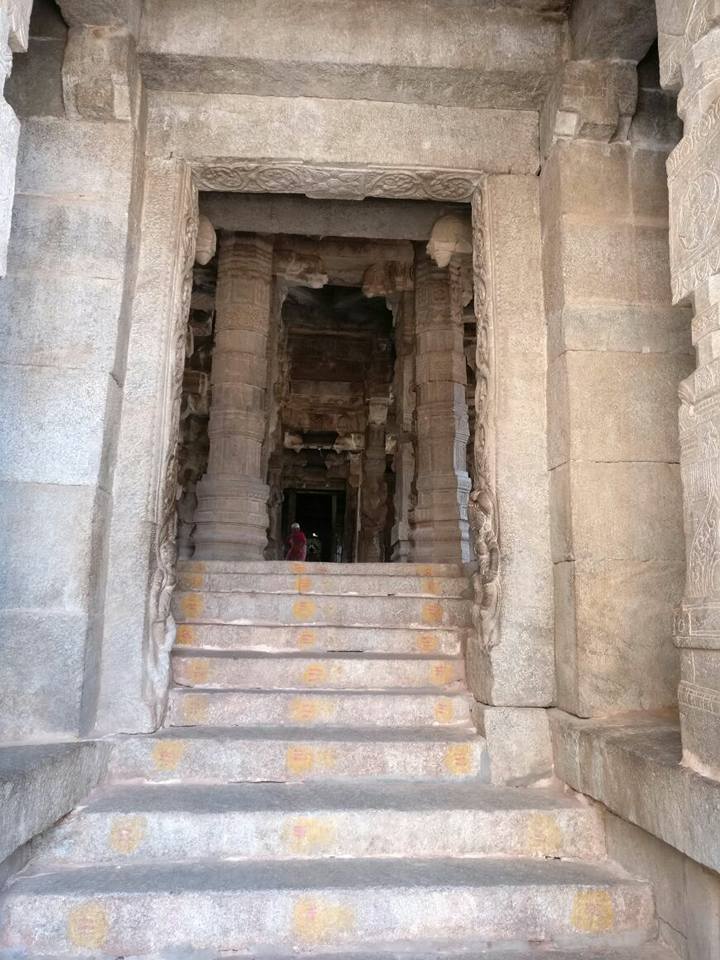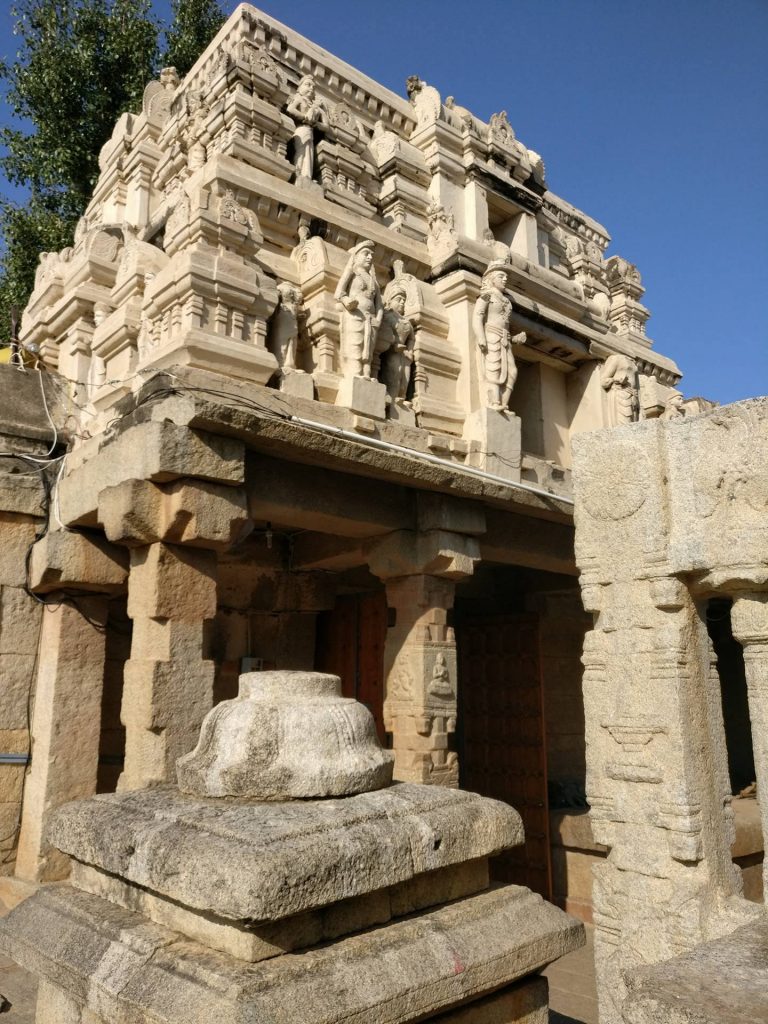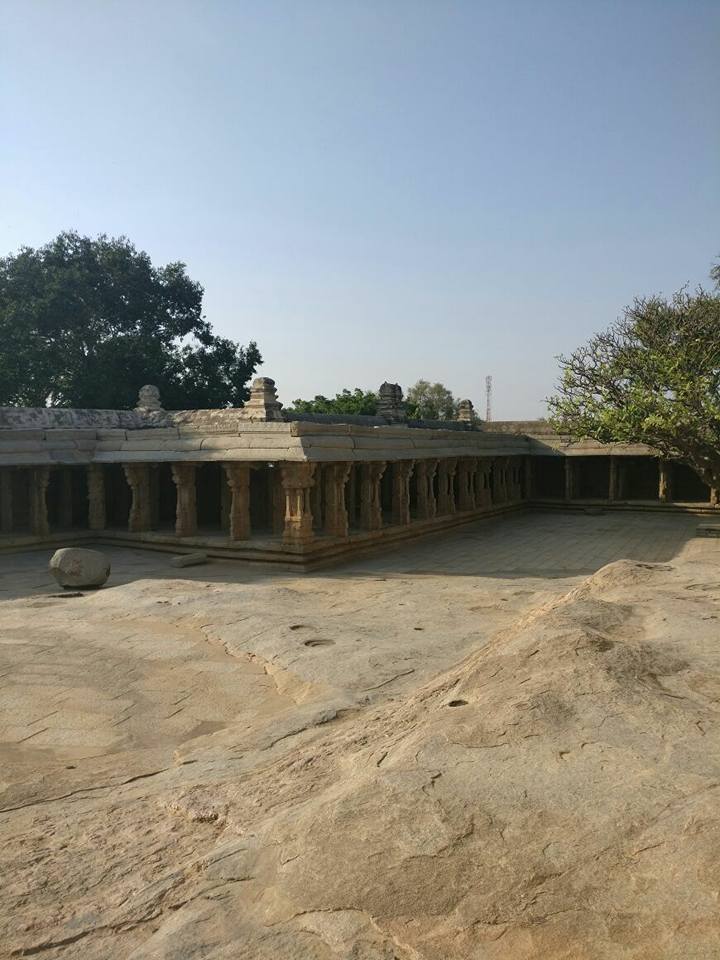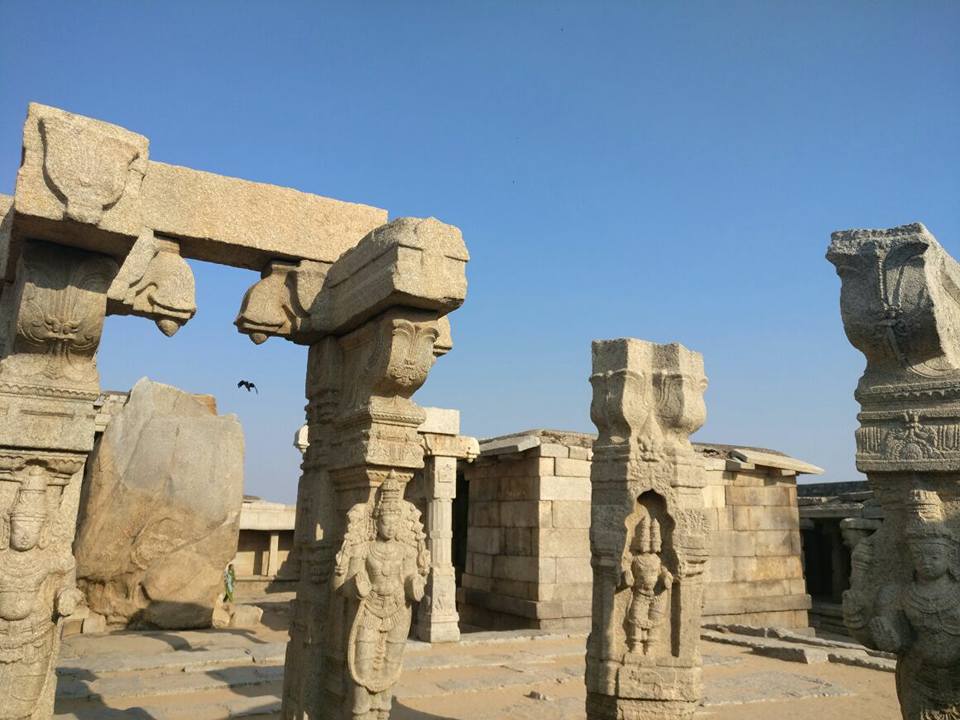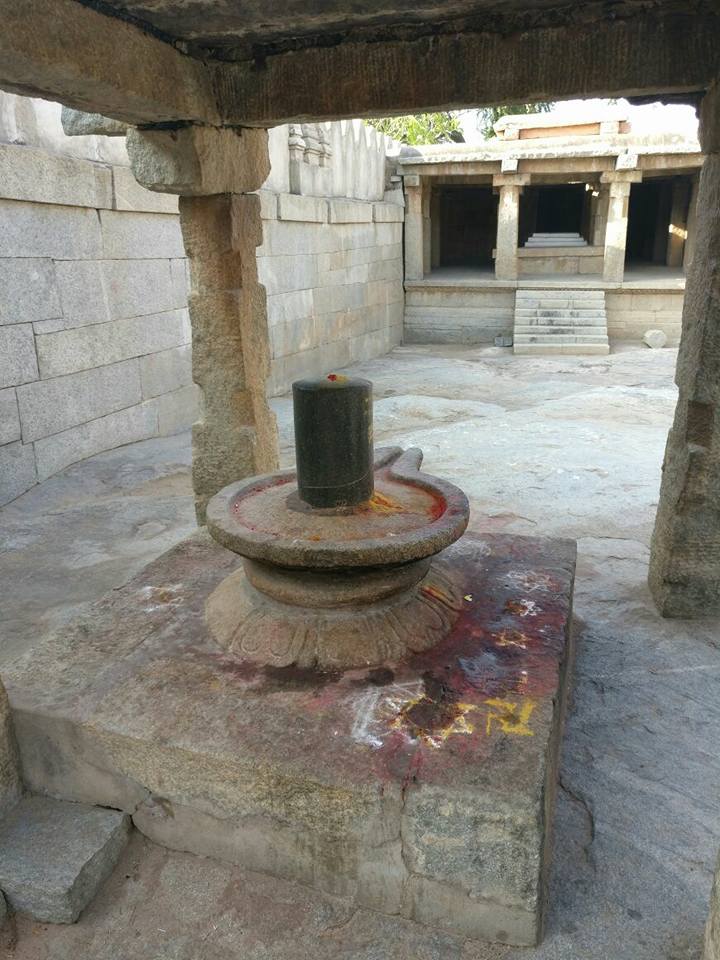 Lepakshi Veerabhadra temple – History, Facts and Temple Timings
These are the historic and archaeological importance of this Lepakshi temple –
It is a majestic temple built on a vast area (called tortoise hill) with astonishing sculptures and paintings on the pillars and roofs. Famous for the mural paintings of Vijayanagara Kings. Of the 70 pillars in the Vasantha mandapa/ Natya mandapa, one of the pillars does not rest completely on the ground a.k.a hanging pillar or floating pillar.
a breathtaking single rock sculpture consisting of a seven hood naga wrapped around Sivalinga and a huge Ganesha idol.
the ruins of a "Kalyana Mandapa" with unfinished pillars. (There is also a story that it is not actually a Kalyana mandap, it was a Vishnu temple which was destroyed by human conflicts, the Vishnu statue then kept inside the main sanctum.)
Several forms of Lord Shiva idols can be seen – a majestic Kankala Murthi, Dakshinamurthi, Tripuranthaka or Tripurasurasamhara and Ardhanareeshwara
Lord Hanuman's small mandap and Goddess Sita's footprint and a waterhole nearby
A huge Nandhi statue, a guardian at 1km before the lepakshi temple
And Finally, about another speciality of this temple which is not mentioned anywhere in the internet and I have no supporting documents to support the following points mentioned by one of the local guides in Lepakshi is this – (correct if am wrong)
This temple was said to be built around a Sivalinga statue built by Cholas, much older than this temple. (See in images)
About the Lepakshi Temple timing – 
Unlike other Hindu temples, this temple is closed by 6PM. It is open on all hours from 6 AM to 6 PM for tourists and devotees.
During our ride to Lepakshi temple from Bangalore, we did not find any proper restaurant in the highways except for the one we had lunch near nandhi hills. So there are hardly any good choices nearby Lepakshi temple vicinity.
Although there are many blog articles written on visiting and their experience on travelling to Lepakshi temple from Bangalore, we didn't read any of this. If we did, we would not have missed the famous "the hanging pillar" of this temple.
To Know more about the history of this temple, you can visit this website for more information.
How We travel by Bike?
Like most people ask, we don't hurt our shoulders by carrying any backpacks while riding motorbike. All I carry on me is a small sling bag to keep money and mobile phones.
So how do we travel free?
If it is just one day ride, we carry a tank bag. This is a convertible backpack, with magnet to bind to the bike, sits comfortably on the bike tank without falling off, so we ride carefree. On long bike trips, we use both tank bag and a saddle bag for more luggage requirements.
When we went to Talakona in AndraPradesh, we carried saddle bags since it was just a 2 days trip. Even tough it was just a 2 days trip, we wanted to carry saddle bags to accommodate as much as water bottles as we were travelling to a rural area. While we were there, we have been trekking to the famous Talakona forest and waterfalls.
When we went on 11-days long bike trip in 2017, we carried both tank bags and saddle bags. Saddle bag only for clothes and travel essentials, while the tank bag to accomodate electronics like laptop, DSLR camera, chargers and stuff.
For this trip – Lepakshi temple from Bangalore, we carried just a tank bag, to keep couple of water bottles.