Nandi Hills Temple – 9th Century Big Ornamental Temple with Breathtaking View of Beautiful Pond
We have been frequent visitors to Nandi hills temple by bike since the year 2016. Many visit Nandhi hills to watch sunset or to trek. Whereas we – travelduo bike riders, love the whole experience of riding to this place as such. And we always visit this famous temple with a very beautiful pond.
About Nandi Hills Temple
Bhoga Nandeeshwara Temple is located at the foot of Nandi Hills, approximately 15kms away. Not to confuse this temple with Yoga Nandeeshwara temple a.k.a Nandi Temple located on top of the hills. But there is a connection between these two temples which many of us don't know.
These two temples together depict the different forms of Lord Shiva. From Childhood to adult married form depicted in Bhoga Nandeeshwara temple. Whereas final phase of "renunciation" is depicted in Yoga Nandeeshwara temple at the hilltop.
Since it represents a departure from the married life, there are no festivals celebrated in Yoga Nandeeshwara temple.
Note: This Nandi Hills temple is not the same "Nandi temple" in Mysore.
In Bhoga Nandeeshwara temple you can see childhood form as "Arunachaleswara" shrine located on the south, youth form located on the north. (Both are beautiful majestic Shiva Lingas with individual Nandhi guarding them).
In Between "Arunachaleswarar" shrine and "Bogha Nandeeshwara" shrine is the "Uma Maheswara" shrine where Lord Shiva is married to Goddess Parvati, sitting on their Vehicle Nandhi. You will be amazed looking at the ornamental pillars which are small but breathtakingly beautiful. Scroll down to see the pics below.
Temple Pond – Pushkarni Details
Also there is a Kalynai / Pushkarni (temple pond) adjacent to the temple, a very beautiful pond which attracts hundreds of visitors for its exotic design, artistic appearance and its cultural heritage. It is also called Shringi Theertha, Myth says that it was created by Nandi and it is also the source of South Pinakini (South Pennar) River.
(Note: this pond pic is from internet search since it is beautifully captured than my mobile phone)
Update (14th July 2019) – Since last year we click pics from the Canon EOS 800 D DSLR camera we bought in 2018 for our long bike trip. Also we carried our personal phones whenever we couldn't take out the DSLR or no space in luggage. Rajesh carried One Plus A6010, and whereas I carried Samsung galaxy S7. Got to tell you my Samsung pics were no good compared to the clarity of One plus. Decided that when I upgrade my phone, I would definitely go for the One plus only.
How to Reach Nandi Hills Temple (Boga Nandeeshwara Temple), Karnataka
This ancient temple of Karnataka was built in the 9th century by Nolamba Dynasty. Later it was under the patronage of successive notable South Indian dynasties like the Ganga Dynasty, the Chola dynasty, the Hoysala Empire and the Vijayanagara Empire. (Thanks to wikipedia).
This temple is located 60 to 70 kms away from the north of Bangalore, located at the base of Nandi Hills in Chikkaballapur District, Karnataka.
Bangalore airport to Nandi Hills is of 47 kms distance, with good bus and cab facilities.
There are bus facilities from Bangalore to Nandi hills, and from Nandi hills to Bogha Nandeeswara temple.
Thanks to "Archaeological survey of India", this famous Nandi Hills Temple is well maintained all the times.
Nandi Hills is famous for sunrise / sunset view and trekking, but less known for its 2 ancient temples. One must visit the temples to witness the beauty and vast history behind its architecture.
Riding to Nandi hills temple is always a pleasant experience. Once on the way to Nandi hills temple we spent time around the rose plantation, clicked some pics before we reached there.
Read – Kolar is another best place for one day road trip from Bangalore.
If you like to go trekking to far places from Bangalore, you could go either go Coorg or Talakona forest and waterfalls or Yercaud.
Where to Go From Here – 10 Things to do around Nandi Hills
After a couple of bike ride to Boga Nandeeshwara temple, we went one step ahead and visited multiple places far apart from this temple in one day.
On 5th November 2016, We went on One day bike trip to the very famous Lepakshi Temple (Anantapur District, Andra Pradesh) after visiting Boga Nandeeshwara temple. I suggest travelling to Lepakshi Temple, which is one of the best one day trips from Bangalore within 150 kms.
That day alone we rode bike for 300 kms on up and down journey. One of the memorable adventurous bike trips ever because we have traveled up and down two different states in one day. Good news is Lepakshi temple is just 76 kms away from the Nandi hills.
On 21st jan 2017, we went on One day bike trip to visit Sri Ranganathar Temple (Rangastala) and Boga Nandeeswarar Temple (Nandi Hills) in Chikkaballapur District followed by Ghati Subramanya Temple in Doddabellapur District. We rode 286 Kms on that day alone. Another memorable bike ride experiences.
Read – How to Travel to Hampi by Train From Bangalore.
Here are the 10 things you could do
Watching sunset and going on a trek are the most common things people would do in Nandi hills, here are the other things you could do.
Ride to Bangalore to Bogha Nandeeshwara temple, spend time around temple and in the temple pond.
Go Watch Sunset in Nandi Hills top after visiting Yoga Nandeeshwara temple at the hilltop
Go trekking in Nandi Hills (join any organised groups for trekking to Nandi Hills with food and water provided)
Visit Sri Ranganathar Swamy temple in Rangastala, 11 kms away from Bhoga Nandeeshwara Temple
Trekking in Avalabetta Hill, 46 kms away from Bhoga Nandeeshwara Temple
Visit Lepakshi Temple in Anantapur district, Andra State, 76 Kms away from the Nandi Hills
Go visit Ghati Subramanya temple, 29 kms away from Nandi Hills
Go watch traditional dance at Nrityagram located 50 kms away from Nandi hills towards Nelamangala.
Visit Grover Zampa Vineyards, spend a day at grapes plantation in the Devanahalli road.
Or stay in Discovery Village resort in Nandi Hills, enjoy the weather, sunrise and sunset for 2 days, nothing but chill with the family or friends.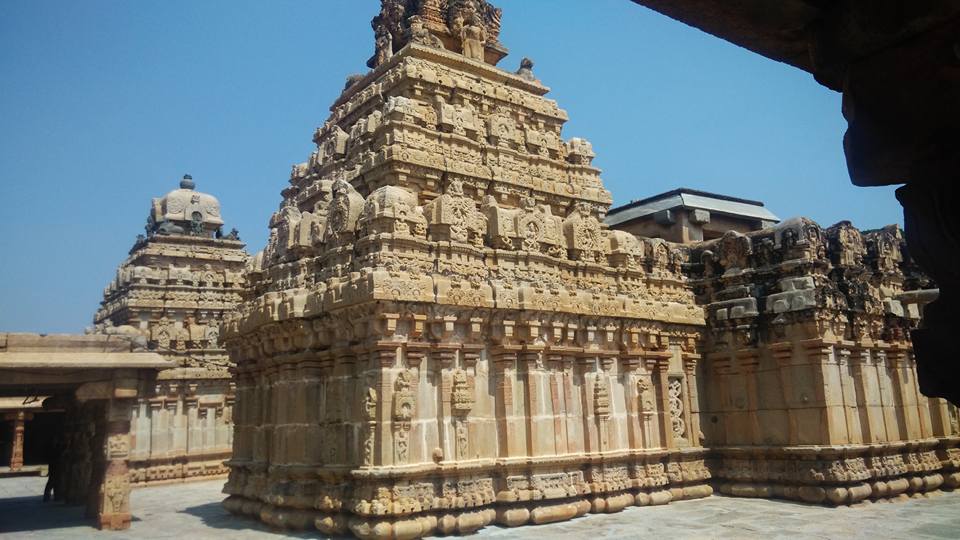 One day trip or a short trip, Nandi Hills Temple is one of the best nearby places in Bangalore on weekends.