"Food Street" VV Puram (Must try Shop 2 in the List )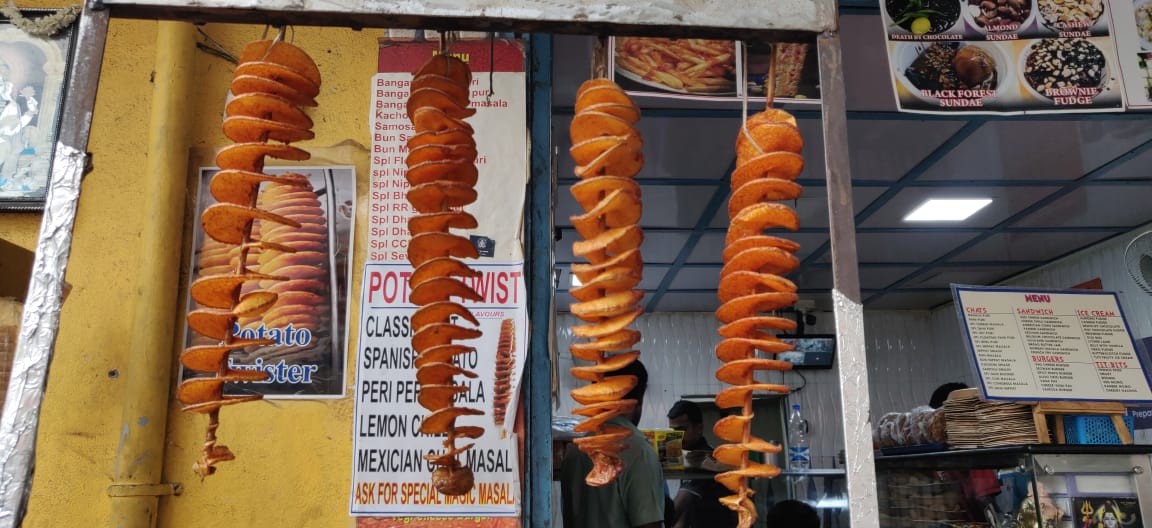 This is the our story of visiting Food street VV puram in Bangalore and stuffing our faces with all possible favourite street foods.
I usually don't prefer eating any street food, usually I prepare my own snacks at home (shared couple of pics here). You know, I'm glad we went street food hunting on that day, because I gained life time experience.
Why we have decided to Visit Food Street VV Puram
It is Saturday, 06th of July 2019. We have decided to spend the Saturday at home as we have big plans for the next day.
We woke up late, after fixing a simple breakfast for us, we spent time lazing around at home, watching TV, arranging wardrobe and books in cupboard.
Weather is too good outside as we can see it is drizzling in our open garden in the noon itself.
When it is raining, when I am alone at home, sometimes I just gaze at the rain on my open garden sitting in the balcony with a cup of tea or coffee. When we are together, I immediately make pakoras with this ready mix bajji powder – which my hubby loves it any time in a day.
Or Masala Maggie, or Veg Momos whichever I feel like making, depends on the mood and availability of the resources
We then sit on the balcony, eat pakoras or bajjis savour it with fresh coconut chutney, followed by a hot cup of tea or coffee.
But today, we are in a mood to go out to eat some real flavorsome food, street food preferably.
Here are some mobile phone images of snacks made at my home. And you can see my garden pic too, will upload more pics in the future.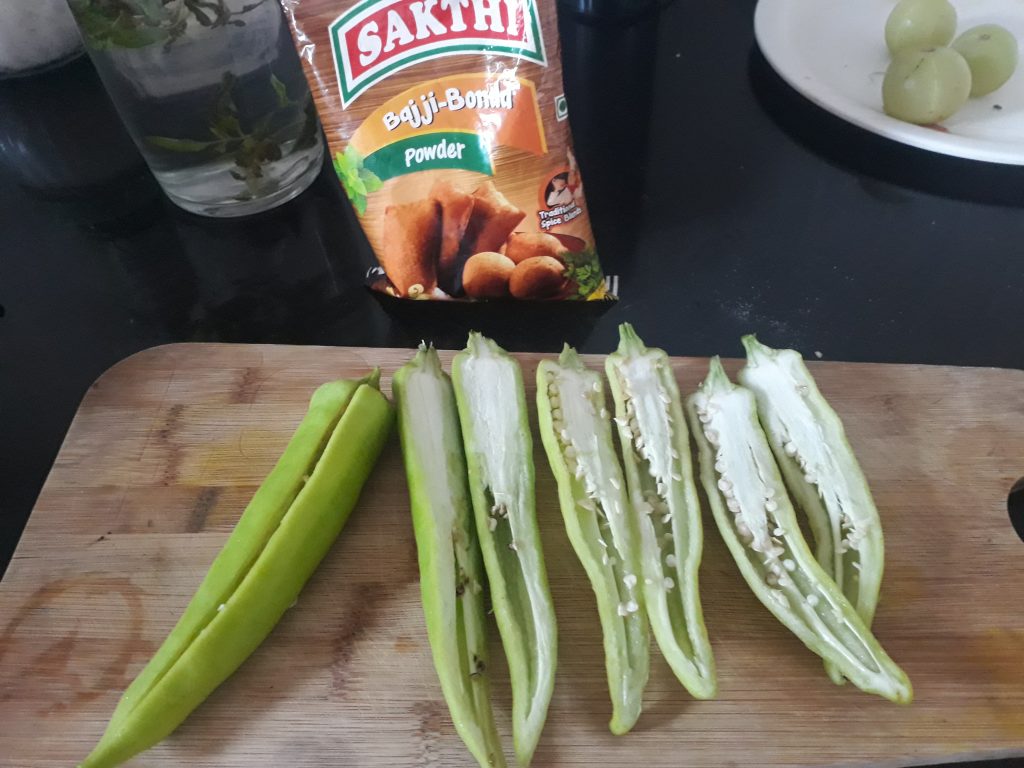 So, this is how we spent beautiful raining evening in nothing but eating in one of Bangalore's famous food streets.
What We Ate in the Famous Food Street Bangalore
If you are wondering where to eat best street food in Bangalore, I would suggest VV Puram Thendi Beedi (Food Street) to stuff your faces and fulfill your cravings for the junkie. It was absolute bliss eating all our favourites at one place especially in the rainy evening in Bengaluru.
After around 35 mins of bike ride, thanks to less traffic on Saturday afternoon, we have reached 1 hr earlier than it normally would take.
As usual with the help of Google maps, we reached the destination given the address "VB bakery, Sajjan Rao Circle, VV Puram, Bangalore"
We parked in front of VB bakery at the start of the food street, that is where the actual food street starts.
Since this is not shopping street, the streets are wide, enough place for the food lovers to stride up and down the street. All 2 and 4 Wheeler too can move freely in the street.
You could reach the other end of the street in under 30 sec, but one cannot eat all the foods in just one visit. If you are going with group of friends, then it is possible to try out all the famous dishes here in this colorful food street.
So we parked our vehicle, decided that we will come back to VB bakery for hot coffee or tea as a final touch just before leaving the food street.
Stop 1 – Chaat item, Masala Maggi and Potato Twister at Bangarapet Chat Express
Next to VB bakery, there is this organic sugar cane shop. Well we don't want glass full of juice for a starter, nor it is a good idea to fill the tummy with water when we have planned for a feat. So, skipping the sugar cane juice shop, halted at the immediate next shop with the name board "Om Sri Vinayaga – Bangarapet Chat express".
For Bangaloreans, the "Bangarapet chat" literally translates to "yummy, mouth-watering, delicious, scrumptious paani puri and chaat items"
Like any Chaat loving Indian would start, we too started with Masala Puri, followed by Veg masala Maggie, finished it with hot n spicy, mayonnaise sprinkled Potato twister.
The best quality food one can ask for (best quality in junk food, not guilty at all 🙂 )
We skipped eating pani puri, again for the same reason – we do not want to fill our appetite with any form of liquid food 😉
(Masala puri – 40/-, Masala maggie – 35/-, Potato twister – 60/-)
`
Stop 2 – Chilli Bajji, Paruppu Vada and Bonda at Shree Swami Bajji Centre
We then headed towards the other end of the street, looking for another colourful, appealing, delicious, heavenly savoury to fill the rest of the stomach and taste buds.
definitely, we were not interested in any of those chinese foods or big buffet of dosas or lemon seva. (Another famous south indian dish – spring hoppers fried with onions and chillies, flavoured with lemon juice).
We stopped at the display of variety of bajji and bonda in front of "Shree Swami Bajji Centre".
It looked heavenly and appealing, one minute we were confused about which one to go far.
We then bought my all time favourite Chilli bajji and his all time favourite Paruppu vada /daal vada and aloo bonda. (Total price 20/-)
Chilli bajji was decorated with lemon flavoured onions and chillies, paruppu vada was fresh and authentic. 
I was literally longing to eat tasty chilli bajji since the time I ate one in our Yercaud Bike trip.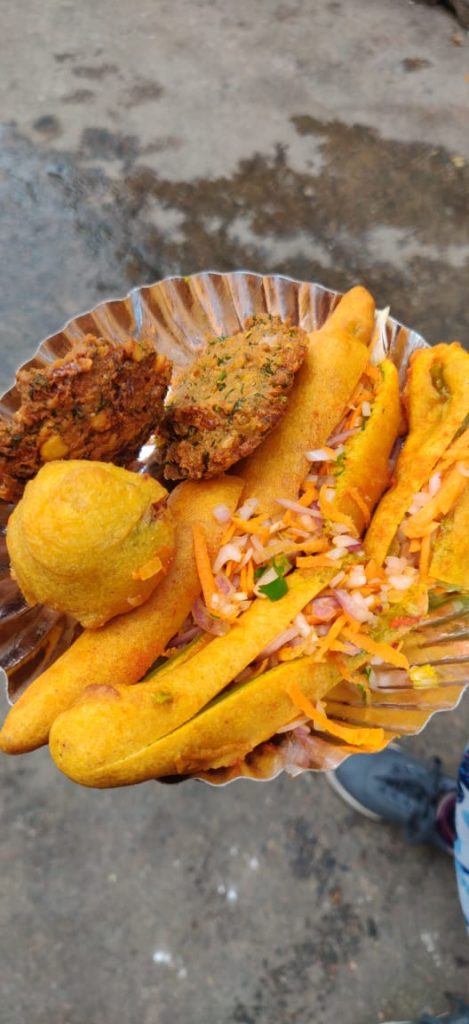 Stop 3 – Soft Mini Idlies and Dosa
By the time we finished eating in the bajji shop it was almost 6pm. We then had idlis and plain dosa at Rajesh's favourite shop, which opens only by 6pm. Didn't know the shop name, it is immediately next the bajji centre I mentioned above.
Thanks to the extremely soft mini idlis and Dosa with coconut chutney and Kara chutney –  we decided to call it a day.

But then – my hubby couldn't resist the display of Lemon seva, since we barely even able to walk, we decided to take lemon seva home parcel.
Stop 4 – Honey cake and Mini samosa From VB bakery
What's the point of going to food street without visiting the old, authentic, famous – the one only VB bakery known for many freshly baked foods.
So, we bought Honey cake and mini samosas – fresh from the oven – take away for eating at home.
They have a wide variety of rusks, samosas, puffs, different flavoured cakes, birthday cakes, plum cakes, pumpkin cakes, vanilla tea cakes, breads, buns, biscuits etc., 
Stop 5 – Coffee at Brahmin's
There are no coffee, tea available in VB bakery, so we came out of Food street looking for any coffee shops.
We saw "Brahmins tiffin" neat to the Sajjan Rao circle, one can not miss before going to the food street. Also there is a hindu temple opposite to the restaurant, adjacent to the circle park. By this time, it has already started drizzling, we enjoyed our coffee enjoying the street view.
Sum Up – Best Street Food for Feast in Bangalore
We spent one and a half hours, only ordering and eating food in Food street a.k.a Thindi beedi in VV Puram, Bangalore.
We have had some experiences eating famous street food in MG road, Shivaji nagar and Koramangala, because those are our favourite places in bangalore for shopping and eating. Sadly no pics to share in my gallery.
We are yet to explore other famous street food places in bangalore – Frazer town, Malleswaram, HSR layout, Vijay Nagar, etc.,
Our recent favourite hangouts for snack is Hari Super sandwich in jayanagar for Sandwiches and chaat, and for Non veg is newly opened Thalappakatti restaurant in HSR Layout, Bangalore.
Now, VV puram food street also added to our favourite eating out street food place.

Note: About the Food street Timing and Parking: –
Food street was already busy with people by the time 5pm when we were there and we were lucky enough to get the 2-wheeler parking inside the food street. Food street started buzzing around 6pm, so there was visually no place to park as it was totally packed. Or you could park somewhere near Sajjan Rao circle and walk to the food street.