From Bangalore to Kanchipuram Road trip or Train trip?
We are frequent travelers from Bangalore to Kanchipuram since 2017.
And we have experience of travelling by both car and train to this Famous Temple city in Tamil Nadu,
I am sharing our travel story here and giving you the best route with distances for you to choose.
Also suggestions on places to see in and around Kanchipuram.
Since it is a temple city, I have also given a list of famous temples in Kanchipuram to visit.
ImageCredit – Indianrailinfo
Distance From Bangalore To Kanchipuram
Distance from Bangalore to Kanchipuram via Vellore is 280 kms (which is the only best route by car).
We traveled regularly to this famous temple city Kanchipuram (also called Kancheepuram). Just how we well know Tiruvannamalai and Kumbakonam, same way we know Kanchipuram city in and out.
The name "Kanchipuram silk sarees", for the silk sarees weaved in this temple city made it popular worldwide.
Many people travel exclusively for Temple trip and many for just shopping silk sarees in Kanchipuram.
Whichever are the reasons you are planning a trip to Kanchipuram, I have a best route for you.
And travel guide for both car and train.
Best Route – From Bangalore to Kanchipuram By Car
In July 2019, we went on a road trip from Bangalore to Kanchipuram, via Vellore.
Trust me if we had known this route earlier, we would have saved lots of pain going by train.
Bangalore to Chennai Highways is the route we took to reach our destination.
Bangalore to Kanchipuram Best route by Car
Home (Bangalore) – Hosur – Krishnagiri – Ambur – Vellore – Kanchipuram.
And this is the fastest route to reach your destination by road. Also it has many advantages, here is the list.
Advantages of Taking Chennai Highways
From our recent road trip from Bangalore to Kanchipuram, here are the major advantages of taking the Chennai highways.
Fastest and Best Roads – From Bangalore to Kanchipuram NH 48
Well paved route and seamless National Highways (Chennai / Mumbai Highway) connecting non stop from Bangalore to Kanchipuram with 280Kms.
If you compare the other alternate routes' distance from Bangalore to Kanchipuram via Kolar and Chittoor, this route is the longest. Yet the fastest route with well planned bridges, tunnels and fastest toll booths with Fast tag facilities.
Best Restaurants Choices
Many good restaurants with toilet facilities just like in Bangalore – Salem Highways.
You could reach your destination in 6hrs driving non – stop from Bangalore, provided you have started early to avoid the traffic.
But if you ask me, you could stop at these following places for refreshment.
Here is the list of best restaurant from Bangalore to Kanchiputam
Hotel Krishna Inn – Shoolagiri (Before Krishnagiri)
For the best South Indian breakfast. I have talked more about this place. This place is famous for awesome food and a pit stop for hundreds of bike riders. You could see hundreds of them at the same time between 6.30 am to 9 am.
We never miss stopping here for breakfast at Krishna and coffee from nearby CCD or McD.
Here I am sharing some of our favourite south Indian dishes we try regularly here.
This is the google map location – https://goo.gl/maps/PHZGkqpGUA7g6AVa6.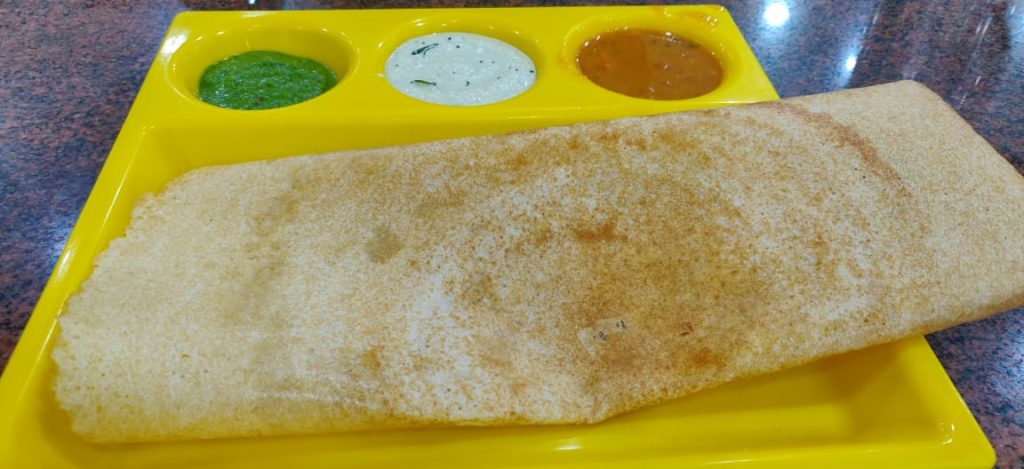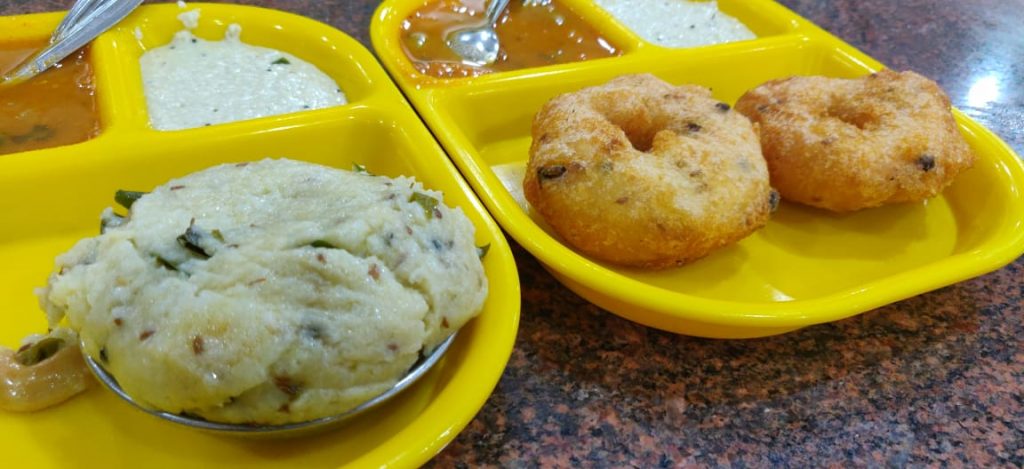 I would not suggest any restaurants in Hosur, the most crowded place no good for any kinds of restaurants.
Otherwise there are many other options in Bangalore – Chennai Highways.
From Bangalore to Kanchipuram – the List of other Famous Restaurants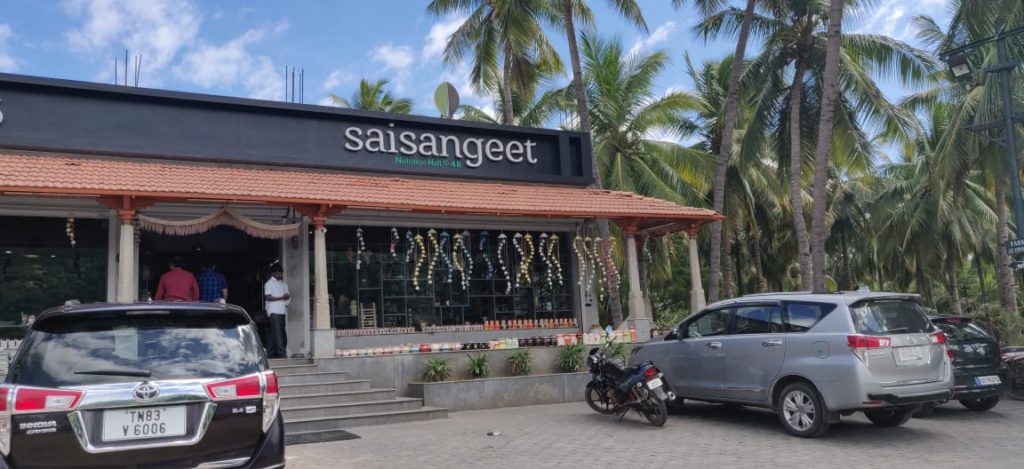 Many good choices to Stay in Vellore
From our couple of trips to Kanchipuram by train and car, I suggest staying in Vellore for 2 main reasons – Food and Accomodation. In Kanchipuram, We had stayed once in GRT hotels and once in Pine tree hotels, those two were the only good choices in this crowded temple city. And for food, there were only Shree Saravana Bhavan hotels with a couple of branches in the city, a monopoly player with a very poor ambiance and service. Therefore we didn't prefer that restaurant.
So, stay in Vellore where you will be spoilt for choices for boarding and lodging. And couples of famous sightseeing places that makes your stay even more memorable. Next best place would be Chennai, if you are en-route Chennai.
Read Related – Two Day Trip From Bangalore to Vellore and Kanchipuram (Best 2 Day Trip by Car)
Bangalore to Kanchipuram By Train
Distance from Bangalore to Kanchipuram by train is the same as road trip distance. Certainly there are no direct interstate trains to Kanchipuram Railway Junction.
You need to get off at Arakkonam Junction, which is the nearest Kanchipuram Railway station. Furthermore, you need to take a local train or bus to Kanchipuram town.
Though you have plenty of choices for local trains and local buses, all are unnaturally crowded at those early hours.
If you are planning to travel by train, I suggest travelling by A/c compartment. Otherwise, the whole journey will be an upsetting experience. This is why.
When we went to Kanchipuram from Bangalore by train, we had the worst experience of life.
In the General Sleeper we have booked, the entire compartment was outnumbered by the illegal passengers.
It was a total nightmare dealing with illegal passengers throughout the journey. Not a teeny tiny guilt of disturbing the sleeping passengers with their loud voice. Adding more spice, they occupy the little space left at the end of the berths giving no room for passengers to stretch their legs.
Above all, some using their small babies as a innocent image to pick pockets from the sleeping passengers.
Also, the big goons of locals adamantly blocking the way to the toilets and exit doors etc.,
Hence, We stayed alert every single minute safeguarding wallets and baggage. And ended grumpy whole next day.
Read Related – Bangalore to Kanchipuram Road trip (On Diwali 2020)
How to Reach from Arakkonam to Kanchipuram
The train reached Arakkonam station around 5am, we exited with a pounding headache and sleepy eyes.
We then hired a local auto to the nearest bus station. From there we took the local town bus to Kanchipuram.
Otherwise one could take local metro train from Arakkonam to reach Kanchipuram.
We traveled for about 1.15 hrs by bus to finally reach our Hotel room.
That was the very last trip from Bangalore to Kanchipuram by Train.
List of Must See Kanchipuram Temples
These are the list of must see temples in Kanchipuram.
Kanchi Kamakshi Temple: The temple dedicated to Goddess Parvathi, one of the Sakthi Peedam temples in Tamil Nadu. It is important to first darshan Kamakshi Amman before any other temples in this holy city. Google map link – https://goo.gl/maps/vEr2RKARgG9Zj7C3A
Ekambareswarar Temple:  Lord Shiva is said to have manifested himself in the form of Prithvi Lingam. This lingam represents one of the five elements "earth". Since mother Kamakshi is the common Ambica for all the temples in Kanchipuram, hence Shiva temples in Kanchipuram does not have any goddess shrine. I mean most of the temples in and around Kanchipuram. Google map link – https://goo.gl/maps/Am3yv7WPpvPsmr9u8 .
Varadharaja Perumal Temple: The temple along with Ekambareswarar Temple and Kamakshi Amman Temple in Kanchipuram is popularly known as Mumurtivasam (Credit – Wikipedia). Being one of the 108 Divya Desams, a most popular temples for vaishnavites. This "Vishnu Kanchi" is a must visit in kanchipuram temples.
Read Related – A moment of glory in Kanchipuram – Athi Varadar Perumal Raise Once in 40 yrs – We did Darshan on 21 July 2019
Places to Visit near Kanchipuram
Kanchipuram city is one of the best weekend getaways from Bangalore for temple visit or silk saree shopping.
Yet you cannot spend more than 2 days as Kanchipuram visiting places are limited.
If you have more time in your Bangalore to Kanchipuram road trip, you could rather go nearby places. The nearest, famous tourist places like Pondicherry and Mahabalipuram.
Or you could plan a round trip to Chennai. You could start from Bangalore to Kanchipuram, then Chennai before returning back home. 
Likewise, you could also make a round trip to vellore, stay in Vellore to look around the places.
Related – Two Day Trip From Bangalore to Vellore and Kanchipuram (Best 2 Day Trip by Car)
Hope our experience would help you plan the trip schedule from Bangalore to Kanchipuram. Plan on the places to stay and explore the holy silk city.