Two Day Trip From Bangalore to Vellore and Kanchipuram (Best 2 Day Trip by Car)
We went on Two day trip from Bangalore by Car to Vellore and Kanchipuram. This was our first road trip to Vellore. Otherwise, we have been to Kanchipuram once in 2017 and once in 2018.
Foremost, The ultimate destination of this trip was to go Kanchipuram for Lord Athi Varadar Darshan.
We chose to stay in Vellore because of 2 reasons. First, no good restaurants in Kancheepuram, and Second, we have never been to Vellore before.
Day 1 of Our Two Day Trip From Bangalore to Vellore and Kanchipuram
(a). Starting From Bangalore, Eating Breakfast In Soolagiri, Reaching Vellore
We were bike riders all these years. We recently started going by car to places, especially from the second quarter of 2019.
I'm loving car driving for the comfort and luxury. But it is no match for the thrill and fun in riding the motorbike.
Rajesh too feels the same.
By 5.30 AM, on 21st July, we were all set to go with packed bags and swollen eyes.
Why Krishna Inn in Bangalore Highways is Our favorite?
We stopped for breakfast in our all time favorite restaurant in Bangalore – Salem Highways. Krishna Inn, at Shoolagiri, the best South Indian Vegetarian Restaurant in Bangalore highways.
It is a bliss to eat Pongal with Udin Vada (urad dal) with freshly ground coconut chutney and freshly made sambar.
Another specialty of this restaurant is that its favorite pit-stop for all the motorbike riders.
It has become a ritual for those riders to stop here before they head on to the destination. Rajesh engaged a conversation with one of the riders to know whether they are part of some riders community group, where they are heading to. We came to know that those people are not part of any such community, its just happening for few years now. Some are super-bikes, some are thunder-birds, some are regular bikes. Most of them are individual riders with full gear on, cool to watch them parade as early as 7.30 AM, that too on sunday.
We watched them for half an hour over coffee from McDonalds.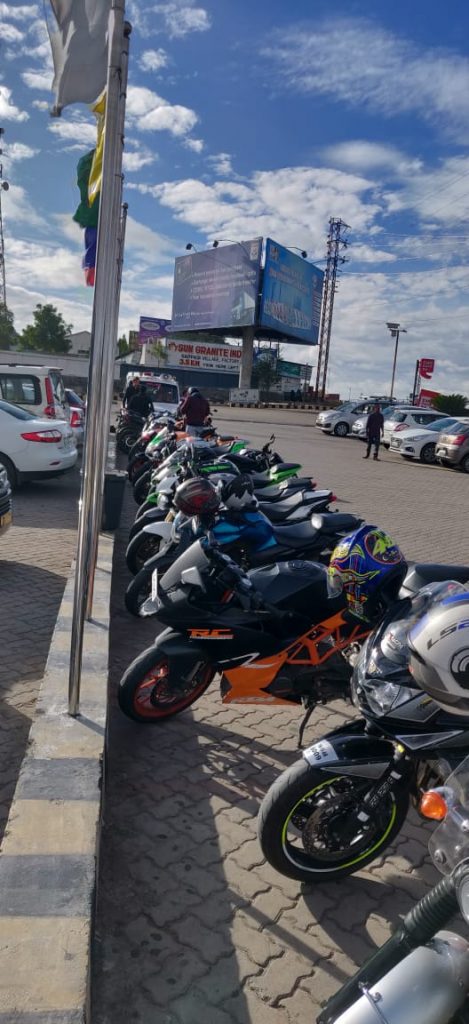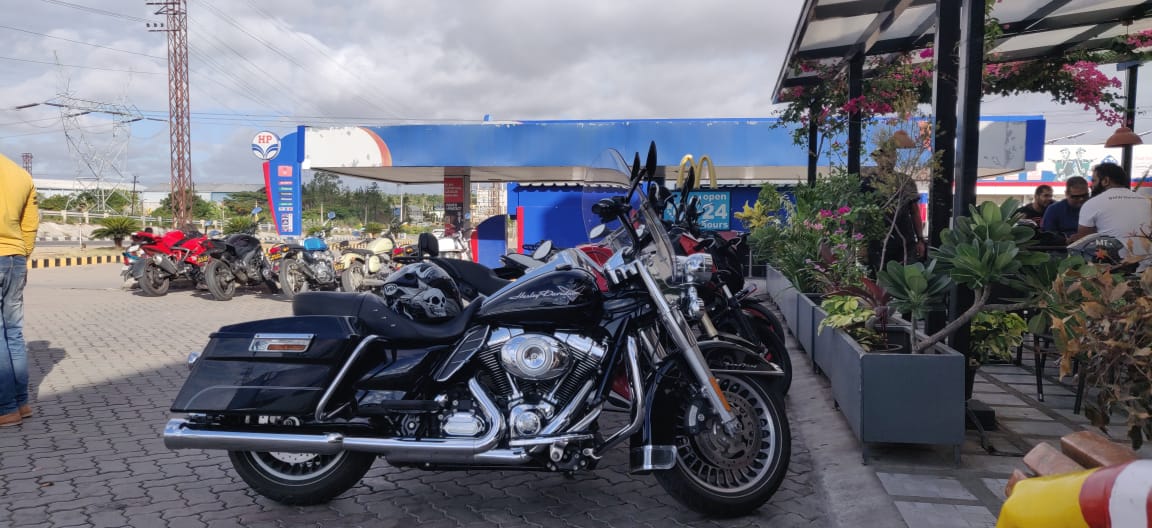 Now it is my turn to drive the car. We took the Bangalore to Chennai Highway, arrived Vellore 11 AM.
Just before we stopped at Sai Sangeeth in Bangalore – Chennai highways, best place for toilet, bad choice for food and shopping.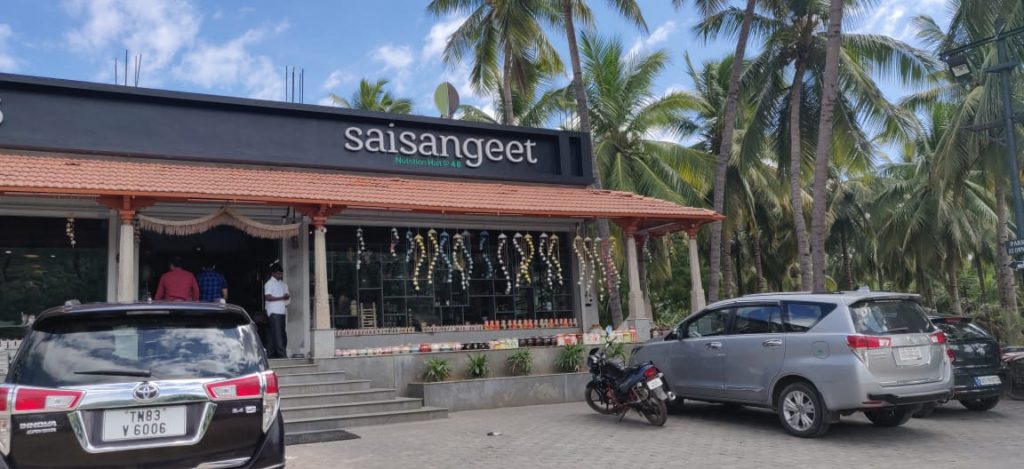 We reached a little earlier than planned because it was a smooth, non-stop carefree ride in the National Highways.
(b). Visited Jalakandeswarar Temple  in Vellore Fort
We went straight to Jalakandeswarar temple inside Vellore fort. Parked the vehicle (fee 20/-) nearby temple, went inside walking in the piping hot sun. Spent about 45 mins, had good darshan, spent time in the ornamental mandap right before we left the place.
The specialty of this temple is that it is built in the middle of the water tank of about 8000 sq.ft. (from wikipedia).
(c). Check-in At the Hotel Khanna Fiesta
After a brief time in temple, we came to our pre-booked hotel, The Khanna Fiesta.
We took a rest for sometime, before we headed to Kanchipuram for Athi Varadar Darshan.
We knew it would be crowded from what we saw in the media, so we didn't allow us to enjoy the luxury, but for a short period.
(d). Lord Athi Varadar Darshan In Kanchipuram
Soon after lunch from the same hotel, we reached Kanchipuram by 4pm.
Vellore to Kanchipuram distance is 70 Kms, again the road was good, lucky us.
Ater a walk of 8 kms in a slow moving que, it took us 3.5hrs to darshan Lord Athi Varadar in the sayana kolam (sleeping posture).
We returned the same evening to Vellore to our room with the rumbling stomach around 9.30pm with hardly any energy left from driving and walking alternatively. Had dinner at the hotel, thanks to the ground floor veg restaurant kept open at that time.
Day 2 at Vellore – Golden Temple, Shopping and Return to Bangalore
(a). Room Check-out, Wasting 2 hrs In Vellore Golden Temple at Sripuram
We had almost missed the complimentary breakfast sleeping in until 10 AM. Soon after breakfast we had to check-out, hit the road to return home. Since we had already planned to visit the Golden Temple, we headed straight there.
The facts you need to know about Vellore Golden temple
The temple is located at the Sripuram village, about 8kms from the centre city Vellore
You have bus and auto facilities to reach here
Things like bags, shoes, mobile phones and cameras are not allowed inside.
There is a paid counter to keep all of them safe (we kept all in the car)
After submitting all your belongings, keep the best attitude with you all the time
You enter the temple gate directly if you have 100/- ticket, otherwise go walk for 2 kms to reach this point. Abishegam tickets extra.
After personal screening at the temple gate, you will be allowed inside.
You would be walking for more than 1km from the security gate to darshan goddess Lakshmi, a small idol made of 10 kg of gold. (There are wheelchair access at this point available for disabled and elderly people). Everything is money here. I did not buy anything here, I did like anything particularly.
That's not it. The main attraction of this place is something else. That is a very big fantasy golden mandap of goddess Sri Lakshmi Narayani which is 1500 kg gold, adorning the majestic idol of goddess.
Vsit Lord Balaji on the way back to the same gate, comparatively much shorter distance while coming out.
(b). Eating Mutton Biryani In one of the famous Non-veg hotel in Vellore
After coming out of the temple, we headed to have lunch in the same hotel Kanna fiesta. On the way we stopped for a short period in Pachayappa's silk for some shopping experience. Not liked anything particularly. We changed our mind, had lunch in one of the most famous non-veg restaurants before we headed to Bangalore. This non-veg restaurant suggestion from one of the youtube page I follow, here is the link of the hotel review on youtube page.
And sharing some pics from our experience.
The specialty of this Hotel Jyothie is, they serve biryani with lots of pieces in it. We ordered half mutton biryani each and 1 natti chicken fry to go with it, it was sufficient for us. Biryani and fry was moderately spicy with good taste.
It is a small mess with limited seating capacity located right next to the Vellore bus stand.
Sharing the price list in the pic below.
(c). Best Snacks and Tea on Chennai – Bangalore Highways
Next stop after lunch was "Coffee Bistro" on Chennai Bangalore Highways.
We had no clue what a cool place it was until we stopped and tried their freshly made pakoras and bajjis.
We sat under the neem tree, had snacks with tea, enjoying the view.
I strongly suggest this place for pit-stop with clean toilet facilities in Vaniyambadi, On Chennai – Bangalore Highways. Click the link for the location.
https://maps.app.goo.gl/6bNrkptzCxDzAUSh6
This coffee shop is right next to the Vegetarian Restaurant "Sai Akshyam" , you cannot miss it.
A clean eatery with vehicle parking and a great view, the – best place I suggest.
We spent about good 45 mins before we continued our road trip.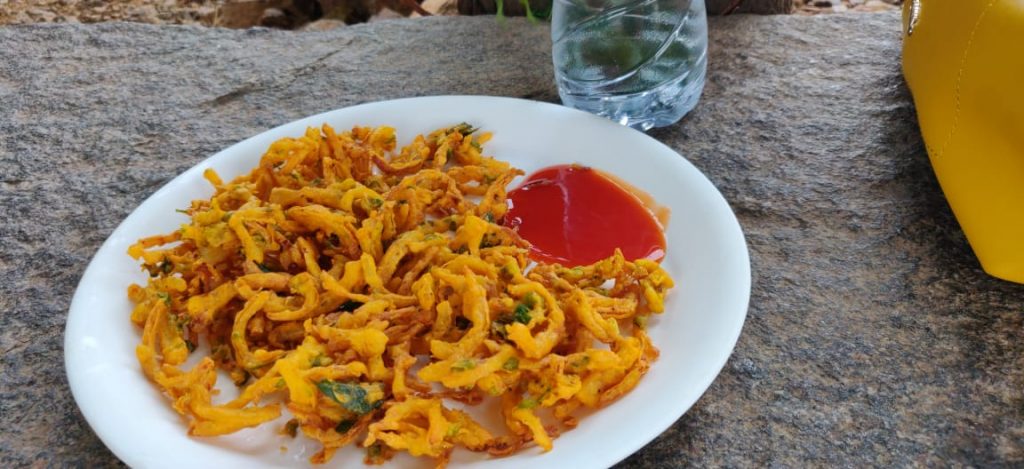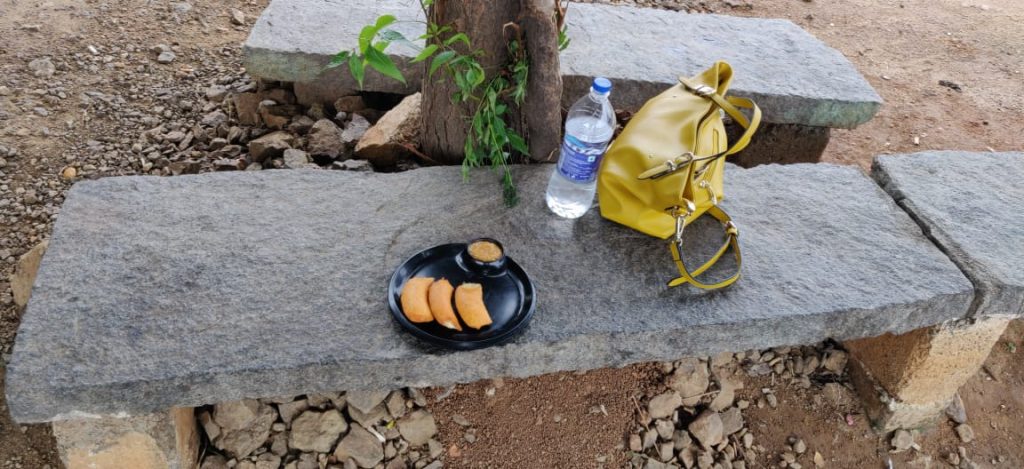 When we have been to trekking to talakona – the highest waterfalls in Andhra Pradesh, we had no hotels around that area. Though the waterfalls and trekking made the trip cherish-able only if I exclude the trouble we had finding good eateries around Talakona.
So good food equals good trip. Always.
Clearly this was a best trip.
Overall Road trip Experience From Bangalore to Vellore
The return journey was also smooth and comfortable. We reached home around 9.30 pm, had cooked dinner at home before we retired for the day.
The highlight of this two day trip from Bangalore to Vellore is –
Lord Athi Varadar darshan in Kanchipuram, a moment of glory in our humble history
The silky smooth, non-stop, carefree drive from Bangalore to the Vellore and Kanchi city
Good food choices in the Vellore city and on the Bangalore highways.
Compared to Kanchipuram, Vellore is a sophisticated city with tall buildings, apartments, good transport and railways connectivity, and many good restaurant choices.
We fell in love with the Vellore immediately, we also planned to make a second trip in the same year soon.
Soon we will be making another Two day trip from Bangalore to Vellore.