Kumbakonam Famous Food Items – And Where to Eat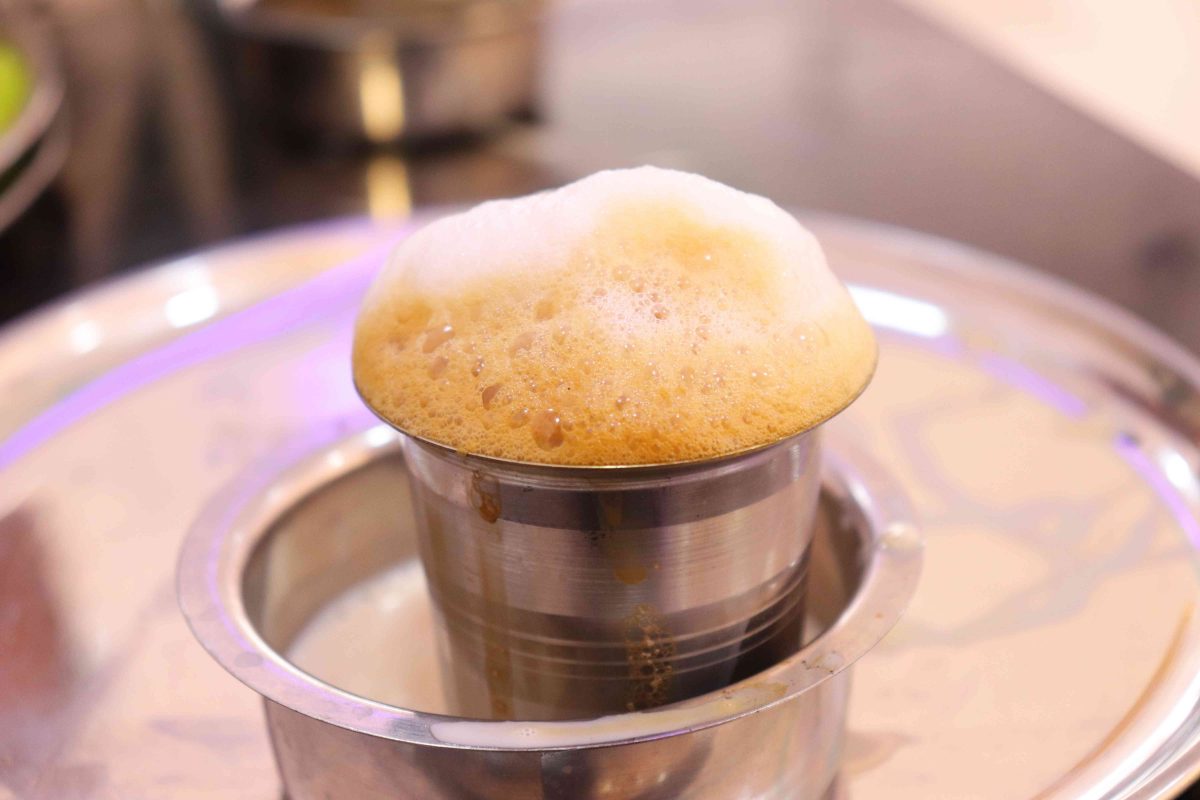 Kumbakonam famous food items – the list of famous food items and the names of restaurants.
"Where to eat?" is the first thought comes to our mind if we are travelling to new places.
Kumbakonam is like our second home, we have been to this famous temple city many times in the past couple of years. A small vibrant city decorated with equal number of temples and lily ponds – a unique sight to see in any place.
Here is the list of famous food items and where to eat in Kumbakonam.
What is Kumbakonam Famous for?
Kumbakonam is famous for numerous Ancient temples and Navagraha temples across the town. Every year lacs of devotees visit Kumbakonam during Mahamaham festival and during the Margazhi festival season.
So, mainly Kumbakonam is famous for its yearly Masi magam festival (during march), all year around Navagraha temple visits and Margazhi festival (during December).
For such a small town, Kumbakonam is busy all year around with tourists.
It is hard to decide where to eat in Kumbakonam, especially with fake ratings and reviews for restaurants these days.
Myself and my hubby have spent the majority of our vacation in Kumbakonam in our 11 days long bike trip in 2017 and 2018.
During our stay, we have explored all the major eateries – both vegetarian and non-vegetarian restaurants in Kumbakonam.
I am suggesting the following places to eat in Kumbakonam based on the quality of food, ambiance, fast service and value for money.
Famous food items (with images) in Kumbakonam with best places to eat is detailed below.
Also, I am suggesting the best ginger tea shop at the end of this article for tea lovers in the coffee famous town.
Most Famous Pure Veg Restaurant – Mangalambiga Coffee and Tiffin Center
Where – Behind Adi kumbeshwarar Temple, Kumbakonam
Google map link – https://g.page/mangalambiga?share
If you are a pure vegetarian, your search for good food in Kumbakonam ends here. This restaurant and cafe serves all south Indian tiffin items – Pongal, Vada, All varieties of dosa, Poori sabji, upma etc.,
My personal favourite – Poori and tomato Uttapam
Open on all days from 6.30 am to 10.00 pm, this restaurant serves best veg food in Kumbakonam throughout the day. Even with all the popularity, this restaurant remains humble with limited seats and food served only by senior citizens till date.
The Best place to try all Kumbakonam Famous Food items and Snacks -"Only Coffee" Restaurant

.
I am an early riser, and a Coffee lover.
Almost everyday we used to travel 10kms from center Kumbakonam town to "Only Coffee" restaurant for steaming cup of coffee. If we had no long travel plans to any temples, we used to hangout there until we finish our breakfast. Sometimes we roam around near by agri field, chill out, take some pics and come back to the same restaurant for Lunch.
Even Though they have another branch in centre town, a restaurant facing Holy Mahamaham tank, we always loved going to this place for the scenic ride and friendly staffs
The name says "Only Coffee" so obviously anyone would think of it as a coffee shop.
We did too.
When we stayed in Aditya Resorts for 2 days where we had no option for dining, we came out of the resort in a mindset to ride to the nearby coffee shop.
We found "Only Coffee" in the immediate neighborhood, with the display of clay toys and some interesting books.
The friendly hotel staff asked us whether we wanted to have some snacks to go with coffee, we said yes, and we chose "kolukattai" from the choice of salad and sandwich.
This is the best restaurant that serves snacks, healthy options suited for all the ages.
Famous Snacks in Only Coffee restaurant: They had "today's special" green salads, sandwiches, south indian special pidi kolukattai, kuli paniyaram, etc.,
Since then, our entire two days stay in Aditya Resort, we never had to roam searching for food and snacks in Kumbakonam. Even after we moved to different accommodation in the city, we came back almost everyday, sometimes twice in a day for their dosa varieties and coffee.
They serve all kinds of typical Tamil Nadu breakfast items.
They also serve unlimited and limited meals for lunch, the only time rice item was available, we chose limited meals because we preferred light food for lunch.
Not only their food is healthy (they use only less oil for food items, so they don't serve any deep fried snacks) but also they have a variety of healthy snacks and pickles for sale. They also sell wood pressed cooking oil (Marachekku oil), some children books and wooden play toys. According to me, this place is the best vegetarian restaurant in Kumbakonam.
We absolutely enjoyed eating every time in "Only Coffee".
Its definitely a best place for healthy, vegetarian food choices to eat with family and friends.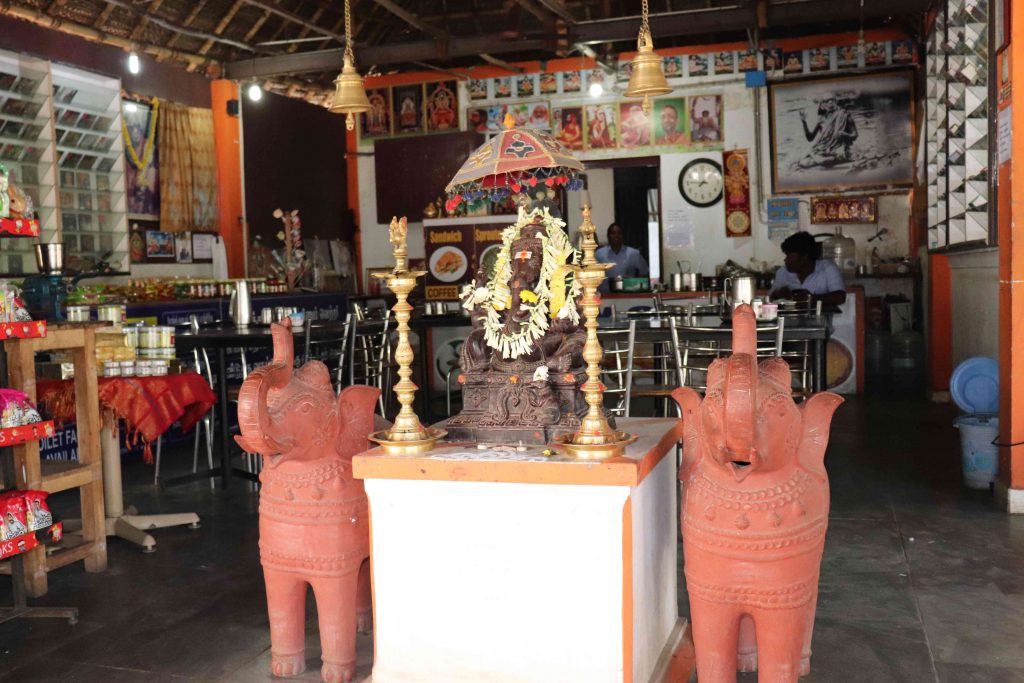 Only coffee Restaurant – The best hangout place for all kinds of TamilNadu food and snacks 3x a day.
You will absolutely love its peaceful ambiance with the healthy variety of vegetarian tiffin and meals, packed organic snack, pickles, evening salads and Sandwiches served all time with hot coffee/tea/milk.
"Only coffee" Restaurant is operating only at centre town kumbakonam, opposite to holy mahamaham tank. Call up and check for "Only Coffee" Thiruvidaimaruthur branch,  as it was closed for renovation when we visited last time in Dec 2018
Small Shop Serving Quality Food items and Snacks all the time In Kumbakonam- "

Ayya Kadai"
Initially, we thought of it as a tea stall, because hardly 15 people can sit inside this shop. Later we came to know they serve food 2 times a day apart from coffee/tea with snacks.
We found this shop when we stayed in "Poppy's SET hotel" for 3 days Mahamaham festival in Kumbakonam.
Famous food list in Ayya Kadai: Poori masala, pongal, idli, dosa varieties for breakfast and dinner, variety rice and parotta for lunch.
Famous Snacks List in Ayya Kadai: Methu vada (Urad dhal vada), Paruppu Vada (Channa dal vada), Valalikkai Bajji (Banana Besan Fry) are must try here. They are available in the morning and noon timings, different dishes at different times throughout the day.
Almost all the prices were less than or equal to Rs. 20/- including the variety rice(like tomato rice, puliyogare, lemon rice and curd rice), so it is obvious to doubt the quality of food.
But it is a super clean small eatery shop run by 3 elderly guys, and they promise to deliver the quality food and they live up to their words.  And from my experience, it is the super clean place in Kumbakonam serving good quality food and snack items.
Ayya Kadai – is the best choice in Kumbakonam town for anyone looking to eat light (and healthy) without hurting the pocket. Also, it is a must try place for an evening snack – masala vada and other oil fried snacks with coffee or tea.
Google Map link – https://goo.gl/maps/efzmdoiTVN2mJKMV7
Read related – 24 Temples in 3 Days in Kumbakonam Masi Magam Festival 2017
Try Pandian Hotel For Famous Non veg Food items when in Kumbakonam
I love to eat Non-Veg for dinner, if not daily at least twice in a week is a must for me. Rajesh does not like non-veg as much as I like it, but he too loves to indulge in it, if it catches his eye.
After asking few people in the busy street, we were guided to a hotel across "Sarangapani temple". We very much liked the variety of food they had in the menu, in fact, we had a hard time picking orders from the menu.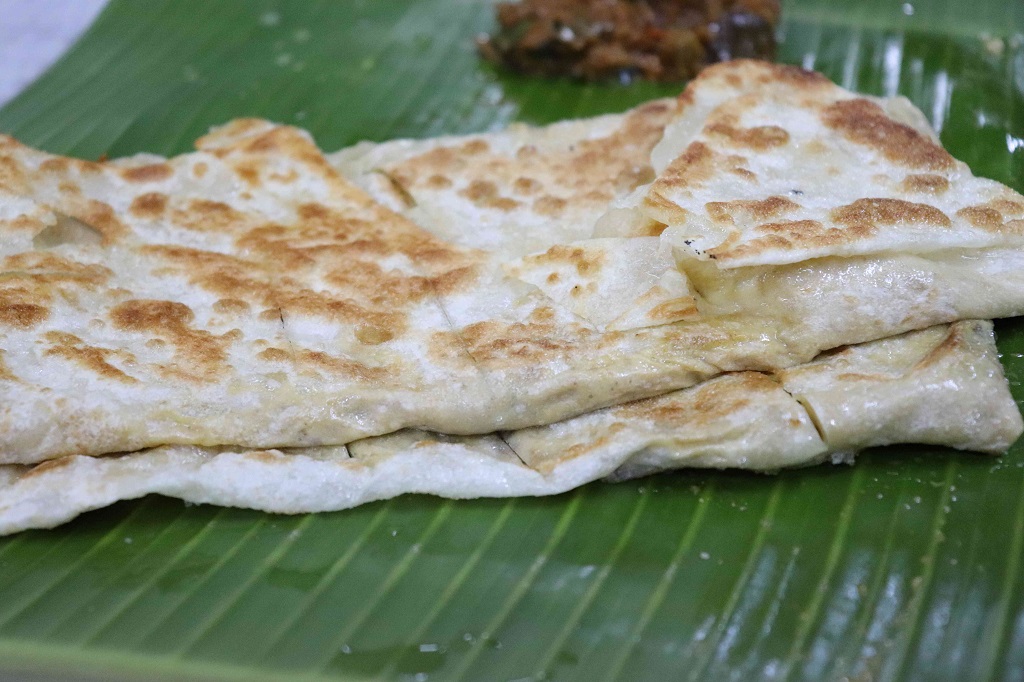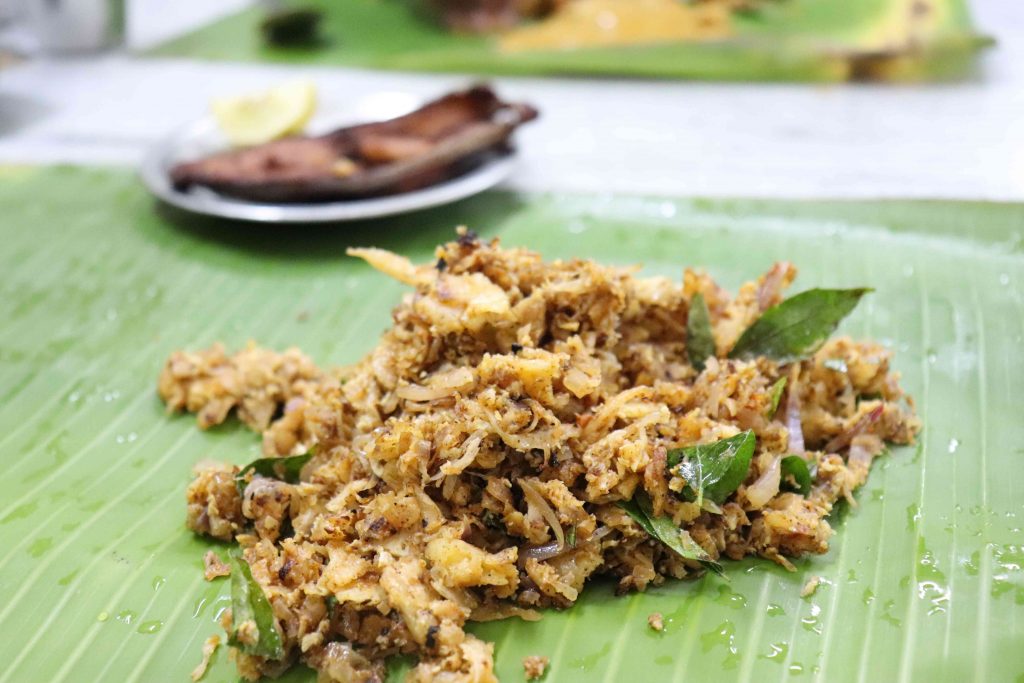 Food was served in Banana leaf, calm place to enjoy the feast. We had enjoyed two varieties of parottas, Kothu parotta, chicken masala and prawn masala with butter milk.
No chinese items were available.
We loved going back for the crispy Kothu Parotta and the Idiyappam. (Note: You need to be little early in the evening for idiyappam, since there is a huge demand).
We were also suggested to go Hotel Shanmuga, which is also a famous non-veg serving restaurant. The other day we tried some chinese there, but we didn't enjoy it as much as we did in all other restaurants in Kumbakonam. Eventhough Hotel Shanmuga is popular among localities, we personaly did not like it much because of noisy ambiance and poor quality food.
Pandian Hotel in Kumbakonam – Pure authentic restaurant serves all kinds of Non-Veg items with a wide variety of parottas, dosa items, idiyappam, and meals.
Google map link – https://goo.gl/maps/utsGgKZEKMRxEaS68
Read Related – Famous Temples in Kumbakonam – A Very Big List with Google Map link
For Family Lunch – Indeco Hotels Swamimalai
Indeco Hotels located 4kms from Kumbakonam, is one of the award winning eco-friendly resorts.
This finest heritage resort offers guests an unique opportunity to experience rich cultural heritage in tranquil environment.
We got to expereince this place when I went on 5 days solo trip to Kumbakonam, later husband joined me for the weekend.
Their saatvik meal was delicious and spent quality time sightseeing their heritage collections (arts and automobiles) after the unlimited meals.
Here are some pics from the trip.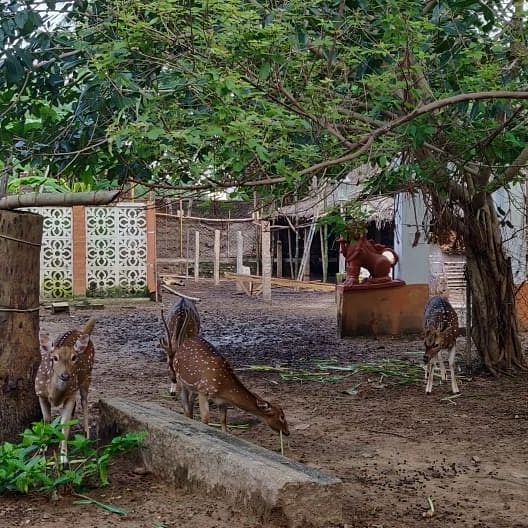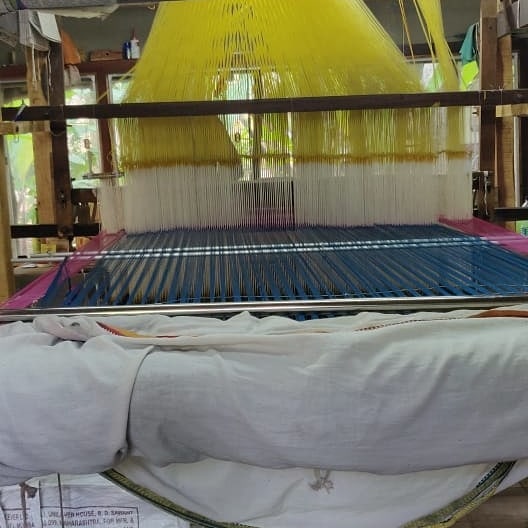 Famous Tea Shop for Snacks and Ginger Tea in Center Town Kumbakonam
Speaking of tea, all I would suggest is to go to this shop opposite to clock tower in center town Kumbakonam.
You will get the best ginger tea all the time.
You can also enjoy coffee or flavoured milk, all of them are good here.
If you want to have some evening snacks before having tea, then above mentioned "ayya kadai" is the only place I would suggest.
You can have snacks and can come back to have tea here.
Read Related – Kumbakonam Is Famous for Not Just Temples (Check the cute pic)
Sum -Up
You could also try the famous sweet shop in Kumbakonam town named Murari sweets. Their famous ajmeet cake, dry jamun are must try sweets. Buy only from a shop near to Ramar temple, as there are many fake brands all over the town.
In general, Kumbakonam famous food items are usual south indian dishes apart from degree coffee.
Since we are not a foodie we did not attempt to eat in all the restaurants in Kumbakonam. Instead, we went and explored which was convenient for us and repeatedly went to same places for comfort.
Oh yeah, while you are there, try Kumbakonam famous degree coffee in any of the restaurants. Happy Sightseeing !!.