My Travel disappointment story in Dubare Elephant Camp Coorg (Elephant Bathing timings?)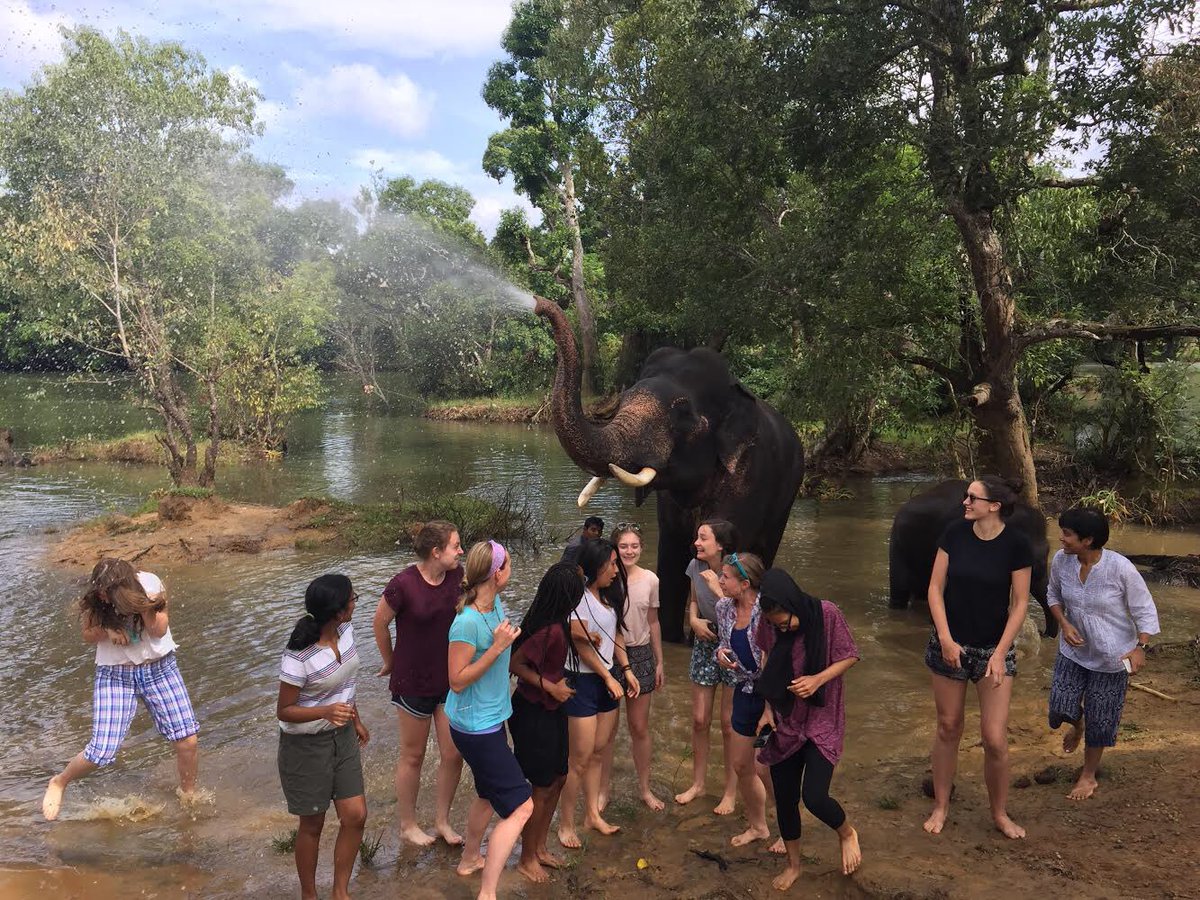 This is our story of travel disappointment in Dubare Elephant camp Coorg, 4 days of bike trip planned by my husband Rajesh to impress his Elephant loving wifey.
Have you ever traveled to a destination planned wholly based on the information mentioned in one of the travel websites, later realize that the information was not precise only after reaching that destination? Not only your travel plan is screwed, but the effort you need to put to cover the disappointment because your entire trip was weaved around that destination.
Well, read further to know how you can avoid the same mistake as we did. Also, find at the bottom of the article for other sightseeing places around Dubare.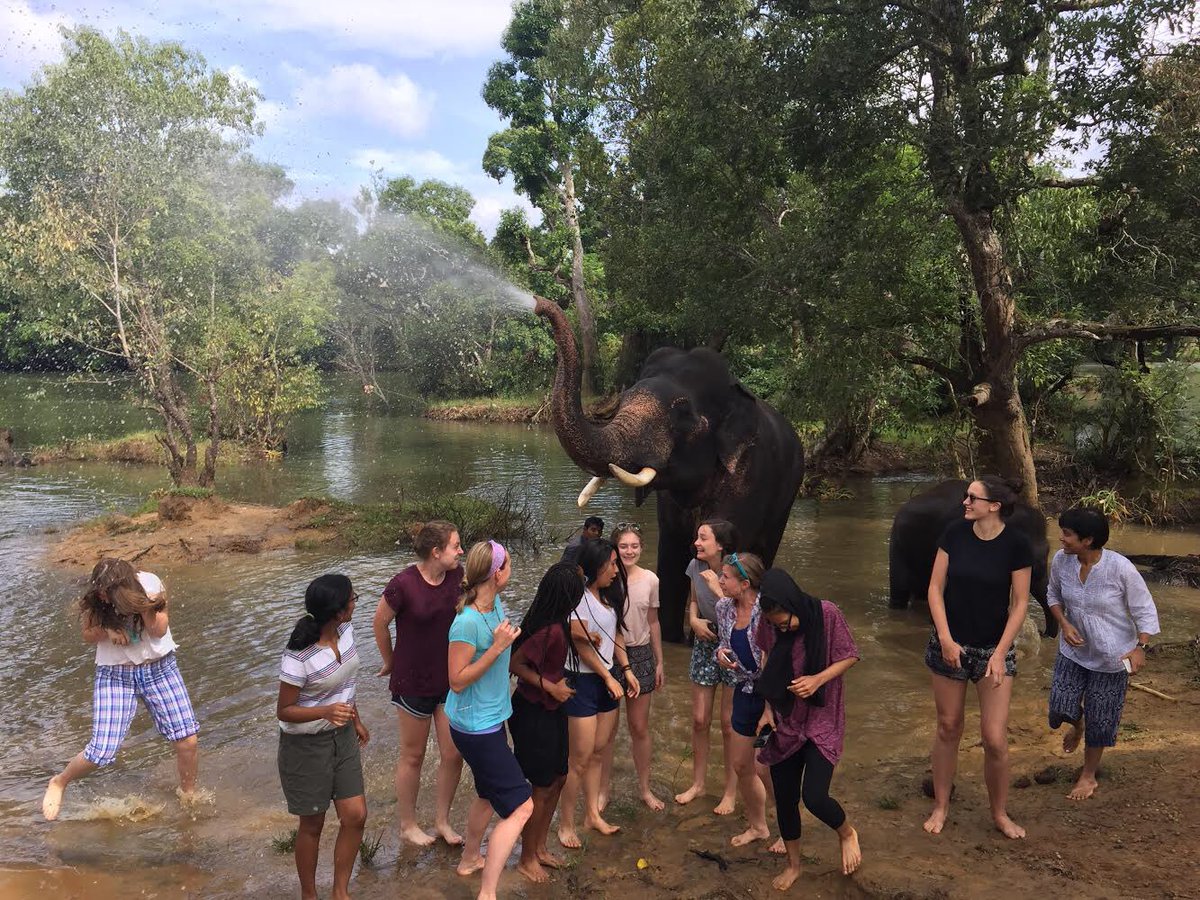 About Dubare Elephant Camp Coorg
For those who do not know anything about Dubare Elephant Camp Coorg, it is explained as follows.
It is a nature camp situated by Kaveri river bed about 100kms from Mysuru, run by Karnataka Forest department with the aim of providing tourists/visitors memorable wildlife experience. As Dubare forest is home to many wildlife animals and birds, you would not only connect with nature, but also a thrilling adventure to feed, touch, play and bath the elephants.
Cool isn't it?
Elephants are the main attraction here, as they are trained under naturalists (some are trained for Mysore Dussehra festival, now retired and used for the elephant safari in this camp), Jungle Lodges and Resorts have various activities involving elephants.
Basically, Dubare Elephant camp is for Elephant safari, Elepaht bathing and feeding, and Bird watching.
You could stay in the resorts in the dubare elephant camp or you could stay in Kushal Nagar or Madikeri or Coorg whichever suits your travel plan, budget and comfort.
Bike Ride to Dubare Elephant Camp
Since it was a 4 days trip, we chose to stay in Madikeri, so before reaching we decided to spend half daytime in Dubare, experience the unimaginable wildlife experience with the elephants.
I cannot even explain the happiness and expectation I had for this bike trip.
I, animal lover, Love watching Animal Planet and Sony BBC Earth over any other TV channels, especially watch Elephants at any given time. So, my beloved hubby planned 4 days bike trip from Bangalore to Coorg. On the way he had planned to take me to Elephant safari and Elephant bathing in Dubare Elephant camp. Because he knew I would travel any extent to at least touch the Elephants.
Here we are, around noon, started from Mysore, explored Nisargadhama temple before we reached the Dubare camp.
There were only very few vehicles in the parking area and to our happiness, we saw the passenger boat returning from the other side. Also we saw few adults and kids playing in the Kaveri river.
All signs are positive. So far.
We wondered where we would safe keep our bike saddle bags and a tank bag which has Laptop, SLR camera and other important stuffs. Looking around, saw a few commercial shops but doesn't seem to be a safe place to keep our valuables. Clearly, we had not thought in advance about securing our baggage.
Meanwhile, leaving me with my thoughts about safekeeping the luggage, my hubby went to inquire the boat ride timings and fee to the Dubare Elephant camp situated across the river.
Here Comes The Unexpected Disappointment
Rajesh was told that the ride to the camp is closed at 11 am itself, and we were asked to come by 4.30pm.
Waiting till 4.30pm was not a good idea as we knew from our past experience (to Yercaud) that it gets dark soon in the hill stations. Hiding the disappointment I hoped on the pillion to ride to Coorg. It took me some time to get back travel mood forgetting the dreams I developed from the minute I heard about my hubby's plans.
Had we checked and cross-checked in multiple websites and confirmed the entry timings to Dubare Elephant camp, we would have avoided the disappointment.
Well, some other time. We are bike riders, we could always plan next time.
Bye Bye Dubare Elephant camp.
We then had lunch, headed straight to Madikeri.
Apart from our disappointment, we absolutely enjoyed our smooth ride among the forests and hills. Thanks to google maps, we reached safely to Hotel Coorg International around evening.
Suggestions: Read this before you plan your trip to Dubare Elephant Camp
Well, here are some suggestions to the readers from my failed travel experience to Dubare Elephant camp Madikeri.
#1. Bangalore to Mysuru Bike trip
Day 1 (Bangalore to Mysore)
If you are going to travel from Mysore, then skip this section. For those who plan to travel to Dubare from Bangalore, continue reading.
Bangalore to Dubare camp distance is approx 260 km. As a beginners in long bike trip, we decided to split the kms to give enough time to rest. So we have decided to spend the night in Mysore (day-1) so that the next day we could reach before noon to Dubare (day-2).
And Remember, this was all Rajesh's planning. All I was told was that we would be going straight to Coorg on Day-2.
Also, there was no point reaching tired and exhausted to the elephant camp, So we spent night in Ginger hotel, had dinner and roamed around Mysore.
It was a clean city with regulated traffic, with so many places to see in Mysuru. We decided to visit them in near future.
Read – The Best cafe in Mysore – Malgudi Coffee House
#2. Dubare Elephant Camp Coorg timings
Day 2 (Mysuru to KaushalNagar )
Distance from Mysore to Dubare elephant camp Coorg is just 100kms, so on day-2, we first reached Namdroling Monastery at 10 am after having breakfast on the highway.
In Kaushalnagar where the temple is located, you could see the monks everywhere in red/maroon attire in the temple, in the local shops and some are even running the local businesses.
You also have good toilet facilities in the temple parking area.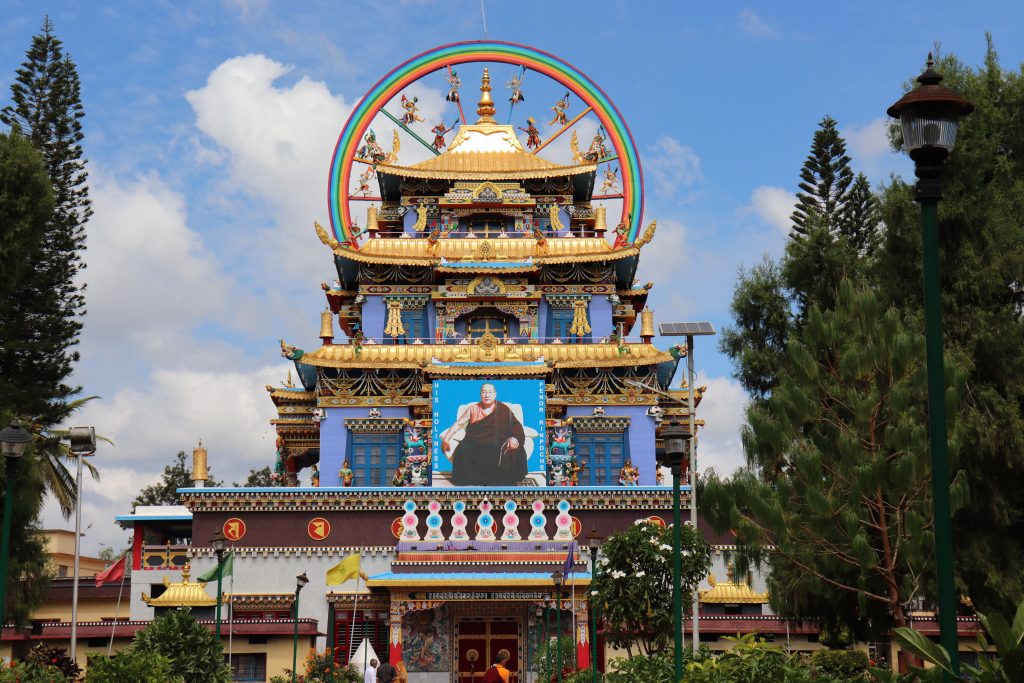 Day 2 (KaushalNagar to Dubare Elephant Camp Coorg)
Kushalnagar to Dubare elephant camp Coorg distance is the just 15kms ride. Once you reach the entrance to Kaveri River, find a place to park vehicles and cross the river by boat.
As per other travelers reviews, it is not advised to walk across the river as the rocks are very slippery, so we planned to cross the river by boat.
We reached Dubare around noon, to our disappointment the boat ride was closed by 11 am itself, so we just stood there in disbelief.
We then decided to come back the next day from Madikeri to dubare elephant camp with the distance of 36kms via kedakal.
Dubare Elephant Bath Timings
Dubare elephant camp Coorg timings are 9 to 11 in the morning and 4.30 to 6 pm in the evening. Even though camp is open for visitors from 4.30 pm to 6.30pm, elephant bathing is available only in the morning timings.
If you are travelling with a partner or with family, especially on weekends, plan such as way so you could reach Dubare before 9 am, so you can effortlessly secure a place for parking and less queue for a boat ride to the elephant camp and elephant bathing as well.
Although Dubare elephant camp day visit timing is 9 to 11 am, you can spend extra time with family or have lunch in the restaurants.
According to dubare elephant camp reviews, food is available for visitors inside jungle lodges restaurant.
#3. Dubare Elephant Camp Entry Fee
Once you reach the entrance, park your vehicle at Kaveri river bed, cross the river by shared boat taxi or walk across to reach the camp (caution: water level and slippery rocks).
For the family of 4, with 2 adults and 2 kids, you will be charged 300/- INR for boat ride alone. Once after you reach the camp, you will be allowed to feed the elephants (10/- INR per food bag) and bath the elephants (100/- INR per person) and ride the elephant safari (100/- INR per person).
It is to be noted that during weekends, there is always a long queue for elephant feeding and bathing.
Below is the Dubare elephant camp timing and entry fee for both locals and foreigners- but it contradicts the information I mentioned above.
We collected the information straight from the parking ticket collector – believing that to be true – it is safe to reach the spot by 8 am itself.
If you are bored waiting for boat, you could play in the kaveri river – it is open for visitors all the times.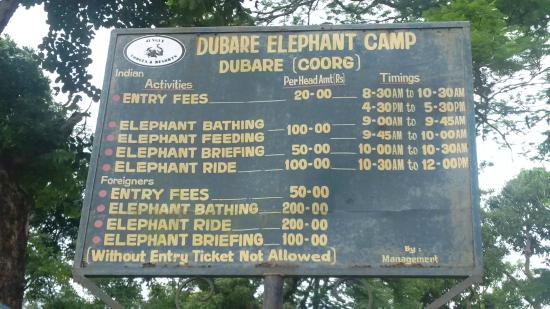 #4. Dubare Elephant Camp Jungle Lodges (where to stay and eat)
Dubare Elephant Camp is The Property of Jungle Lodges and Resorts Ltd, Govt. of Karnataka.
You could check their website here for more information on 2 days jungle resort stay and elephant fun activities.
As per online reviews, there is no more Jeep Jungle safari which you can confirm contacting them directly.
Otherwise, if you choose to stay outside of Dubare, you have plenty of options in Kushal Nagar and Coorg.
We chose to stay in Madikeri, in Hotel Coorg International, where we spent day-3 and had good time sightseeing Madikeri especially Raja's seat and trek to Abbey falls.
If we had to travel from Madikeri, and Coorg to dubare elephant camp distance is 37 km. But we made our mind to explore Coorg to make the 2nd half of journey worthful.
When in Kushalnagar, we had lunch in Fish curry rice restaurant, which I recommend to non-vegetarians.
Overall, 4 days bike ride was a memorable experience.
As soon as I visit Dubare Elephant camp again, I will come back and share the experience here again with pics.
And don't forget to leave a comment about your experience in Dubare Elephant camp.
Sightseeing in Coorg – List of Places
To Know how we spent our rest of the 4 days sightseeing in Coorg, Read here.
Other Places to see In and Around Dubare elephant Camp
Nisargadama Golden Temple (Namdroling Monastery) -Kaushal Nagar
Mysore – Famous Tourist destination – Mysore Zoo, Palace, Sri Chamundeswari hills, Brindavan garden, Tippu Sultan Fort etc.,
Visit Nagarhole National Park – Wildlife safari at 6am to 8am, so you need to be there earliest by 5.45 am for safari resgistration.
Srirangapatna – Sri ranganathar Temple.
Ranganathittu Bird Sanctuary
Talakadu – Origin of Talakaveri, Play in the river, Visit famous ancient temples being buried under sand
Somanathapura – Chennakesave temple – Ancient Hoysala Architecture under Archaeology department
Sum Up
If you are staying in Dubare Forest resort or Planing for one day trip to Dubare Elephant Camp – You need to make sure to be there before 8.30 am. Park Your vehicle, collect parking ticket (10/ – rupees for 2-wheelers), head to Kaveri river.
Pay 300/ -(For a family of 4) for Boat ride to cross the river, to reach the camp.
Once after you reach the camp, you will be allowed to feed the elephants (10/- INR per food bag) and bath the elephants (100/- INR per person) and ride the elephant safari (100/- INR per person).
Little extra money for the foreign individuals.
During Weekends it is best advised to be there at the entrance by 8.00am itself as there will be long queue for boat ride. Also you are not allowed to swim across the river, only bathing is allowed at this point.
Dubare Elephant Camp Timing
9am to 11 am – For Elephant safari, elephant bathing, elephant feeding and wildlife photography
4.30 pm to 6.30 pm – Only Elephant safari, wildlife photography
Please note all the details about Dubare elephant camp Coorg -entry fee, entry timing and activities, so you could plan your trip to Dubare accordingly.