Total 4 Routes: Best Route from Bangalore to Wayanad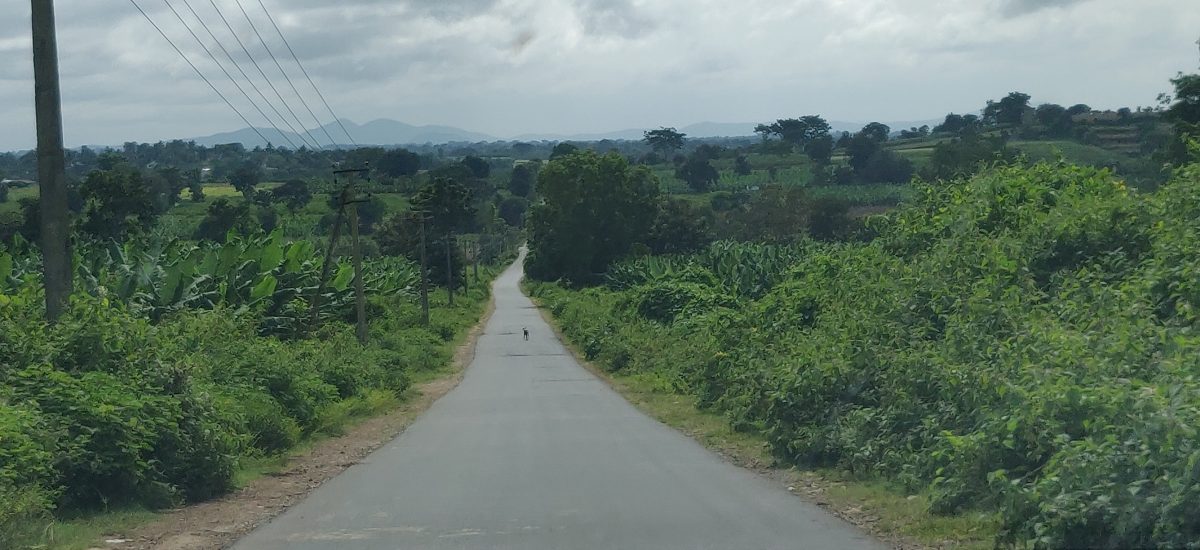 When you are planning on a Bangalore to Wayanad trip plan, you will be presented with 4 different routes. Which one is the best route from Bangalore to Wayanad?.
We went on a 3 days Bangalore to Wayanad Road trip, and stayed 2 nights in Jungle Retreat resorts on Thirunelli road.
When we started our onward trip, our journey didn't go as planned. We had to pivot from the plan to reach Wayanad. And we had to take entirely different route for the return journey.
So, I now know how to reach Wayanad from Bangalore.
Bangalore To Wayanad Trip Plan By Car
Whenever we plan a trip, it is always my responsibility for the itinerary and the baggage packing.
It is in my best interest to look for a best route with more good choices for pit stops.
So I take at-least a week's time to analyse the routes, gather info from the forums, etc., Finally it wouldn't take much time to plan the travel including pit stops and list out the travel essentials.
After the trip plan is designed, I would then discuss with hubby to take his opinion. Sometimes he agrees with the plan, sometimes he suggests alternative. At times he would add any additional sightseeing places along the way.
Now, all my research has gone for a toss as we faced an unexpected roadblock, and had to take an entirely new route to reach Wayanad.
So, from our experience I am suggesting the best route from Bangalore to Wayanad by road.
Even Though we stayed in Thirunelli, for the ease of reading I have mentioned the end destination as "Wayanad". Since your destination could be anywhere in Wayanad so feel free to change it accordingly in google map.
Best Route from Bangalore to Wayanad: 4 Routes with Same Distances
When you are presented with 4 different routes with same distances: then which is the best route from Bangalore to Wayanad. I have given both pros and cons for the most frequented route by travelers, to make an informed decision.
Bangalore to Wayanad via shravanabelagola – Srirangapatna – Bandhipur Tiger Reserve(320 km)
This route looks best for the people travelling from Peenya, Yeshwanthpur, Malleshwaram and other nearby places. And I suggest taking the Nice ring road (toll road) and connecting to the Mysore highways. 
Restaurant choices – Plenty of Veg and Non veg Choices on the NH until Karnataka Border.
Bangalore to Wayanad via Srirangapatna – Hunsur – Nagarhole national park – Kutta (253 km)
This route looks best for the people starting from Bangalore South zone, this was the route we took to reach Wayanad on our onward journey.
The drive was smooth in NH, except we were diverted from Nagarhole National Park because of heavy rains.
Nagarhole National park route was closed for both – travelers and the safari tourists. 
So we had to take the Gonikoppal route to reach Wayanad (route 3).
But thanks to the road diversion, we got to eat in one of the best restaurants in Gonikoppal.
Note: To avoid any time delay like how we faced at that time, you could call Nagerhole National park office to check for the entry and timings if any.
Note on Nagarhole Wildlife Safari
Although Nagarhole to Kutta route was closed for wildlife safari, Safari from Kutta to Naharhole was operative. And we were able to book tickets to safari from the resort we stayed at, and it was a seamless process instead of booking directly. If you are not booking through the resort / hotel you are staying, you need to be there 45 mins before safari time to stand in a queue for booking.
Restaurant choices – Limited after you cross Hunsur, and very limited going forward. We found a small restaurant called Safari Inn lodge in Kutta during our wildlife safari, otherwise we had no choice but to eat in our resort. 
Bangalore to Wayanad via Srirangapatna – Hunsur – Gonikoppal -Tholpetty – Tirunelli – Kattikulam (303 kms)
This is the next best route from Bangalore to Wayanad, with good restaurant choices and good roadways connecting the destination. We had a good time travelling via Gonikoppal, we absolutely loved driving through woods and hair pin bends.
We reached only around 8pm to the Jungle Retreat Resort in the Thirunelli road.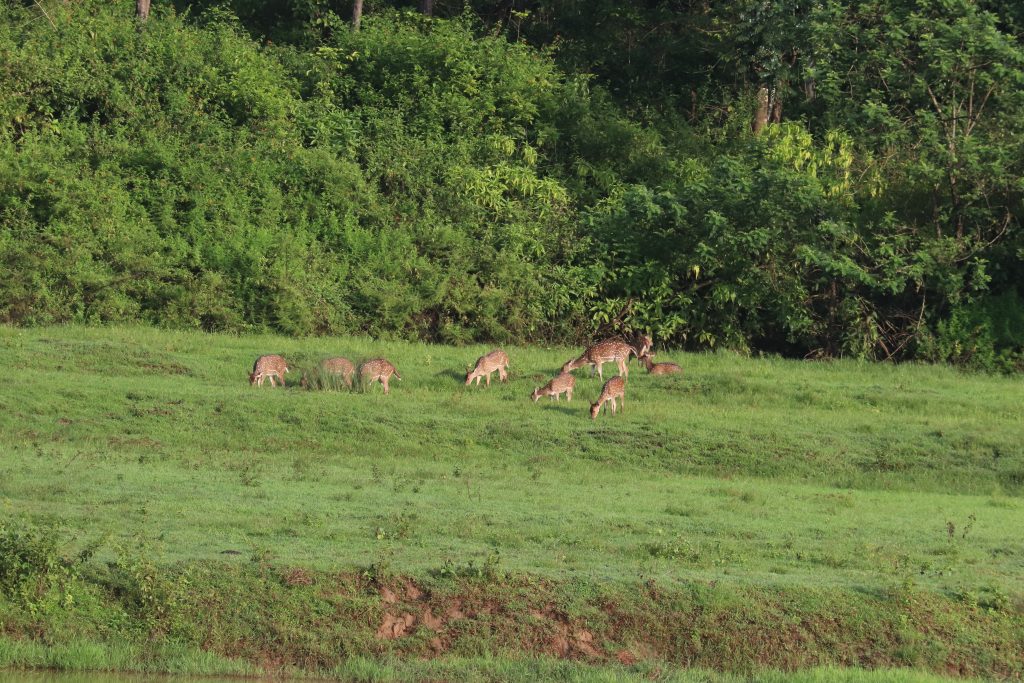 One of the main attractions in the Thirunelly is the Vishnu Temple on the hills and we were just 6kms ride away from the temple.
Next day morning we went to this temple on the account of celebrating our Wedding anniversary.
Read: How to reach Tirunelli Vishnu Temple, temple timings and dress code.
Also this is the best route to reach Coorg from Bangalore with Gonikoppal being the centre point for pit stop.
Read: 4 Days Road trip to Coorg from Bangalore by Bike.
Restaurant Choices – After Hunsur, Gonikoppal is the best place with good restaurant choices. Otherwise it's difficult to find any except for small tea shops.
Bangalore to Wayanad via Kanakapura – Malavalli – Somanathapura – Kabini -Bavali – Kattikulam (290 kms)
We discovered this route on our way back from Wayanad to Bangalore. Since route 2 doesn't always work, this is the best route from Bangalore to Wayanad I can strongly suggest.
This is also the only best route to reach Kabini river from Bangalore.
Kabini reservoir view at this location – https://g.page/Kabini-Resort?share
Which is The ONE Best Route to Reach Wayanad from Bangalore?
From the list of 4 routes mentioned, I found Route 4 is the best route for Bangalore to Wayanad trip plan with so many advantages –
1. Good roadways all the way connecting Wayanad
2. No restriction for drive through Nagarhole National park entrance
3. Enjoy Wildlife enroute
4. Awesome view of the Kabini river as far as your eyes could see (some resorts here with Kabini River view are pretty expensive).
Don't Break Forest Law – Otherwise Pay 500 rupees Penalty
Note that when you drive through Nagarhole national park, you have but 1hr to cross the exit gate.
If you delay more than 1 hr to reach the exit gate, that means you have stopped your vehicle in the middle of forest, which is against the forest law.
And you will be levied Rs. 500 fine for breaking the law. 
Also if any forest rangers found you wandering outside the vehicle anywhere in the forest route, you will be levied heavy penalties, just a heads up guys :).
No one would warn you about this at the entry gate. You can inquire about this time restriction at the entry gate when you purchase an entry ticket (Ticket with a time stamp, with fare 100 rupees for a car). 
Read – Is it Safe to Drive From Bangalore to Coorg by Bike?
Things to Note Before Plan Your Bangalore Wayanad Road Trip
Don't bother to take route 1 and route 2, directly go for route 4. It is the best route from Bangalore to Wayanad I could suggest. 
Mandatorily pack some food and snacks, or you could buy some when you are in Mysore. It helps when you are left with no good restaurants of your choice. This tip is actually helpful for travelling to any place you see. 
Carry a water kettle to make instant noodles, instant soup and instant coffee when you think your resort is charging you way too much for simple snacks and beverages. This is the best water kettle I have been using for ages and it works best for all kinds of travels. 
Carry back up power banks to charge your mobile phones for emergencies. This is one of the most essentials in our travel bags apart from toiletries, water bottles, kettle and protein packed snack bars. This is the best Bluetooth earphones under 2000 best suited for road trips.
Thanks to our car we were able to charge our phones, otherwise it would have been so difficult in those 3 days. Also it doesn't hurt to carry 3 or 4 different network sim cards, from our experience "Jio" saved us more than "Airtel". On the safer side it is better to share the resort's contact details to your family members for emergencies.
While you are in Tirunelly / Wayanad, you could take your kids to Tholpetty park as well apart from Nagarhole National Park safari ride. And Visit Thirunelli Vishnu Temple for spiritual experience.
Are you a regular road tripper?. Here are some interesting articles for you to explore from my Website. Feel free to explore more of our bike trip experiences
7 Good Qualities of A Bike Ride Partner (A guide to select a Travel Partner)
Renu's Solo Trip To Kumbakonam – How I roamed Kumbakonam for 5 days in a Rented Bike
How to Go Trip to Goa from Bangalore – Both by Air and Bus
This is How to Prepare for a Long Bike ride in India – Free Guide