This is guide for people looking to travel from Bangalore to Wayanad by road and guide on how to reach Thirunelli temple.
On September 14th 2019, We went on 3 days road trip from Bangalore to Wayanad to celebrate our 4th Wedding Anniversary. During our stay in Wayanad, We visited Thirunelli Mahavishnu temple on the hills, about 10 mins drive from our resort. Early morning pooja performed at 5.30 in this temple is said to be very special. Though we couldn't make it so early, we went around 10am and absolutely loved it.
So, this how to reach Thirunelli temple, a famous Maha Vishnu temple on the hills of Wayanad.
How to Reach Thirunelli Temple Wayanad
Thirunelli Vishnu temple in Wayanad, Kerala is situated 32 kms from Mananthavady. The Temple is situated in a beautiful valley surrounded by mountains and trees with good parking facilities.
Thirunelli temple lies in the valley of Bhramagiri Hills, the name is connected to Lord Brahma and the ancient history of this temple.
We traveled from Bangalore to Wayanad in mid of September by car to celebrate our 4th Wedding Anniversary. Thirunelly was our stay destination in Wayanad, we checked in at Jungle Retreat on our first day, and Visited Thirunelli Vishnu temple on the next day morning.
There are 3 routes if you are travelling from Bangalore to Wayanad with almost same distances.
Since there are 4 routes from Bangalore to Wayanad, If you want to know the best route on how to reach Thirunelli temple from Bangalore, read here.
Of all the routes, If you are planning to take Nagarhole reserve forest route, call up their office to confirm the entry for visitors to save any unplanned deviation.
There are hardly few shops selling refreshments, pooja items and some ayurvedic products.
Driving your own vehicle – Once you reach the temple, park your vehicle from the ample parking area, walk about 200 meters to reach the temple. There is no vehicle parking fee, nor any shoes counter fee.
Taking Bus or Auto or Taxi– You could take it from Kutta, the nearest public transport with bus and taxi facilities connecting Wayanad, including services to Nagarhole National park.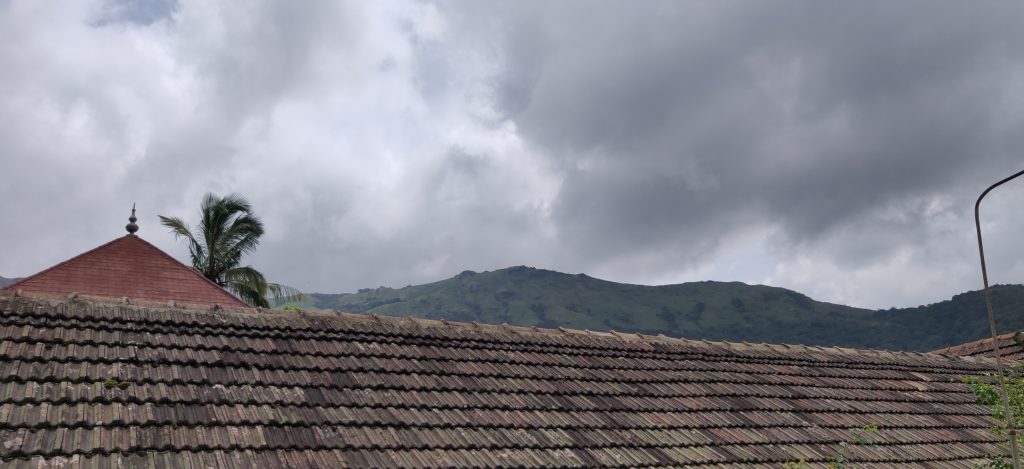 How We Planned Our Wayanad Road trip
During our 3 stays in Tirunelly Kerala, we came to know that the restaurant choices are very limited. We found a good restaurant in Kutta while we were on the way to Nagarhole Jungle safari,  called Safari Inn , an accommodation serving with veg and non – veg food choices. Both Food and price were satisfactory.
This was our travel itinerary –
Day 1 – Travel from Bangalore to Wayanad
Day 2 – Tirunelli Vishnu Temple and Nagarhole jungle safari
Day 3 – Travel From Wayanad to Bangalore
Another suggestion I have for restaurant while you are travelling via Gonikoppal, is Spice Rack Restaurant, click here for the location and review.
Wayanad to Bangalore distance is 250 to 300 kms depends on the location you start.
Definitely you would need 2 days for up and down travel to Tirunelly, visit temple, do jungle safari and return back to your home. You could plan one day trip if you are travelling from Coorg or Mysore or any other nearby places in Kerala district.
We skipped Thirunelli wildlife sanctuary since we had plan to go Nagarhole wildlife jungle safari.
Our Experience in the Famous Maha Vishnu Temple Wayanad
This was our very first trip to Wayanad and to the ancient MahaVishnu temple, unlike our frequent visits to Thirukovilur Vishnu Temple (TamilNadu near Tiruvannamalai).
First thing you notice here is the calm and serene location of the temple located in a valley surrounded by trees and mountains.
Second, despite all the crowd, you could only hear the noise of the surrounding nature, definitely a rare sight in a very famous temple I say. That's how we listened to the Papanasini river nearby, otherwise we had no clue of its popularity and historic significance, since we didn't do much research about this temple beforehand. 
When it is normal in pilgrimage places to get surrounded by the aggressive beggars before you even set foot inside the temple, worst even when you are pulled between the street vendors, this temple was offering a tranquil experience.
Third, People were offering prayers in silence, moving in disciplined pace inside the temple maintaining silence. Some were praying by lighting up the temple's embossed brass lamp of different sizes kept exclusively for the purpose. Hundreds of the lamps are kept for devotees as personal belongings are not allowed inside except for the pooja items.
Fourth, since it was maintained by a private trust, there was no unholy behavior of priests and administration are witnessed. Temple surroundings are including the parking area are beautifully maintained, even the stairs and the path leading to the holy river are maintained well.
Fifth, Small Sivalingas about 10 to 15 cms are found in the couple of places inside the temple, around the main sanctum which I believe is connected to the temple history.
Thirunelli Temple – How to Pray, Dress Code and Temple Timing
Before you know how to reach Thirunelli temple, I think it is essential to plan the trip according to the Thirunelli temple open timing and the temple procedures.
Before Entering Tirunelly Vishnu temple – Know this:

After parking the vehicle, we went straight to the temple to pray. But, ideally you will be carrying a change clothes after taking a dip in the nearby holy River called "Papanasini". Then pray to the Sacred pond called Panchatheertham, a rock carved with miniature sivalinga with footprint of Lord Vishnu. There is a change room near this pond, but not sure of the tidiness. There are no restrictions if you want to enter the temple wearing wet clothes straight from the river.
Thirunelli Vishnu temple is open

from  5.30 am to 12.30 and 5.30 to 8.00 pm. Early morning pooja is very special here, and many devotees visit this temple to perform respect to their forefathers. 
If you are planning to attend the early morning pooja, it is better to book the Thirunelli agraharam resort at the foot of this temple stairs.
To know more about the temple, pooja timings and the contact number – visit this website http://thirunellitemple.org/index.php.
Thirunelly Vishnu Temple dress code

for ladies is to wear decent attire of sarees or salwars, and for gents, only dhoti is allowed with no shirt.
To know about the ancient history, check this website.
The name "Papanasini", a holy river name of this Thirunelli temple reminded us of the similar experience we had in our recent trip to Papanasam, another famous tourist location near Kerala border. Even there is similarity in the name you see. And it was also a beautiful temple location amidst hills, with Thamirabarani river and Agasthiyar Waterfalls to crown the place.
Here in Thirunelli temple, we did not visit the Lord Shiva temple / cave near to the Vishnu temple due to lack of time. We left temple as soon as clicking pics in river and panchatheertham.
Then after chilling out for some time in Kutta, had lunch and went for jungle safari by 3pm.
Returing To Bangalore From Wayanad – Via Kabini River
Next day, we checked out of the resort and returned back to Bangalore.
We took the following route to return back to Bangalore.
Wayanad (resort) – Tholpatty – Bavali wild life forest road – Mysuru – Bangalore
This route is one of the best scenic route suited for a peaceful drive.
You could use the same route to reach Thirunelly Vishnu temple, that is Bangalore – Mysuru – Bavali wildlife road – Tholpatty road. Somewhere in the tholpatty road it is approx. 13 kms journey to the temple. Less traffic and no bumpy roads to reach the destination.
On the way back, we stopped in Mysore for a long break. We had lunch in one of the non veg restaurants called Nandhini. Then had evening coffee at Malgudi cafe house situated inside the green hotel.
(Malgudi cafe house in Mysore is the best for coffee, dessert and sandwiches).
This is guide for someone on how to reach Thirunelly Vishnu temple from Bangalore by road via Mysuru and Nagarhole. Hope it helps to plan your journey.