Art of Living In Bangalore Ashram (How to Visit in detail)
If you are looking for details about visiting and/or enrolling to Art of Living in Bangalore ashram, this article has detailed answers.
About Art of Living In Bangalore Ashram
Sri Sri Ravishankar Ashram in Bangalore is the headquarters of Art of Living Foundation located in more than 156 countries. The interested individuals can learn the "Art of Living" programs (scroll down to know more details) under the certified professionals all over the world, or can learn the Art of Living in Bangalore ashram directly.
It is an international center open for all the national and international participants with the in-house accommodation with food for the entire duration.
AOL Bangalore ashram is open for the visitors to explore, learn, meditate and spend time on all days.
(Note: Art of Living Ashram, Bangalore Ashram, Sri Sri Ravishankar Ashram, Art of Living International Center are all the same).
We always travel past the Sri Sri Ravishankar ashram in Bangalore on all our bike trips via Kanakapura road, but never have set foot inside. Today we decided to give a try as we trying to go past this ashram while coming after coffee from rasta cafe. Anyways we have half a day left to end the weekend.
This is the guide for someone looking to just visit or learn the courses of Art of Living In Bangalore Ashram – International Centre, Kanakapura Road.
AOL Bangalore Ashram – Location
Bangalore ashram – the International Centre is located in Kanakapura road, closer to Bannerghatta road and Banashankari.
Use this map location for navigation – https://goo.gl/maps/gUnQurDUB6oXmeX1A.
The Art of Living International Centre
21st Km Kanakapura Road
Bangalore-560082
Tel: +91-80-28427060
A guide to Art of Living- Entrance Fee, Parking, Help Desk and Bus tour
Paid parking facilities are available adjacent to the main gate
First of all, you need to know that AOL ashram is always crowded. And it is super crowded on the weekends and during festive seasons.
Also, no vehicles are allowed beyond the entry desk at the security
Park your vehicles, walk to the help desk for any assistance
Free entry for the visitors at all times, but prior online booking is a must for attending any events. Any kind of current bookings are not allowed
Bus tours are available at 11 to 12 and 2 to 3 pm everyday
There is a coffee shop available next to the help desk for a quick refreshmentAlso there is organic vegetable shop here
Also there is organic vegetable shop here
Note: If you are a AOL program participant you will be registering at the security gate with a valid id and an entry coupon. If you are a AOL course participant – national or international, you will be arriving one day before for the Art of Living in Bangalore ashram, for check-in and accommodation.
Vishalakshi Mandap inside Art of Living Banglore Ashram
The main attraction of Ravishankar Ashram International centre Bangalore is the weekend satsang and yoga courses on time to time basis. It is open for all the local and international participants. All the major events and evening satsang takes place in this huge thousand petal lotus mandap located about 1 mile walk from the main gate.
How to Spend a day at Sri Sri Ravishankar Ashram in Bangalore
You can walk straight to this Vishalakshi Mandap or take time to explore all other area before reaching here. Here is the list of other places you could explore in Art of Living ashram Bangalore.
Opposite to the help desk, a place called Nakshatra vanam. A bunch of trees planted corresponding to zodiac signs and the planets. A peaceful place to hangout or for a walk.
From the main gate, located in 200m is Guru Paduka Vanam / sumeru mandap. This is huge area can accommodate vast gatherings on special occasions like Navarathri Pooja, Sri Sri Ravishankar's birthday celebration etc. A nice place to hangout with the view of ducks in the water pond in the centre.
Cafe Vishala and Children Play area – Try out some of the freshly baked breads with coffee here. You will also get good healthy satvik food for reasonable prices. We had cinnamon bread and coffee while we were there. Children play area is located right next to the cafe and also don't miss out the organic garden view from the cafe.
Shop for adulteration free organic products and groceries in Sattva stores.
Shop in Madhurya – for all the handcrafted products, pooja items, wall hangings, cotton weaves etc.,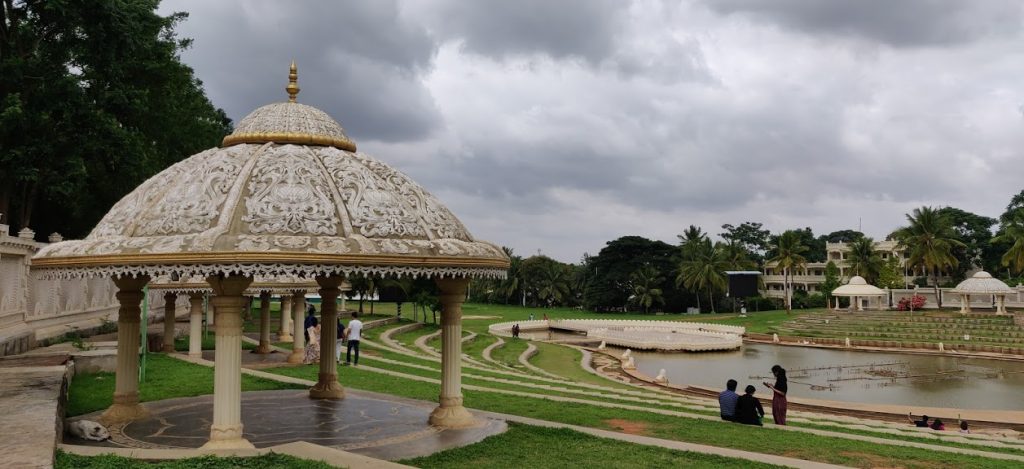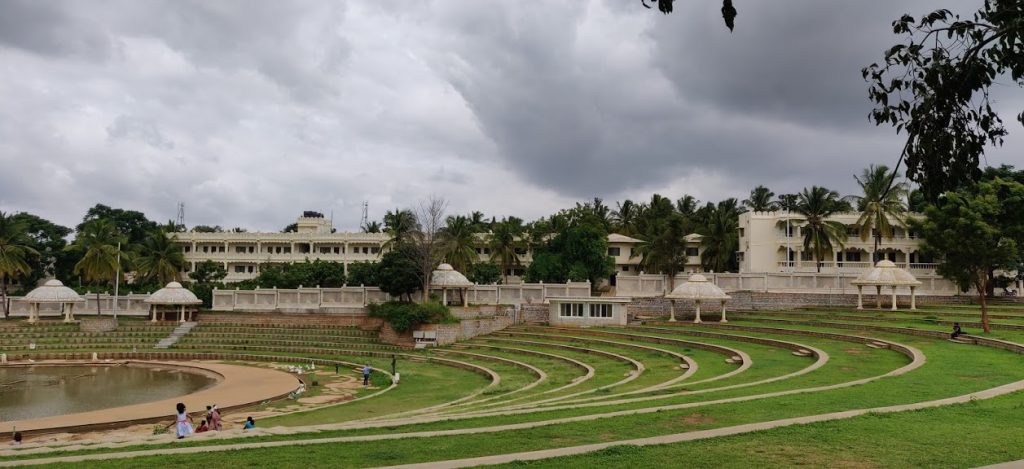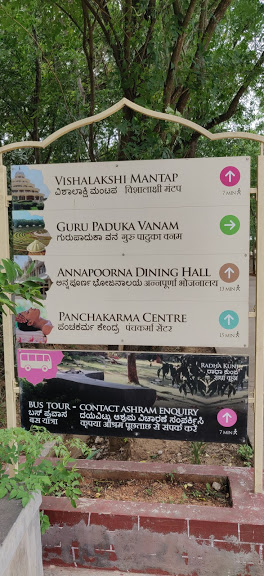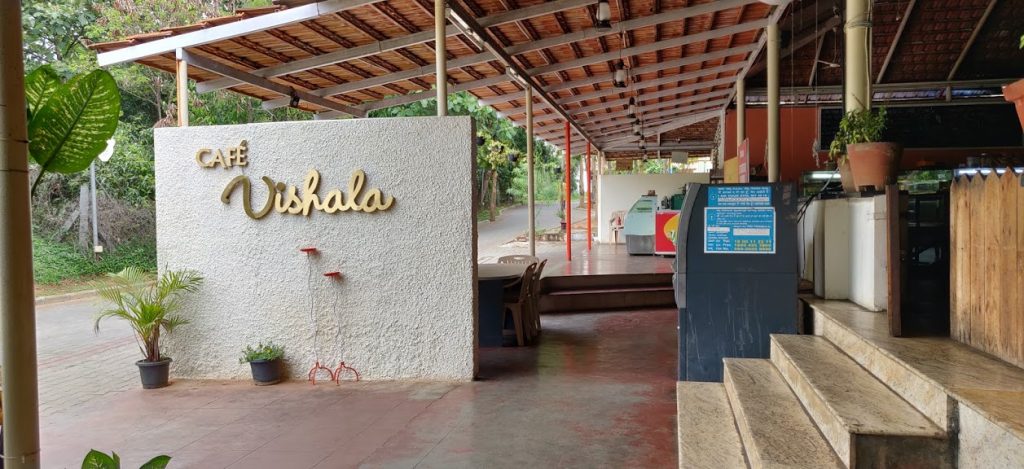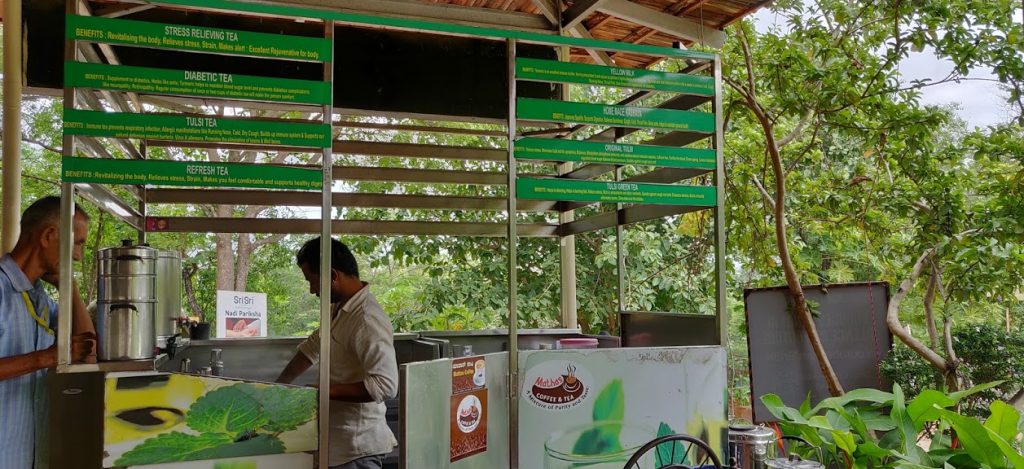 How to Participate in the "Art of Living" program
There are lots of programs designed for the wellness of children and adults of all ages. If you are interested to attend any of the programs, you need to register first in the following link, then book the available seats.
Visit for the Ravishankar ashram courses – https://programs.org.in/ekam/index.php/public/
Take a look at the following screenshot to understand the requirements.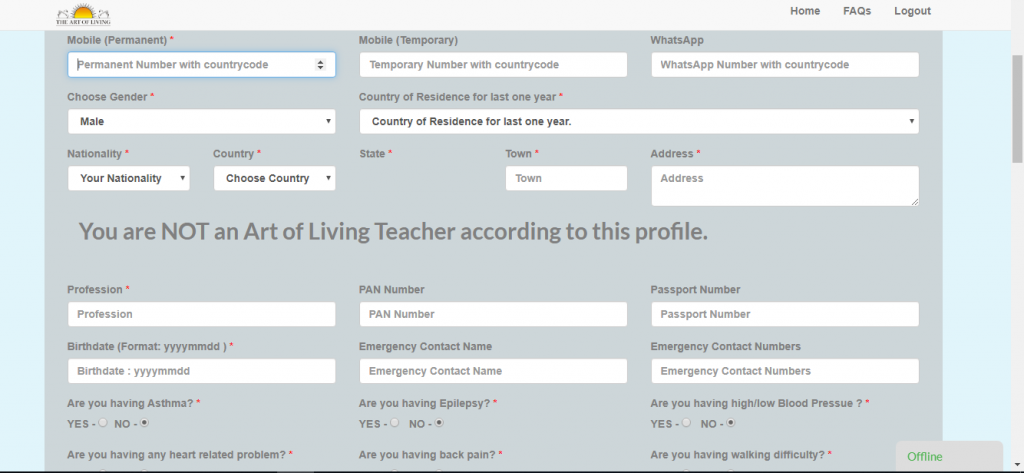 If you want to know more about the courses in detail, visit this website https://bangaloreashram.org/
Also, for the national and international guests, there are good accommodation facilities with laundry services.
Walk Walk Walk
We walked about 3 kms in those 2 hrs spent looking only for the places mentioned above. For that reason, next time we are planning to take a guided bus tour to look at all the places. Because there are many places need to be explored. Like panchakarma ayurvedic centre, goshala, yagyashala with lake view, pathshala, guest accommodation facilities etc., And Sri ma annapoorna hall where more than 20000 meals served in a day. The best time to visit the bangalore ashram is around 1.30pm, take the guided tour by 2 to 3 pm, take a break at the cafe for some time before you attend an evening program in the lotus mandap.
If you want to know more about learning the Art of Living in Bangalore ashram, visit their Bangalore ashram website – https://bangaloreashram.org/
Hope you have got all the questions answere with respect to visiting the ashram and enrolling the courses.