Madurai From Bangalore by Bike: Copy My Trip Plan To Roam Around Madurai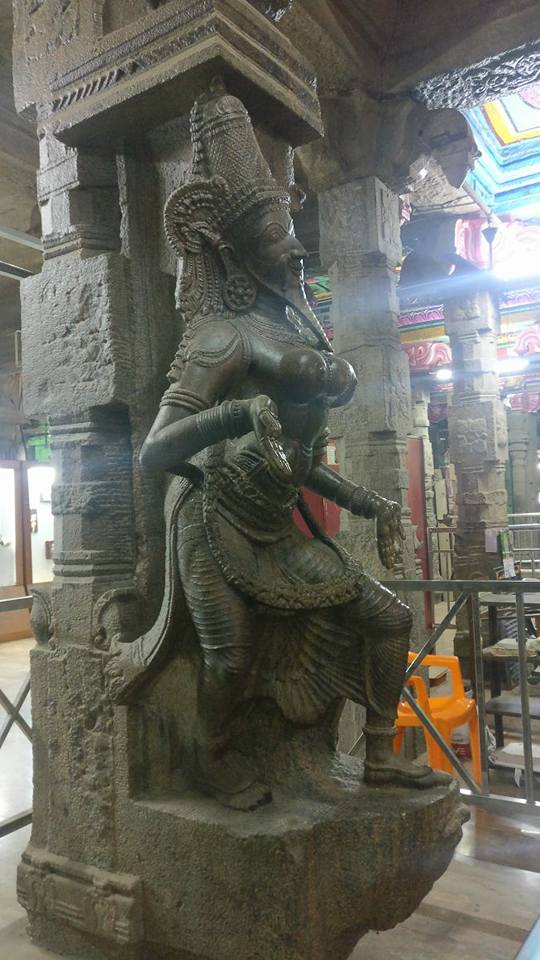 We have been to Madurai a couple of times, and each time we had new activities planned to roam Madurai. One time we roamed all popular Hindu temples by Bike (rented) in our train trip to Madurai from Bangalore. The other time we went by Car to Madurai during our 5 days road trip to Tirunellveli and Papanasam, when we did nothing but shopping there. Of course, we did darshan the great Meenakshi temple.
Madurai From Bangalore – How We traveled
Since the year 2017, we were popular among friends for non-stop bike travel from Bangalore on almost all weekends.
But as ardent travellers, we didn't restrict ourselves to just one mode of travel.
Our favourite train trips are to Hampi, Belur, Tiruvallur, Kanchipuram, Tiruttani, Mumbai, and Madurai.
And most memorable air trips are to Delhi (Agra and Nainital), Cochin and Goa. 
We did not take many bus trips, except for a few times to Kerala and Goa.
First trip to Madurai From Bangalore
Our first trip to Madurai from Bangalore was quite unique – that is, we arrived at our destination by train and rented a bike to roam the city for 3 full days. 
We got inspired from our 3 days trip to Kumbakonam by train in the same year, where we rented a bike to roam the temple for 3 full days.
For three continuous days, that is 21st, 22nd, 23rd of July 2017, we roamed all the ancient temples in Madurai.
All the 3 days, we did not have any issues roaming the city by bike as an outsider. We had a good choice of restaurants all over the city and enjoyed all vegetarian south indian meals in our entire trip.
Road trip to Madurai
On our recent 5 days road trip to Tirunelveli and Papanasam, we stayed in Madurai for just a day, and did not visit any temples except the great Meenakshi temple. But roamed around the city by car, hung out around big temple lake, enjoyed Madurai's famous Jigarthanda, and had awesome non vegetarian meals in Kari kanji restaurant. It is a must try restaurant for all kinds of non-vegetarian dishes. Click on the name to get the google map link.
Well, there aren't many places to see in Madurai if you are not a temple architecture lover. So you can couple your trip plan with other famous places like Tirunelveli and Papanasam, or even kanyakumari.
Restaurant suggestion in Highways
Be it bike trip or road trip, the best Veg restaurant in Bangalore – Salem highways is Shri Krishna Inn. Its our all time favorite and this is where you could see hundreds of bikers hangout in the weekends. For more restaurant suggestions – you can find here.
Copy My Plan to Madurai
Of all the trips we went to Madurai from bangalore, not even once did we have issues on travel or stay or food.
The best place to spend your vacation, but only if you could couple it with other places. Because, many tourists including foreigners visit this majestic Madurai city for just one main reason – to darshan Madurai Meenakshi temple.
And, you could easily cover this place in just one day, including Thirumalai Nayak Mahal – another must see place in Madurai.
So what could you do to spice up your travel?
Go One Day Trip to Kodaikanal Hills:
Madurai and Kodaikanal are two like twins – inseparable in any trip plan. People who plan to go to Kodaikanal always make plans to visit Meenakshi temple and vice versa.
You could stay in Madurai and make a one day trip to Kodaikanal or just choose to stay in Kodaikanal for an extended period of your vacation. Kodaikanal is the best romantic place to visit near Madurai and makes it a place for best family vacation too. There are many options for kids to enjoy like cycling and boating – a complete package for family.
Madurai to Kodaikanal Distance – 116 kms
Go Long Drive From Madurai to Kanyakumari:
If you have been to Kodaikanal already, you could plan a long road trip to Kanyakumari. You could plan a direct trip from Bangalore to Kanyakumari, making Madurai as one of the pit stops. Or plan a drive from Madurai city.
Madurai to Kanyakumari distance – 245 kms
Bangalore to Kanyakumari distance – 665 kms
Woah, guess it is a practical idea to plan a long drive from Madurai instead of Bangalore.
Things to do In Kanyakumari – Kanyakumari beach, Tiruvalluvar statue, Visit Bhagavathy and Suchindram temple.
Places to Visit between Madurai and Kanyakumari
Tirunelvelli – Yet another popular city known for two things: Nellaiyappar temple (Lord Shiva temple) and for Wheat halwa (iruttu kadai halwa). Distance from Madurai to Tirunelveli – 163 kms
Papanasam – A very famous tourist spot in Tirunelveli district, popular for waterfalls (agasthiyar falls), and nearby manimuthar dam. We personally loved this place for never ending greenery and mountain view drive. (Read – Places to Visit in Papanasam in One day with distances)
Courtallam – Not any intro is required for this place. Popular among tourists for its Courtallam falls and lord shiva temple at the foot hills.
Visit to Madurai is incomplete without visiting these 3 popular places.
If you like to visit temples enroute madurai to Kodaikanal, you could then go to Thenkasi for a majestic Lord Shiva temple, situated 5.5. Kms from Courtallam. And you could also go to yet another historically important 3 temples called 'Srivilliputhur andal temple', 'Sankaran kovil' and 'Tiruchendur'.
First two temples are close by, whereas Tiruchendur Lord Subramanya temple is situated at entirely different route.
I mean it is not practically possible to cover all the above places in just one day. That's why we went on a 5 days road trip to Tirunelveli, and took time leisurely to see all the above mentioned places. 
On the way back to Bangalore from Tirunelveli, we stayed at Madurai for a day and roamed the city.
If you are planning to Visit Kanyakumari from Madurai, you could go straight to the destination. Or if you prefer, stay in Tirunelveli for a day or two, to explore all the above mentioned places. It is definitely worth your time, especially Papanasam.
Go Long Drive From Madurai to Rameswaram:
Another best option to add tourist places to your trip to Madurai from Bangalore, you could go Rameshwaram.
In jan 2017, we went to Rameshwaram for 3 days by bus and we coupled the trip with Tirunelveli. We stayed in Rameswaram mainly to visit Ramanathaswamy temple to pay respect to my father on 'mahalaya amavasya day'. We didn't go to any other places in Rameshwaram. And we cherish the time we travelled on the pamban bridge – one of a kind experience.
Madurai to Rameswaram distance – 173 kms
Tirunelveli to Rameswaram distance – 226 kms
This is how we plan our travel – compare the distances from different places to the end destination, then decide which plan is best.
It is as simple as that.
Sum – Up
So, practically we know clearly about all the tourist places in and around Madurai.
Well, if none of the above places interests you, and if you are looking for particularly temple trips in Madurai, then copy my Madurai temples list.
Click on the link below.
The list of ancient temples in Madurai city alone. 
There is no need to book any tour packages, because you know you will not be given any special access to darshan.
You could just follow the google maps, plan to visit temples between 6 am to 11.30 am and between 5pm to 8.30 pm. You could rest in the afternoon or find a nice restaurant to chill the day.