Places to Visit in Papanasam with Distances (Rivers, Waterfalls, Dams and Temples)
If you are looking for places to visit in Papanasam, surprisingly there are so many picnic spots you could go to. Papanasam is a small village located 60 kms from Tirunelveli city, falls under Ambasamudram taluk.
Papanasam is a must visit place once in your life time because it is a house for waterfalls, rivers, dams, green fields and historical temples. And all the goodnesses surrounded by hills and forests is a sight to sore eyes.
(Note: there is another place called "Papanasam" near Kumbakonam, also a famous place in Tamilnadu, mostly for temples).
Places to Visit in Papanasam with Distances
Here is a quick look at the sightseeing places to visit in and around Papanasam, Tirunelveli district:
In Papanasam – Ancient LordShiva temple at the foot of Agasthiyar Falls
Papanasam to Manimuthar (waterfalls and dam) – 14 kms
Papanasam to Manjolai (Tea estates) – 65 kms (via Manimutharu)
Papanasam to Courtallam – 34 kms
Papanasam to Tirumalai kovil, Panpoli – 50 kms (via Ilanji and Tenkasi)
Papanasam to Ilanji Kumarar Temple – 37 kms
Papanasam to Tenkasi Ancient Ulagamman and Kasi Vishwanathar temple- 34 kms
Tenkasi to Courtallam – 5.5 kms
Papanasam to Tirunelveli – 60 kms
I know it is not practically possible to look at all places in Papanasam, here are some popular places to visit in Papanasam in one or two days.
Take a dip in Agasthiyar Waterfalls and Visit Papanasanathar Sivan Temple
This famous Hindu temple is located at the foot of Agasthiyar Forest and Waterfalls at the distance of 2.7kms.
All the vehicles are allowed up to the foothill of waterfalls. There is toilet and dress change facilities near the parking.
No entry fee to enter the forest but a nominal fee for the waterfalls entry. No special fee for cameras.
Forest and waterfalls entry is restricted after 5 PM.
The famous Lord Siva temple is called as Papanasanathar or Mukkalanathar, lingam in the main sanctum is believed to be one of the 9 planetary deities – Lord Suriya.
This temple is one of the nava kailasam temples on the banks of Thamirabarani river and thus famously called Suriyan temple.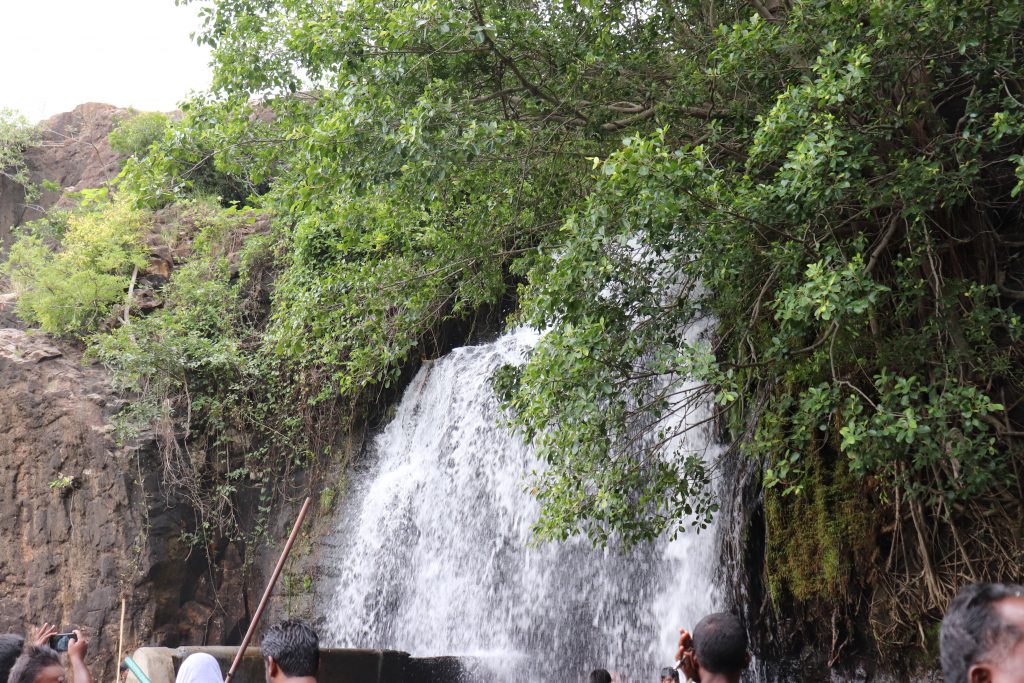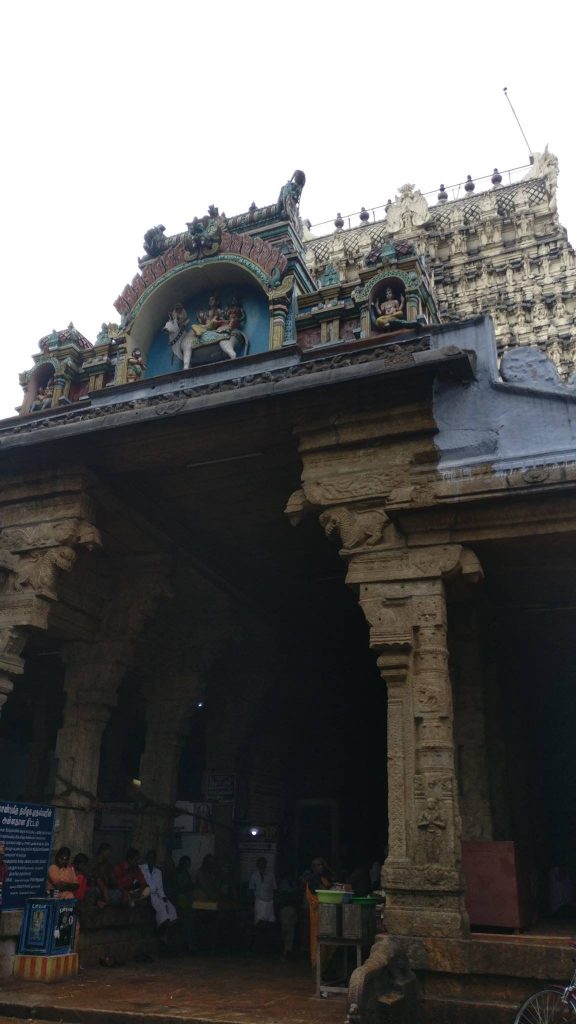 Read Related – Places to Visit in Tirunelveli In One day
Places to Visit near Papanasam – Courtallam Main falls, Courtallam Five falls and Tenkasi
Courtallam ranks top in the places to visit in Papanasam Tirunelveli.
Not much intro is required for this famous place in Tirunelveli district, the locals call it as Kuttalam, otherwise called Courtallam, is house for many rivers and waterfalls.
Since the Nickname "Spa of South India".
Distance from Papanasam to Courtallam is 34 kms.
This place is said to be the origin of rivers namely – Chittar river, Manimuthar river, Pachaiyar river, Thamirabarani river.
Most people visit Courtallam mainly for taking a dip in the main falls and pray to lord Siva.
You have toilet and dress change facilities here near the car parking area.
You could also visit courtallam five falls – Series of 5 small river cascades above a shallow pond, with separate bathing areas for men & women.
June to September are the best months to visit courtallam, later the entry is closed to waterfalls due to heavy rain and floods.
The famous Lord Kutralanathar temple (Lord Siva) is located at the foot of the main falls – Peraruvi.
This temple is one of the Pancha Sabhai Sthalangal, refer to the places where Lord Nataraja performed his cosmic dance.
Read Related – The Only Reason We Chose Tirunelveli For Our 5 Days Road Trip from Bangalore
Tenkasi is just 5.5 kms From Courtallam- house for one of the biggest temples in Tamilnadu
Tenkasi is the 34th district in Tamilnadu since 2019. This small town is built around the very famous, majestic dravidian style of architecture – Kasi Vishwanathar Ulagamman temple.
It is firmly believed that worshipping lord Siva in this temple would bring in as much benefits to the devotees as praying in Kasi – Varanasi.
This temple is notably famous for the swayambhu murti of Lord Siva, 180 feet artistic – majestic gopuram and exquisite beauty of the temple sculptures are world known.
Related – The Night Bike ride of 200kms: Bangalore to Tiruvannamalai Temple
Places to Visit Near Papanasam – Manimuthar Dam and Waterfalls
Another important places to visit in Papanasam is Manimuthar dam and waterfalls, about 14 kms from Papanasam.
If you are travelling from Tirunelveli to visit Papanasam, spend some time in Manimuthar dam before heading towards Papanasam.
Situated above 6kms from Manimuthar dam is Manimuthar waterfalls and river, with the entry fee of 25 rupees per person. Camera fees extra.
Read – A moment of glory in Kanchipuram – Athi Varadar Perumal Raise Once in 40 yrs – We did Darshan on 21 July 2019
Places to visit Near Papanasam – Manjolai
If you are travelling from Tirunelveli, Manjolai is another tourist place to stop before heading to Manimuthar and Papanasam.
Located on top of the Manimuthar dam is Manjolai, about 23 kms from Manimuthar and about 63 km from Tirunelveli, is famous for tea plantations -Manjolai Estate, Manimutharu Estate & Oothu Estate.
Famous Temples in and around Papanasam with distances
Papanasanathar Sivan Temple, Papanasam
Kutralanathar Sivan Temple, Courtallam, 34 kms
Kasi Viswanathar Temple, Tenkasi, 34 kms
Shri Ilanji Kumarar Koil – Ilanji ,37 kms
Tirumala Koil -Panpoli, 50 kms
Thooranamalai Sri Murugan Koil – Perumpattu, 25 kms
Sri Nithya Kalyani Amman Temple, Kilakadayam, 19 kms
Ponmalai Murugan Temple, Pulavanoor, 20 kms
Summary
Here is how you can plan one day trip from Tirunelveli to Papanasam –
Tirunelveli – Manjolai – Manimuthar dam (skip waterfalls) – Agasthiyar falls – Papanasam Sivan temple.
(or)
Tirunelveli – Papanasam – Courtallam.
See how we spent time in Papanasam and Tirunelveli in our recent 5 days road trip from Bangalore.
If you have a plan to stay in Courtallam then you can plan for Courtallam waterfalls and trekking, visit to all other places mentioned above.