Places to Visit in Tirunelveli In One Day
We have been to Tirunelveli twice so far, including the recent road trip for 5 days from Bangalore. Tirunelveli, capital city of Tirunelveli District, a beautiful city adorned with the Thamirabarani river. Here listed are the places to visit in Tirunelveli in one day from our travel experiences.
Whether you are planning on a luxury trip with family or a holy trip, this guide will be of help to explore the tourist places in tirunelveli district.
Places to Visit in Tirunelveli In One day
There are not many places to visit inside the Tirunelveli City, except for the ancient Nellaiappar temple. The best tourist place in Tirunelveli district to spend time with family and friends, and to have fun are Manimuthar, Papanasam and Courtallam. 
Sightseeing places to see in Tirunelveli districts are given below in detail.
This list is a combination of tourist places like waterfalls and dams, and famous Hindu temples.
The main tourist attraction in Tirunelveli is the ancient Nellaiappar temple, a famous Lord Siva temple. This temple is one of the pancha sabhai sthalam, a must visit temple for its majestic build on a 14 acres land, with the unusual large mandap for goddess parvati. 
It will take a minimum of an hour to cover the entire temple, even more time on important occasions.
Must see / specialties inside this majestic temple:
The big ornamental mandap for Goddess Parvathi
Thamirachabai (Copper) mandap of Lord Natarajar
Lord Ranganatha near to the main sactum of the Lord Siva
Beautiful view of temple pond next to Goddess Parvathi mandap
Kubera Lingam
The temple Elephant
Note: You can find Iruttu Kadai halwa shop just opposite this temple's main entrance. A small shop, open only in the evening for 2 hrs, popular for its renowned wheat halwa since 1900's. You can only buy a maximum of 2kgs of halwa per person. 
Another historical places in Tirunelveli district is Tiruchendur. With the distance of 53 km towards east of Tirunelveli, Tiruchendur is famous for Lord Murugan (Subhramanya swamy) temple. Devotees take a dip in the beach before going inside the temple. You could also travel to Kanyakumari for beach and sunrise view, since this post is about places to visit in Tirunelveli, I am suggesting Tiruchendur.
Manimuthar Dam and Waterfalls, Manjolai Hills, Kalakad Tiger reserve
With the distance of 46 kms towards west of Tirunelveli, Manimuthar dam and forest waterfalls are one of the must see places in Tirunelveli district. 
You would need one whole day only to see these 3 places – Manimuthar dams and waterfalls, Majolai estate and Kalakad tiger reserve.
Here are the pics from our drive from Tirunelveli to Manimuthar dam.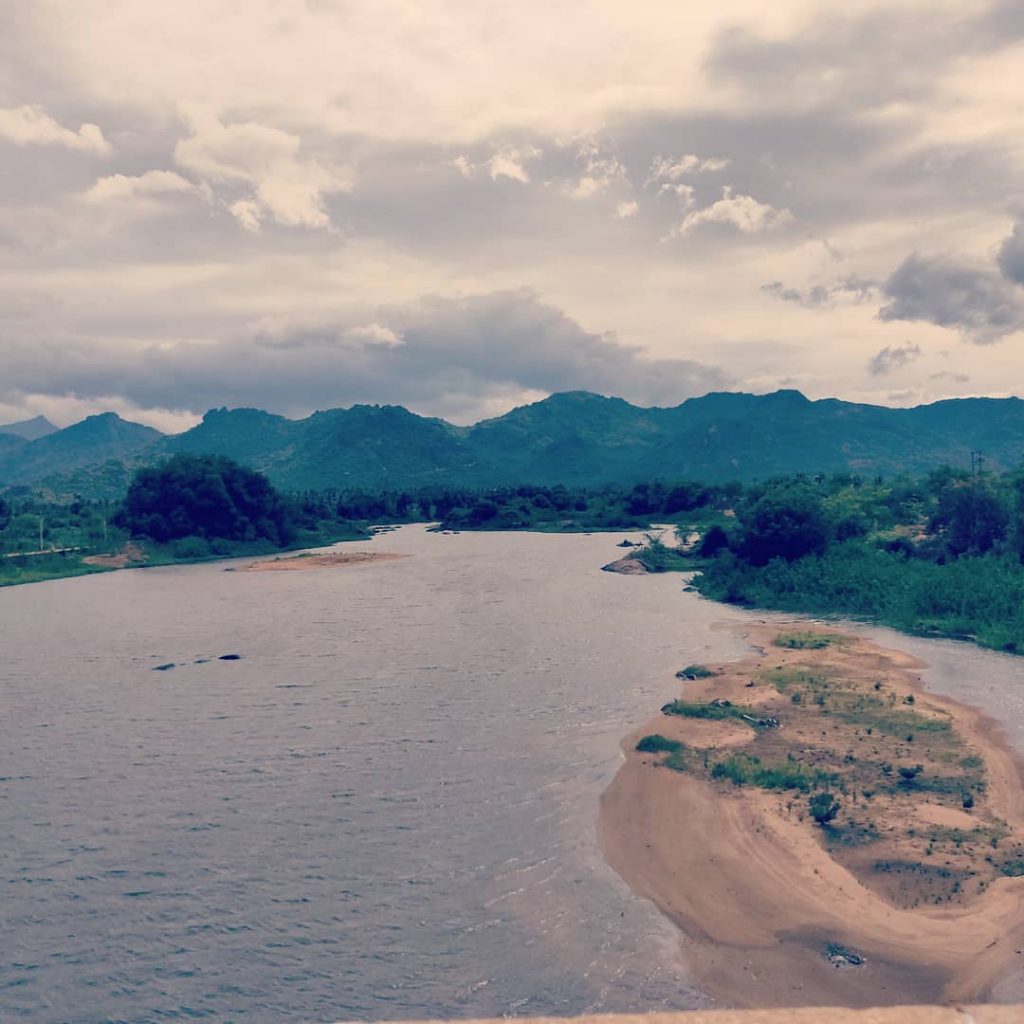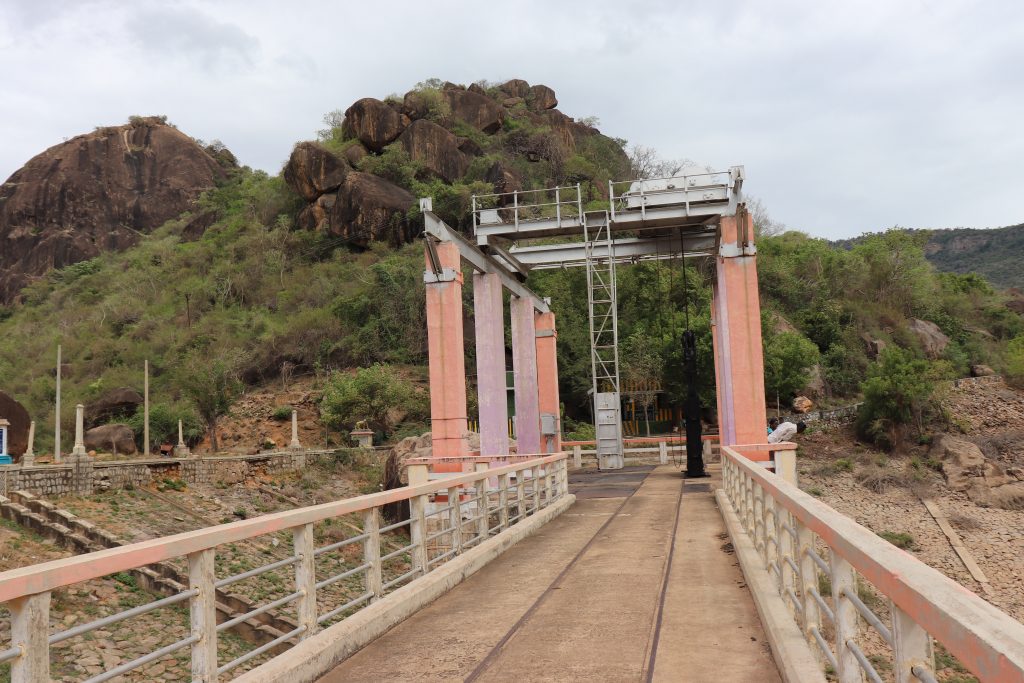 Papanasam Agasthiyar falls
Papanasam is located 60 kms west of Tirunelveli, famous for Agastiyar falls and Lord shiva temple. Agastiyar falls is just 20 mins drive uphill from Lord Shiva temple, a beautiful small waterfalls with a scenic view.
There is no entry fee at the forest check point, but only at the waterfalls checkpoint. Agasthiyar Waterfalls is open for visitors from 9am to 5pm only.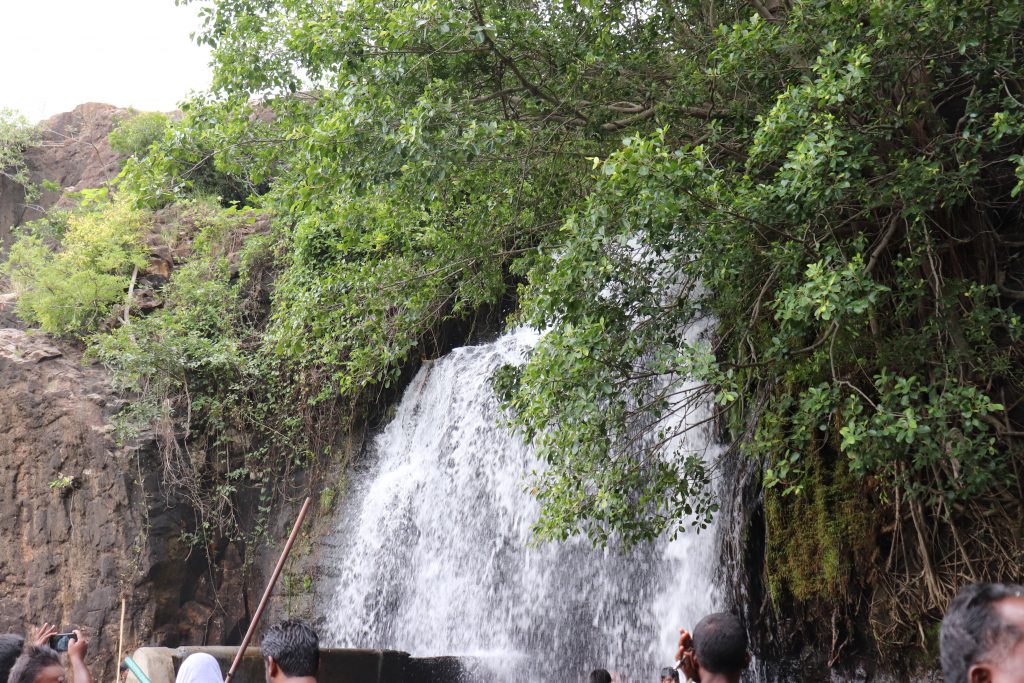 Courtallam Falls and Thenkasi
About 35 kms from Papnasam and about 75 kms from Tirunelveli Via Alwarkurichi road, Courtallam is yet another famous tourist destination in Tirunelveli district.
Usually the tourists take a dip in the holy waterfalls before going to the nearby Kutralanathar temple, a Lord Shiva temple.
Drive 6kms from Courtallam falls to reach Thenkasi, is famous for the Ulagamman temple, one of the temples with the largest Gopurams in Tamilnadu.
Sankaran Kovil
Sankarankovil, situated at 56 km away from Tirunelveli City. It was built by Ukkira Pandiyan AC 900. It houses the deity by the name Sankara Narayanan, which is half – Lord Shiva and the other half – Lord Vishnu. (Source – Wikipedia)
You could also visit Srivilliputhur Andal temple, one of the famous 108 divya desam temples, located 45 kms from this Sankaran Kovil. 
These are the top places to visit in Tirunelveli in one day, if you are planning for more than one day, you could combine with Madurai and Kanyakumari.
Where we ate – Restaurants in Tirunelveli
Best Veg Restaurants in Tirunelveli
Well, I have only 2 suggestions if you are looking for vegetarian places to eat in Tirunelveli.
For vegetarian food choices, we went to Hotel Aarya's where we had all our breakfast during our stay in Tirunelveli. The best part is we just had to cross the road from the hotel where we stayed, and they were open until 11am with both alacote and buffet service. There were limited food choices for breakfast but variety of choices for dinner, including chinese.
Another good restaurant in Tirunelveli is Annapoorna Hotel and Sweets, with variety of organic food menus for tiffin and snacks. We liked their service and cleanliness. Food prices compared to Aarya's was lesser but the quality was no lesser than them. Also a good place for evening snacks, tea, coffee and juices. You could even get Madurai famous jigarthanda and arabic grape puply juice.
We had snacks and tea here when we traveled to Papnasam, you can find the restaurant link below.
https://maps.app.goo.gl/z28FYBtrCchThWRT9
Read – Places to visit in Papanasam with Distances (Rivers, Waterfalls, Dams and Temples in Papanasam)
Those two are my top choices if you are roaming the tirunelveli city for one day. Feel free to comment below if you have any suggestions.
Best Non Veg Restaurants in Tirunelveli
The only restaurant we have ever been in both our trip was – Hotel Vairamaligai. It is one of the good non-veg restaurants in Tirunelveli with maximum number of reviews in google. We had dinner once here, food quality and quantity was good. We also loved their fast services. Even the parking area was huge given their location in the middle of the hot city. What we didn't like here was the ambiance and very noisy atmosphere. Otherwise it is worth the try.
Where We Stayed in Tirunelveli
Of the 5 days road trip from Bangalore, we have stayed 3 days in Tirunelveli. We stayed in MNH Hotels, a decent stay with all the amenities in the main city. Also we were happy to get the good deal for the price way below our budget. Even though MNH hotels had inhouse restaurant with both veg and non-veg food choices, even room-services, but we preferred eating outside.
Sum- Up
Tirunelveli is well connected by roads, railways and air connecting the nearest cities. There are not many interesting places to visit in Tirunelveli in one day, so I have listed all the other famous places in Tirunelveli district. If you want to spice up your travel, you could extend your stay in Kanyakumari or Madurai, another interesting travel destinations to look around.
Note – Only in the recent times we started travelling places by Car. Otherwise we are hardcore bike riders, love to ride bike to far places.
The highest distance we traveled was 450 km from Bangalore to Kumbakonam in one day.
In the year end of 2017 and 2018, we took off from work only to ride bike for 11 days and 12 days respectively. Apart from those long bike rides, we have also been on numerous one day and two day bike trips to many places from Bangalore.