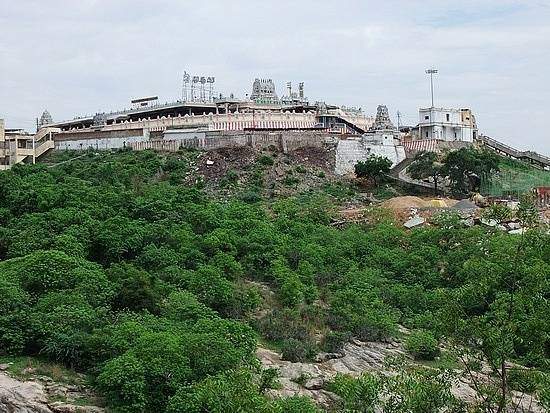 Tiruttani temple is one of the famous tourist temples in Tamil Nadu. You will find a detailed info on sightseeing tiruttani nearby temples here from our recent one day trip from Bangalore to Tiruttani.
Instead of usual bike trips, for a change, we have decided to go on a one day trip from Bangalore by train to Tiruttani.
Image credit – Justdial.
How to Explore Tiruttani Nearby temples
For those who do not know us, we are ardent Bike riders. Feel free to explore all our bike ride trips within Karnataka and other states (yep :)) in the categories section.
We decided to go on a one day trip from Bangalore by Train after a successful trip by train trip to Tiruvallur (near Chennai).

After considering our peaceful train journey to Tiruvallur, I looked for a similar experience on this trip as well.
A famous place known for one of the Six abodes of Lord Murugan, otherwise also famously called Thiruthani Murugan Temple. A famous tourist place, well connected by road and railways and even hotels for the long distance travelers.
So, we decided on Tiruttani.
Today, 4th of February 2017, we boarded an early morning train from Bangalore central KSR railway station to Arakkonam junction, to see Tiruttani and nearby temples.
From Arakkonam Junction we hired an auto to reach Tiruttani Murugan temple located 15 kms north.
Expecting a long que on this auspicious day – Karthigai Star, the birth star of Lord Murugan, we didn't waste any time before reaching the temple.
After a long que and a wonderful darshan Arulmigu Subramanya Swamy at Tiruttani temple, we returned back to Arakkonam for lunch.

I didn't bother to look for Tiruttani temple darshan timings as I knew it would be open till night since it was an auspicious day.

Except on auspicious days, the temple remains closed for lunch and after 9pm.

Meantime, the auto driver made a deal with us that he will show around Tiruttani and Arakkonam for 2000 rupees till late evening.

We liked the deal, and decided to explore the Tiruttani nearby temples as there were no other interesting choices planned for rest of the afternoon.
Read Related – From Bangalore to Kanchipuram Road trip or Train trip?

Roaming Around Tiruttani nearby Temples in One Day
Following a happy darshan after waiting in long que, we have decided to explore other nearby temples in tiruttani.
Here is the list of Tiruttani nearby temples. You can click on the temple names to get google map location.
All are famous, padal petra sthalams of Lord Shiva temples.
There are many famous tiruttani surrounding temples.
While we were in Thiruvalangadu, we missed visiting the yet another famous, padal petra shiva sthalam, called Sri Tazuvikuzandheswarar Temple situated just 3kms away.
Thanks to the auto driver from the local area, he took us to the above temples situated in different directions (the last two temples are situated a little closer).
He dropped us back at Arakkonam around 9 pm.
After having dinner in a nearby restaurant, we then boarded the 10.20 pm Kaveri Express train to return to Bangalore.
Hope this will help all those seeking a trip to Tiruttani nearby temples.
Read Related – Two Day Trip From Bangalore to Vellore and Kanchipuram (Best 2 Day Trip by Car)
Read Related – Bangalore to Kanchipuram Road trip (On Diwali 2020)
Planning one day road trip from Bangalore?
Here are some interesting destinations from Our travel History –
Melukote (beautiful view on the hill),
Talakkad (temples and beach),
Shivanasamudra waterfalls – For twin waterfalls
Belur – Halebidu (Popular destination in Karnataka for Hoysala Architectures),
Nandhi Hills (beautiful spot for trekking and watch sunset),
Lepakshi (for hanging pillars and majestic sculpture on a single rock),
Hampi (for World UNESCO heritage site) and
Mysore (for monuments and palaces).