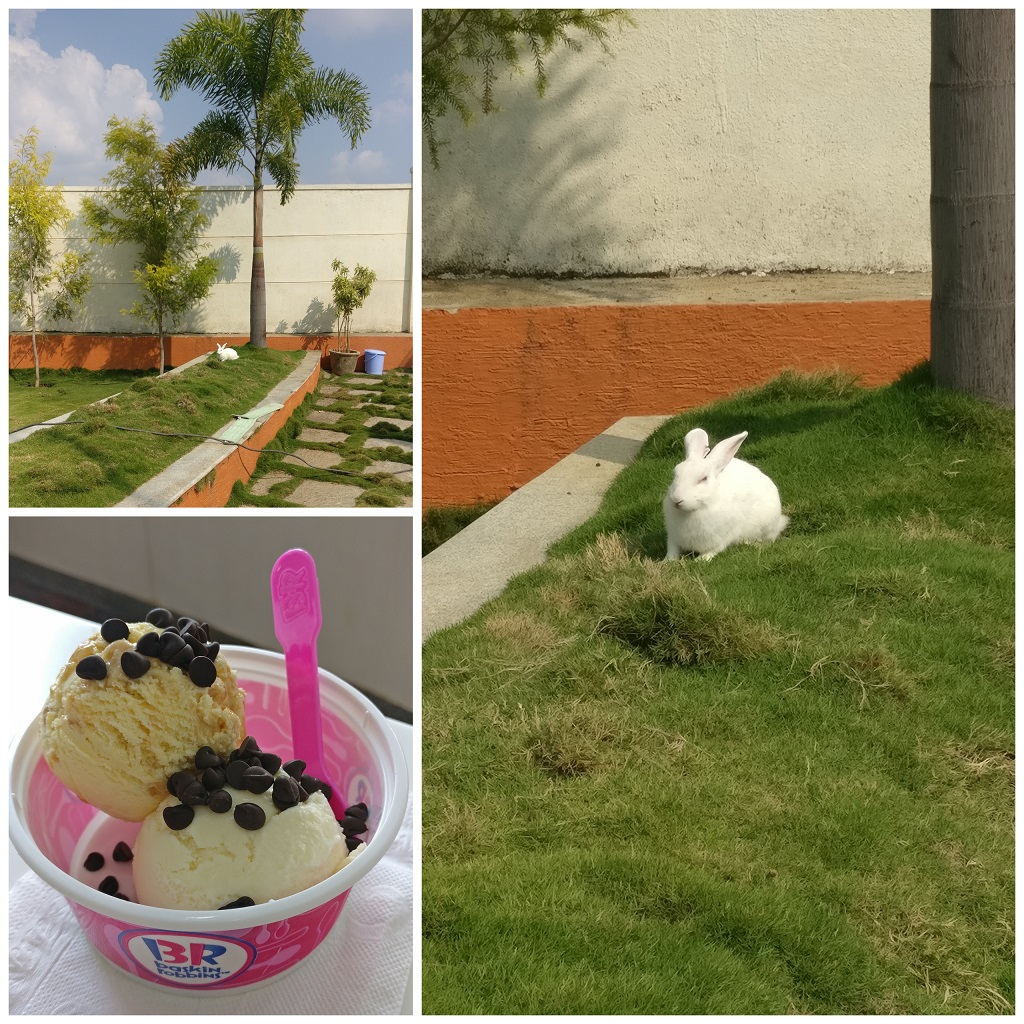 If you are planning on One day trip from Bangalore to Kolar – this is the comprehensive guide on travel, food and sightseeing places in Kolar.
(At the bottom is the FAQ section which answers all the your travel queries related to Kolar trip)
Here is the reason why Kolar travel is one of the best one day trip from Bangalore within 100 kms.
One Day trip From Bangalore to Kolar (Distance and Places to Visit)
Kolar (a state in Karnataka) is famous for its Gold Mines also called Kolar Gold Fields (KGF) and are also a perfect destination for one day temple trips and for an adventurous road trip.
Kolar is situated in Bangalore -Tirupati highways, a little before Mulbagal. The Bangalore to Kolar distance is just 85 km from my home (the distance may vary a little from your start location in Bangalore).
So, Kolar is always in our favorite list on weekend getaways from Bangalore.
Famous Places to Visit in Kolar
In our frequent travels from one day trip from Bangalore to Kolar, we have been to the list of famous places –
Kolaramma Temple,
Kotilingeshwara Temple (in detail below)
Someshwara Temple,
Chikka Tirupathi and
AntaraGange.
Myself and hubby experienced Kolar for the first time when we went on a temple trip by bike in the year 2016.
Later we have visited Kotilingeswara temple twice with our family in the next year. Since then we have been frequent travelers from Bangalore to Kolar by bike.
Any place less than 100 km (total 200kms both ways) we are good to go for one day trip by bike.
We have had so many adventures since 2016, which you can check under "categories" section.
All were pleasant experiences.
Kotilingeshwara Temple – Famous sightseeing in Kolar
Kotilingeshwara is more of a tourist destination than a spiritual place in Kolar. The name denotes – one crore Lord Shivalinga.
It is also the place for the world's biggest Shivalinga statue standing 108 feet tall and 35 feet Nandhi idol. You can get more info on the history of the temple here.
We went twice to Kotilingeswara temple. Since it was a family trip, we hired private cab to Kolar, it cost us 3000/- for each round trip.
Kotilingeshwara temple timings: Entry to the temple is limited to 9 am to 4 pm, exit is closed by 6pm.
You can find lots of shops selling clay lamps, agarbathis, kids toys etc.,
Kotilingeshwara Temple Guidance : Entry fee and Pooja Procedure
Park your vehicle, pay parking fee
Leave your shoes in the counter, collect a receipt
Buy flowers or lamps before entering the temple, as per your wish.
Pay entry fee 20/- INR per head, little less for children.
Enter the temple, explore the lakhs of lingas on your way to the biggest shiva linga, also you could find other hindu god and goddess idols.
Spend time taking pics – taking pics allowed here
You could also have lunch in a big hall inside the temple
Darshan other idols (Lord Vishnu is special here).
Exit the temple, collect your shoes with the token, come back to home
Highway Star – The Best place to eat in Kolar highways
In one of our recent one day trip from Bangalore to Kolar, we found "Highway Star" using google maps.
We were searching for food joints like McDonald's or Domino's in Kolar highways.
On that of travel we had late breakfast in Bangalore before we started to Kolar, so we were looking for some quick bite in the late afternoon.
It's a rare combination that we get to relax in good ambiance when we are out to travel. I could write 100 articles on how many times we had pathetic food in our travel experiences.
Thankfully, we found the best place to eat in Kolar highways.
We have located Highway star in between Kolar and Mulbagal in the Tirupati Highways, situated in vast area with huge vehicle parking space.
We were happy because we found many restaurant choices in one place with a classy ambiance for recreation.
It has all the facilities that any travelers could ask for. It has restroom and shower facilities with wheelchair access, Car wash and repair, Kids play area with rabbits and love birds.
Highway Star is not only the perfect recreation center for travelers, but also for families and college kids to hangout in the weekend.
We enjoyed eating Veg Manchurian with fried rice and Malay veg noodles from a Chinese restaurant.
Also we had french fries and cola from McDonald's.
The List of Restaurant names in Highway Star, Kolar
Fujian Express – For Chinese food
McDonald's
Domino's Pizza
Maaya's Restaurant -pure veg
Nagas Restaurant -Andhra style veg and non-veg
Juice Junction – all kinds of juices and smoothies
Baskin Robbins -for ice creams
Other restaurants in Kolar Highways are (just opposite to this complex)
Vasudev Adigas veg restaurant – just opposite to Highway Star
Cafe coffee day – near to Vasudev adigas.
So next time when you are travelling to Kolar, you know where to stop for food and relaxation.
Activities You Can Do In Kolar
Of all the places we have been, Antaragange in Kolar was one of the most adventurous as we climbed 100+ steps to worship Lord Siva on the hill. Climate in Kolar was not too hot even in the beginning of summer, February.
Because you can do all the following activities in Kolar in One Day:
Go long bike ride /car ride from Bangalore to Kolar gold fields
Visit the famous Kotilingeswara Temple, marvel at one of the world's tallest SivaLinga Statue
Go Hiking in Antaragange Hills, take a dip in temple pond
Go to ancient temples – Kolaramma temple, Someshwara Temple and Chikka Tirupati
Eat Chinese food / Fast food in many food joints in Highway Star located in Bangalore – Tirupati highways
Spend time looking at the rabbits and love birds eating icecream near the kids play area in Kolar Highway Star.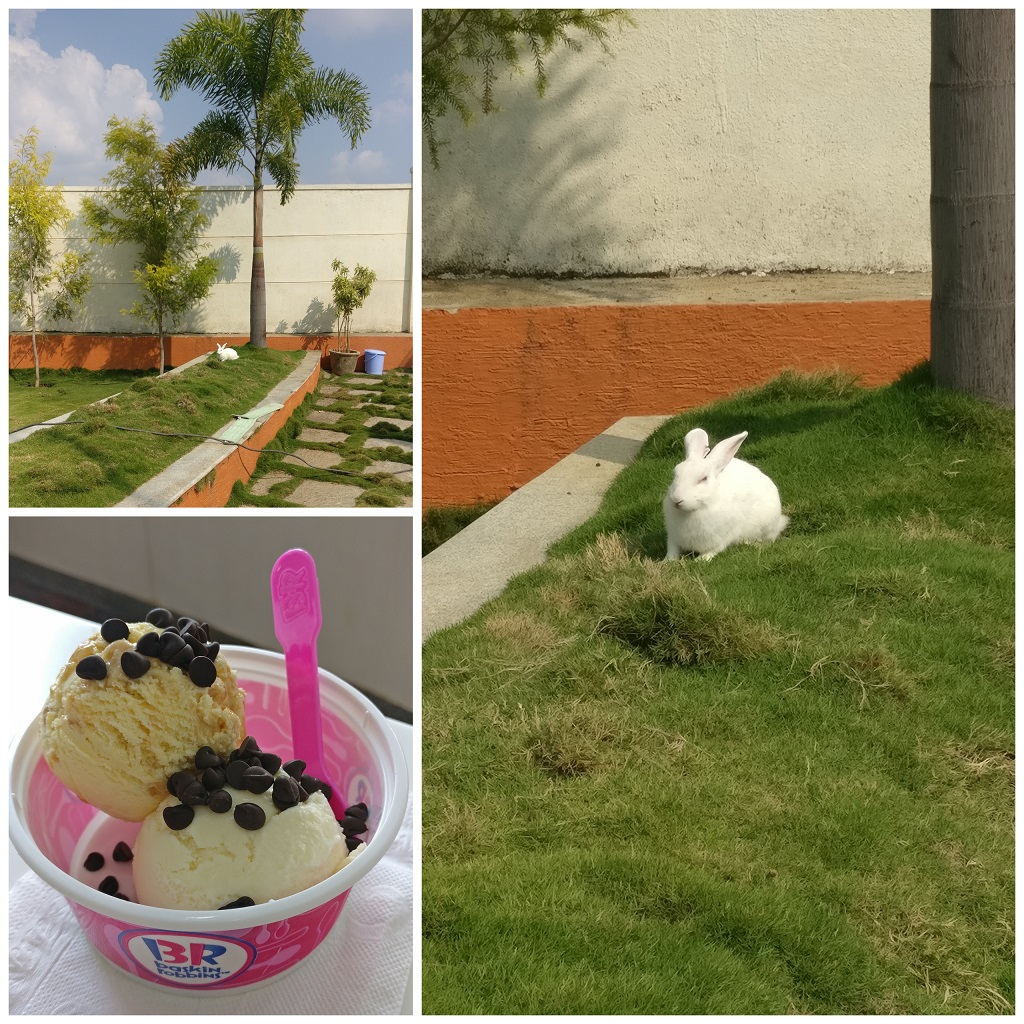 As such you will love the experience of travel by car or by bike, with wide roads and occasional flower fields popping up on either sides.
You could also hire a cab, book a train or bus from Bangalore to Kolar, but we always love to go by road.
FAQs – One day Kolar Trip from Bangalore:
How to reach Kolar from Bangalore?

Bangalore to kolar distance varies based on which location you are planning to start the trip, for me the distance from my home is just 85kms. Until we crossed Whitefield we had to face the hectic traffic, then its stress free ride once you hit the Triupathi highway.
Trains from Bangalore to kolar?

There are train facilities from Bangalore city central , cantonment and Yeswanthpur junction at various timings. Search in google for Bangalore to kolar train timings, train name etc.,
Buses from Bangalore to kolar?

There are numerous buses from Bangalore to Kolar, KSRTC and private buses available at all major junctions. You could check online for the bus stops and timings. Recently when I checked, for bus from Bangalore to Kolar bus ticket fare 67/- per head from majestic, for KSRTC express bus service.
Bangalore to Kolar cabs / ola cabs availability?

You could reach Kolar by train or KSRTC bus or bike or car or private cab. Not sure of Ola cab service to Kolar, both the family trips we have hired private cabs, which had cost us 3k for each round trip.
Places to eat in Kolar?

As mentioned above Highway star is the by far best pit stop with best restaurant choices and washroom facilities with car parking. Opposite to Highway star you could find Vasudev Adigas veg restaurant. If you are not keen to eat in the Kolar highways, you anyways have plenty of restaurant choices once you hit Bangalore.
Places to see in Kolar?

Sightseeing in Kolar is very limited but good choice for one day trip with the famous Kotilingeswara temple, ancient Kolaramma temple, and for adventurous hiking and temple trip, you could go to Antaragange.
Kotilingeshwara temple timings?

Entry fee 20/ – per head to Kotilingeswara temple, entry is closed by 4pm but visitors can stay inside temple until 6 to 6.30 pm.
Hope you have got list of activities to do on one day trip from Bangalore to Kolar.
Are you a regulr bike rider just like us. Then here is the suggestion for you.
Best Bluetooth Earphones Under 2000 rupees – We Used Regularly MotorBike Rides