The Best Grilled Sandwiches in Bangalore (Tasty and Pocket Friendly)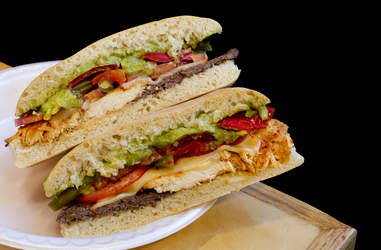 If you are on a hunt to eat the best grilled Sandwiches in Bangalore with pocket friendly prices, I have only 2 places to suggest (for now).
Both these brands are quite famous and has many branches across Bangalore and, they are not just pocket friendly but also serve sandwiches best in town.
The Best Grilled Sandwiches in Bangalore – Juice Junction
I work from Co-work space in Bannerghatta main road, and I would love to have some real good food joint choices in the vicinity for an easy access. It's not that I am very particular of the distance, once myself and Rajesh traveled 50 min in Bike to taste the Instagram famous breakfast combo in Bangalore.
Thankfully, this food joint is 1 km ride from our co-work space, one of the best grilled sandwiches in Bangalore I would say.
Location – https://goo.gl/maps/Td8auZy4cXBmaYVS7
We normally would go here to eat sandwiches on our working weekends for a mid morning snack or evening snack. They also serve fruit juices, Lassies, Ragi malt (another best seller), Maggie Noodles, Chaat items, and hot beverages.
Most noteworthy of this place is they have all in one place.
Mostly, we love this street food joint for their sandwiches, one of our all time favourite is Aloo cheese sandwich. With the right amount of mint chutney spread and mayo, it literally melts in the mouth.
To go with this good sized brown bread sandwich, I order to drink Avocado juice and he orders Watermelon, always. 🙂
We almost never had their Maggie noodles or chaat items and hot beverages. Once I had their coffee and it was not bad at all.
Speaking of Maggie noodles, one very item I find it hard to give up for the sake of my good health. I am trying my best these days to avoid it. My co-work cafeteria serves one of the best noodles along with many other best sellers.
But anytime, I prefer 'juice junction' only for sandwiches.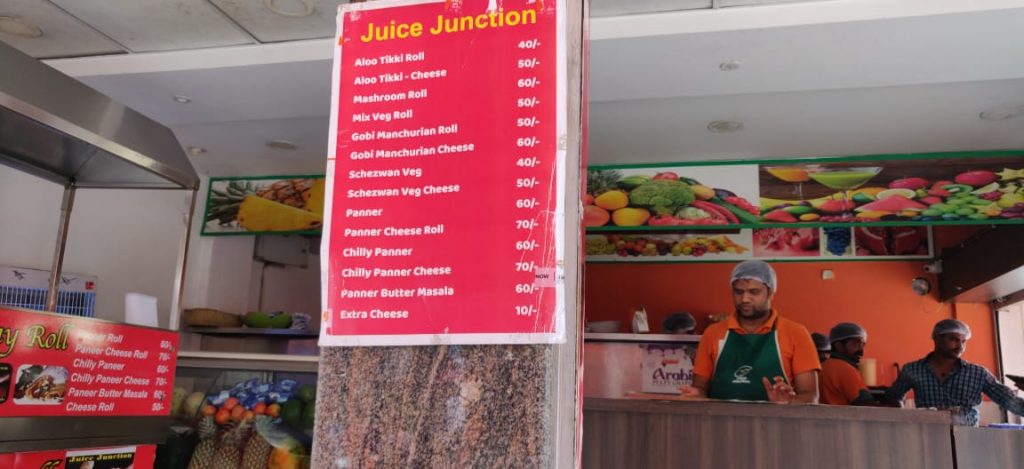 The Next Best – Hari Super Sandwiches
If you are looking for traditional home-made style sandwiches, I would suggest Hari Super Sandwiches.
We prefer to eat here for an evening snack whenever we are on a shopping spree to Jayanagar 4th Block Bangalore. Here we had almost all the varieties of sandwich, the best one is Hari Special Sandwich. And they are also famous for their unique style roasted groundnut salad and the masala coke (chat masala flavor added to the regular coke). 
When compared to the Juice Junction sandwiches, price is almost the same but the size is small for sharing.
It is one of the most crowded places on all days.
While you are waiting for your order you could try the chaat stall nearby.
Seems like the entire building is jointly owned by one person. They have burger joint, chaat shop, and other shops named "Hari". I would suggest to try once here to experience the unique and the best grilled sandwiches in Bangalore.
Find the location – https://goo.gl/maps/7Xt25cKcLp2TtxSk8
Dont just stop there, just cross the road to experience one of the best lassi, a shop named "The Lassi Park". It is famous for various flavours of Lassis, faloodas and what not. 
Both these joints are located in the hot location, surrounded by colleges and shopping streets near Jayanagar 4th block, and quite crowded at all times.
Good Coffee to Go with the Sandwiches in Jayanagar
Once we are done with savouring the sandwiches and lassi, we then prefer going to Hatti Kaapi shop in the late evening.
Hatti Kaapi, for the very famous Mysore style coffee served in this small shop with samosas. I am not a fan of samosas here, but any time we both would love to have this much flavoured coffee.
It is located about 1 km distance from this sandwich shop in Jayanagar.
Find the location here – https://goo.gl/maps/7WmN72PbmWvHGaxQA
Again they too have many branches across Bangalore, you could find them easily on the google maps.
Diagonally opposite to the Hatti Kaapi, is yet another famous and all time crowded food joint called, "Maiyas". Since our all time preferance is Hatti Kaapi, we rarely prefer to go Maiyas restaurant.
If you are travelling to Mysore, this cafe serves the best coffee in town along with some really tasty brownies and sandwiches.
Sum Up – Not all "famous" shops are our favorites
We have been to many food joints in recent years either for work or for leisure.
We would like to explore new places but only after reviewing them online, and always say big No to the places that serve the super sized monster burgers or chocolate sandwiches or cheese overloaded pizzas.
If you want to eat the french toast, go to "the egg factory", they too have many branches across the city.
We don't prefer to eat burgers in any other food joints except our favourite burger joints McD and KFC.
And for Pizza occasional indulgence in other favourite "Chavadi" restaurant in our area. We love all the items in the menu, and it is only go to place for Pizzas. You can see here for "Chavadi restaurant" pics and where else we love to eat regularly.
When it comes to street food, more is always less.
Here is one such place famous only for street food in Bangalore, where you can stuff your face all you want.
It will be a memorable experience only when we get sufficient quantity for the price. 
So, This juice junction scores all the points – chill out ambiance, cleanliness, many choices in sandwiches and juices, taste, quantity for the money, pocket friendly prices and what not. So, it is my number 1 suggestion for the best grilled sandwiches in Bangalore.
Happy eating fellas :).