Jayanagar 4th Block Bangalore (List of Shops)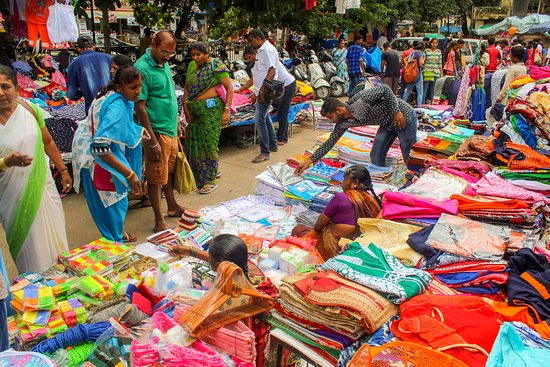 Jayanagar 4th Block is a vibrant shopping area with street shops to all the big brands (including Ritu Kumar in High Street Mall complex).

When you are out shopping you might want to go eat snacks or meals. So I have compiled a list of famous snack shops and restaurants in Jayanagar 4th block.

Not just food, I have also listed famous shops for all kinds of your shopping needs.
Jayanagar 4th Block BDA Complex – Buy Street chappals to Trendy Fashions

Here is the list to buy Trendy and Cheap Salwar tops, Night wears, Scarfs, Handbags, Chappals, and anything and everything in Jayanagar 4th Block.

Earlier it was just the BDA complex of the Karnataka government, renting out shops to micro – businesses. A place where you can buy clothes, carpets, shoes and much more for very reasonable prices.
Now, it is a hub for both street shopping and branded shopping.
You could find all famous brands for Readymade Clothing, Fabrics, Jewels shopping, Travel accessories, Mobile phone brands and accessories, Furniture, Carpets, restaurants and cafes etc., (which are listed in the later section).

There is a market adjacent to BDA complex, where you can buy daily vegetables, fruits and flowers for wholesale price.
The main reason I often go to Jayanagar 4th block Bangalore from my home is for a good choice of tailor shops, to get my salwars done. And to buy a party wear clothes.
Located opposite the Jayanagar bus depot, Jayanagar 4th Block Bangalore is a house for hundreds of small shops inside the building and street shops around this place.
Both the entrances to this BDA are tightly packed with shops.
Google map location to Jayanagar 4th Block – https://goo.gl/maps/UJU1tgzzB1UgzKUT9
Inside the BDA Complex Jayanagar – List of shops
Kurtis – of all fashion, ready to wear, prices starting from 150 rupees to 350 rupees
ladies chappals starting 150/- rupees,
baby shoes starting from age 3 months,
Scarf and dupattas
Nighties, t- shirts and bermudas
Socks for all ages
Bag bazaar at the centre of BDA opens at 3pm – Handbags, school bags starting 350/-, and purses starting 100/-
Fancy stores for cosmetics and accessories
Curtains, pillow and bed spreads
Outside Jayanagar BDA Complex – list of street vendors

Soft toys, handkerchiefs, towels, lunch bags
Cosmetics and saree pouches
More and more of shoes, salwar and nighties shops
Flower and vegetables market
Alteration tailors – can do any kind of alteration or stitching for just 20 to 30 rupees
Shoe stitching /bag stitching – you can see them many on the road sides, get your business done with them for 50 rupees or less
Flowers and fruits
Pani Puri stalls /street foods
There is a new BDA complex opposite to Jayanagar 4th block bus depot building with many new shops with ample parking space.
Best Street Food Joints in Jayanagar Shopping area
Here are some of the famous street food joints in Jayanagar 4th block Bangalore, where we frequently visit and don't hurt the tummy and pockets.
Hatti Kaapi – Our all time favorite shop selling samosas and Mysuru coffee in earthen cups.
Cool Food Joints – In prime location, frequented by hundreds of people daily famous for sandwiches, samosas, chaat items, ice creams and much more.
Hari Super Sandwich – Another famous sandwich shop for varieties of homemade style sandwiches, chaat items, groundnut salad, masala coke etc., Next to this shop is a burger joint, a place for pocket friendly burgers, pastas, etc.,
The Lassi Park – Located just opposite to the sandwich shop is this lassi heaven selling varieties of best lassies, fruit salads, milkshakes, cold coffees, faloodas etc.,
Mishra Pedha – Opposite to BDA complex, the only shop for sweet lovers and Chaat lovers. Head here to taste some of the best dhaward sweets, fresh pedhas, jilabies, pani puri etc.,
Restaurants in Jayanagar 4th Block

Here is the list of budget friendly, all time crowded Jayanagar 4th block restaurants for both veg and non-vegetarians.

Meghana foods – Famously called Meghana biryani, must try boneless chicken biryani
Empire Restaurant – Famous for kebabs in evening, also try Shawarma roll
Upahara Darshini – For any southindian meal, budget friendly
Nagarjuna Restaurant – Andra style food, must try mutton biryani and non-veg meals
Brahmins Tiffin and coffee and Maiyas– Both are budget friendly Vegetarian restaurants with many branches in Karnataka. Try all kinds of snack in evening, simple breakfast choices with their famous coffee.
Branded Shops and More

I have a huge list under this category. I don't think I can list all the brands names in here, so sticking to the most important and famous ones. Feel free to use google maps for further information.

Jewellers – Prince, Bhima, GRT, Aabushan etc.,

Ajfan Dates and Nuts – For best quality dates, nuts, cokes, drinks, chocolates imported from Dubai and the US.

Wedding Shopping – Zaina, Varamahalakshmi Silks, Kalamandir, Manyavar, Neeru's, Ritu Kumar, Soch, Koskii, Blackberry's, etc.,

Clothes Shopping – Max, Pantaloons, Global desi Women, Levi's, Van Heusen, jockey etc.,

Wellness Spa – Body Raaga, Acquieen Thai Spa, Nature's salon,

Furniture Shopping – Godrej Interio, Studio Pepperfry etc.,

Shoes – Skechers, Reliance Trends, Khadim's etc.,

Suitcases and Backpacks – American Touristar, Samsonite, VIP, etc.,

Sweet shops – Amma Pastries, Misra Pedha, Kanti Sweets etc.,

Mobile Phone Shopping – Samsung, Oppo etc
Hospitals, Colleges, Electronics shopping, restaurants, coffee and pizza shops etc., etc., anything and everything you are looking for shopping you could find in Jayanagar 4th Block Bangalore.
Read Related – List of Best Mild Shampoo for Daily Use (From a Regular Bike Traveler)