I am a Traveler and A Black Coffee Lover – How to Make Black Coffee at Home
I have 2 recipes to share on how to make black coffee, one is with instant coffee (under 1 minute) and another from a ground coffee powder (which takes 10 mins). Both the recipes are my favorite and are easy to make at home or hostels.
All my life I had regular milk coffee, yet I didn't know that the coffee tasted best when no milk added in it. Also it serves as a best pre-workout drink anytime in a day with less than 10 calories in the black coffee.
When I was living in London for my Management studies I learned about this magical potion which everyone loved to drink many cups a day. Contrast to the fact that British love their tea, I found that they had equal love for coffee.
They have it in the morning with cookies, afternoon after lunch and during the meetups. If you are taking public transport in the morning, it is a common sight to see people carrying Starbucks or McDonald's coffee, sipping along the way to their destinations.
It sounded funny to spend 150 to 250 rupees on just a coffee. Soon I found myself buying one to the classrooms, I blamed the weather. I have tried all kinds like espressos, cappuccinos, Italiano – one of the main reasons I have gained that extra weight and thanks to the burgers as well.
And best of all my office has the Cafe Coffee day coffee machine, where I have access to unlimited black coffee all day.
Work or Travel or being at home, this is how to make black coffee to stay awake and be active.
How to Make Black Coffee from Instant Coffee Powder
First let's see how to make black coffee from Instant coffee powder.
This will take exactly 1 minute to make be it on stove top or microwave oven.
You can get "bru" or "nescafe" instant coffee powder sachets in local shops or online. If you are regularly preparing black coffee, then buy an economy packs and transfer into an airtight container. Economic packs are less price than the bottled ones. Also, 2 rupee sachets are cost effective for beginners or hostelers.
Method A – Making "Instant" Black Coffee On Gas stove or Induction Stove top or Electric coil
For the much awaited Black coffee recipe, let's start with the easy one.
How to make Black coffee at Home or at hostel using an instant coffee powder?
This method takes exactly 1 min for preparation.
Take one cup of water to make 1 cup of coffee in a saucepan.
While water is boiling, take a coffee mug, add 1 teaspoon of your favorite instant coffee powder (Nescafe or Bru or anything).
Add 1 tablespoon of your favorite sugar (palm sugar or white processed sugar).
Now add the hot water into the ingredients in the coffee mug.
Mix well – Enjoy your drink with cookies or croissants. :-). Croissants are my favorite.
Coffee Making Tips While Using Induction Stovetop
For induction stove top, you need to have induction compatible saucepan like this one. I have a saucepan which is both gas and induction stove compatible. Makes life much easier.
You can boil extra water if you would like, so if the coffee is too strong, you could add a little more water to your coffee to bring it to your taste. What if the coffee is too light? Then to make it strong add little coffee powder, since it is instant coffee powder it will dissolve immediately, so no worries. After couple of trial and error, you will get hang of it.
The best part of this instant coffee powder is – You can very well make an instant degree coffee or cappuccino with milk. It comes handy if you want to serve "milk coffee" to your family or guests. (To make milk coffee – Add equal amount of milk and water to get one cup of milk coffee.)
Ok, no time to buy milk but want an instant milk coffee? Buy this Nescafe Gold Cappuccino packet, 1 sachet makes 1 cup of milk coffee, no need to add sugar, just add hot water into it, mix well and drink.
(I have given all amazon link of the products for your reference, you could buy from anywhere that suits your convenience).
Method B – How to Make Black Coffee Using Microwave oven
Nowadays there is an oven in every households, hostels and offices.
Learn this method to prepare black coffee anywhere instantly using a Microwave oven.
Especially when you don't like the taste of machine cappuccinos or dip teas in the offices, you could carry either Nescafe or Bru sachets to office to make your own coffee instantly.
This is also an easy method to make instant black coffee, takes less than 1 min.
Take 1 cup of water in a coffee mug to make 1 cup of black coffee.
Use a good quality coffee mug to use in the microwave oven (always make sure that is microwave oven use before buying from online).
Place the coffee mug in the Oven. Set the timer for 1 min.
Now to the piping hot water, add 1 teaspoon or 1 small sachet of instant coffee powder and sugar as required.
Mix well and enjoy your coffee.
Coffee Making Tips While Using Microwave Oven
If you are planning to buy a microwave oven for home or hostel use, better to buy a very basic solo microwave oven. We might get carried away seeing the attractive discounts online, but advanced and fancy ones are just a waste of money. Same principle for buying induction stove, buy a good brand with simple features.
Just for boiling water, reheating food items, making noodles, making popcorn – this cost – effective microwave oven is the best. Unless you have a plan to make a Barbeque or desserts, even in that case you could go for OTG oven which serves the purpose well instead of the costly 3-in-1 convection microwave ovens.
Method C – How to Make Black Coffee Using a Water Kettle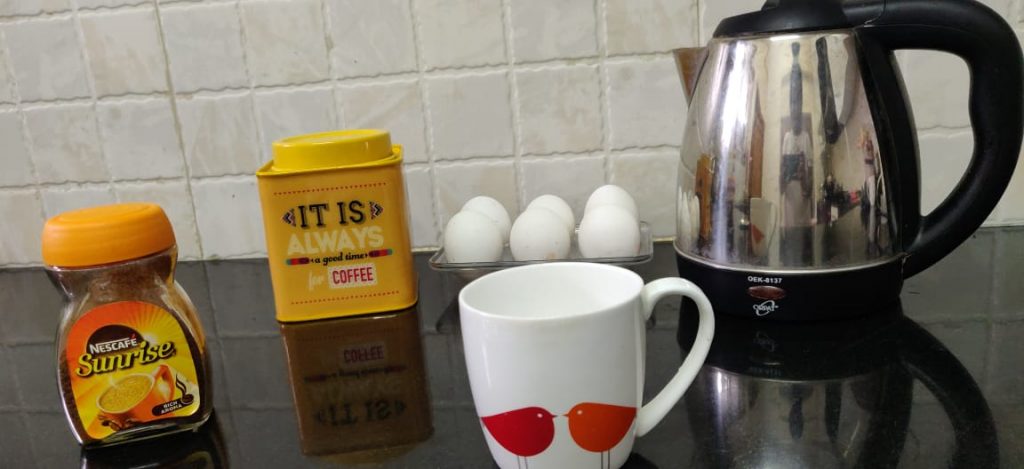 Trust me, if there is anything in the world that would make my easier and simpler all time is this – simple water kettle.
The cheap and best water kettle I found in Amazon some 5 yrs ago, it served well for more than 3 yrs and again bought the same one a second time in 2018.
With this super fast water kettle, you could make super fast hot water for making coffee, tea and cuppa noodles. It gives you hot water in less than a minute when you are down with fever. You could also boil milk instantly.
Literally a lifesaver when you are travelling. It fits perfectly in your travel bag. We carried this to our 11 days long bike trip to Kumbakonam in our bike saddle bag.
Okay, now how to prepare black coffee using this water kettle?
Take 1 cup of water to make 1 cup of black coffee.
Pour it in water kettle, switch on to let the water boil.
It is ready in under 30 sec.
Wait couple of seconds before you pour the hot water into the coffee mug with instant coffee powder and sugar.
Mix well, enjoy your mornings.
You could make black coffee instantly in less than 30 sec using a water kettle, trust me, I have done it a million times.
How to Make Black Coffee from the Ground Coffee Powder?
Previously we saw how to make "instant" black coffee at home or in hostels, under just 1 minute.
Here comes the 2nd black coffee recipe – from the ground coffee powder. This recipe cannot be prepared in office as it is time consuming. (But as such what you are getting in office is ground coffee only – see recipe below).
But, this method takes 10 to 12 mins to prepare and gives strong aroma and tastes more like cafe coffee day black coffee.
Method A – How to make black coffee from Ground coffee Powder on a Gas top or Induction Cooktop?
Take a saucepan, for 1 cup coffee add 2 cups of water. Since it is going to boil for 10 mins, you would need double the amount of water.
Now place the saucepan on induction stove top or gas top, allow it to boil.
Once the water starts boiling, add 1 teaspoon of your ground coffee powder to the boiling water. I use the brand Bayars, available in major stores in Bangalore. Next to Bayar's I love these other brands too – Narasus, Kothas, CCD etc.,
Now let it boil for 10 mins.
Switch off the flame.
Take a coffee mug, add 1 tablespoon of your favourite sugar.
Now pour the boiled coffee into the cup using a steel strainer. Mix well.
(This is a good quality steel mesh you can buy for long life and stylish too).
Now enjoy your black coffee which tastes more like Starbucks or Cafe Coffee day coffee.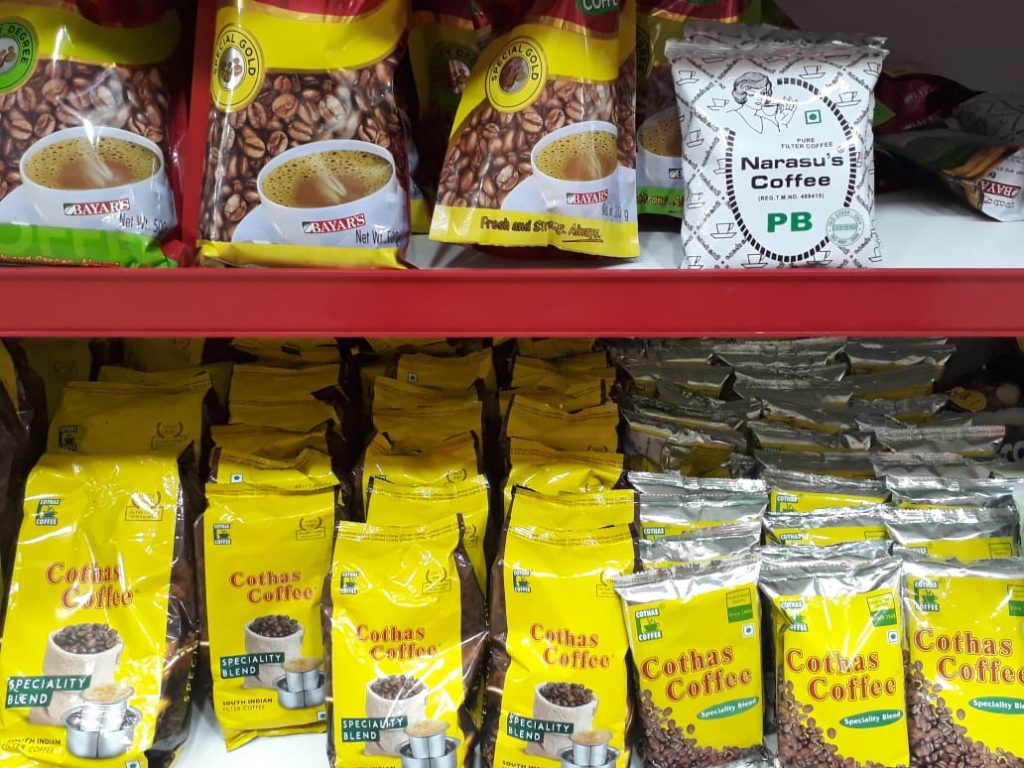 Method B – How to make black coffee from Ground coffee Powder using Traditional filter
This is how to make traditional filter coffee – Black coffee using a filter.
Take 3 teaspoons of ground coffee powder into the filter (serves for 2)
Pour hot water and close the lid
Wait for 10 mins until all the essence drops through the tiny holes in the filter
Now dilute the 'decoction' with required amount of hot water to bring it your taste. Tasty black coffee is ready. 🙂
This method is hands free, and tastier than Method A. For this you need a traditional coffee filter like this one below.
Note – Now you will also get Cafe coffee day brand ground coffee powders in the stores, and the preparation method and time is the same as the above. I use to buy CCD coffee powder to make black coffee at home. Bayars brand was recommended by my hubby 2yrs ago, since then it is our favourite ground coffee powder.
How to Make Black Coffee from the Office Coffee machine?
As I mentioned, I have CCD coffee machine in my office where I make my own strong black coffee. Since there is no direct "black coffee" option in the machine, sharing my recipe here.
If you too have CCD coffee machine in the office, then this black coffee recipe comes handy.
Take one shot of Cappuccino in the coffee mug and add one shot of hot water, mix well, add sugar if required.
How I Like my Black Coffee and Best Snacks with it
I love black coffee anytime in a day but mandatory first thing in the morning, then soon after the first meal around 11 am. I prefer to drink without sugar to get the strong taste of coffee to awaken me from sleep. So I don't bother buying any sugar free supplements like stevia.
During weekdays, coffee is the only luxury we can afford to have together, due to our different work schedules.
During weekends, our first coffee is more of welcoming drink for the happy weekend. I start the weekend morning by making coffee, while hubby gets the coffee tray, arranges the butter to go with the croissants on the tray.
For mid morning coffee – I make popcorn at home from ready -to -make popcorn sachets or make some onion pakoras.
It is quite rare we stay in during weekends as we are ardent bike riders (check our road trip categories) until the pandemic lockdown. We then bought #AllNewCreta2020 car for our travels post Covid-19 Lockdown.
This is what we did every single mornings during covid -19 lockdown.
Did you know we also rescued a tiny bird fell down in our garden during lockdown and reunited it with its parents later?
Have a Good happy Coffee Mornings friends !!!.