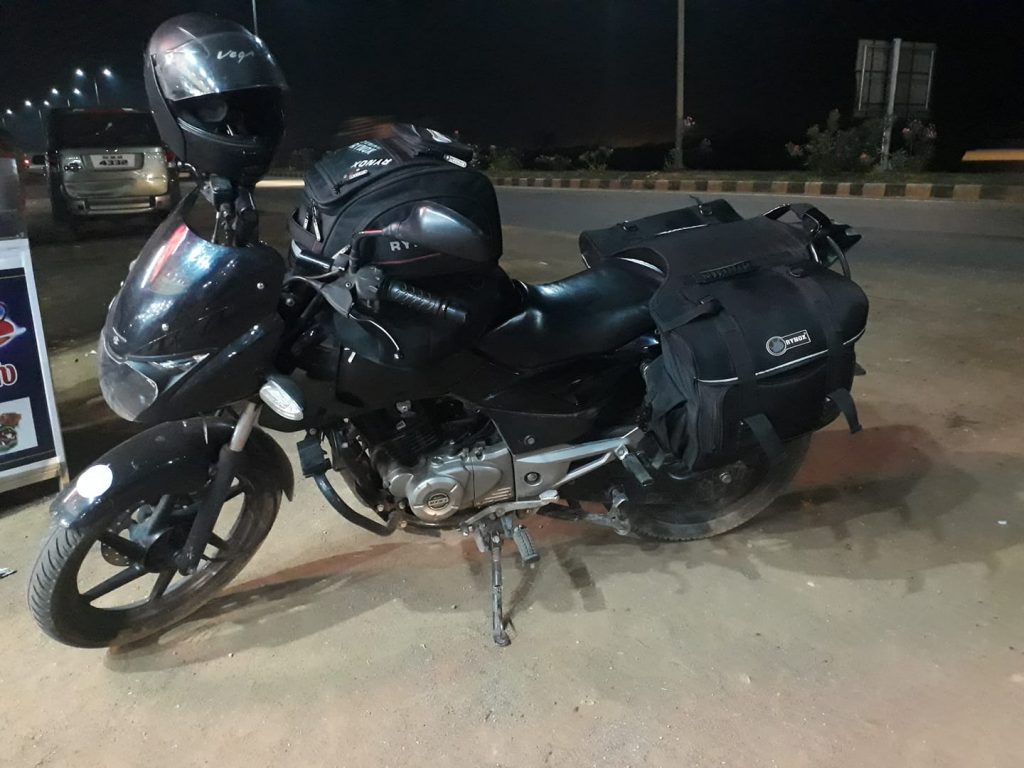 This was our first long bike ride in India for 11 continuous days as a beginners bike riders. This happend in the end of year 2017.
And we successfully did it covering approx. 2000 kms by our motorbike, from Bangalore.
Read further to know how we went on a long bike trip from Bangalore, just two of us, the travelduo couples.
Long Bike Ride in India – Year 2017 From Bangalore
Day 1: 22nd Dec 2017, Bangalore to Kumbakonam – 410 kms by Bike
On our day -1 of our long bike ride in India, first longest bike ride ever in both our history and ever since our marriage – we started our bike unusually late.
By the time for Breakfast at our favourite pit stop called Shoolagiri Krishna Bhavan, the sun was already in full swing shining on our heads.
It was already 10am. We have never been this late even during our 2 day trips to Tiruvannamalai or Yercaud trip via this pitstop.
After refreshing and eating our usual favourites, 1 full hour has already gone.
We still have approximately 350 kms to go, but one cannot find not even an ounce of worry or hurriedness in us. Both of us were beaming with pride and happiness for going to set a milestone in our bike ride history.
After many pit stops, endless long rides on the highways along with non-stop happy chatting and dreaming about this trip, we reached our destination – Kumbakonam at 11pm.
Finally, we crashed ourselves after riding the bike for 14+ hrs. Awesome total of 410 kms in just one day.
Thankfully we did not take this trip seriously. Had we been serious on the day -1 itself, no doubt we would have reached the destination very early, but we, for sure, would have missed all the fun in bike ride.
Day 2: 23rd Dec, Roaming inside Kumbakonam and Trip to Thirunallar
To our biggest surprise, we woke up early on day -2 of our long bike ride in India.
What was more surprising was that Rajesh was jumping with full energy without even the trace of tiredness from yesterday's journey.
He sure knows how to keep a positive energy.
Good for us, because I had spent almost 2 weeks planning for this trip.
Since we chose the theme for this long bike trip to visit all famous temples, it took me days and days of hard work working out visiting places based on the temple timings and location.
Related – In all our Bike trip From Bangalore – Why Did We Choose to Visit Temples?
So I was nothing but surprised and happy to see my partner full of energy.
We kept our saddle bag and tank bag safely locked in our hotel room, carried just a backpack with water bottles and other basic items with us for roaming all the local places.
Day – 2 Visiting Places in Our Long Bike trip In India
Ramar temple, Kumbakonam town
Chakarapani temple, Kumbakonam town
Saarangapani temple, Kumbakonam town
Thirumetrali Siva temple – Bhramanandieswarar temple
Sakthivaneswarar Periyanayaki – Siva temple
Thenupureeswarar Shiva temple
Falling in love with "only Coffee Restaurant" in Kumbakonam
After roaming all the temples in the first half of the day, we had to come back to the room for check out. As we did not pre book the rooms for a week, we had to find a new hotel for the next couple of days. So on day-2 afternoon, we checked-in at Aditya Resorts in Thiruvidaimaruthur. That's when we came to know about a dine-in called "Only Coffee Kumbakonam" and fell in love with ambiance and food immediately.
It was situated just adjacent to the resorts and initially, we mistook it for a coffee shop. Later when we came to know there is more in the menu than just the aroma of coffee, we became regular customers.
Since then, for every meal, evening snacks and tea, we never missed to eat in this restaurant on our all days in Kumbakonam.
Read – Kumbakonam famous food items
Heroic act in Thirunallar
After check out and a hearty meal at Only Coffee restaurant, we then headed to Thirunallar. Since it was saturday and Darshan at thirunallar temple (a famous Navagraha temple for planet saturn( was near to impossible you know. We had to stand in a queue for almost an hour to get past the main entrance of the temple. Only then we realized that it would take more than 4 hrs to darshan Navagraha Saturn. We sure knew that it would not be possible for us to stand that long in the queue, as we needed to ride back in the dark for more than 1 hr to Kumbakonam town.
Somehow, Rajesh found a way to contact someone in the admin office, soon I found us standing in front of Navagraha Saturn for a VIP special darshan. We skipped 4 hrs long queue and were taken directly to darshan main sanctum followed by Goddess Parvathi darshan and Navagraha Saturn. I felt privileged being in special darshan in front of thousands of people, and I was in tears.
Hubby was too proud when we came out of darshan and of course after paying a fee to the admin guy who took us in. My face was beaming with happiness and pride, all the more loving my hubby who took a risk for me.
About My Hubby's Willpower
Rajesh is not a person who gives up so easily on any matters. If you know him personally, you would definitely be surprised at the level of will power he possesses in himself. I look up to him for his hard work, sincerity and work ethics. Apart from that, personally he is not a person to be bogged down by any level of crowd, which I observed during many of our travels.
Our motorbike rides connected us, gave us right opportunity and time to understand each other.
On most of the bike rides, mostly to Tiruvannamalai, distance of 200kms from our home, we check -in the room, head out soon for evening darshan in the temple after standing in a long queue for almost 2hrs. He never excused himself on any temple visits saying that he is too tired from bike rides. Nor he gave up on any bike trips, never came up with any excuse to postpone the trip or cancel it.
And most of all, never did he take off from work, not even a day, even after riding back to back on weekend trips.  And you know of all the short and long bike trips we went since 2016, not even once he took off from work. You could see him get ready to office just like any other days. Touch wood. I would be the one forcing myself to go office as if I was driving bike day and night :).
Note – Nor did he take off to rest even after these 11 days of long bike rides in India.
So, after all these years of experience of travelling together with my partner, I took inspiration from him to write 7 good qualities to look for in a travel partner.
Day 3: 24th Dec Sunday, Bike ride from Kumbakonam to Mayiladuthurai and Thirumanajeri
As Usual we woke up early the next day, despite having spent the whole day on motorbike yesterday. Here is the list of places where we went on day-3.
Day-3 Visiting Places in Long Bike ride in India
Mahalinga Swamy temple
Kampahareswarar temple
Navagraha: Suriyan temple
Gangai konda Cholapuram
Mayuranathar at Mayiladuthurai
Kshetra Balapuram -lord Bhairava temple
Thirumanjeri Shiva temple
I roamed all the above places until noon, and took the rest of the day off after a heartfelt lunch in "Only coffee restaurant".
Day 4 : 25th Dec Monday- Bike ride from to Thanjai and Tiruvaiyaru
Morning after breakfast at our usual favourite place, we went to only 2 places, as follows.
Abathsakeswar, aaduthurai
Navagraha: Sukran temple
Since we had big plans for the 2nd half day, also Rajesh had some official work in the morning, we kept our morning schedule minimal.
We always remember to be flexible on our travel schedule so as to accommodate any of our emergency calls or meetings.
Day- 4 Places of Visit
Big Tanjai temple, Tanjavur – 5 to 6.30pm darshan
Neelamega perumal temple
Sri Hara Saabha Vimocchana Perumal Temple, Kandiyur
Veeratanam temple – Brahma Kandeeswarar Shiva temple
Keelatirupanthuruthi temple
Aiyarappar temple, Tiruvaiyaru – Darshan and tiruoonjal poojai
It was quite an achievement in one day, bike riding from Kumbakonam to Tanjavoor, then from there to Tiruvaiyaru before returning back. And along the way, we have visited all the famous temples – both Lord Shiva and Lord Vishnu temples.
The last stop in the day-4 long bike ride was Thiruvaiyaru, one of the biggest and famous temples of Lord Shiva, where we spent the entire evening until the temple closed for the day. Then we started our bike by 9.10 pm from Thiruvaiyaru to Kumbakonam via Kavisthalam. We stopped at Kabisthalam for tea at 9.50pm and reached our room by 11pm.
We had a peaceful journey, thanks to the seamless roads.
That's another advantage of staying at Kumbakonam, not only do we get to enjoy cheap and best stays, but also good roadways connecting all major cities.
So staying at Kumbakonam is the best option to budget travel to places like Trichy, Chidambaram, Tanjavoor, Mannargudi, Karaikal, Nagapattinam etc.,
Day 5: Dec 26 Tuesday, Long Bike ride to Sirkazhi and Chidambaram
On yet another auspicious day – Ashtami, falling on Tuesday, we started our bike to Sirkazhi and Chidambaram just as planned.
Asusual woke up early, got ready and had coffee at 7am before we started our bike. It was too early to have breakfast, so we headed straight to our destination, Vaitheeswaran koil. Had a wonderful darshan at 8.30 to 9.30am, spent an hour at this Lord Shiva temple before we headed to Sirkazhi (pronounced as Sirkali), a neighbouring town.
We had breakfast at one of the good restaurants in town, before we had darshan at Sattainathar temple, Sirkali.
Finally we visited the most famous Chidambaram Natarajar temple before returning to Kumbakonam.
It was a hectic day, travelling long distances, visiting all famous temples, waiting in queues in each temple took most of our energy. Yet we enjoyed travelling back 80kms from Chidambaram to Kumbakonam, because our bike rides are not just about travelling and visiting places, but also enjoy being in the moment. Not just Kumbakonam, all the places we went from this temple town offered us feast of agri lands, lakes, rivers and ponds.
Rajesh was the one who enjoyed most of the countryside ride, marvelling at the rice fields, stopping to play in the ponds, clicking lilies pics.
11 days of this long bike trip in south India opened up a new beautiful world which we cherish forever.
This was the very reason which brought us back to the same places in the year 2018 as well.
Day 6: Dec 27th Wednesday – Long Bike ride to Tiruvarur
Day-6 was a relaxed day. We didn't plan to go far distances as we wanted a break from yesterday's long distance bike ride.
So we visited the famous temples within the Kumbakonam town in the first half of the day. Later in the afternoon we went to Thiruvarur at 42 km distance from Kumbakonam.
Here is the list of places we went on Day -6
Abhimukeshwarar near mahamaham tank, Kumbakonam
Tiruvarur Thyagaraja temple
Thirucherai Saranatha perumal temple
Nachiar koil
Day 7: 28th Dec Thursday. Bike ride to Alangudi and Mannargudi
It's been 2 days since we have vacated our stay at Adithya resorts and moved to a hotel in main Kumbakonam town. Today, we all the way travelled to Only Coffee Restaurant near Adithya resorts to have our regular southindian breakfast.
After leisure breakfast, we headed towards Alangudi, about an hour ride from the restaurant.
Alangudi is one of the famous places for Navagraha, Lord Guru.
Just like Thirunallar saturn temple, here in Alangudi too it was super crowded.
Since we did not anticipate that much crowd in Alangudi, it was around 12 noon when we reached Mannargudi temple. It was already late and we missed the darshan by 10 mins. Returned back with just this cute elephant's pic. Adorable isn't it?
After returning to the room, after relaxing for some time, we visited the following places in the evening.
Palaivananathar temple, Papanasam
Ramalingeswarar 108 lingam temple, Papanasam
Garbarakshambigai temple, Thirukaragavoor.
Happy news is that we were able to darshan in this Mannargudi temple when my husband joined my Solo bike trip in Kumbakonam for 5 days. Yes I did go solo to Kumbakonam for the love of this temple town for 5 days. And When Rajesh joined me in the weekend for the return journey, we visited this temple along with all other favorite temples in Kumbakonam town.
Day 8: 29th Dec, Friday, Vaikunda Ekadasi in Kumbakonam
We were up by 2am to get ready for Vaikunda Ekadasi darshan at Sarangapani temple.
As expected there was a long queue ahead, but we were able to darshan in an hr, since it was properly regulated by the temple management.
Soon after we headed towards another famous 108 Divya Desam Vishnu temple called Oppiliappan temple. On the way towards the location, we relaxed, played near the lotus pond, had a good time clicking pics and playing.
After darshan at Oppiliappan kovil, we headed towards Nachiyar Kovil, yet another famous 108 Divya Desam Lord Vishnu temple and a must visit temple in Kumbakonam.
Related: Famous Temples in Kumbakonam – A Very Big List with Google Map link
After having breakfast in a small mess near Thirunageswaram temple, we attended Navagraha Rahu milk pooja from 10.30 to 12 noon.
Returning back by afternoon, we had lunch at a small mess called "Ayyakadai" at the corner of the Poppy's SET hotel I have mentioned earlier.
After a long rest in the afternoon, we went to have ginger tea at a tea shop near clock tower in Kumbakonam town.
Then we went to the shopping area near Sarangapani temple to buy silver items and bought a couple of items.
And, yet again we went to our favourite restaurant for dinner to enjoy the evening. Whoa it was a long day in my entire life and was one of the memorable days in our travel history.
Related – Vaikunta Ekadasi Experience in Trichy Srirangam Temple
Here is the list of places we went on Day -8
Sarangapani temple
Oppiliappan temple
Nachiyar kovil
Nageswaran temple
Evening shopping in Kumbakonam town
Day – 9 30th December Saturday
The most relaxed day in this entire week. So far all the temples and all the lake ponds in every nook and corner were visited in this temple town Kumbakonam.
We rode to all famous neighbouring towns, everyday clicked all nature's pic in the early morning, had wonderful coffee watching the sunrise, had amazing meals in all famous restaurants, and there was nothing more left to do.
How else could we have spent this vacation more fruitfully?
Soon our vacation is nearing its end.
We never wanted to forget any of those memories so we kept staring at the beautiful ponds, agri fields, nature's work during all our bike rides. We kept clicking as many pics as we could in both our mobiles and SLR canon that we carried.
It is more of an emotional day for us.
We left the room as soon as waking up, to ride into the field to have breakfast at our favourite restaurant – you know where.
Rajesh had brought his laptop and soon after breakfast, he started working on it. I occupied myself with sorting the pics in individual folders.
A very interesting hobby of mine apart from bookmarking travel locations in google maps. Once returning to home after this vacation, I would be spending many months working on sorting the pics.
Since it is a long bike ride in India, the first of its kind, definitely it would take me many months uploading pics to all my backup drives and labeling them.
That's the reason I take Weekly Tuesdays off, to do such important work as a blogger.
After spending long hours, we returned to town only for lunch. After finishing bath in the early evening, we went to the nearest Darasuram for the evening. It is a majestic, beautiful architecture maintained under UNESCO, recognized more as a picnic spot than as a religious place. But there are pooja rituals followed just like all the Lord Shiva temples, and we attended the evening pooja while we were there.
We returned to town and visited Kasi Viswanathar temple for yet another evening pooja since it was an auspicious day called Pradosham. Being more auspicious falling on Saturday, we knew that all the Lord Shiva temples would be super crowded in TamilNadu. So we decided to go to this small temple near Mahamaham tank, called kasi Vishwanathaar temple and got only a sneak peak into the abhishegam rituals.
So on day-9 of our long bike trip, we went to only 2 places – Darasuram and a small Siva temple.
Later we went for a movie in a local theater for a happy ending of our vacation in Kumbakonam.
Day -10 Dec 31 Sunday – Long Bike ride from Kumbakonam to Tiruvannamalai
We woke up early today and left the room immediately to have coffee watching the sunrise near Mahamaham water tank. Came back to the check-out room at around 9.30am, then went to Balaji tea shop to have ginger tea. Finally we clicked pics near Mahamaham tank before we said final goodbye to our most favourite Kumbakonam town.
We then started our bike towards our next destination Tiruvannamalai via JayankondaCholapuram. Stopped at Srimushnam temple for darshan between 11.30 to 12.15 noon, had lunch at Ayini restaurant in Virudhachalam.
Reached Tiruvannamalai and check-in our room in Hotel Himalayas at 5.40pm. After relaxing and eating snacks at Krishna Sweets, we went to Annamalaiyar temple for darshan in evening. And we spent time in temple from 8pm to 10.15, left the temple after Thiru Oonjal sevvai darshan (putting Lord Shiva and Parvathi to sleep before temple closes).
We spent our new year evening roaming the Tiruvannamalai town, watching that small town buzzing with international devotees in disbelief. Around midnight we reached room, went to sleep listening to the far sound of new year celebrations.
Day 11 – January 01 2018 Monday, Last Day of Our Long Bike Ride in India
Unusually, Rajesh woke up at 3.30am, went to temple for early morning new year darshan. He came to the room by 7am, after temple darshan waiting in a queue for more than 2 hrs.
We check-out the room, after a brief buffet breakfast at Hotel Himalayas.
Then, we left Tiruvannamalai with packed bags and hearts towards Bangalore.
Reached our home in Bangalore by 9.30 pm, after a slow, leisure ride after stopping at many of favourite places for relaxing.
11 days of non – stop bike riding came to an end.
Happy ending.
Sum – Up: Why it Looked like a Spiritual Trip, The reason why
You name any famous temple in Kumbakonam, we have covered it all in the past one week in this temple town.
It may look like we undertook this long bike ride in India for a spiritual purpose rather than a leisure ride. The theme was to visit all the famous places possible in all the districts we have traveled to or through, so I tried my best to squeeze in all the famous places within the duration.
Related – In all our Bike trip From Bangalore – Why Did We Choose to Visit Temples?
Having a feeling that we would not be this free once we started a family, I felt this deep urge to cover all places possible. One might think its crazy, but look at us now in the year 2020 under Covid-19 Lockdown.
You know how badly we missed our one day – and two day trips from Bangalore during that Lockdown Period?.
Though it seemed crazy that time for my facebook friends and my family, we did take a risk of riding long distances, going to all famous temples and damn it's all worth it now.
If you would ask me that if I would change any of the places we have crazily visited, My answer would be No.
Yes, Nothing. It was all too perfect.
Too perfect long bike ride plan for the beginners.
Total of 11 days, 1745 kms, 13+ districts – all worth it.
And We did it again in the year 2018. This time it was more fun and less temples. Very notable in this 2018 bike trip is the boating inside Chidambaram Mangroove forest.
12 Days Long Bike Trip In India (Year 2018)