This is What I did Last Weekend (My New Bike and Diwali 2019)
What I did last weekend is what I call it a life. A balanced life. 
(This above colorful pic is from our 11 days long crazy Motorbike trip to TamilNadu in the year 2017).
This is What I did last Weekend
Last Friday, 1st of November was holiday for Kannada Day in Bangalore. So we have got 3 continuous holidays during the weekend to celebrate. Just like Diwali, this year too, we have decided to stay at home, relax and enjoy the weather. And try completing some pending tasks too.
On Friday, We as usual started our day with brunch and coffee at home, just like we do on any holidays and weekends.
Then in the late afternoon we went to buy helmet in Jayanagar 4th block from a new shop selling "Studd" helmet. I chose red shade to match with the color of my new bike, "Honda Grazia". We named our new bike "Mac", when Rajesh gifted it to me on our 4th Wedding Anniversary, on September 15th along with a few other precious gifts.
Already I own an open face pink helmet from "Steel bird" bought about 6 yrs back, traveled with me to all the bike trips we went and it is still good as new. But hubby insisted on buying new one now.
A Small Intro on My old Bike – Black Scooty pep
Here I have to mention about my old ride, which gave up completely after serving me for full 11 years. I bought black Scooty pep for about 50k ready cash when I was in Chennai for my Master's project.
My dad asked me to buy a new bike since it was hectic walking and travelling by public transport. Since that time, I had this bike with me, rode in Chennai, Bangalore, Annur and Hyderabad for continuous 11 years. And I grew very attached to it.
Now as per hubby's suggestion, this time bought a fully closed helmet keeping the sky rocketing pollution in mind and thanks to the pain in the ass metro construction as well. I very much needed a full face helmet.
Then we had all the street food possible in our favourite "Big Mishra Pedha" shop in Jayanagar.
For evening tea, we headed to another favourite shop in BTM layout called SriDevi Bakery for "Mushroom puffs" and hot "ginger tea".
Again killed sometime aimlessly in the area, before we decided to treat ourselves with warm soup comforting for this chilly weather.
Had this home cooked meal for dinner.
On Saturday, Rinse and Repeat
Since we had no plans to go anywhere on Saturday, we decided to stay home and watch Netflix. I prepared a simple salad and juice for breakfast, and for lunch, we thought of ordering in, but changed mind in the last min.
So we went to the one of the best restaurant called "Chavadi" in Bannerghatta road near my home, where we always prefer to go for high tea and pizza. One of the best in the area.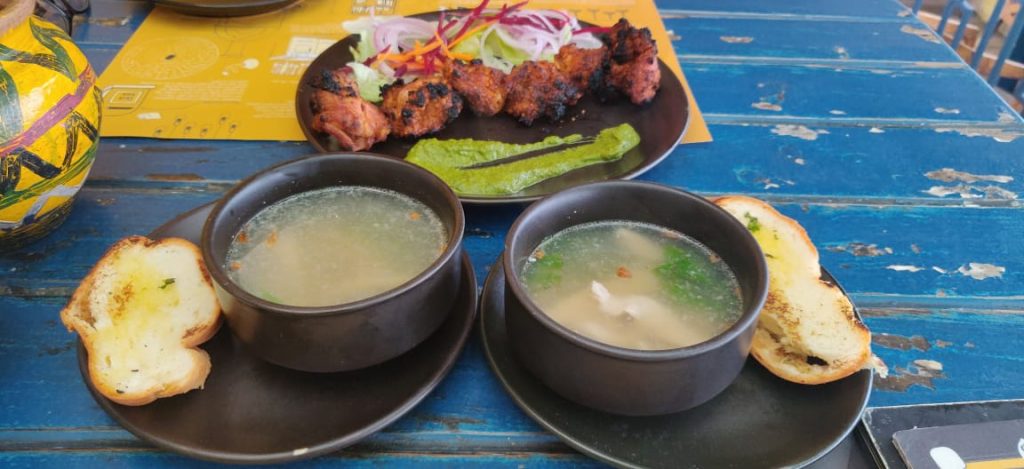 Then spent the entire evening infront of the tv. Binge watched "jack Ryan's" series back to back on Netflix, before we decided to go out for a walk in the park to kill the headache.
After dropping me at home, hubby went out bought me a surprise meal from Anjappar restaurant (pic not available). The best natti chicken fry and chicken gravy available in the entire bangalore (Nagarjuna and Thalappakatti Restaurants' gravy does not even come close).
Had the best meal of the weekend.
It didn't stop there.
Working Sunday with a Feast
Next day, Sunday, we decided to go our co-work office since it will be absolutely boring at home on the 3rd day. So went late morning to office, after having grilled sandwiches and juices from our other favorite street shop called "Juice Junction".
(This is where you can get best grilled sandwiches and juices in Bangalore).
For lunch, we went to thalappakkati biryani – yes yet another favourite restaurant in Bangalore.
(All the places we go are mentioned as "favourite" because we frequently visit them many times in a month. You can read where we love to eat regularly nearby our home and office).
Not just our favourite, its many people's favourite for its legendary mutton biryani made with Jeera samba rice. They have branches all over the world and we have tried so far in JP nagar and HSR layout branches, food tastes the same.
We always go for 1 mutton biryani since it is super calorie rich food made with jeera samba rice. To go with mutton biryani we always pic 1 chicken and 1 mutton dry variety on the side.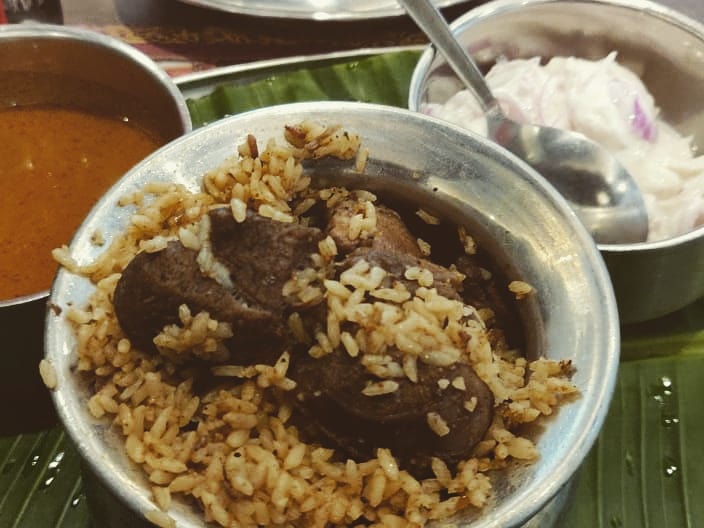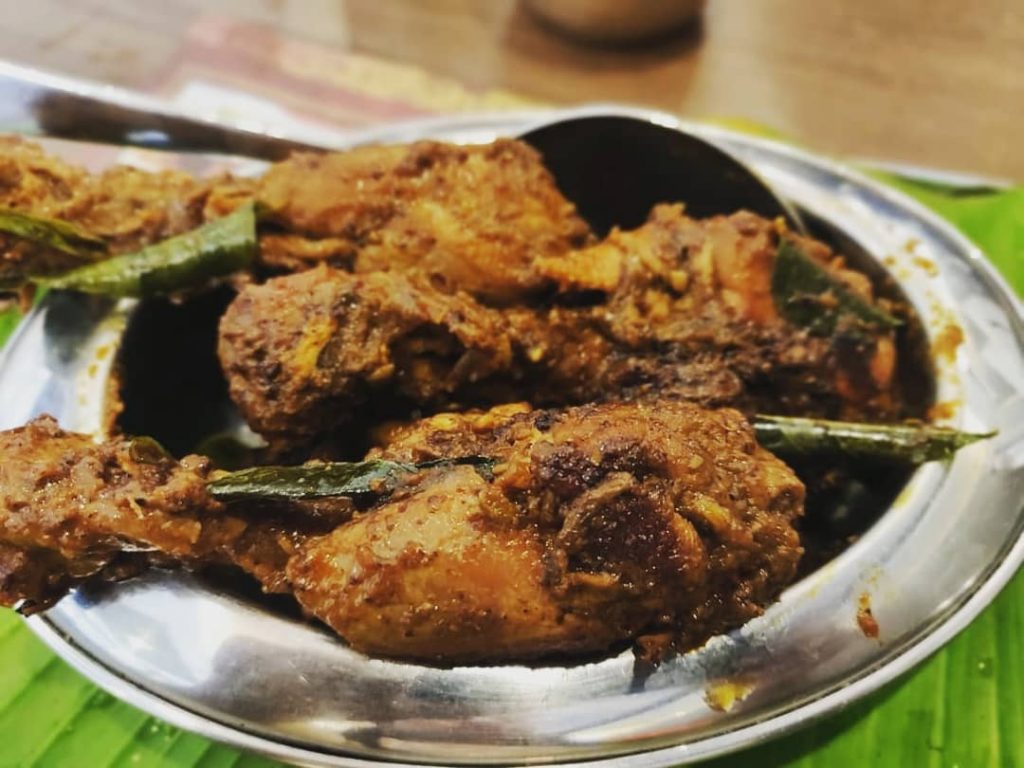 We then came back to the office, worked for long hrs before we returned home.
Are you Wondering what more good restaurants we eat regularly? here you go
This is What I think
This is what I did last weekend – roaming, shopping, eating out and working.
I think it would be appropriate to give title "where I ate in the last weekend" instead of "what I did last weekend" :).
It was fun filled weekend indeed.
Anyways, as long as we both hangout without chewing off each others head and enjoy every second of being together is what I call it a happy married life. And I have a great one fellas :). Wish my father and grandmother are alive to see how happy I am now.
Forever grateful.