Most of us know Kumbakonam is famous for Hindu temples (mostly Navagraha temples trips). I did too. Until we went to Kumbakonam for Mahamaham festival, fell in love with this temple town immediately. So we came back the same year, not for just 1 or 2 days, we spent more than a week here in our 11-days long bike trip from Bangalore.
We rode bike everyday among agri lands, watched villager fishing for crabs in the rice fields, mesmerized at the beauty of the lilly ponds all over the town, watched sunset from the Mahamaham tank after a cup of ginger tea from a famous tea shop.
Everyone knows Kumbakonam is famous for degree coffee.
Kumbakonam Famous Food Items
Also did you know Kumbakonam is also famous for "power looms" making  coir mat and silk sarees?.
List of things Kumbakonam Is Famous for
#1. Kumbakonam is Famous for Degree Coffee
The temple town is also famous for its aromatic coffee, served usually in Bronze cups or a silver ones like this. Me and my hubby used to travel 10kms from centre town to "Only coffee" restaurant, where we liked to have our first cup coffee and breakfast. Although, their other branch is in main town Kumbakonam, we love to go quite far enjoying the scenery along the way.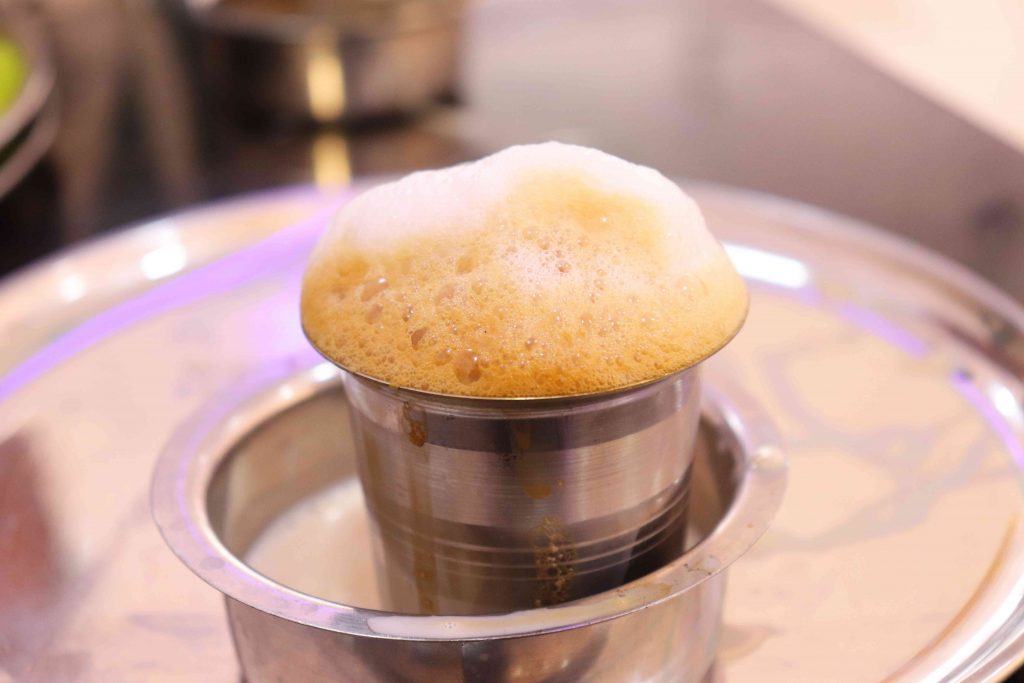 #2. Kumbakonam Is Famous For Restaurants too, Not just coffee
Almost everyday we used to go "Only coffee" near Thirupuvanam for coffee and meals. We have fallen in love with the ambience, cleanliness and the friendly staffs. You will get all kinds of vegetarian breakfast food items with any sweet of the day. And for lunch, complete meals thali served in banana leaves. Awesome the experience was. If I am to go back to Kumbakonam, the best place I would choose to eat and hangout would be "only Coffee".
Hotel Pandian is Non-Vegetarians' delight. It is my favourite eat out place for non-veg and I felt totally home. I prefer eating dinner all day here, try out all their non-veg specialties.
Bonus – Where to eat in Kumbakonam
#3. Kumbakonam is Known for its festive mood all year around
Since its a temple town, all the significant events of each and every months are celebrated like festival here.
It is not a common sight to see all the houses in a town adorned with rangolis like this.
If you are a early riser like me, I am sure you would love morning sunrise in this calm colourful town. I don't know what time the house ladies had to wake up to draw such beautiful art rangolis in front of their houses. Ah, What a sight. Even though I grew up in small town, I never had seen entire town bathed in colours. Definitely I am coming back for Ms/Mrs. Rangoli.
4. Kumbakonam is Famous for Green Skirts all over the town
I am a Nature lover, I have experienced vast lands, landscapes, wide scenery parks in my travel around India, outskirts of london, Scotland etc., But, Kumbakonam stole my heart with the endless rich agri land and lush green skirts as far as my eyes could see.
5. Kumbakonam town decorated with Lily Ponds and Rivers – Connecting People and culture
You may have seen many lakes and ponds where you live and travel. I am living in one such city, Bangalore, a city full of thousands of lakes. But, in Kumbakonam you could see thousands of lily ponds in and around the town. Beauty Untouched.
6. Not Just MahaMaham Festival but Kumbakonam is also Famous for DivyaDesams, Padal Petra Stalams and Navagraha Temples
We have been to Mahamaham festival in Kumbakonam in the year 2017, in the month of March. It is famous festival celebrated every year, we were blessed to visit MahaKumbeswar temple at that time. Little did we know at that time that Kumbakonam is also a house for some 108 Divya Desam temples and Padal petra Sivan temples.
In our following 11 -day road trip to Kumbakonam, we made note of all the above mentioned temples including Navagraha temples – we visited all the temples in and around the town. No Kidding.
As much as I love nature, I am fond of temple architecture. That's one of the reason we chose our long vacation in Kumbakonam, because its called "Temple Town". In our 2 yrs of travel together, we have been to many famous temples, UNESCO Heritage Sites, Hoysala Architecture etc.,
Kumbakonam temples are breathtakingly beautiful.
Of all the temples I have visited, of all the temples I have marvelled in and around Kumbakonam, one temple holds very special place in my memory ie. Tirubuvanam. I am definitely re-visiting this place not only for this marvellous temple, but also to explore the famous handloom silk sarees.
7. Kumbakonam is Famous for Cheap Stay and Good transport to other cities
Hotel rates are very moderate even during peak season time, from my two time year end road trip (11 days long ) experience in the years 2017 and 2018. Also in the month of March 2017, during Mahamaham Festival, we stayed in Poppys SET Residency, which was by far the best compare to our December stay in various hotels. Well, you might find the bookings are full during the season time but the rates remain moderate.
Kumbakonam is the best choice for anyone planning for long vacation without hurting the pocket and take tour of other nearby cities. Rooms in cities like Trichy, Tanjore, Chidambaram are costlier with limited choices so it is best to travel from Kumbakonam.
Also, you have one of the best NH roads connecting from kumbakonam and there are plenty of state and private buses connecting places in and far around the center town Kumbakonam.
Anytime I am planning for a trip to any of these cities, I am coming back to stay only in Kumbakonam.
I suggest you to visit Kumbakonam by own vehicle instead of public transport, so you could see what I have fallen love with. Kumbakonam is the perfect getaway place for family vacation and holy trip. It is one of our all time favorite places, with many hangout places like UNESCO heritage sites, theaters, water dams, riverside lush green picnic spots, eat-outs and restaurants.