How to Buy Things In Amazon Smartly (Step-by-Step guide)
From house cleaning supplies to kitchen pantry to office supplies, I always buy things from Amazon. When I was studying MBA in London, I fell in love with the vast collection of books on Amazon online store. Thanks to used book store in Amazon, I could easily buy all the books I wanted for my studies.
Now since their launch in India, I always buy things from Amazon. And I love to buy things in bulk when I get good discounts – and buy things in bigger sizes because I hate shopping often. Also, I am saving big bucks when I am buying in bulk during discounts/sales.
So my pantry is full always. Also, I keep a checklist of all the things in a chart paper, whenever I take a product from my stock, I strike out the number in the list, in that way I will know what needs to be ordered in the next purchase.
Since 2014, I have saved a good deal of money buying things from Amazon, so sharing my wisdom here.
The Things I Buy in Amazon.in (sometimes in Bulk)
Staples From Amazon Pantry
I love buying my staples from Amazon pantry with good discounts. I make sure to buy my pantry in bulk whenever there is "trending deals" with up-to 40 to 50% off on purchases. Also, delivery fee is free when you order above 599/- INR. Another reason for opting Amazon pantry is that I get to buy groceries which I don't get it from my local supermarket.
Premium brands like Tata sampann, Vedaka (amazon brand) are not available in my local supermarket. Vedaka is Amazon's brand for groceries, little cheaper than Tata Sampann, yet I love to buy both the brands and like them equally.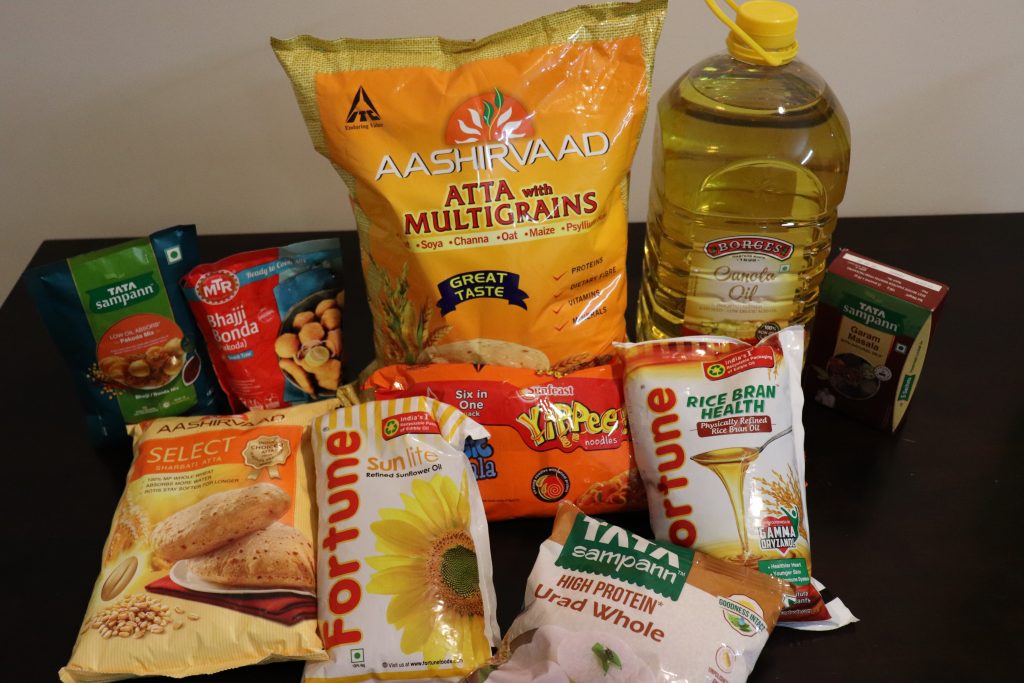 Canola Oil is good for health compared to the locally available sunflower oil and rice bran oils. Also it is not available in the local supermarket, so I always buy them from Amazon.in.
I don't like the taste of Olive oil in cooking, so I don't buy Olive oil and even Almond oils.
Also, I regularly buy green tea, cookies, pasta, noodles, Atta, pressed rice, maida, corn flour powder, etc.,
Note: If you are wondering how to buy things in Amazon or how to know the sales dates, I have given detailed guide below.
2. House Cleaning Supplies from Amazon Pantry
I even buy house cleaning supplies in bulk, aim is to stock the supplies for at least 6 months, so I don't have to spend any time shopping in this period. Recently I love Presto brand (again Amazon's brand for cleaning supplies), I love all their products and cheaper than the premium brand names like Harpic, Lysol, Vim etc., Online shopping is all about getting the best deals and saving money – Presto is my all time choice.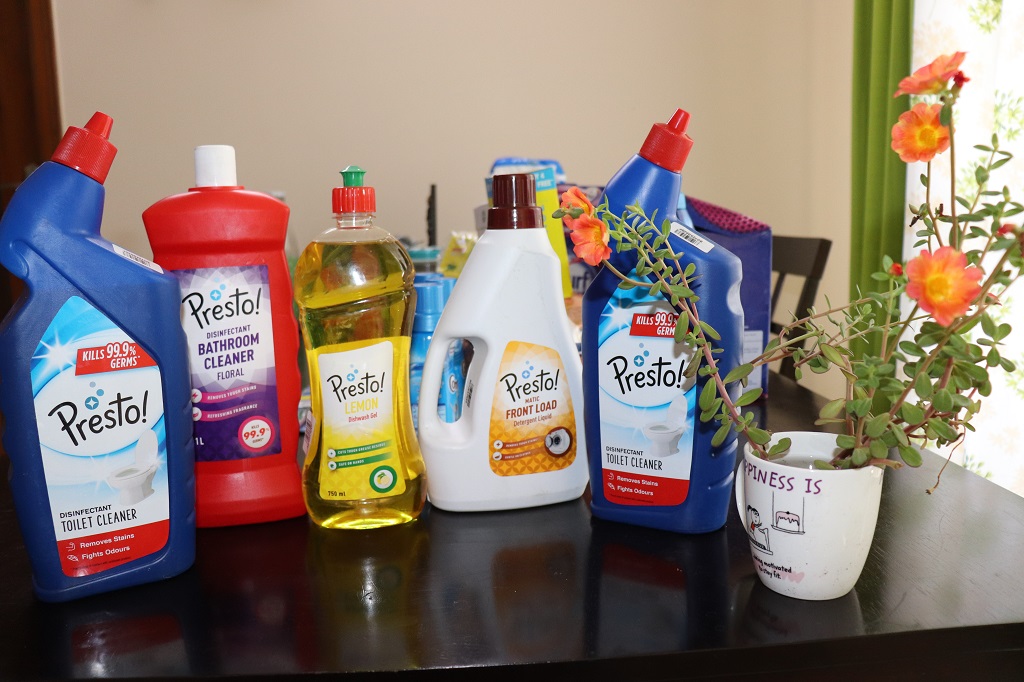 List of Presto Products I buy:
3. Personal Care products in Amazon Pantry
Again I am happy with the wide variety of choices available in personal care products. Needless to say, whenever there is a good deal, I am all in for the shopping.
The best things to buy in bulk from Amazon personal care
Sanitary Napkins: Sanitary napkins always in my priority shopping list, and I always keep it stocked in my house, my office bag, my gym bags and my travel kit. So Whenever there is a good deal, I buy them in bulk and stock it.
Soaps, Handwashes, Facewashes, Bodywashes, toothpaste and brushes are the basic essentials for daily life, so am not guilty while buying them in bulk. I usually buy products from few brands since many years, like Biotique, Himalaya, Tresemme, Cinthol, Nivea and Lifebuoy. Before I buy I keep an eye on Nykaa offers as well, compare the prices before I buy from Amazon. Because there were days I got better deals in Nykaa than in Amazon.
I have also bought makeup products from Amazon, also it is the best choice for gift purpose.
Speaking of personal care products –
4. Kitchenware / storage and containers items from Amazon
I always buy things in Amazon for my Kitchen. All the kitchenware, storage boxes, spoons, utensils and whatnot – everything from Amazon.in exclusively.
Here, recently I purchased "Coconut" brand stainless steel items when I was on trip to Nagarhole from Bangalore. I had no plan to buy in a supermarket, but I bought only few items just to check the quality and price. Price and quality is super satisfactory, here is the pic for your reference.
Coconut brand is one of the recent addition to Amazon sellers, stainless steel is of premium quality which I have never seen before.
All the items in the pic are very thick, premium quality – and I am sure it will last long for many many years.
Here is the link to one of the product for the reader's reference, you could explore more products from there.
How to Buy things In Amazon.in Smartly (with or without the help of Amazon Assistant)
1. With the Help of Amazon Assistant App
Amazon assistant shows you notification for "today's deals" and the products by category and the deals in from your search history. If you have wanted to buy some items for quite some time, Amazon Assistant will pop-up the notification for that item with the discounted price from your browsing history. Basically you don't have to check the deals and discounts every day manually.
You could download Amazon Assistant app for both mobile and desktop.
For Mobile, search for "Amazon Assistant" from "play store", download it for free. Now you can see the hot deals from Amazon update.
2. Browse manually for the hot deals and discounts
Today's deals:
Whether you are using mobile or desktop for shopping on Amazon, you could always search for Today's deals like shown below, add them to your cart for purchase.
Trending deals:
Trending deals are the offers running for particular period, say for a week to 10 days, mostly during festive or any celebrating special occasions. If you are regularly checking mails, you will be getting inbox notifications from Amazon, so you will not miss out on that. For big hot deals, you will also be seeing ads on TV, so happy shopping and saving. You can see trending deals – on all categories on the Amazon Home page.
Amazon Pantry deals:
When you open Amazon mobile app or desktop browser – you will always get to see big banner ads like the following for all the current deals.
Recently I purchased from Amazon pantry offer, I saved upto 40% on all my purchases.
I also get "Cashback" benefits when I pay from AmazonPay. Not only amazon shopping, but also for movie tickets, online food delivery, paying mobile and electricity bills -use Amazon Pay to get cashback benefits.

Upcoming deals:
You could keep an eye on the upcoming deals here and get prepared to buy the costlier items you have always wanted to buy. Meantime, you can add the item to cart and buy smartly before the discounted runs out.
Refurbished Deals:
Yet another money saving deals from Amazon, buy the "used and refurbished" products for sale and that too on discounts. It's a huge money saver for mobiles, laptops, SLR and accessories.
Subscribe and Save
With 'Subscribe and save' option, you could get your favourite / bulk buy items delivered free to your door step.
What's more?
You could cancel subscription anytime,
You could choose convenient time for door delivery,
10 % discount on top of free delivery and much more.
How do you add or edit items?
Navigate to 'accounts and lists' section on the top right, click 'your subscribe and save items' from the menu.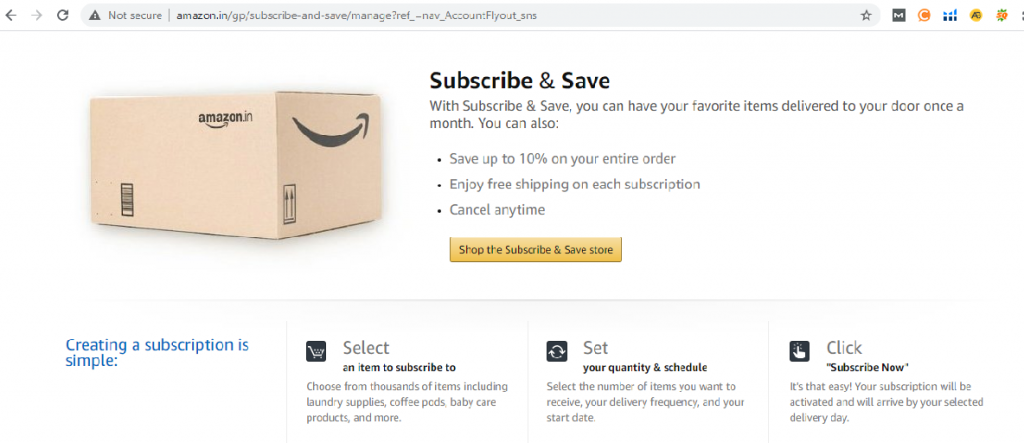 Buy it again and recommendations:
What's more, Amazon shows you discount if any for the recently browsed items and any price slash on the items in your cart. I always buy the same things over and over again, so I go straight to "Buy it again" and start adding things to my cart. That way I save my time searching for items and also I will not miss out on the things I regularly buy.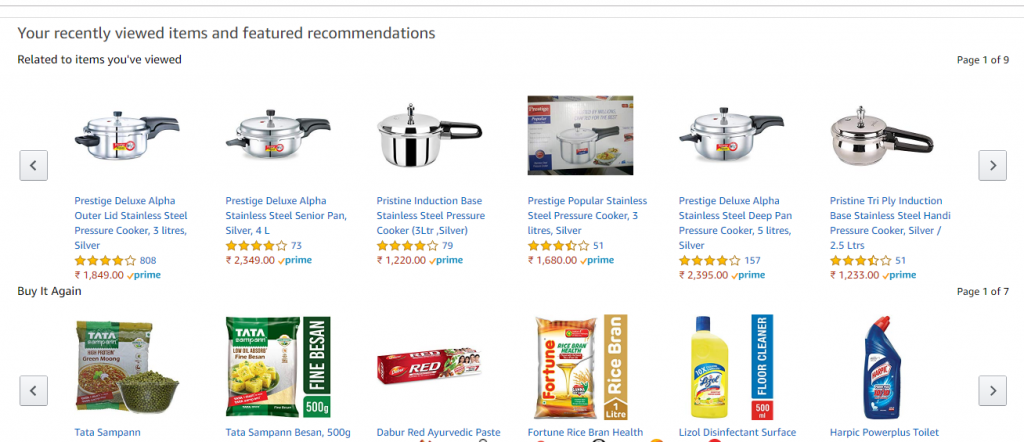 Sum Up – How to buy things in Amazon which saves you big bucks every time you buy
Look for Today's deals and Trending deals before buying any items.
Look for Upcoming deals, waiting for 2 days/ week to purchase an item will definitely save you upto 35% on MRP.
Pay using Amazon Pay to get cashback offer (I always use Amazon Pay for Amazon shopping, paying my mobile bills and order food on swiggy or zomato – huge money saver)
Add items to you cart, wait for good deals and discounts, patience is the key here. (There are occasions price has increased in the cart items, in that case I what I do? Wait again patiently)
Also becoming a Prime member saves you delivery fee, also you will get same day or next day delivery for select princodes. Prime member gets certain privileges on shopping and entertainment, check here for more details. Amazon Prime membership fee for 1 month – 129/- and for a year 999/-.
If you are not a prime member, select products eligible for "amazon fulfilled" – that means you will get free delivery on purchase of above 499/-, only on amazon fulfilled items.
Also look for cancellation and return policy before you buy. I find seller more authentic if he provides the buyer (us) option to return the goods under certain conditions. And it is a good idea to look for seller ratings before you buy. You can always find more seller near the product description, so you get to see more options on prices as well.
Delivery fee for "Amazon Pantry" is free on purchase above 599/-. And pay using Amazon Pay to get additional cash back offers whenever you buy things in Amazon.
Hope this guide helps you to save money on buying things from Amazon.in.
Here is additional resource from Amazon itself – a step by step guide for bulk buying.
Happy saving.